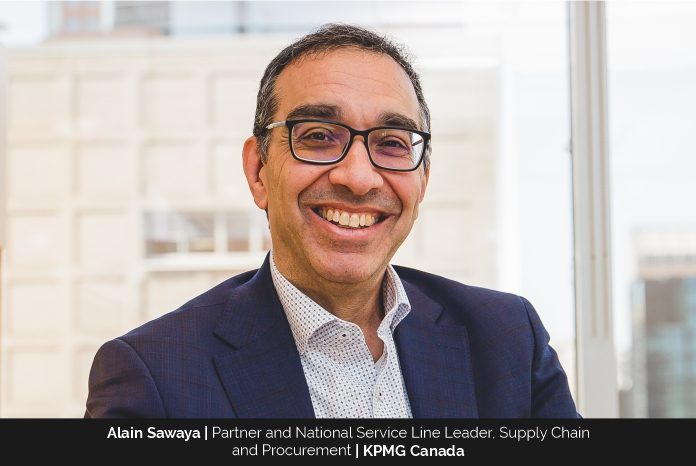 With over 25 years of experience in commercial supply chain and operations management, Alain Sawaya has amassed a wealth of knowledge covering the intricacies of demand, inventory, and supply planning. He is a seasoned executive and accomplished leader in the world of supply chain and procurement services.
Throughout his distinguished career, Alain has lent his expertise to a diverse range of industries including retail, life sciences, food and beverage, spirits and wine, consumer packaged goods, and industrial manufacturing. His vast international experience, both as a consultant and industry leader, has allowed him to spearhead strategic business transformation initiatives for over one hundred major companies around the world.
Diverse Professional Experience
In more recent years, Alain has held the position of Retail Senior Leader in Supply Chain and Merchandising, where he oversaw a team of over 100 individuals across Canada for a period of seven years. This role proved to be an exceptional learning opportunity for Alain, enabling him to gain insights into leadership, strategy, and how to establish and maintain an efficient and successful operation.
Previously, Alain served as the Director of Demand Management in one of the world's premier Consumer Packaged Goods companies. Before that, he worked at Futurion, a boutique technology firm, where he was able to hone his technical and leadership skills by collaborating internationally to strategically and operationally improve business outcomes. The experience was a wonderful one for Alain, providing him with valuable insights and experience that he has been able to leverage in his subsequent roles.
Building Genuine Relationships
Alain believes that genuine and honest relationships are key to personal and professional growth, and that forcing things can be counterproductive. This sometimes requires having difficult discussions and working with challenging clients, which can be tough but ultimately leads to the most significant personal growth. Alain puts a lot of pressure on himself to be his best because he wants to make a positive impact on his clients, partners, and colleagues.
Empowering Change and Driving Innovation
KPMG Canada is a partnership model firm, with Audit, Tax and Advisory services including Strategy, Management Consulting, Digital Transformation, Cyber, and more. For over 150 years, its professionals have provided consulting, accounting, auditing, and tax services to Canadians, inspiring confidence, empowering change, and driving innovation. KPMG employs more than 10,000 people in over 40 locations across Canada, serving private- and public-sector clients. KPMG is consistently ranked one of Canada's top employers and one of the best places to work.
KPMG's core values, including Integrity, Excellence, Courage, Together, and For Better, guide the firm's operations and behaviors. The firm is continually searching for the best talent and employs highly skilled professionals and specialists who are committed to delivering their best every day. KPMG provides an exceptional work environment, offering excellent training programs, career development, mentoring, coaching, and additional paid time off to support a balance between personal and professional commitments.
Inclusion and diversity are integral to KPMG's values and enable the firm to adopt and adapt to new ways of working in today's reality. KPMG is one of the only firms in Canada with a Chief Mental Health Officer who emphasizes the significance of mental health and work-life balance, underscoring the company's commitment to supporting its employees' well-being.
A Day in the Life of Alain
Alain is the head of KPMG's national supply chain and procurement practice, where each day brings excitement, challenges, and rewards. He begins his day with an early swim and a healthy breakfast, often shared with a client or colleague. Alain spends his days preparing and delivering client pitches, providing guidance to his team, collaborating with other team leaders on various strategic and operational mandates, and contributing to the delivery of engagement work and services. He is deeply passionate about efficiency and strives to improve things around him in a profitable and straightforward manner. He is a firm believer in bringing people together and derives immense satisfaction from seeing others succeed. In fact, if he had to describe himself in three words, they would be "bring people together."
Alain's goal is to provide the upcoming leaders with ample prospects for progress, exceptional learning abilities, and assignments that align with their skills. He sees that the new generation is more demanding, but they make us better as a result. They don't work for us; they work with us. He asserts, "We have to be role models for them, be real, and make sure they feel valued and have a sense of purpose."
Achieving Success and Well-being
Alain recognizes the importance of balance in life and makes a conscious effort to maintain it. He has been actively involved in the community as a volunteer baseball coach for many years, which allows him to take his mind off work. Alain also values spending time with his family, loves cooking and baking, stays active, meditates, and plays drums in a band for fun. This mix of activities helps him maintain balance in his life, which is essential for his well-being.
With high energy levels and unwavering passion, Alain is a force to be reckoned with. He motivates and mobilizes his team to produce top-notch work, always placing great emphasis on providing clients with the best value in a practical and straightforward way. Alain leads by example, holding himself and his team to the highest standards of transparency and commitment, which are the core values of KPMG. When he commits to something, you can count on him to follow through with flying colors.
Alain's perspective on success differs from many others, as it prioritizes the individual's well-being. For him, success is a relative concept that involves setting goals, striving towards them, and occasionally surpassing them. However, it also involves taking pleasure in the journey and celebrating the milestones along the way. It's critical to appreciate those who have contributed to one's well-being and achievements.
Unique Perspective on Achievements
Alain's unique perspective sets him apart from other business leaders, and his most significant achievement is not tied to specific professional accomplishments, but rather his overall mindset. Despite facing numerous challenges throughout his career, Alain has managed to maintain a sense of balance and fulfillment in all areas of his life.
Both personally and professionally, Alain takes great pride in three important roles he has excelled in over the course of his life. These include serving as an executive in a boutique technology company focused on AI and advising global executives for many years, as well as a vice president in an executive position at Canada's largest home improvement retailer and distributor. Additionally, Alain has found success as a partner in building a thriving practice at KPMG, one of the world's top four consulting and auditing firms. Alain believes that his ability to seize these opportunities and build a fulfilling career was the result of a combination of preparation, hard work, and the right circumstances, without indulging in extravagance.
A Message to Aspiring Leaders
Alain is determined to contribute to the growth and success of the firm by focusing on expanding the client base and engagement while prioritizing the development of the team. He believes in helping others reach their full potential and aims to leave a legacy of healthy practice for future leaders to take to new heights. In the coming years, Alain plans to semi-retire, reducing his workload to enjoy a more balanced life.
For aspiring leaders, Alain's message is to stay true to yourself and define your own version of success. Follow your own path and do it with passion and courage. Without passion, everything can seem mundane, so find what you love and balance it with your personal life. Success takes time and effort, and it's essential to enjoy the journey rather than focus solely on the destination. Life is a marathon, not a sprint, so embrace the ride and savor the moments.