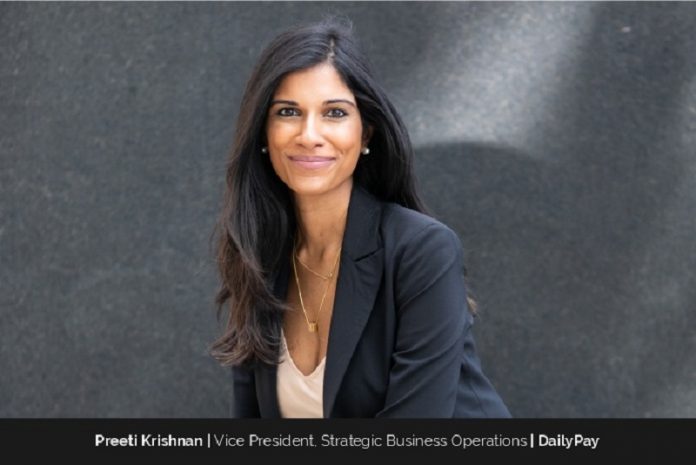 The dynamic and tenacious Preeti Krishnan is playing an instrumental role in making DailyPay a leading player in the market. The New York-based financial technology company is on a hypergrowth track; during this phase, Preeti, as the Vice President of Strategic Business Operations, is driving the cross-functional management, accountability, decision making, and operational excellence to ensure the business runs as effectively as possible.
Preeti's focus is also on building out a unique strategic infrastructure and operational strategies, enabling the business to maximize value for internal and external stakeholders, and achieving organizational goals. She says that she is excited to pump out new strategic ideas that expand the company's brand and business.
Leaving Corporate Law and Joining Fintech Start-Up
It is at DailyPay that Preeti, for the first time, stepped into a corporate executive role. Before joining the company in July of 2018, she worked at a national law firm, Lowenstein Sandler LLP, as an attorney. "Though my work as an attorney gave me a great level of professional expertise and training, I found myself itching to lead through the end-to-end journey of an operating company," she says.
Around that time, Preeti stumbled across a LinkedIn post from Jason Lee, DailyPay's Founder and CEO. He asked her to join the company as its first Chief of Staff. "Connecting with Jason, I recognized DailyPay as a very special company — both due to its commitment to validating and uplifting merit-based leadership as well as its profound mission to provide American workers with a new way of financial life," Preeti says.
She has always been passionate about serving underserved communities and populations. In 2006, she founded the Save a Child Now Foundation. And, after receiving her Bachelor of Art in English and Psychology with a minor in Italian from Georgetown University in 2011, she worked at a progressive financial reform nonprofit and then a nonprofit centered on restorative justice. Four years later, in 2015, Preeti earned her Juris Doctor from the University of Pennsylvania Law School. The same year, she also received a certificate in Management from the University of Pennsylvania's Wharton School.
For some time, Preeti worked as a practicing attorney at Davis Polk & Wardwell LLP, a  top five big law firm. She switched her career path when DailyPay offered her the opportunity to transform the financial system from the ground up. "I knew I had to make the jump," Preeti says.
"For me, this job was – and continues to be – the perfect combination of making a difference in people's lives and challenging myself to grow over time," she adds.
At DailyPay, Preeti has been encouraged to take risks, take ownership over countless evolving areas, and leverage her abilities to truly make a direct impact. "I've been able to take accountability over the full strategic and operational spectrum of outcomes for our organization, which has enabled me a broad and meaningful degree of influence on the strategic growth of DailyPay – an incredible opportunity and position to be in," Preeti says.
Hyper-Growth Financial Technology Company
DailyPay, a hypergrowth financial technology company, works with enterprises and Fortune 500 companies in almost every industry, from healthcare to restaurants to retail. Through its massive data network, proprietary funding model, and connections into over 6,000 endpoints in the banking system, the company ensures that money is always in the right place at the right time for employers, merchants, and financial institutions.
"Our proprietary platform of technology, products, and services provides industry-leading solutions to employees and employers," Preeti explains. Employees can access or save their pay as they earn it, 24/7/365 from any device. Employers, on the other hand, can drive bespoke and clear-cut results with key insights and service offerings unlike any vendor in the space.
"With its one-of-a-kind platform, DailyPay is changing the way money moves," Preeti adds. The company also has no competition when it comes to efficiency and top-tier service. It offers the only solution that includes domestic tiered customer service, top-tier security, and up to 100 percent accessibility. "Many providers tinker with the self-service model and have yet to build a system that matches DailyPay's end-to-end system," Preeti remarked.
She also points out that the company has the highest Net Promoter Score rating in the industry. In addition to that, the company has also attained the ISO/IEC 27001:2013 certification, which authenticates its top-notch information security management.
DailyPay is constantly re-investing in its product and business. This ensures that it continues to hold on to its industry-leading position and delivers the best solutions on the market.
BizOps Team
Preeti heads Strategic Business Operations, also called BizOps. She and her team handle all critical strategic and operational challenges effectively, driving data-driven results throughout and across the company's entire value chain. "The establishment and management of BizOps team have enabled the company to drive revenue, margin, and overall hypergrowth more quickly, effectively, and efficiently," Preeti says.
"From restructuring our growth funnel and delivering a clear product go-to-market framework to reframing the manner by which we provide value to our external stakeholders, and ensuring our clients receive the optimal, full-scale holistic service offering in the market, my team's ability to drive actionable results has proven to be an invaluable asset to the company," she adds.
And Preeti's ability to drive DailyPay's strategic objectives through operational management and process has been a powerful combination that has led to the company achieving significant success.
There Are No Failures, Just Opportunities to Learn
For growth, challenges are necessary, Preeti says. And she also finds them enjoyable to some extent, as there are no failures, just opportunities to learn. "When you're pushed beyond your limits, you start to get creative and analyze problems from a problem-solver's perspective," says Preeti, the problem-solver who is rarely satisfied with the status quo. She loves to infuse tenacity, verve, and drive into her team as well.
Preeti's career path has been anything but linear. She established a foundation, worked at a top law firm, and now, is helping build a hyper-growth fintech company. But that's not to say she hasn't faced unique challenges at every step.
"It can be challenging to move quickly and with agility, while providing meaningful inputs and creating practical solutions," Preeti says. "But, with time and effort, I have been able to become an expert in every role and industry I've been a part of, enabling me to leverage multiple, diverse perspectives when tackling a task and making me an even more effective leader."
Success Comes from a Combination of Factors 
Preeti believes that there is a combination of factors that result in success. These are serendipity, curiosity, values-driven hard work, and a growth mindset. Preeti often challenges herself to raise the bar and is always eager to expand her skillset. "I am constantly looking to extend and expand my skillset that has afforded me with new and unique opportunities over the course of my career," shares Preeti.
"And by leveraging what I have learned over my panoply of personal and professional experiences while always assuming that I have more to learn, I've found, humbly, that I'm able to explore broader and broader pastures of innovation," she adds.
A Woman of Color in Male-Dominated Space
The technology industry is traditionally a male-dominated space. As a woman of color, Preeti is a huge advocate for diversity, equity, and inclusion. She feels it is important for her to continue to cultivate an environment that is welcoming to all. "Knowing the potential roadblocks that many women and people of color face in their careers and personal growth, I want to share my experiences to help individuals unlock their potential and ultimately create inclusive leadership that impacts all areas of a business," Preeti says.
Seven Core Values of Leadership 
DailyPay has seven core values that guide its business and align with its employees' values. They set the tone for the company, culture, work, and leadership. "For me, a true leader is the one who strives to live out all seven of these values," Preeti says.
Do Your Research – Knowledge is power. A leader should study, internalize and do their research to be prepared for whatever comes their way and to formulate a well-reasoned view.
Start Simple – When taking on something new, the key is to just get started. Leaders aren't perfect or know everything. But, they're doers.
See The Circle – Leaders recognize the bigger mission and are able to rely on their circle of colleagues. Involve them early and often, because it will make all workstreams better and more efficient.
Pull The Wagon – Winning takes teamwork, ambition, and diligence, not egos. Leaders pull the wagon alongside the team. They don't issue orders from it. Leaders set the example.
Move The Line – Leaders challenge themselves and move the line. They push the boundaries by focusing on incremental improvement. They're forward-thinking and embrace change and innovation.
We Win With Diversity – Leaders celebrate diversity and diverse ways of thinking. They are at the forefront of creating an inclusive culture.
Act Like an Owner – Decisions are creative opportunities for expansiveness. Leaders are always searching for the best long-term outcome for all stakeholders, even if it causes short-term sacrifice. They act with purpose and invent the future.
Best Recognition as a Leader
As a leader, Preeti supports every employee that works at DailyPay. She also positions them to become the next leaders. Preeti is secure enough to tell them that they can even take her position. She believes that her team's dedication and sheer excellence are the best recognition she can receive as a leader. "To watch them grow, move mountains across our organization and change the landscape of our overall strategic orientation has been truly inspiring for me to be a part of, and I feel grateful as a leader to be a part of building their careers," Preeti mentions.
Throughout her career, Preeti has also received the support of great leaders, colleagues, professors, and mentors. They have always championed her. "I've had so many doors and opportunities opened to me and have always been able to truly flourish as a professional," she states. "DailyPay has given me the best resources and tools to drive our company while focusing on my professional development, and I hope to continue passing that on to my team."
Key Piece for Overall Success
At the beginning of 2021, Preeti was working from home due to the 4-19 pandemic. It resulted in the blurring of the line between work and life. Preeti brings up that she did not even realize that it had happened.
"I would tell myself, just one more email and always have my laptop open at all times – there was nothing better to do," she says. "But, I quickly realized how unsustainable – and, frankly, unproductive – that mode of thinking and working is."
Now, Preeti ensures that she takes at least a few hours every night for some me-time. She indulges in her personal routine at home during that time. "It is so important to me to be able to refuel and unwind in order to attain the necessary mental clarity to operate with the greatest acuity daily." Preeti also encourages her team to do the same. "I truly believe this is a key piece of our overall success," she says.
"It's so crucial to prioritize the overall well-being of employees, in ways large and small," she adds. "By creating a culture that focuses on the person first, I have found that everyone is more motivated to work, which allows us to deliver the best products and services to our partners and our users."
Future Plans for DailyPay
DailyPlay is committed to excellence, because of which, it is able to position itself as the leader in the industry and impact millions of lives. Preeti shares that the future holds so much more expansive opportunity both within their core business and through emerging business units across the organization.
"As part of our commitment to employee and employer success and financial freedom, DailyPay plans on continuing to develop disruptive, innovative solutions to close the gaps in the payments technology space." Preeti concludes,  "We're in it for the long run. And, our company goal is to build a generational company that prioritizes an inclusive culture."