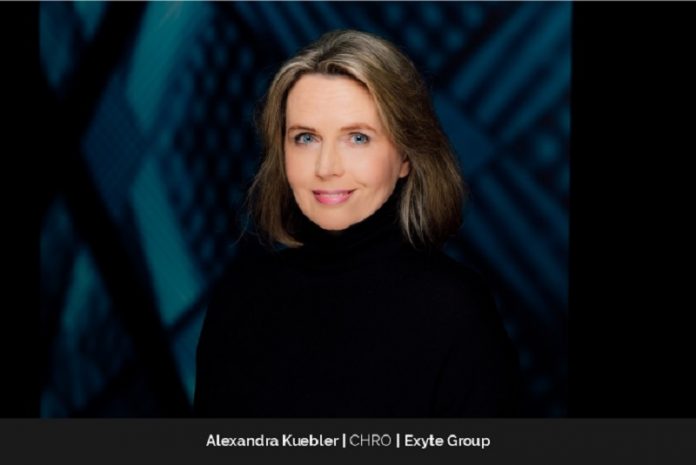 As an international HR Leader, Alexandra Kuebler, CHRO of Exyte Group (exyte.net), has extensive experience of HR management in global blue-chip organisations, with an emphasis and passion on people, leadership, culture, and business value.
She has managed projects across multiple functions and geographies and has extensive knowledge in developing and implementing HR strategy and transformation programs to support business priorities such as change management, restructuring, M&A, employee relations, people engagement, and diversity and inclusion.
With extensive business partnering skills, as well as commercial business acumen and the ability to work credibly and diplomatically at the highest level, Alexandra has a strong track record of successful collaboration with works councils, economic committees, and unions.
She possesses a strong ability to operate globally in a matrix environment with multiple stakeholders and is effective at building strong relationships – all in a demanding and constantly changing business environment.
Developing a passion for all things HR
Alexandra credits her success as HR leader with having met the right people at the right time that gave her responsibility and supported her.
"I've never been afraid to dive deep into all HR processes and that helps me incredibly in assessing and ultimately making the right decision. I can hardly believe it sometimes, but I have been in HR for 25 years now and have been able to experience all the developments and to put areas on a future-oriented path. In the past, I worked for global blue-chip organizations with responsibilities up to 30,000 employees," she states.
The constant changes in HR have always inspired Alexandra to continue on the path she took and she believes that having the right people in companies makes all the difference. For her, success has many facets and means contributing to the success of the company with her work.
"What can I do with my team to move the company forward every day? It fills me with great satisfaction when I have solved a problem with my team, when we have mastered a great challenge, especially in an ever-changing environment. It is important to me as a leader that we also celebrate success as a team. And that both team performance and individual contributions are recognized and valued," says Alexandra.
Creating a better future with cutting-edge expertise
As a global leader in the design, engineering, and delivery of ultra-clean and sustainable facilities for high-tech industries, Exyte provides cutting-edge expertise developed over more than a century.
The company serves clients in the sophisticated markets of semiconductors, battery cells, pharmaceuticals, biotechnology, and data centers, and offers a full range of services, from consulting to managing the implementation of turnkey solutions, with the highest standards in safety and quality to its customers worldwide.
Exyte creates a better future by supplying high-tech facilities to help their customers provide innovative products and services that improve the quality of modern life. The company is a driving force behind today's and tomorrow's most important megatrends and developments that will profoundly change individual and societal life and promote human and societal progress.
"As a global HR team, we're managing an unprecedented growth trajectory in all regions and are constantly recruiting new employees. This task is very challenging, not only for HR, but also for the managers," Alexandra observes.
She notes that their efforts are rewarded when they achieve set goals, and they benefit from the fact that people are eager to work towards implementing the key technologies and megatrends of the future.
"At the same time, we're working on programs that will help our employees develop with us and arrive culturally. We want to offer our employees an environment in which they feel they belong. Our HR development to a next level will also be further enhanced through the ongoing digitalization of HR topics; harmonization and standardization also play a major role in our success," Alexandra affirms.
For Exyte's customers in key industries of the 21st century, the company creates the industrial platforms for the production of key components for new digital services and applications, innovative drive technologies, energy storage systems, and urgently needed therapeutics and vaccines.
"Fewer traffic deaths, more effective medical treatment, faster healing, longer life expectancy – all of this will finally become reality with our support. It is important that employees in offices, corporate functions, and other indirect areas also recognize and know that they too are helping to fulfill Exyte's purpose," says Alexandra.
Building a global team with a clear strategic direction
Alexandra recalls that when she joined Exyte, the global HR team was very fragmented and was working in regional silos. As part of the transformation, she helped define the responsibilities between the regions, business units, and headquarters.
Based on the premise that operational HR work is based on uniform and standardized processes, Alexandra created global responsibilities for key issues such as Talent Management and Talent Acquisition.
The global HR team at Exyte now has a clear strategic direction that's always aligned to the needs of the business, to enable the company's growth. At the forefront of this is talent acquisition, combined with the continuous enhancement of HR core excellence and employee engagement.
"I firmly believe that people always make the difference. What defines a company is the people. Especially in a company like Exyte, our employees play a very important role in the success of our company. Tools, processes, etc. define the products of a company, they ensure the service portfolio and the execution of the business, but they're not the core or soul of a business," says Alexandra.
Creating a strong company culture based on values
Alexandra observes that a key component of a company's success is its culture, and it is people who shape the culture of a company through their behavior and their actions.
Culture is influenced by how people communicate and interact with each other; how they give each other feedback, and how appreciative their cooperation is; how we as humans solve problems and deal with mistakes; and how we collaborate seamlessly across levels, functions, and borders.
"At Exyte, our values form a strong foundation for our culture. To make these values more tangible, we have defined five core competencies that describe the behaviors that should shape our daily collaboration. These five core competencies are: grow talent, inspire clients, embrace change, drive results, and take ownership. They act as a compass and bring our desired culture to life," explains Alexandra.
Fostering a diverse & inclusive work environment
Alexandra observes that to value the human factor, a company must foster a diverse and inclusive work environment.
"For us, diversity and inclusion are key requirements for business success," she declares. "At our locations and projects around the world, employees from over 70 nations successfully work together in mixed teams – embracing ethnic, cultural, and religious diversity. Our corporate value, 'Collaboration', is actively lived worldwide."
Alexandra explains that diversity has many aspects; personality traits and things that shape our identity, such as race, age, gender, religion, sexual orientation, and cultural background. But it also means considering other aspects, such as experience, talents, skills, opinions, and personalities.
In Germany, Exyte has signed the German Diversity Charter. The aim of the initiative is to promote the recognition, appreciation, and inclusion of diversity in the world of work. The signature underscores what has been true for the company internally for a long time: As a global company, diversity has long been practiced at Exyte.
Growing stronger through challenges
With the belief that what doesn't kill you makes you stronger, Alexandra notes that this applies to private life, as well as the professional environment. "No career is without setbacks. They make you stronger. We all grow with challenges, personally and professionally," she reflects.
Alexandra notes that to solve challenges, one often has to enter new professional territory; find constructive solutions; think and act out of the box; think completely new, completely different.
"This brings us further professionally and strengthens the excellence of the HR organization," she states. "Of course, I'm also growing personally with bigger challenges. Often difficult situations force you to change your perspective or even leave your comfort zone. Maybe you have to actively approach and embrace those who think differently than you. It is not always easy to deal with criticism and other opinions, but it is always enriching."
Managing a fast-growing global workforce
Alexandra remarks that Exyte is in an exciting phase, as the company is currently growing very quickly, like a start-up with a high need for personnel that will remain high in the years to come. At the end of the year, Exyte expects to have more than 9,000 employees worldwide. In five years, it will be twice as big as it was 2021, with twice as many sales and twice as many employees.
"We increased our global workforce by another 1,100 employees to almost 8,600 in the first half of 2022. Finding new employees, getting them enthusiastic about the company, onboarding them, and keeping them is a major challenge. This task is being exacerbated by the global shortage of skilled workers," Alexandra notes.
At the same time, she plans to prepare the global HR organization for the future size of the company and set it up accordingly, for the obvious reason that a ten-billion-euro company with potentially 15,000 employees requires different organizational and management skills than a company that's only half this size.
"We're currently modernizing, and professionalizing HR work at Exyte. To achieve this, we're transforming HR. We standardize, streamline, and optimize processes," says Alexandra, noting that, on the one hand, this increases efficiency and, at the same time, makes new personnel tools possible.
As an example, Exyte has introduced a globally standardized talent management system, and in the future, they want to fill more management positions at all levels from within their own ranks.
Recruitment as a top priority on the "Pathway to Ten"
As Exyte is on its "Pathway to Ten" – the goal to reach sales of 10 billion Euros in 2027 – the company is looking for highly qualified and highly motivated people from different disciplines who are required to implement their highly complex projects. The spectrum ranges from administration to construction, from engineering to information technology and project management.
Alexandra remarks that recruitment will continue to be a top priority, and they are looking for well-trained employees with many years of experience, but above all many young talents who like to work internationally, and at changing locations worldwide. As they will be implementing many large and challenging projects in the next few years, the demand for new personnel is high at various locations.
"We will therefore continue to expand our employer branding – internally and externally. In an international, inclusive process, we have defined and sharpened our employer value proposition. It is the fundamental for our new employer branding which will be implemented subsequently over the next months. For the first time, we now have a globally consistent framework for our talent acquisition activities," Alexandra observes.
At the same time, Exyte plans to continue to work on its corporate culture and for this, leadership development is very important. She observes that, especially in fast and dynamically growing companies, executives are multipliers for values and culture in the company. Managers have a role model function as drivers and anchors at the same time, for the motivation and commitment of the employees.
Enabling free employee training & development
Exyte recently launched its new Learning Management System, a renewed multimedia learning offering for all employees. This enables individual further training for on-the-go and in-between.
The portfolio includes around 37,000 learning contents and is free of charge and can be called up at any time – in all countries and many languages. With the Learning Management System, further training becomes individual, easily accessible, and can be easily integrated into everyday work.
"Our employees would appreciate more and better development opportunities – and given our growth, there are plenty of those in the company. We also encourage them to take responsibility for their own personal development," states Alexandra.
Increasing retention with social onboarding
Research shows that technical and social onboarding increases the productivity of new colleagues and helps retain them. Glassdoor found out that a great onboarding experience can improve employee retention by 82 per cent.
Alexandra notes that, as Exyte has a huge influx of new colleagues from all over the world, it is important to ensure that they're well received in the company. "Finding and hiring the right talent is just the first step. The second is onboarding. Too often onboarding is focused on processes and paperwork," Alexandra notes.
Exyte has developed an employee-centered toolkit that supports employees, managers, and colleagues in the onboarding phase, with the primary focus on personal relationships and personal interactions.
Exyte's leaders are also available to steer their new employees towards success and provide clarity about roles and expectations. So-called buddies act as an informal source of general information and get new hires started meeting people and finding their way around.
Leveraging technology to make HR processes more efficient
Alexandra observes that technology can enable human resources to work more efficiently. On the one hand, the automation of core processes leads to more efficiency; on the other hand, standardization is always a prerequisite for automation. Through standards, they also create the basis for better data quality.
"The digitization of our processes also brings advantages for managers and supervisors in the company. In the future we may provide data that is the basis for personnel decisions," she notes. "The amount of data is increasing, but above all, the data quality also gets better. We have information available that we can use for controlling and planning. We can make data-based decisions."
Under Alexandra's guidance, a dedicated team with expertise and knowledge in data management has been established at Exyte. "As an HR function, we need to increase our data literacy to not only gather and collect more qualified data, but also to transform that data into knowledge," she states.
Alexandra notes that digitization and technology are also important enablers of new work models. However, it's important not to forget that digital possibilities have their limitations and disadvantages.
"Employees are people with basic needs, such as social proximity, exchange, feedback, appreciation, and belonging. I don't believe in getting drunk on the technical possibilities and ignoring or pushing aside these fundamental aspects. I see it as an essential task of HR work to act as a moderator and find the balance that meets all needs," states Alexandra.
Taking Exyte to the next level of growth
As a successful HR leader, Alexandra appreciates the unique freedom she enjoys to shape the transformation of HR at Exyte. "It fills me with pride how we, as a team, are able to take on this responsibility. This has been taken to an outstanding level in a really short time, the personal commitment and passion I can bring here is rewarding," she notes.
Alexandra also observes that her biggest challenge will remain to take Exyte to the next level, to enable the growth of the business for future technologies. "I'm motivated by the joint success with the team. It motivates me to pursue and achieve a common goal with colleagues, my own employees, or my colleagues from the Exyte management team," she declares.
Alexandra recalls that when she started at Exyte, she helped develop a common vision for HR over intensive discussions on how they saw their work and what contribution they could make to the company's success. As Exyte's HR mission states: "We enable Exyte's people excellence – in three strategic fields of action: People, Organization, and Culture & Leadership."
"Is it important to me that our vision for the global HR organization is derived from the company's goals. Where is the company headed, and how can and must HR support it? What is HR's value proposition? What contribution does HR make to corporate success? And thus, also answer the question of what contribution the individual HR employee makes," Alexandra remarks.
She notes that it is not just about the concrete contribution that the individual makes every day; for example, filling a position or developing a new training course. "It's also about every employee at Exyte helping to fulfill the purpose," says Alexandra.