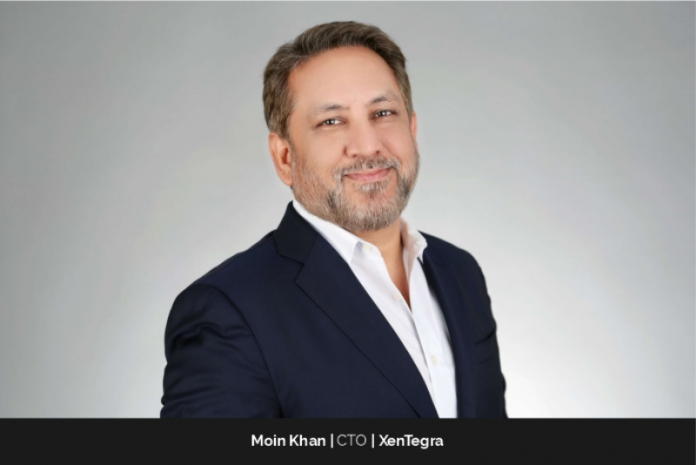 Most of us picture people with billions in the bank, famous people from history, or international leaders when we hear the word "successful." However, when asked to define success, the individual gives a different answer. And Moin Khan, the Chief Technology Officer at XenTegra, is no exception here. He exemplifies the seasoned professionals working tirelessly to discover their visions and missions that will leave a legacy for aspiring leaders. It's clear why he's considered one of the Top 10 Most Influential People in Technology, 2023. In Khan's view, success isn't limited to material gains; it's a mental and emotional high that comes from one's actions having benefited others. He says, "The most important part of success is knowing that I made a difference for others and kept doing it repeatedly."
Successful individuals and companies, in his view, have several character traits, including an unwavering devotion to their goals and an unflinching willingness to face challenges head-on. Moin is the epitome of brilliance; he is quick on his feet and can express himself clearly. He elaborates by saying, "I have been successful due to "the effective practice of value selling. I believe integrators need to understand the customer's needs, challenges, and goals and be able to communicate how products and services can help them achieve their objectives." It requires in-depth knowledge of your product or service and the customer's industry and market." The astute CTO has one word to describe himself: Altruistic, and we couldn't agree more.
Moin Khan joined XenTegra with a wealth of practical knowledge in information systems software solution consulting and architecture design. As the Chief Technology Officer for all of XenTegra's divisions, he is responsible for developing and implementing cutting-edge, reliable, and, most importantly, user-friendly solutions. He has experience from places like Citrix Systems and Microsoft before joining XenTegra. Khan worked for Microsoft and Citrix for over 15 years as an Architect, overseeing the company's supply of cutting-edge technologies in the North America, Middle East and Africa.
Life be XenTegra  
When he recounted his life experiences, Moin Khan expressed his early uncertainty about the practical application of concepts like "Data Structure" and "Microprocessor Logic" after graduating college. He started his path to education when he got his first job as a support engineer.
"I quickly mastered supporting business applications and supporting complex IT infrastructure. Being the youngest of seven siblings to a father who started working at thirteen with very limited academics taught me how to overcome these barriers through hard work, consistency, and persistence. Even with below-average earnings, one thing that my father never cut corners with was education, and he spent all his savings on our education. Elder siblings of the family taught the skills needed to succeed and worked tirelessly to enable each other to gain the knowledge and experience needed to become a leader in the field."
Their success serves as an inspiration to others. It shows that no matter where one comes from, with the right mindset and determination, anything is possible. This person's journey is a reminder that academics do not have to define one's future and that with hard work and perseverance, anyone can achieve their dreams. Not undermining the importance of academics, but life lessons and hard work are a testament to the power of the human spirit and the potential for success that lies within us all.
He elaborates on his decision to continue and fast-track learning by transitioning into a consulting capacity as his next career move. Khan's consulting work involved developing and executing technical solutions for clients' problems. The process often entails consulting with relevant parties to ascertain their business needs and objectives, followed by formulating a strategy for designing a solution to address those issues. Because of the nature of his position, he was able to feed his insatiable appetite for knowledge by learning about new technologies and how to combine them into a unified solution.
Working with technology leaders like Citrix (a pioneer in Virtualization) and Microsoft, he supervised and produced numerous large projects using Citrix and Microsoft technology, allowing him to significantly influence the design and implementation of technical solutions for various businesses. Cloud computing, data management, modern apps, business intelligence, and more are just a few of the areas in which he excels. All of them may be leveraged to meet various business requirements. He used these tools to plan and construct systems tailored to the provisions of many interested parties.
Moin's take on roadblocks in one's career.
Moin maintains that the wisdom gained from conquering adversity is the most potent weapon in business and one of the few things that cannot be taught. According to Moin, challenges and failure can pave the way for personal development and progress. He thinks facing and conquering them is a great way to strengthen one's character and develop one's potential. However, he stresses the importance of remembering that difficulties can also be unpleasant and overwhelming and that it is normal to feel overwhelmed or distressed in such circumstances. He thinks it's crucial to learn practical methods for dealing with stress and to reach out for help when needed.
Due to his expertise in consulting, Moin is familiar with the challenges that can arise when a project proceeds differently than expected. Disagreement or conflict can be a stumbling block in a healthy partnership. This sort of difficulty can be challenging to overcome. Moin, however, thinks that failures can also be a chance to figure out what went wrong, what lessons can be drawn from the experience, and how to improve one's approach to future challenges. To avoid failing, he says, one must adopt a growth mentality and look at challenges and disappointments as learning experiences. Moin explains that this might lead to "tremendous achievement and fulfillment" because of the lessons learned in tenacity and perseverance.
An overview of XenTegra's services it offers.
Based on Moin's description, XenTegra is a leading provider of end-user computing and cloud services worldwide, specializing in integrated digital workspace solutions. By showcasing its strength as a real value-based firm with dependable services and a customer-centric attitude, XenTegra shows its dedication to its important partners and helps them develop the skills they need to become leaders in the global solution space.
Strategy, consulting, digital, technology, and operations are just some areas in which XenTegra excels as a top end-user Computing provider. XenTegra operates at the crossroads of business and technology, providing clients with unrivaled knowledge and specialized capabilities across more than 40 industries and all business operations, supported by the broadest delivery network. XenTegra is dedicated to the success of its clients and their digital transformation initiatives and will keep adding value through the implementation and integration of foundational technologies.
XenTegra's core values and tactics to keep up with the competition.
XenTegra's core values include the following:
Customer focus: Many integrators focus on product reselling and top margin while focusing on customer satisfaction and providing high-quality goods and services that satisfy client needs.
Innovation: To be competitive in the IT business, they constantly search for innovative technologies and solutions to offer their customers (in the solution framework).
Integrity: XenTegra practices honesty and openness to develop trust, credibility, and long-term customer partnerships. They always retain customers and strengthen relationships.
Collaboration: XenTegra's primary strength is its value of partnership and collaboration with other suppliers to offer its clients a wider choice of products and services. The brand collaborates with vendors on a real solution.
Community Focus:
XenTegra places a strong emphasis on 'community' within our very business model. We do so by supporting and enabling people through educational programs and aim to bring those people together to build a community of customers, employees, and vendors.
Apart from the business model itself, XenTegra has established a non-profit organization that is dedicated to the redistribution of unused devices to those who are underprivileged within the global community through its "Computers for Community" program. Through these efforts, XenTegra strives to positively impact and create a better future for all, inside and outside the business.
XenTegra stays competitive by creating solid partnerships with its vendors and marketing its solutions on the partners behalf.  They provide complementary micro assessments to customers, which allows them to put their technical resources in front of customers to create value with their extensive technical bench of specialists.  Most importantly, they provide high-quality technical support and customer care.
"Digital transformation typically has a deep understanding of the latest technologies and trends in the digital space and the work we do to enable ourselves and to educate and inspire others to embrace digital initiatives and strategies," enunciates Moin Khan. XenTegra's commitment to helping consumers and giving back to the community overcomes industry competitors. XenTegra believes in the power of digital technology to alter businesses and boost performance.
When it comes to serving their clients, the CTO says they can be everything from a consultant to a business analyst to even a technological leader. They lead the way in spotting digital transformation possibilities, crafting and executing digital strategies, and coordinating the efforts of cross-departmental groups to meet business goals.
Team XenTegra has strong technical ability, but they also have excellent communication and leadership skills, which they use to persuade others to adopt new technologies and procedures and convince others of the value of digital transformation.
Moin's role in reshaping the IT solutions market.
Moin Khan is an innovative leader who sees the big picture and tries to make it happen. He takes stock of the current condition of affairs and notes that technology's importance has grown in every facet of human existence in recent years. Organizational processes, customer habits, and employee expectations have all been significantly altered due to technological advancements in the workplace. He goes on to say that XenTegra is a significant player in the IT solutions market because of the consulting services it offers to businesses, which help them make informed decisions about moving away from ineffective, outmoded methods and toward more strategic ones that help them achieve their IT modernization and digital transformation objectives.
XenTegra's expertise and services span the entire multivendor, solutions advisor, and value-added reseller, hyper-focused on digital workspace technologies and cloud computing. Andy Whiteside, XenTegra CEO, quotes, "Value-add is something that is missing from the ecosystem, and we are going to build value-add 2.0 with the idea that we have a passion for enabling and educating our customers to promote a user-centric workspace securely accessible from any location, on any device."
XenTegra provides value by assisting and advising customers with the integration and implementation of our core technologies into a solution that allows clients to futureproof their digital transformation initiatives. Their awards speak for themselves:
2019 Citrix Worldwide Partner of the Year
2019 Citrix Innovation Award Winner for North America
2020 Citrix US Partner of the Year
2020 Microsoft Lighthouse Partner AVD
2020 Top Citrix MSP in North America
2020 IGEL Partner of the Year
2021 IGEL Growth Partner of the Year
2022 CRN Solutions Providers 500 List
2022 Nutanix Cloud Champion
2022 CRN Fast Growth 150 List
2022 Inc 5000 Fast Growth List
2023 Nutanix Cloud Champion
Measures to foster honesty and creativity in the XenTegra workplace.
According to the CTO, XenTegra's culture is multifaceted and dynamic, influenced by leadership, beliefs, policies, and employee behavior. However, XenTegra takes numerous initiatives internally and advertises to its customers to establish a culture of honesty and innovation. It includes establishing a clear set of beliefs and principles that reflect our dedication to honesty and creativity and creating an environment where people feel comfortable speaking out and sharing their views. Inspire our consumers and ourselves. Meanwhile, it also fosters a culture of continual learning and growth and gives employees and customers a chance to gain new skills and face new problems through podcasts, webinars, and in-person training. The company is keen on promoting teamwork and diversity in a friendly and inclusive environment. There are relentless efforts to encourage staff to try new things and reward those who contribute to the company's culture of innovation.
Perspectives on the dynamic information technology sector
Moin considers that as new technologies and developments arise, the IT industry is in perpetual flux and poses a growing security risk. He enumerates some significant shifts that have occurred in the IT sector in recent years, such as:
Cloud computing: Businesses' data storage, processing, and application accessibility have been transformed by cloud computing. Instead of buying and maintaining server hardware, firms can use cloud computing to access huge online processing capacity on demand.
Artificial intelligence (AI) and machine learning (MI): AI and ML technologies proliferate in various domains, including IT. These technologies will automate procedures, improve decision-making, and increase efficiency in the business world.
Cybersecurity: As cyber threats grow in quantity and sophistication; organizations of all sizes must address cybersecurity. There has been a rise in the expectations placed on IT staff to prevent and respond to cyber threats.
Moin's desire to influence the future generations.
Moin thinks it can be tricky to bring about a shift in the generation. According to him, it entails working to alter people's perspectives while they are experiencing information overload. He suggests a few approaches that could be taken to affect generational shifts:
Establish a compelling vision for change. This vision should be purposeful and linked with the generation that people like Moin aim to influence.
Share one's vision in a way that resonates with their audience. Moin uses storytelling, visuals, and other methods to communicate.
Engage with decision-makers, influencers, and regular folks. It can help the influencer gain momentum.
Build camaraderie among those that share a similar vision. It can inspire group effort and a sense of shared purpose.
Empower individuals to act and change. Help others take action toward the shared goals by providing tools and assistance.
"I strongly believe in building community, and the strength of a community of IT consultants lies in its ability to collaborate, share knowledge, and support one another. By working together, we can leverage our collective expertise to deliver better solutions and provide value to our clients, "Moin Khan adds.
Roles and responsibilities as global CTO XenTegra
To fulfill his role as XenTegra's global CTO, Moin must switch between several hats. He is also the executive head of XenTegra's Canada and India operations. His day begins at dawn with a team meeting in India and finishes at 7:30 pm when I finish my final call from the west coast. After putting his children to bed, he works on paperwork and contracts late into the evening. He often puts in long hours at the office but always makes time to visit with his loved ones. Moin asserts that at this point in XenTegra's development, his top priorities are strategy development in the areas of marketing and finance, the pursuit of large-scale projects, and the advancement of the company's existing strategies in collaboration with his team, where he can strive relentlessly to outperform our sector.
As CTO, Moin is responsible for aiding their clients in their end-user computing journey; they have formed the Office Strategy & Innovation (OSI) group to drive innovation, enhance operational effectiveness, standardize business procedures, and solve client problems. His responsibilities include creating a growth and innovation plan for the Next Generation Desktop Transformation for several large accounts in the United States, Canada, and India. Khan must direct a multidisciplinary group charged with exceeding targets for client satisfaction, revenue, and contract renewals. He is responsible for creating a comprehensive plan to revamp IT by streamlining the Enterprise User Computing (EUC) portfolio, reducing the number of standard computing stacks, and introducing laser-like strategic business partnering capabilities. Last but not least is implementing realistic "guiding principles" for IT architecture, which will radically alter their strategy.
Moin's method of work-life balance
Moin frankly confesses that he has trouble with this. He believes that we can all benefit from striking a better balance between our personal and professional lives because of its positive effects on our happiness, productivity, and overall well-being. He utilizes a few methods to balance his professional and private obligations. Firstly, it revolves around establishing and maintaining firm limits. It is essential to distinguish between work and personal time and treat them as such. Regular breaks to rest and recharge are necessary, as is setting boundaries around the hours. One will be available for work-related interactions. Next is putting oneself first. Moin's logic is that prioritizing one's physical, mental, and emotional health is crucial for keeping their business and personal life in harmony. Doing things like working out, eating right, and getting enough sleep can help.
One can better prioritize your chores and activities and allot their time with the help of time management techniques and tools. Using this method, one can do more in less time, freeing up more of their schedule for the things that are truly important to them. Keeping a positive outlook and remembering what one has to be thankful for will help one face adversity with poise and strength.
Note to the Next Generation of Leaders
Moin thinks leadership is an adventure that calls for never-ending curiosity and development. One must keep the following five things in mind as one becomes a leader.
Vision: To be an effective leader, one must have a clear and compelling vision. It motivates you and others around you to work toward a common goal.
Communication: One of the most vital skills for a leader is conveying their vision and ideas to the team. It involves skills like attentive listening and empathic interpretation.
Empathy: A leader's ability to inspire and motivate followers hinges on their capacity for empathy or the ability to put oneself in another's shoes and understand what drives them.
Adaptability: Leaders must be flexible and receptive to new ideas and methods since the world constantly evolves. It shows you're open to criticism and prepared to make adjustments.
Integrity: People have more faith in and respect for a forthright, open, and consistent leader.
He asks the aspiring leader to remember that leadership requires not perfection but honesty, transparency, and bravery. Learn to accept your abilities and limitations as you strive for leadership. He completes his message by wishing them all good luck.