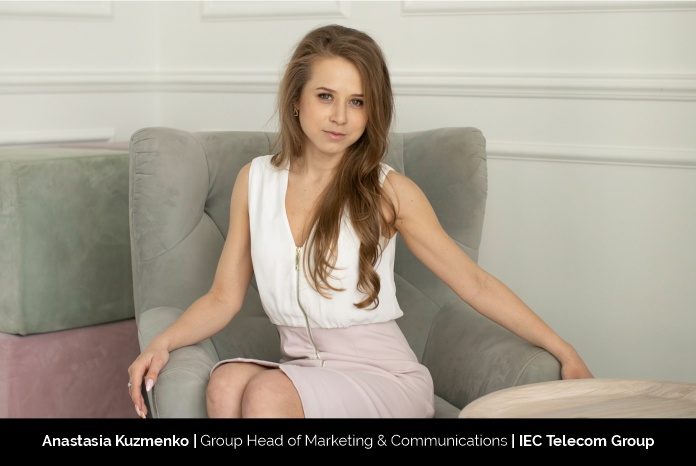 Being an ambitious senior marketing professional with vast experience on her side, Anastasia Kuzmenko, Group Head of Marketing & Communication at IEC Telecom Group, is tapping into her wide skill set to take projects to the next level. With fantastic project management skills and an innovative approach, she is fueling the growth of the company.
Diving into the marketing industry
Anastasia has always been attracted by mysteries. As a child, she sincerely believed in magic, and it remains close to her heart to date. She adds, "I simply define it differently. I believe that life is an adventure, and everyone is a wizard in charge of his fortune. Marketing is my magic wand. It combines the rational, like budgeting and planning, with the irrational, like design and copywriting, to deliver an impactful campaign – changing behaviors, creating new names, inspiring action."
She believes that the industry has a lot of hidden potential that can revamp the whole world. She stresses the point and shares, "Every time we launch a project, I can't hold my excitement. While I sit behind the screen, sending emails and tracking results, our messages are being spread in the world outside, creating a new reality. Do you know of any other industry having a similar effect?"
Evolving into a mature leader
Anastasia started her career while she was still studying at the university. She grabbed a part-time job with a PR agency that services one of the major airports in Ukraine. Thus, she was engaged in international projects from the very start of her professional journey.
At the age of 23, she moved to Dubai, where she worked, first, in an events agency, servicing a wide range of clients from the corporate and the government sectors. Following that, she shifted to in-house marketing, being employed, first, in business aviation, and later, in the energy sector.
She climbed the ladder of success and joined forces with IEC Telecom Group in 2017. She says, "Choosing the leadership path felt very natural. I was raised in an entrepreneurial family, so I inherited the principles of accountability and respect for hard work with my mother's milk. I simply can't imagine myself acting in a different way. If I see an opportunity, I give it my best shot."
She feels fortunate to have achieved the position through her sheer hard work and commitment. Thus, to date, for her, being the first marketer and the first woman in the history of IEC Telecom Group to be admitted to the Board has been her biggest recognition.
Never fear the challenges
Anastasia believes that challenges are an integral component of growth, and if a person is looking to widen his or her horizons, then he/she should be ready for change.
Marketing has proven to be the driving force behind business development. Yet not all companies are ready to embrace this notion. Many top executives perceive marketing as an expense rather than an investment. This type of mindset is the key roadblock in the marketing world. She expresses, "In my opinion, the pandemic served as an eye-opener for skeptics. Being unable to meet customers in person, business owners had nothing else to do but explore marketing instead."
Marketers also need to follow smart strategies rather than being slaves to modern tools. They need to keep an eye on the expense reports and make sure that, in these difficult times, marketing funds are used to deliver leads that are necessary to power the business that is otherwise isolated by social-distancing restrictions.
Overview of IEC Telecom Group and its services
IEC Telecom Group is one of the leading international providers of satellite communications services. Renowned for supplying high-quality satcom solutions for more than 25 years, IEC Telecom delivers efficient end-to-end voice and data services when and where it matters most.
Anastasia shares, "We enable digitalization for the maritime industry as well as remote units on land, where GSM coverage is not available. For urban networks, we provide a powerful satellite back-up to ensure the business continuity of customer enterprises. Our portfolio includes a wide range of satellite products (from handset to VSAT services), solutions, and value-added services. In addition, we offer 24/7 support for satellite-based solutions during their full lifecycle."
Distinguished market position
Her vision is to strategically use their strong market position and integrated approach of in-house design and engineering expertise to lead in the niche of a satcom experience with custom-made solutions.
Keeping in mind the operational efficiency and enabling of a reliable network in areas with no GSM coverage, they are striving hard to secure business continuity for all the customers regardless of their area, be it over deep seas, high mountains, or vast deserts. They have also witnessed huge development in other aspects such as videoconferencing, remote maintenance, and big data exchange.
She shares, "Connecting customers beyond limits has been more than a motto and rather a strategic vision deeply rooted in our corporate DNA. We are committed to going the extra mile, and this is exactly what our customers need the most. Instead of offering a "one size fit all" service package, we take the time and effort to define technical requirements for each case, and subsequently, deliver cost-effective solutions that aim to resolve project-specific needs."
A well-planned executive
Being the Group Head of Marketing and Communications, Anastasia mainly handles the development and execution of the global marketing strategy along with managing remote teams based in Europe, the Middle East, and Asia. She is in charge of all marketing collaborations with key strategic partners. Her efficient planning and organizational skills help in minimizing risks whilst securing the best possible outcome, be it personal or professional life.
Incorporating a friendly and motivating office culture, she shares, "When speaking of IEC Telecom, I often say "our family" rather than "our team." I am always happy to be back at the office as a place where I meet like-minded people with whom I have the privilege to build a future for the company. I promote the same vision internally as I believe that loyalty is one of the key drivers behind efficiency. My teammates know that regardless of any work-related issues, I will always have their back in case of an emergency as well as support them as much as possible on their way to self-improvement and professional development."
Her workday kickstarts with coffee and then branches out into different job roles every day, from answering emails on the plane heading to the board meeting to navigating through a dusty exhibition pavilion to find a freshly-built stand to filming seafarers at the Aral Sea or spearheading the launch of a new PR campaign from her office. COVID-19 may have shifted the platform to digital, but she understands that "the show must go on."
Qualitative personal life
Anastasia has always aimed for a qualitative life, where she enjoys her time even outside the workplace. Having travelled to 30+ countries, she is super excited to discover new cultures and their exquisite history, art, architecture, and cuisine.
Another source of inspiration for Anastasia is continuing education. She shares, "I am currently pursuing an Executive MBA. Not only did it contribute to my professional life, but also taught me a lot of invaluable lessons about leadership, which I widely apply in my personal life."
Future roadmap
Since IEC Telecom is emerging to be a powerful brand, Anastasia and her team have a myriad of ambitious future plans and are excited about the upcoming chapter of the brand's story. She adds, "In less than four years, we scaled up our marketing communications from region-by-region to a truly global scale."
She further desires to advance in the satcom industry, and in the future, engage all the industry influencers to collaborate on effective ESG projects and serve different communities besides prioritizing sustainable business growth.
Sharing an inspiring message for aspiring women, Anastasia states, "The only thing you will ever compete with is your own fear. Don't overcomplicate it. Act instead. Winners are judged by results."