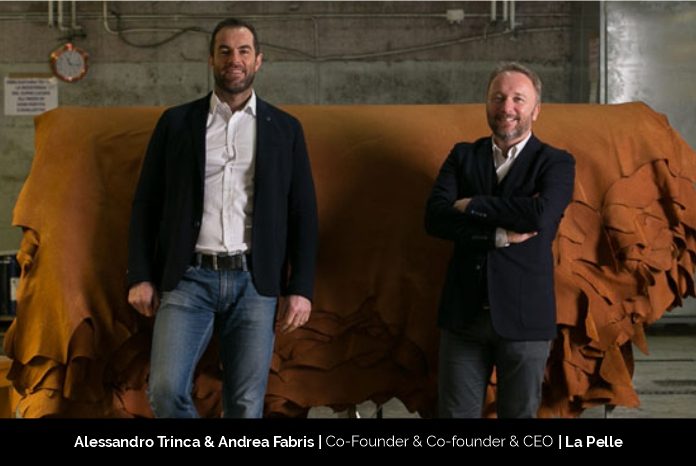 Taking risks in business is a pre-requisite of a good leader. These risks can be a success or can even turn out to be a failure, but a true leader endures every failure, writing an incredible success story. As they ventured out on an adventurous journey, Andrea Fabris and Alessandro Trinca were not sure of what the future had in store for them. They followed their passion and were determined to achieve their dreams, which led to the founding of Lapelle in 2006. A leader of its field, Lapelle produces leather for furniture. They are recognized by their quality and good customer service. Lapelle's exponential growth over the recent years is a result of their knowledgeable leadership and their hardworking team. We have put together a glimpse of their awe-inspiring journey, to motivate every individual who is a risktaker. This is the success story of Andrea Fabris and Alessandro Trinca.
The Foundation of Lapelle
Lapelle was founded back in 2006, when Alessandro Trinca and Andrea Fabris quit from their safe job positions to start an adventurous path, which led them to become agents and sell worldwide Italian leather for furniture. Their dreams and ambitions were to be good and diligent as agents and to connect furniture producers to Italian tanneries, as they always believed that "made in Italy" was and still is a concrete asset, worldwide recognized.
When they began, the market was almost saturated by experienced and well-known agents and sales representatives, thus it was not easy to find space to promote the products made by their local partners. Two years after Lapelle's foundation, they suddenly faced the 2008 world crisis, during which the furniture leather market shrank and became more and more demanding in terms of quality, on time deliveries and technical standards. The rules suddenly had changed. However, the will to outgrow every challenge and redefine success, was a part of their character. The creative duo persevered the crisis and today, Lapelle is one of the leading companies of its field.
The Growth and Services of Lapelle
In 2013, strengthened by the experience and encouraged by their own customers, they decided to invest the little available assets and buy lots of raw hides, and process them at a contractor's factory in the leather cluster of Arzignano, in the Veneto region: they soon became one of the major players among the Italian furniture leather producers.
"The fastness of our growth surprised ourselves too, honestly, as went beyond any possible expectation.", shares, Andrea. The total turnover in 2013 was 739,000 Euros and 5 years later reached 20 million Euros. The Financial Times as well as some other major newspapers and magazines appointed them as one of the fastest growing companies in Europe, (the fastest in Italy in 2018).
Lapelle produces leather for the furniture industry. All the raw material they buy is certified by LWG (Leather Working Group), in order to ensure traceability of the material and process, in the respect of the environment and ethical rules. They invest a lot in research and development, in order to offer their client, new ideas and colors for their design.
Leaders of Passion and Power
Before Lapelle, Alessandro and Andrea were Area Sales Managers in a local tannery. "We always traveled a lot and attended several exhibitions on all continents: I still do the same, because I know I can't get information about market trends or happenings, sitting in my office! Despite the ease of communication and the massive availability of on-line information, the personal meetings and face to face contact are still essential to establish a proper network. Our biggest asset is the network we created since the early years of our carrier-success is made of people!", says, Andrea.
"I feel a growing responsibility against all the stakeholders: not only our employees are important to us, but we really feel the commitment we have with our clients: they trust us, and we can't let them down! This gives me excitement every morning when I wake up and drive one hour in the traffic to get to my office, as well as motivates me during  all the weekends I have to spend far from my family, in some remote regions of the world." He adds.
They are one of the examples that, in a world where big players merge and get bigger and business is ruled by huge corporations, there still is a chance to set up a profitable and successful company, even starting with no money or third-party financial support. Their network and transparency towards their clients and suppliers were their only assets in the beginning. Today, they see the furniture upholstered with their leather being sold and distributed by those big corporations, that makes Andrea and Alessandro very proud of their journey. Despite all, they believe that big groups also need the support of small company like themselves. They are leaders who believe in themselves and believe in the capabilities of their team, exemplifying true leadership qualities.
The Vision of Lapelle
Lapelle's vision is very simple, as they only commit on projects, they are confident they can deliver with quality. There's no point in aiming to approach businesses you're not ready or structured for.
Some of their key factors are:
commitment to long term partnership (towards clients and suppliers)
projects' disclosure.
Less talking, more listening.
Focus on Quality: leather can be tricky sometimes, as it is a natural product. They set different QC filters made by their very skilled team, on several steps of the process. Lapelle must be sure of the product they are delivering to their client.
The Motivation To a Bright Future
"I do not see real roadblocks in our path. Obviously, the situation in Italy (or Europe) has not been easy in the last years and who knows for the next years to come…but we always invested on all continents, so we see there always can be some space for us!", shares Andrea.
As a part of a growing business, Lapelle faces several roadblocks every day. To keep their employees motivated the leaders always disclose their projects and play with their cards on the table: they do the same with their clients and suppliers. They believe it is easier to fulfill each other's needs, when these needs are clear and well communicated.
Lapelle has some interesting projects for the next year and they believe they will grow more rapidly, but they will do things step by step. "We must always keep our biggest focus on existing customers.", with this perspective Lapelle is gearing up more bigger goals driven by the vision of Andrea and Alessandro, the leaders of passion.