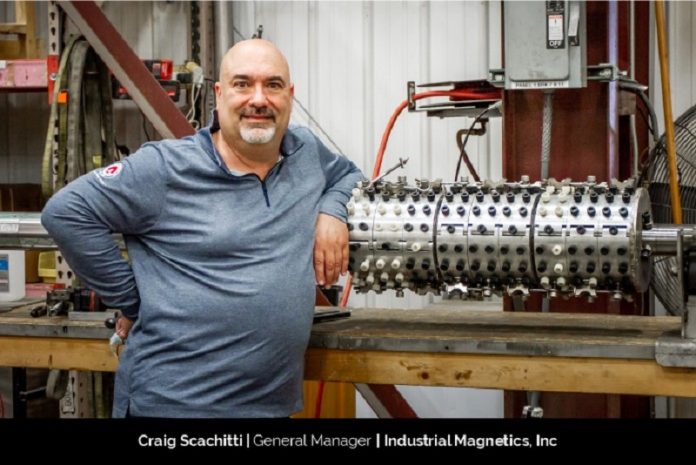 In this capricious industrial market, the one thing that remains constant is people. Industries come and go, cultures change, leaders eventually retire, but the impact on people lasts. Craig Scachitti, General Manager of Industrial Magnetics, Inc., firmly believes in this notion and states, "The measure of success is simple, leave people with whom you've interacted as better off than before they knew you."
Journey to success
Craig has enjoyed a blessed career working for several Fortune 500 companies. While growing up, he completed his Bachelor of Science-BS in Electrical and Electronics Engineering and stepped into the corporate world as Electrical Engineer with Weyerhaeuser. He was responsible for managing process, maintenance, and product engineering. Then he shifted to J&J Personal Products with the same portfolio and took the same responsibilities. He reduced the engineering support by 75%, developed and implemented an electrical preventive maintenance program.
Then he joined Material Sciences Corporation taking the onus for Supervisory Positions in the Maintenance and Production department. Then he was promoted to Environmental Manager & Chemical Process Supervisor in 1996 and handled the responsibilities of the role for three years. Handling all the responsibilities, he managed to reduce the budget of the year 1998 by 20% and increased gross profit for the diskette product line by 45%. The next year he took that percentage to 218%.
In 1999, he was promoted to Quality Assurance Manager, and finally, in 2001, he grabbed the role of Production Manager.
After this, he became Operations Management Contractor at Material Sciences Corporation & Federal Iron Works. He led the manufacturing of computer hard diskette drive covers for the Malaysian firm and acted as an expatriate for Material Sciences Corporation along with General Manager. He managed operational functions for the supply chain, partnered with Tier 1's and host nationals. Moreover, he implemented total quality management (TQM) techniques, established ideal run settings, introduced X-bar & R charts (SPC), introduced histograms, and taught the concept behind Six Sigma (6σ).
In 2005, he joined ITW Buildex as Plant Manager. He managed the Secondary Operations Plant (finishing and packaging) and two contract manufacturer facilities. As the Plant Manager, he increased packaging efficiency by 74% by implementing a Kazien team to eliminate waste and automate time-consuming functions. Also, he increased flow-time by 99% by implementing the theory of constraints such as adding capacity and setting different rules for 'A' parts versus 'C' parts.
After a year, he was promoted to the role of Plant and Logistics Manager. He managed the secondary operations plant (finishing and packaging), two contract manufacturer facilities, three distribution centers, and material control. He improved on-time delivery by 23% while reducing inventory by 46% by implementing a Kanban/Consignment program for assembly components for the SAS Business Unit.
Then he grabbed the title of Manufacturing Manager at the company. He led all facets of operations for two manufacturing plants, two contract manufacturer facilities, all distribution centers, and material control.
He increased efficiency by 21% in manufacturing and by 28% in secondary operations via Kaizen teams, setting standards/expectations and measuring via global metrics. He increased warehouse picking efficiency by 46% by using value stream mapping to reduce non-value-added activities and improved safety by 42% by implementing team-based weekly "five-minute safety talks."
In 2009, he joined forces with Loma Systems, a $100M Division of Fortune 200 Illinois Tool Works (ITW) focusing on FDA compliant inspections systems primarily for the food and pharmaceutical industry, including X-Ray detection, Metal Detectors, and inline high-speed Checkweighters as Operations & Supply Chain Manager. He was responsible for manufacturing, purchasing, inventory (including supply-side analysis), and Engineering and developed KPI Standards that were accepted as ITW's Best Practices and are used as an example for other divisions.
In 2012, he was promoted to the title of Business Unit Manager. He was responsible for new equipment and aftermarket sales, accounting, manufacturing, purchasing, inventory (including supply-side analysis), and Engineering. With his skills and capabilities, he increased Variable Margin by 4%, Gross Margin by 6%, and Operating Income by 17%. He recorded new heights of customer satisfaction in all four measured categories (Pre-Sales Experience, Delivery, Quality, Startup) based on 3rd party surveys. The results were achieved via redirecting necessary resources, performance metrics, and individual accountability while driving customer first attitude.
In 2014, he grabbed the title of Vice President Global Operations at Deflecto Acquisitions / Jordan Speciality Plastics. He was responsible for global demand fulfillment, including manufacturing operations, safety, distribution, supply chain, quality, material management, planning/scheduling, engineering, customer service, and human resources department. He managed to cultivate a winning culture, standardized manufacturing practices across all BUs, built a world-class procurement team, full P&L, implemented short- and long-term strategies, evaluated make-vs-buy decisions to increase margins, and provide superior service. He developed and led a world-class, high-performing operations team and introduced his Six Core Principles and Training Models to instill best practices and create cross-divisional synergies company-wide.
Then in 2020, he joined forces with Industrial Magnetics, Inc. as General Manager. While climbing the ladder of success, he realized that having fun while growing is essential, and a person should strive to achieve it. He states, "There are multiple parallel conditions that make the journey fun.
Knowing how to win the game, which is more or less an understanding of history and best practices; having a team that has the talent or potential talent to succeed; and the financial support allowing you to make bold decisions that put people in the best position to succeed."
Growing stronger with challenges
Craig believes that challenges are the best teachers in life, and one should have the attitude to learn the hidden lesson in them besides losing all hope and becoming a victim. A person should always have the confidence to make the correct decision rather than taking the one that will satisfy some people's satisfaction. Over the course of one's career, one will look back at one's own decisions and the ones made by others. He/she will realize that some failed and some worked, but every one of them evolved the character and came with an important lesson. Due to these lessons, one can achieve success and rise to new levels of heights. Everyone will overcome the obstacles, but the difference between a successful leader and others is the way of tackling those challenges and evolving with them.
He adds, "When I look back, the roadblocks that proved most difficult have been regulatory in nature.  Laws or tax rulings that encourage a company to move work overseas, competing with overseas competitors that are subsidized by their government, producing a product that meets expected standards while another skimp are examples of serious roadblocks. "
He gives an example by stating, "While at a Fortune 500 company that produced construction products, our competition was foreign and enjoyed two advantages: their government gave them subsidies, and their product performance specifications fell short of various industry standards.  To keep our market share, we developed two lines of the same product. A "platinum" grade that met or exceeded all requirements and offered features that either saved labor time or eliminated failures.  The second grade was a "challenger" grade that was close in price to the foreign competitors.  Having these two levels allowed our sales team to educate customers as to the difference.Tying the competition's product to the "challenger" grade spoke volumes.  Without the two grades, the foreign product was assumed or accepted as being equivalent."
Overview of services of Industrial Magnetics, Inc.
IMI is an industry leader in providing both permanent magnets and electromagnets for work holding, lifting, fixturing, conveying, and magnetic separation.  At IMI, their specialty is custom fabricating! They design, engineer, and manufacture magnetic assemblies and magnetic separation devices for their customers' specific requirements and take pride in the quality and performance of their products.
Craig states, "With worldwide distribution through a combination of a direct sales force and manufacturers' representatives, we strive to provide personalized service and innovative solutions to meet the exact needs of your application.  USA M.A.D.E.™ IMI is proud to be a United States-based manufacturer of magnetic assemblies, and our USA M.A.D.E.™ logo is how we like to show it. You will find our USA M.A.D.E.™ logo on any of our products that are Manufactured, Assembled, Designed, Engineered here in the USA at our facilities."
Taking the company to the next level
Being the leader in providing state-of-the-art magnetic products, Craig feels gratified to say that IMI need not be a leader in redefining their magnetic products. The performance, style and ergonomic design, attention to detail, testing and validation, and even color choice are best in class.
He expresses, "My contribution is to acknowledge IMI's outstanding performance and reputation and encourage the team to continue. "Encourage" means more than positive words, rather it's my responsibility to make sure the team's foundation is maintained, and their needs are supported for both growth and advancement."
Backing up his skills and vast experience in the industry, he steers the company in the right direction and aims to spread the roots further by infusing the power of the latest technology and creating innovative products and services for their customers.
Industrial Magnetics stands tall on its core values and believes that every company has three equal stakeholders; the customer, the employees, and the investors. Ever since Craig joined, IMI already had formulated the vision and mission statements intact, and he always believed in them. Not just this, even his team liked them and is continuously working in accomplishing the goals set by the management.
Sharing the company's vision statement, he says, "Dedicated team members working together to add value to our customer's business by providing creative solutions & products for our mutual success." They all work hard to stay true to the core values so as to fulfill the goals of the vision statement. In this way, they are able to stay on top of their competitors and impart 100% customer satisfaction with their consistent efforts.
Leading as the General Manager of Industrial Magnetics, Inc.
As the general manager of Industrial Magnetics, Inc., he has a multifaceted role to play. His weekly focus lies in the company areas that require assistance or offer development opportunities. Owing to his dynamic work nature, no two days are considered the same. However, he tries to ensure that he makes time for walking in the plant so that he can have the opportunity of learning about both personal and business events that his teammates are going through.
One thing that he has learned over time is that he has to respect everyone's time. He adds, "I might be focused on change, but I need to understand that people have a "day job" that takes priority. Yet, the fact that I can focus on the evolution of IMI speaks to the talent at IMI."
Due to this nature, he believes that the best phrase that describes him means "supportive but impatient," however, the Chinese called him 老师, which means professor/teacher in English.
To keep his team motivated, he relies on vivid communication of their strategy, focus, and results, be it good or bad. With such clarity, they are well-aware of all the roadblocks that may hinder their path to success.
He himself stays motivated by reading a slogan that he has kept printed next to his desk. The slogan is the first law of cybernetics, "The unit within the system with the most behavioral responses available to it controls the system." It keeps him reminded of a crucial point, which states, "If I want a problem solved, or if I want an area to improve, I have to let go and allow the team members that control the process to arrive at the results desired." This also helps their team take charge and set the standards to which they want to achieve.
Sharing his views on attaining work-life balance, Craig loves the outstanding program called the 9/80 schedule that helps the employees strive for a great work-life balance. All the employees who become a part of this program can elect to work 9 hours per day and then take the benefit of enjoying an off on every other Friday. To meet the staff requirements on any given Friday, employees from each department will come on alternate Fridays.
Charting the future plans of Industrial Magnetics, Inc.
Craig explains the company's future vision to grow IMI so that it can reach the zenith of success. For that, he shares, "We will focus on creating a customer via innovation and marketing." He opines in the fact that if they could implement this correctly, growth is bound to follow.  It is because they have built a solid foundation, and thus, their structure will keep standing without any scratch for years to come.
Personally, he states that he believes in finding growth and success in making others succeed. Thus, he focuses on sharing his knowledge and witnessing the success that others achieve.
Sharing his message to emerging business leaders, he adds, "Do not become numb in doing the right things. Define your moral compass and keep true to your beliefs."