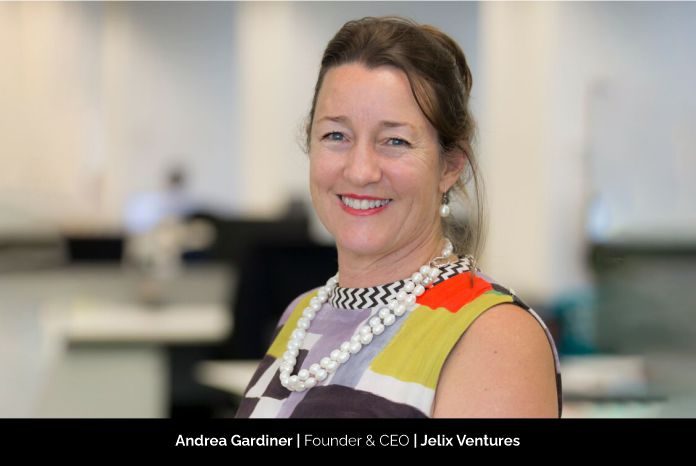 "When the front door is shut in your face, climb in the side window." Well, Andrea Gardiner was not sure where she heard this quote, but it became her inspiration to begin her entrepreneurial journey that led to the founding of Jelix Ventures, a respected and valued source of early stage investment opportunities in world class Australian and New Zealand technology startups. Convinced that disruptive, scalable, technology businesses are critical for the future economic prosperity of Australia, Andrea is passionate about backing daring technology founders to make the world better. "We love the excitement of potentially world changing technology and the tremendously positive and generous nature of the sector where so many are keen to help each other change the world.", Andrea shares. As a financial professional, Andrea has led Jelix Ventures with passion and dedication. She brings a remarkable level of excellence to the business with years of experience as an investment banker and a lawyer. We are honored to feature the inspiring insights shared by Andrea Gardiner herself, where she highlights the challenges, growth, and vision for the future.
What were your dreams and aspirations while growing up?
I wanted to see the world beyond the little Australian country town I grew up in and have adventures. Before investing in technology startups,  I was an investment banker with Lehman Brothers (in London), a global debt capital markets lawyer and earlier, a social worker, but before all that I was a professional rock climber.
This is me, demonstrating a 'heel hook' on a promotional poster for a climbing film I was in about 20 years ago!  I learned a powerful lesson climbing.  One day, feeling proud & excited after leading a particularly hard climb, I waited at the summit for my belayer, eagerly anticipating his "high 5s". He was a top rock climber in the world, and I was eager to impress him. But instead, he summited angry. I had placed a piece of protection that was solid but ignored a better placement nearby. He berated me; pointing out that in undertaking high risk activities in pursuit of big rewards, it is critical to maximise risk mitigation. I felt humiliated, the lesson went in deep and underpins all my work investing with Jelix in high risk, high reward startups.
What inspired the foundation of Jelix Ventures?
In 2013, Ian Gardiner, entrepreneur and now Jelix partner, co-founded Innovation Bay to provide educational events & networking opportunities for entrepreneurs.  About 10 years ago they added 'Shark Tank' type pitch events. Over the years, we noted the start-ups that became great companies, and those with similar characteristics pitching that went unfunded. We hypothesised that this was due to a lack of experience and confidence in angel investing. Almost as an experiment, we led an investment round into StorReduce, and it was oversubscribed within a day. So, I started Jelix Ventures to provide a way for investors to invest in startups with confidence. 3.5 years later, we returned 10 x to our StorReduce investors when it was acquired by a Nasdaq listed company, Purestorage.
What was the driving factor that kept you going despite the challenges?
Starting a venture capital firm in Australia has like most startup journeys been a rollercoaster.  The highs are at times euphoric and the lows, which for me are usually caused by simple tiredness, sometimes make me cry. But I absolutely love what I do. It is intrinsically valuable beyond generating profit. I have hit my sweet spot in work. It is a great privilege to work with extraordinary founders, daring to make the world better.  Startups less than 2 years old created over 90% of the new jobs in Australia in the last few years, so backing innovation is a critical economic imperative. I get bored easily and I am never bored working in venture. I get to learn about new businesses and markets every day.
How did you overcome it all? 
The ever reliable encouragement and support of immediate family and my wonderful personal friends along with many others in the Australian startup sector and in particular Australian venture capital heavy weights Michelle Deaker, founder of One Ventures, Rick Baker, co-founder and GP of Blackbird Ventures and Daniel Petrie co-founder of Airtree Ventures, but most of all my husband Ian Gardiner (who also now works half-time for Jelix), has backed me the whole way.  While the Australian startup sector is a fledgling, relative to Silicon Valley, it is characterized by incredible gratuitous generosity, so many are willing to help others, and I have benefitted enormously from this as have many first-time founders. My just mentioned mentors, along with real sector heavy weights, Mike Cannon-Brookes and  Scott Farquhar, co-founders and CEOS of global  Aussie tech unicorn Atlassian, are all people with good values, who have helped establish from the top, a wonderful culture in the Australian startup sector.
Explain the services of Jelix Ventures in brief.
Jelix backs daring tech founders to make the world better. We invest our own funds in extraordinary early stage startups and invite others to co-invest on the same terms. Now, Jelix is raising a venture capital fund offering investors the benefits of a diverse portfolio of Australian and New Zealand tech startups.
Since your first step as an entrepreneur to a successful businesswoman, how do you define growth and success.
Jelix has built a successful investment track record over 27 investments into a high performing portfolio of 19 startups. One exit returned 10x to our investors, there have been 9 follow-on rounds at significant valuation uplifts and others portfolio companies are performing strongly, including one with a 500% uplift in all metrics in the 21 months since our investment.
We have what sector leader Daniel Petrie, has described as unparalleled deal flow of 1,600 applications for funding p.a., in the seed stage in Australia. We have built a strong reputation in the startup sector particularly amongst founders as value adding investors whose integrity they can trust.
How has Jelix Ventures grown over the years? Have you ever felt challenged as a female leader in this industry?
We have built a strong investment track record that we are proud of, a great reputation and extraordinarily strong deal flow which allows us to punch well above our weight, and a small, but super high-calibre team that I could not be more proud of. When I founded Jelix Ventures I believe I was only the second woman to found, a venture capital firm in Australia and one of only a literal handful of women venture investors, so it was intimidating.  Early on, it was just me, working hard to build sufficient investor confidence in our investment decision making to pay our fees to co-invest with us. Now our awesome team help with this enormously. We are currently raising a fund and I am excited by the enthusiasm of those we have pitched to.  However, I have no way of knowing, whether it was harder for me to build those investor relationships as a woman or whether it is harder for me to raise a fund as a woman. The stats out there suggest that it is, but as a climber and an investment banker, I worked mostly with men, and if it is harder, then I just have to work harder to build investor confidence and raise the fund. I believe that valuing excellence, integrity and transparency wins trust, and investors and founders value that beyond gender.
You are a part of a massive industry with great competition. How does Jelix Ventures stay abreast with this competition?
Scott Kupor, the managing partner of Andreessen Horowitz which has $7b in assets under management, in his seminal recent book "The Secrets of Sandhill Road",  credited much of the success of the big venture capital firms to having a big brand that attracts the best startups. Jelix has built a strong brand with a highly visible profile in the innovation ecosystem. It helps that I am regularly invited to speak at startup sector events around Australia and in New Zealand, and to provide commentary to various media. Ian is the co-founder of Innovation Bay and is the high-profile host of its regular startup events and his popular podcast "Open the Pod Bay Doors".  Our high profiles, together with our reputation amongst our portfolio founders as value adding investors that they can trust, along with well established  relationships with other venture investors, helps attract our extraordinary deal flow. This in turn, helps us punch above our weight in terms of attracting strong investment opportunities.
How do you maintain a balance in your personal and professional life?
I get up at 5am. Bike, walk or swim in the ocean with friends before starting work each day. This regular time with friends together with the support of my husband and adult kids, ensures a good level of sustainable emotional and physical health.
Define your roles and responsibilities as the CEO of Jelix Ventures.
I am the leader, the visionary and the strategist and I have the final say on investment decisions. But my most important job is to attract and retain a super high-calibre team, as it is only with a capable and motivated team that one can build a strong business. I am proud of our reputation, deal flow and investment track record, but I am most proud of our small, but superb team.
Tell us in one word how you feel as a successful leader.
Proud, and humble, we have a long way to go yet. I love that your magazine is profiling women leaders; role models are critical motivators for our young women to aim for the sky. I would never have started rock climbing in the mid 80s if I hadn't seen a big poster of an impressive woman climbing. Until I saw that, it hadn't crossed my mind that women too, can do these things.
How do you and the employees of the company stay motivated to deliver exceptional services to clients? 
I think we are all excited to raise the first of many funds and back the best Aussie startups to make the world a better place, while supporting economic growth and generating strong returns for our investors and ourselves.
What does the future of Jelix Ventures look like, globally? How do you plan to widespread the company services?
Jelix will continue to focus on investing in the strongest Australian and New Zealand startups. We plan to raise a new fund every 2 to 3 years. My view is that when funds become too big, there is a risk that fat fees risk complacency. So our funds are unlikely to grow to larger than $200k each, in order to encourage high motivation to continue to invest in the outliers capable of generating maximal impact on the world and returns.
As we have more resources my plan is to build out our support services for our portfolio companies to include recruiting, marketing, founder forums and other educational opportunities, and creating a structure to more effectively leverage the entrepreneurial expertise of our investors (many of whom have been extraordinarily successful).
We will continue to focus on sourcing deals early to leverage our deal flow, track performance and build a relationship advantage to win opportunities to quadruple down on the winners. Further, we are likely to grow a presence in other Australian cities, and in the future, a fund and presence in New Zealand.
Andrea's vision is to be the most sought-after source of early-stage technology investment opportunities in Australia, for investors globally, and the preferred source of funds for entrepreneurs. The Jelix goal is to support innovation and promote the technology start-up sector in Australia while generating outstanding returns for investors.