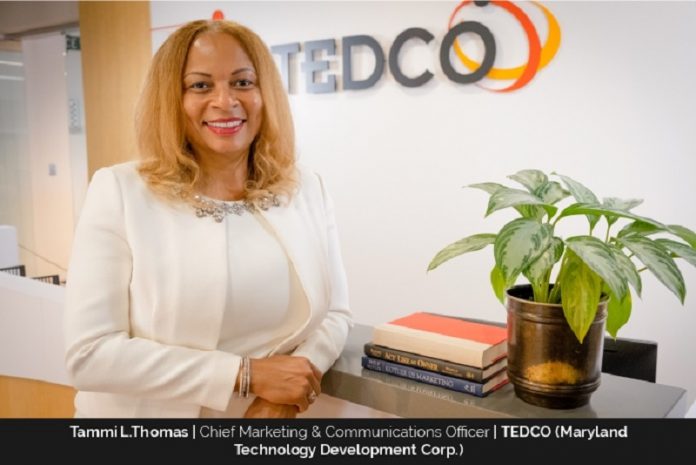 The Maryland Technology Development Corporation (TEDCO) can be an invaluable resource to Maryland's tech startups and entrepreneurs. As its Chief Marketing and Communications Officer (CMCO), Tammi Thomas recognizes that TEDCO's support can transform startups into successful businesses, leading to new jobs, increased revenue, and a better quality of life for Marylanders. It's no wonder she's relentlessly focused on spreading the word about TEDCO and its impact.
Tammi is tasked with ensuring that Maryland-based entrepreneurs—including those who are underserved and under-represented in the innovation ecosystem—know about TEDCO, its accomplishments, and everything it has to offer. She believes that when more people become aware of and access TEDCO's resources, the result is a better economic future for not only entrepreneurs, but the state of Maryland and our nation.
Tammi influences all aspects of marketing and communication efforts at TEDCO. She spearheads initiatives as a "loving" leader. Long ago, she learned that the "most powerful thing" one can be is "loving to others." Dr. Martin Luther King Jr., Tammi points out, knew people are competitive, and he also knew the downside of having too much pride. Dr. King's answer was "Keep feeling the need for being first, but I want you to be the first in love." That is what Tammi tries to live every day: to be loving to others and herself.
And, as CMCO of TEDCO, Tammi gets to merge her love of stories and data to make an impact. "It's a beautiful thing," she says.
Telling the Story of Maryland's Leading Source of Tech Start-up Funding 
In November of 2016, Tammi joined TEDCO, an organization with the mission to identify, invest in, and help grow technology and life science companies in Maryland. TEDCO enhances economic empowerment by fostering an inclusive and entrepreneurial innovation ecosystem.
Tammi works to ensure that entrepreneurs and the public understand that TEDCO is Maryland's leading source of funding for early-stage, technology, and life science-based companies—
providing entrepreneurs with capital, connections, and coaching. In terms of capital, TEDCO's funding ranges from ideation grants to Series A investments. Entrepreneurs get connected to the resources they need – from investors and strategic partners to service providers – and they also benefit from coaching in the form of roundtables, network advisors, and workshops.
TEDCO works with companies of all sizes with the goal to find and fund the leaders that will create jobs and drive the Maryland economy. "We're proud of the work we've done to drive the innovation economy in Maryland—in fact, we'll be celebrating 25 years of TEDCO and its impact on the tech ecosystem in May 2023!" says Tammi.
Tammi and her team will be planning collaborative events to mark this great milestone.
Leading with Integrity and Innovation
Integrity is one of the five core values at TEDCO. For TEDCO, integrity means providing the best quality service to all stakeholders and striving to exceed expectations; pursuing innovation and entrepreneurial success with the highest regard for moral, ethical, and inclusion standards; and standing by what it says and what does, while always acting in an honest and open way.
Tammi says that the culture of integrity is led by their CEO; as the CMCO, her role is to cascade the culture and messaging throughout the company. It starts with her own team. Tammi is empathetic and treats her team with the same respect that she would want from them. "I always encourage a collaborative environment where ideas and innovation can prosper," she says.
Innovation, too, is central to TEDCO's mission. "We lead innovation to market," says Tammi. "And it's essential we practice what we preach." Technology is constantly evolving, so Tammi and her team remain flexible, testing new products and processes to improve the efficiency and effectiveness of their work.
Under Tammi's leadership, team members are always open to redefining their marketing strategies. That might include promoting TEDCO thought leaders so that entrepreneurs can feel confident about the organization and are able to find the right support. It can also be about enhancing the storytelling with more direct and concise language to speak directly to stakeholders—as well as identifying new places and spaces to reach them.
A Glimpse of Tammi's Professional Journey
Tammi's interest in communications and marketing was first piqued when she was in high school. A friend of hers was running for class office, and Tammi volunteered to support the campaign. She helped him frame and shape his message to their fellow students. "We developed a clear narrative and reached out to key stakeholder groups," Tammi recalls. "My friend, who was the underdog at the beginning, had a landslide victory." Her friend's win made Tammi discover the power of a strong story and targeted outreach. It was a win for Tammi too: that successful campaign is where she found her calling.
Tammi began her career about 30 years ago in the business development space. She served as the Director of Business Development and Marketing at UMBC's Research Park and Business Incubator, now known as bwtech@UMBC Research and Technology Park. In this role, Tammi's primary responsibilities were to attract technology and biotechnology businesses to locate at UMBC and to help the incubator companies with integrated marketing strategies.
She successfully coordinated the research park's groundbreaking ceremony, led attraction and retainment efforts for more than 50 companies, and assisted incubator startups with limited budgets on marketing and business strategies. Tammi considers these some of her fondest UMBC memories.
She is also "deeply appreciative" of Freeman A. Hrabowski, who served as President of UMBC from 1992 to 2022, for his mentorship and sponsorship. "He has been pivotal in my journey, and I'm so glad I had the opportunity to work with him," Tammi says. "I try to pay that forward with my own mentoring and sponsoring of others coming up in their professional careers."
Prior to joining TEDCO, Tammi served first as the Director of University Relations and Marketing and later as the Chief of Staff to the President at Bowie State University, Maryland's oldest historically black university.
She has also held C-suite positions as the Vice President of Strategic Management at Data Solutions & Technology Inc., a full-service technology solutions provider. Tammi served as an adjunct professor at Bowie State University and the University of Baltimore as well. "I also continue to frequently speak and publish on such topics as leadership, entrepreneurship, and business development," she says.
Tammi attended high school in Alabama and earned a bachelor's degree in marketing from Alabama State University, an HBCU. She also has an MBA from the University of Baltimore.
Not all Challenges Make One Stronger
While many leaders believe that every challenge is an opportunity to grow and become stronger, Tammi does not completely agree with that. She finds that some challenges can certainly make one stronger, but not all of them can be seen in a positive light. Some of the challenges she faced when it came to ensuring equality for herself were almost unsurmountable.
It can be hard to be in an under-represented group at work, including when one is a woman or a person of color. "I happen to be both," Tammi says. And she worked in industries like commercial real estate and venture capital, where she simply didn't see people like her, especially in the C-suite. "It can be exhausting, particularly when you are seen as the other—or not seen at all, overlooked in meetings or high-level discussions," she says.
While she worked to be her authentic self, she was also up against the constant pressure to "assimilate," from how she did her hair to how she was supposed to conduct herself in meetings. "This kind of challenge is not one I recommend—it's more exhausting than a strength-builder," Tammi says. "No matter the challenge I face, I show up. But sometimes that can deplete your energy."
In contrast, many of the challenges that her team faces at work are strength-builders, offering opportunities to learn. Tammi explains that when her team encounters a communication or marketing challenge at TEDCO, they talk through possible responses. This collaborative approach to working through a problem is helpful in both their short-term response and with the long-term benefit of helping team members learn to manage situations throughout their careers. "We can learn from our challenges, trying not to let certain situations affect us mentally and emotionally when they come up in the future," says Tammi. "I respond to challenges with integrity and by showing up authentically."
And, when a challenge begins to exhaust her, Tammi replenishes her energy by thinking of tennis player Serena Williams, who she considers an "incredible role model." Tammi admires that Serena has always been herself, despite the challenges she faced as someone who started her career not looking or playing like previous generations of female tennis stars. "Now she's having fun and doesn't have to prove anything—and as we saw at the U.S. Open, she has remained true to herself: a beautiful, powerful Black woman and fierce competitor who is unapologetic about who she is and what she wants," Tammi says.
When challenges feel overwhelming, Tammi also turns to the words and actions of mentors like Dr. Hrabowski. "The strength comes from connecting with other people who understand your challenges and can wisely advise you or show you how to respond," says Tammi.
Now that Tammi is in a senior role, wielding substantial influence within the organization, she ensures equality within her own space. She does that by encouraging both new and seasoned women professionals to participate in new opportunities, join professional organizations, and attend conferences. She believes that there is a lot of power to be found in a broadened network, and women increase representation with their presence.
Tammi also works to provide mentorship and sponsorship to women. That might include anything from reviewing someone's resume or offering advice, to helping them get on a board or conference panel. "I celebrate women's successes both internally and externally, and I always try to be approachable and provide support to women whenever I can," says Tammi.
Her advice for other women in the workplace? "Show up authentically," Tammi tells aspiring businesswomen. "Be truly and unapologetically you. And embrace the thing that gives you passion."
Happiness Is Success
For Tammi, success takes the form of happiness. She finds her happiness is in helping others reach milestones and dreams, looking forward to each day with bated breath, operating with integrity and empathy, and bringing others along and elevating them to new opportunities. Tammi also believes the workplace needs to be a happy place—a combination of both work and fun. "That's where I get my energy," she says.
There was a time when Tammi was getting external messages that suggested she needed to tame her passion and spirit. She recalls what Dr. Hrabowski said to her at the time: she should always be herself, and her qualities are what make her special and successful. "I carry that with me, and I try to mentor and uplift others no matter what stage they may be in their career," says Tammi, who has had some incredible mentors in her life.
For Tammi, creating a culture grounded in collaboration and fun is also important, as she believes it is a combination that leads to success. When she hears stories from individuals or companies about something she did that made a difference to them or when she comes to know that her work or mentoring has a positive impact on another person, that truly feels like success to her. "It's what makes me happy," says Tammi.
Responsibilities of an Exemplary Leader
As CMCO, Tammi serves as Executive Producer of multiple virtual video series, including TEDCO Talks. She also serves on the Board of Directors of the Maryland Economic Development Association (MEDA), as well as the CHI Centers, the Economic Development Committees at Baltimore Gas and Electric (BGE) and the Economic Alliance of Greater Baltimore (EAGB).
Tammi leads TEDCO's annual Entrepreneur Expo and various pop-up events to connect entrepreneurs throughout the state with funding and resources to help grow their businesses. "I produce success story articles about our portfolio companies and a number of our programs, including TEDCO's Maryland Innovation Initiative," she says.  Tammi also leads the promotion of TEDCO's Social Impact Funds; examples include stories on this portfolio company or how Maryland STEM entrepreneurs get a boost with tech company's social impact funding.
Tammi's team is always working to increase visibility for various TEDCO programs, including its SBIR/STTR Proposal Lab. They produced a promotional video to promote applications opening and did a press release to announce funding for the program.
A thoughtful leader, Tammi encourages a healthy work-life balance for her team and tries to lead by example. She also sets clear and concise goals and reviews those with the team on a regular basis; she encourages everyone to take ownership of their roles and responsibilities. "Understanding your role can empower the team to do their best work," Tammi says. She is known for creating a safe environment to make mistakes and fostering collaboration every day within the team.
One of Tammi's strengths as a leader is that she has a deep and abiding understanding that people need sufficient information in order to make an informed decision, which, according to her, is at the core of effective messaging.
Outside of work, Tammi's two favorite pastimes are walking to clear her head and reading to feed her soul. She feels blessed to live in a Maryland county which has beautiful parks for walking and is ranked first in the nation among great public libraries.
Plans for the Future
Tammi is focused on enhancing collaboration efforts and developing projects with more external organizations. For her and the team, growing their reach in more diverse, under-represented markets is a major priority. That's why they're creating commercials to highlight funds and resources as well as portfolio company success stories.
"If I can accomplish these things, lead a happy team, and hear back from entrepreneurs about our positive impact, I know I'm succeeding as a business leader," says Tammi.