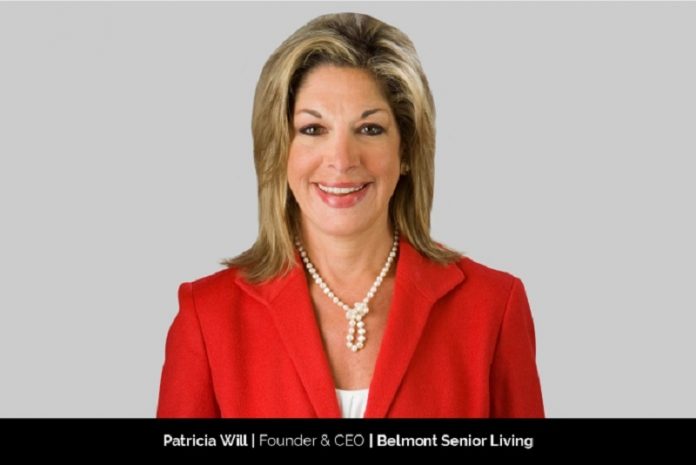 After an unsuccessful search for a place to provide comprehensive care for her mother-in-law suffering with Alzheimer's Disease, Patricia Will, Founder and CEO of Belmont Village Senior Living, set out to create a community that fosters independence and allows seniors to thrive while aging. She took the onus to bring a change for seniors, offering them a premium place with the utmost care and hospitality where they could enjoy their life ahead. Brewing a new idea into reality comes with its own set of challenges, but Patricia navigated those unprecedented waters and blew life into her unique vision.
The spark ignited in Patricia drove her to search out the best programming, research partners, and facility options for seniors to not only live, but flourish in. Here in this interview Patricia shares her journey in building Belmont Village Senior Living from the ground up.
Every leader has a unique definition of success. Tell us about your thoughts about success and why do you feel that?
Success for me is doing well by doing good.  This age-old phrase captures what a privilege it is to be a social entrepreneur.  To be sure, every business needs to earn a rate of return to be viable.   But our business model goes way beyond that.  Ensuring quality of life to the elderly while earning a rate of return is what I call the ultimate win.  In honoring the gift of old age through our product offering,  Belmont Village is proof that you can have it both ways, be successful while doing  good for others.  Frequently our customers tell me that we do God's work.   Religious or not, I think that working for the greater good is a critical part of success in business.
Starting an entrepreneurial journey is not an easy road to take. What inspired you to take the step of faith? What laid the foundation of Belmont Village Senior Living?
I took the leap of faith when my mother-in-law, Josephine, developed early-stage Alzheimer's disease. Not only was I raising my children and juggling my career, but I also found myself becoming a caregiver. We had experienced multiple care failures in the home and her need for specialized care was evident, yet we could not imagine her in a place without a great ambiance and first-rate hospitality. As I began to do my research, I realized that care options were so limited—not only for aging individuals with cognitive disorders, but also the wider spectrum of frail elderly seniors. It was here that the idea of Belmont Village was born.
Challenges make you stronger. What is your take on this? What were the roadblocks that taught you valuable lessons in your professional journey?
When you start with notion that you're going to change the paradigm of what senior living or aging can be, almost everything is a challenge. At every step, you are up against the notion of "here's how it's done."  We took out a blank sheet of paper, recruiting experts from many sectors.  We took risks in everything from building design to program and care protocols.  Not everyone or everything worked out.  Ironically, it's the failures usually prove to be the richest lessons.
Tell us more about Belmont Village Senior Living and its services.
Founded in Houston in 1997, Belmont Village is an integrated developer, owner, and operator of high-quality fully licensed senior housing and care.  We built 31 communities with an investment value of over $3 billion in eight States and Mexico City.   We continue to own and operate every community built since inception.  Our communities are renowned for safety, distinctive design, five-star hospitality, best in class care and award-winning programs.   We consistently take research undertaken at world-class academic institutions and translate those findings into our product offerings.  This has given rise to award winning programs such as the Circle of Friends, a proven curriculum that mitigates the effects of cognitive decline.  Equally important, we would be nothing without the hands and hearts that deliver at the point of service in our communities.  We are honored that year after year, nearly 4000 employees have voted that we are a "Great Place to Work," a prestigious ranking captured in  FORTUNE Magazine's 50 Best Workplaces for Aging Services.
Tell us about your contribution in redefining senior living. How do you ensure a culture of integrity and innovation at Belmont Village Senior Living?
Belmont Village was founded on innovation, starting with the inclusion of independent living, assisted living, and memory care under one roof, fully licensed. This allows couples to age in place together, and combats the ageism that sets into more segregated, traditional communities.    Our culture of innovation is through our research and academic partnerships. From the get-go, we drew on the expertise of the academic community in the fields of gerontology, hospitality and dining, senior consumer preferences, architecture, and technology.  To this day, these partnerships are the engines of continuous innovation.   We continuously invest in research and program development.  Recent examples include a partnerships with world-class physicians at Tembo Health for telemedicine urgent care and with neuropsychiatry faculty at the University of California at San Diego for improving the emotional and mental resilience of seniors.
What are the core values of Belmont Village Senior Living and how to do you maintain the high standards of hospitality and special design for every community?
From inception, Belmont Village set a standard for operating excellence and value. Our locations, buildings, and systems are designed to foster an environment where all community members – seniors, their families, and employees can learn, grow, live well, and prosper. At Belmont Village we see aging as a gift and we focus on providing environments seniors want to live in while making the experiences of aging opportunities for them to thrive in their later years.  We continue to operate every community we've built and invest heavily in physical plant and programs.  Even at 25, we still see ourselves as a work in progress.  The continuous feedback loop from residents, families and team members is especially valuable.  One of my favorite programs is "Bright Ideas," where team members are rewarded for bringing forward actionable innovation.  We are also continuously investing in technology.  Today's seniors live stream content just like their grandkids.  For those who are mobility constrained, technology can be an important enabler.
As a visionary and an established business leader running 31 successful communities, what is your vision for Belmont Village Senior Living?
From day one my vision for Belmont Village was to create a place where my parents could thrive during their elderly years.  I also thought about my husband and me, and our friends.  In that sense the vision has been realized.  Three of our four parents have thrived as residents, and I am excited about what living at Belmont Village can mean for me someday.   I credit many players with helping to realize that vision.  Through the years, our institutional investors have in their own right demonstrated tremendous vision.  Without their valuable capital and guidance, we would be nowhere.  Likewise, the tenure and talents of our people are without parallel.  And finally, my terrific family deserves a lot of credit for being ever so tolerant of my continuous juggling of work-life balance.
Tell us about your life before the foundation of Belmont Village Senior Living.
I was born and raised in New York City and attended Reed College in Portland, Oregon, where I majored in French and Spanish. After a brief stint in my parents' international tourism business based in Houston, I returned to the Northeast to get an MBA from the Harvard Business School, which turned out to be a game changer for my personal and professional development.   Between my first and second year at Harvard, I interned for an amazing real estate developer and true titan in the world of finance, Walter Mischer Sr. I eventually joined his firm full time and became a commercial real estate developer with a focus on healthcare. A bit later, his son, Walter Mischer Jr., and I teamed up and founded a medical development company which also invested in health and wellness platforms.
Tell us what marked the beginning of your career? What has been the best recognition that you received as a business leader?
Belmont Village Senior Living is really my second career.  For me, the ability to change career paths and found a company was both risky and rewarding.  It probably could not have happened without the first decade working under tutelage of extraordinary mentor, who spent every day challenging analytics that I learned at Harvard.
Now, years later, I am humbled by the recognition from business leaders across America.  This July, I was formally inducted into the American Senior Housing Association's (ASHA) Senior Living Hall of Fame. Also, in 2018, I was inducted into the Texas Business Hall of Fame, where I stand beside the titans of in Texas industry. Given the Hall of Fame's focus on entrepreneurship, this is an honor that I prize.
What are your responsibilities as the CEO of Belmont Village Senior Living? Walk us through your regular day at work. Also, define yourself in one word.
A regular day at work is merely a continuing series on non-sequiturs – but that is what I love about my job.  Ours is a capital-intensive real estate development business, a carefully calibrated operating company, with the additional challenges of geography.  My favorite days are those spent in our communities. Recently, I broadcasted live with a well-known actress from our Hollywood, CA community and not long after I danced to live music with our residents in Fort Lauderdale. Not long after, I walked a job site for an upcoming $100 million project.  It's the variety that keeps me going.
I can't do describe myself in one word. But if I had to narrow it down to two – I'd say tenacious and passionate.
How do you maintain a balance in your personal and professional life? How do you keep your employees and yourself, motivated to deliver the best services?
In order for me to lead my team and keep morale high I have learned throughout the years that even brief moments of "me time" has helped to keep me balanced. Drawing inspiration from my "perfect day" list, I have learned to skip a business dinner in favor of a massage, to quit reading documents and head out to the Getty Museum, and to store my work in the overhead so I could read a 900-page novel.   At intervals, therapy has also helped a lot!
What are your plans for the future of Belmont Village Senior Living? Also tell us about your personal goals as a business leader. What is your message to aspiring business leaders?
With the strong foundation that we have, Belmont Village can continue to grow. Today the company continues to expand on both coasts.  We have exciting developments under construction in the San Francisco Bay Area (Los Gatos, CA), La Jolla, CA and we are breaking ground on a unique project in Coral Gables, FL with Baptist Health South Florida as our partner.  Next year, we anticipate at least four more starts, all in carefully selected locations.
At my age, you can't think about growth without thinking about succession.  Although I love what I do and expect to continue, I am blessed with an incredible team to carry my vision forward.
Aspiring business leaders often think too much about the product and not enough about the people.  I often say that I wish I had the chance to go back to Harvard every year to re-take the course on Human Behavior in Organizations.  Successful entrepreneurship requires ideas and financial acumen, but in the end, it's all about people.
After fostering a better environment for the elder adults to lead a rich fulfilling lives ahead, Patricia still has a lot of might to push the organization to the next level and beyond. Her strong will, determination, and resolve to bring a change have allowed Patricia to charter the uncharted space and transform the lives of the seniors.