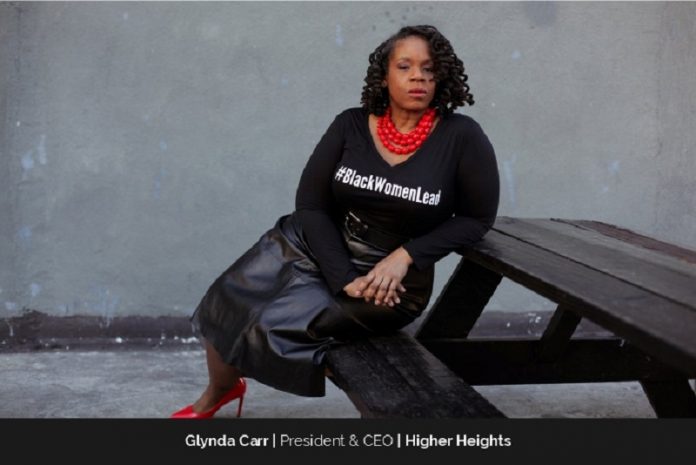 Being a leader requires you to provide a clear and compelling role. It is also essential that a leader provides the right structure and a culture of trust to their followers.
John C. Maxwell said – "A leader is the one who knows the way, goes the way and shows the way" and Glynda Carr, President and CEO of Higher Heights for America, strives to be that powerful leader, developing a blueprint for her followers to follow by creating a series of milestones that can measure their success. She believes that success comes in many forms and for her it is the ability to see the completion of a vision or project that one is working on.
Glynda C. Carr is an activist and political strategist who is recognized for her innovative and powerful leadership style. She is committed and focused on inspiring Black women to be the change by harnessing their own power to influence the elimination of public education, health and economic opportunities for them & their families / communities across USA. "My work to build a democracy we can all believe in, is rooted in my family unit," says Glynda. She comes from a very civically engaged and active family.
The Inception of the Empowering Foundation
There was a day when Glynda was sitting in a Brooklyn Cafe with Kimberly Peeler-Allen, the other co-founder, and they realized there was a void of an organization that entered Black women and their political power & leadership. That was the very moment that led her to make a decision to co-found Higher Heights 10 years ago, that day in that cafe, they wrote the works of Higher Heights for the first time and developed an organization that they could actually see themselves in.
We certainly do not grow when things are easy; we grow when we face challenges and learn to overcome them. Glenda understands that we each begin a pathway and often come to intersections where we have to make decisions, navigate personal or professional obstacles or barriers to achieve our goals. She certainly believes that there are roadblocks that exist for women, women of the color and Black women. She says that over the last 25 years of her career, she certainly has seen her share of roadblocks. With each one of them, as a former mentor once said to her, there are lessons learned, and you can go back, readjust, and become stronger by evaluating a roadblock. "A roadblock, in fact, can be the biggest opportunity to reset and recalibrate your work and plan," says Glenda. The road to 2020 was led by black women, and that was the work of Higher Heights. Glynda is very proud of her team. She states that working with the team has allowed them to grow the organization rapidly & expand the number of team members, expand their brand and they also helped elect the largest number of Black women that served in elected office. They want to ensure Black women reach their full political leadership potential by eliminating the structural barriers that exist for Black women to lead. The work ahead for the organization is clear – they will grow an active network of million black women and their allies to help the country forward. The vision for Higher Heights and for themselves is to create the democracy that they truly believe in, and for her to see herself in that very democracy. Higher Heights is the national political home for Black women, a place for them to be informed, engaged and to take action. The establishment mobilizes Black women from the voting booth to elected office. They recruit, train, and support Black women to run for office, and they help to create the environment for them to vote, run, win and lead with a variety of signature programs like their Sunday Brunch with Higher Heights, Sister to Watch, the Chisholm List and #BlackWomenLead Leadership Series.
"I certainly did not see myself running a political organization," says Glynda, as she explains her life before Higher Heights. Her undergrad degree is actually in music management, and she went to Hartt school of jazz music in Hartford, Connecticut and had a jazz studies and music management major. Despite this, she was always politically active and civically engaged. After a series of twists and turns on the road that moved her to New York, she not only volunteered to elect a good friend to the New York State Senate, she ultimately became his chief of staff for six years and ran two of his successful re-campaigns and this solidified her space in politics. That is exactly how the little girl from 681 Garden Street, Hartford CT, who aspired to work in entertainment, found herself still rooted in the work that her mother and grandmother instilled in her. Her passion for community is what became her 9 to 5.
Growth and Endurance
Innovative – that is the word Glynda uses to describe herself. Glynda says since COVID-19 she understands the importance of balance and hence she ensures to take at least one tennis lesson a week. Her morning and night routine is devoid of any electronics. "I wake up and it's quiet until I sit down and begin to work," she says. As a political leader and policy thinker, Glynda set the new path towards the 'AHA!' moment that Kimberly Peeler-Allen and she had over coffee about building an organization. She takes pride in her recognition that comes every single time when a candidate wins on Election Day and calls them either the day after or throughout their elected career, thanking them for helping them along their journey. As a co-founder, President and CEO of a national organization, it is continuing to remember the premise of what they wrote down 10 years ago at a Brooklyn Cafe. She says that she works passionately each day ensuring that they are centering Black women's voices and leadership. Everything they do, strive to be and work is in the spirit of Shirley Chisholm, aiming to build a strategic vision and a strategic plan beyond 2020 for Black women. As a growing organization, everyone in the team, including Glynda, play an integral role in every single piece of the organization on their program. Glynda says, "The day starts with writing a to do list because I'm a to do list fanatic. And the day goes from connecting with team members to talking to partners and candidates and elected women across this country." The very mission of Higher Heights is to motivate everyone there. As they grow a remote team, they are always seeking to find ways to connect employees to each other, to their mission and to invest in their leadership as well.
The future plans for Higher Heights are to ensure that even with the incremental gains they've made over the last 10 years to elect Black women, Black women are still severely underrepresented in the American democracy. There are zero Black women in the US Senate, and a Black woman governor has never been elected. Although there are black women in the white house, a woman President has never been elected. Higher Heights certainly wants to ensure that there is a continuance in the election of Black women in office up and down the ballot. At the end of the day, Black women want economically thriving, educated, healthy and safe communities, and so the future for Higher Heights is to be the driver of ensuring that Black women reach higher heights in the American democracy.
Behind Every Successful Woman is Herself
Glynda continues to strive to be a transformative and powerful leader that she is to build a legacy. She wants to lessen the manmade barriers and the institutional obstacles that have been in the way of women, that we've gotten the job done right if they don't have to jump over them or push them out of the way. Often times women of color are risk adverse, because they have so much at stake as women who are often heads of households or taking care of others.
Her message to aspiring women is actually something that her brother said to her: "You'll never find your brightest light if you don't step into darkness." And so her advice is to lead boldly, lead fearlessly, because when you do that, you will step truly into your light and make an impact in this society.