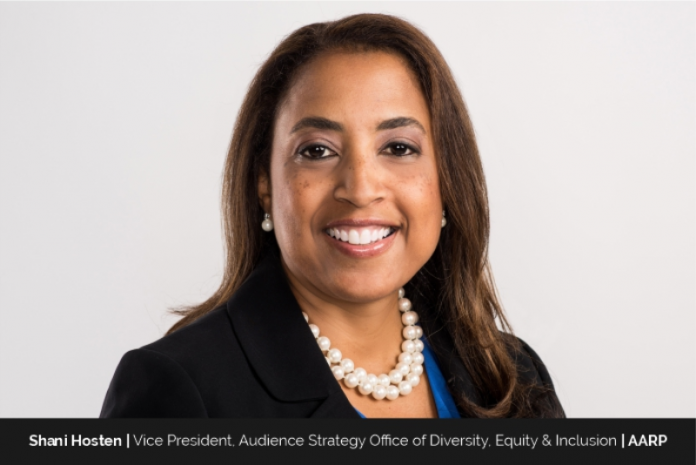 Shani Hosten is the Vice President of Audience Strategy Office of Diversity, Equity & Inclusion (ODEI) at AARP, a nonprofit, nonpartisan organization dedicated to empowering Americans 50 and older to choose how they live as they age.
Since the beginning of her career, Shani has been associated with initiatives that have the potential to change the world. Her passion for diversity, equity, and inclusion, or DE&I, also stems from her desire to positively impact the lives of people. At AARP, she influences all aspects of DE&I and implements programs to make the organization more equitable and its teams more inclusive.
Under her leadership, her team's efforts are helping move AARP from "good to great" when it comes to DE&I practices. Shani along with their EVP & Chief Diversity Officer and full ODEI Team is now aiming to drive "greater" diversity, equity, inclusion, and belonging. She wants to continue to contribute in her small way, leveraging her insights, leadership, her passion for DE&I work at AARP, helping change the lives of all and continue to live out the dream of the organization's founder, Dr. Ethel Percy Andrus 'What we do for one, we do for all'." And "servant leader" is how Shani likes to describe her leadership style.
Over the years, Shani has received a number of awards, including diversity recognition awards, Black leadership awards, and community awards. She considers recognition by community partners, the Black Press, and the National Newspaper Publisher Association's "Saluting Courageous Leadership" Award as her most prized recognition. However, she believes that her "greatest accomplishment" is being a wife and a mother – she is a mother to two children. It brings her "great joy" seeing her family and children thrive and succeed.
From Growing Up in Richmond to Joining AARP
Shani grew up in Richmond, Virginia primarily with her mother and both sets of grandparents while also spending time with her Father, Stepmother and Sister in Northern, VA. The time spent with family, especially her grandparents, according to Shani, has shaped her into the person that she is today. She still holds the same values that were instilled in her by her grandparents, along with her parents.
Shani recalls that she was brought up in a family-oriented environment, where her grandparents stressed the importance of faith, education and strong work ethics. Throughout her life, education has played a significant role, while her upbringing has heavily influenced – and continues to – her leadership practices.
At the age of 16, Shani started working in a local grocery store as a cashier. "I was really eager to work at the time," she says. After a certain period of time, she was promoted to work in the office with the grocery store's owners, who were two brothers. Shani says that she worked through her high school years, and when she started going to college, she worked on weekends and during holidays.
Shani had enrolled in Hampton University, a historically Black college/ university (HBCU) in Virginia, and the alma mater of several of her family members as well. There, she pledged Alpha Kappa Alpha Sorority, Incorporated, the oldest Greek-letter organization established by African American college-educated women which led her to understand the importance of sisterhood, service to the community and leadership particularly in providing support to other women. She also credits Hampton University with providing her with an "Education for Life" and shaping much of who she is today.
Shani was a marketing major at Hampton. "I really enjoyed business and marketing," she says. After college, she started working at Eli Lilly as a pharmaceutical sales representative. For this job, she had to move to Connecticut, the New England region, from Virginia. And, according to Shani, the extended village, sorority sisters, and family friends offered their guidance and helped her adjust to the new environment, cultural differences and navigating the colder climate. And her first district manager was a woman, which was a rarity in the pharmaceutical industry at the time. Shani is "super appreciative" of the fact that she had a woman as her first boss. She guided her, showed her the right direction, and from her, she also gained insights into women's leadership perspectives.
At Eli Lilly, Shani was quickly promoted to Hospital Sales Representative. Even though she was enjoying her time in New England and doing well in her work, she decided to go back to college. "I wanted to transition from sales into marketing and felt that an MBA would be very helpful in that," Shani says.
She attended Columbia University's Business School, where she received a full scholarship for two years. Shani recalls her family being surprised at why she wanted to leave a great job, a company car, and the related perks and go back to school. They also were concerned about her living alone in New York City. It was a "big shift" for Shani as well. She says that she saw it as a tremendous opportunity to fine-tune her academic and business acumen. Shani primarily focused on marketing and advertising after her first year, and she interned with Warner-Lambert.
After completing her MBA, Shani secured a job at Nabisco- Foods Group in New Jersey. Though the work was immensely rewarding, she felt there wasn't the same sense of purpose in what she was doing. She says that when she was working at Eli Lilly, she first-hand experienced how a brand can help change people's lives. She saw how the company's insulin, anti-depressants, and antibiotics impacted people.
Shani called up a few friends of hers who worked at Pfizer. She was interviewed by the pharmaceutical giant and offered a marketing job; she joined the company's New York-based headquarters. Soon afterward, Shani got engaged to her boyfriend, now her husband of 25 years, who also attended Columbia Business School. They became parents to their first child in 2000. "That brought another level of coordination to my life," Shani says, adding that she was a working mother. From White Plains, Westchester, New York, she commuted to Grand Central Station to work at the 42nd Street Office. Shani says that she learned how to juggle work and family because of that. And she also considers herself fortunate that she had leaders who made sure that she was keeping her family first. At Pfizer, Shani worked in a variety of roles, from marketing, and strategy, to regional marketing – she led the U.S. regional marketing team for a while.
Shani points out that her family moved to Northern Virginia, outside Washington, DC, because of her husband's job. She, however, was still commuting to New York because of her job. From Tuesday to Thursday, she lived with her mother-in-law and came home on weekends. "That was the most challenging part of my life," Shani recalls. "It was a huge juggle."
When Pfizer experienced staff downsizing, Shani was offered a position back at Pfizer's headquarters and chose not to move back to New York. "I left and took a severance package," she says. After leaving Pfizer, Shani joined Georgetown University Hospital as Director of Marketing. Her focus was on healthcare. Georgetown, according to Shani, had a model of contributing to others' lives. "As I think and reflect on my career, I have always been with organizations that have that theme at the center and the core," she adds. AARP, too, has a similar theme. Its mission is to help people choose how they live as they age, and the association has been doing that for 60+ years. Shani feels "blessed to have such a career trajectory."
After Georgetown, Shani ended up going back to Pfizer after accepting a regional role. It was based in the Northern Virginia area. "But then I had the opportunity to work in an internal strategy role and leverage a lot of my skills from the analytical and innovation perspective," she says.
Back then, she was working with an agency that folks at AARP were also working with, and she ended up meeting with the Chief Innovation Officer at AARP. "I had also known our CEO through a civic organization I belong to as well," Shani adds.
Shani joined AARP in January of 2016. This year in January, she celebrated her 7-year anniversary with the association.
7-Year Journey with AARP
"After months of talking with the top executives, I had the opportunity to help start the innovation group at AARP, which is now AARP Innovation Labs," says Shani. She was a part of the innovation team for the first 18 months. Then, she got the opportunity to move over to what was then called Multicultural Leadership, or MCL, to work on African American and Black community outreach. It was another passion area for her.
"I had worked in the multicultural marketing arena at Pfizer. I worked on products that really over index in multicultural communities such as high blood pressure and high cholesterol products," Shani points out. "And my passion was always around patient education, in addition to drug therapies that we offered."
In 2021, AARP's CEO appointed Edna Kane Williams as EVP and the first Chief Diversity Officer. "It has been an immense pleasure and opportunity to work with her," Shani says. She calls her boss an "amazing and inspirational leader" who she has admired from far since she first started working in AARP. "She is a very dedicated and courageous leader that challenges the association to continue integrating DEI across all aspects of AARP. She has such an amazing vision for our team," she adds.
Shani currently leads African American/Black audience strategy as well as LGBTQ+ work, which has provided her with immense learning. "I have been a long-time ally of the LGBTQ+ community," she says. One of cousins that she grew up with, who is more like a brother to her, shared with the family at a very young age that he was gay. Shani points out that it was a very brave thing to do. "So, I have seen firsthand his challenges as well as his journey, and I have been a key ally and supporter of him from a family perspective as well as from a professional perspective," Shani says.
She has helped her cousin navigate healthcare systems and listened to his challenges from a relationship perspective. She is now being able to leverage those insights and allyship in her work. "So, that has been the key area of my focus over the last year and a half," Shani says.
Why the Passion for DE&I?
"DE&I perspective has always been a part of who I am," Shani says. When she thinks back to the community grocery store where she worked, she remembers the disparity that existed in the community from the healthcare perspective – the lack of equitable access to quality healthcare. She also noted the non-availability of food options in certain parts of the neighborhood in Richmond versus in other parts of Richmond. "I have seen that firsthand, so I always had a commitment to help make things better and bridge that disparities gaps that continue to exist," Shani says.
She adds that DE&I has been a key part of her career – whether she was working at the grocery store, participating in community work in college, or working in the pharmaceutical space, where she started disparity initiatives and worked with community partners who were addressing healthcare disparities.
"I learned at a very early age that the work I do, I really have to have passion for it to feel fulfilled, so that is the 'why' behind DE&I because I see it impacting myself, my family members, and my community," Shani says.
Innovative Ideas at AARP
At AARP, Shani points out that they are "really blessed with" diverse leadership and Board, a generous budget to allocate to address disparities, execute on educational programs that are relevant to the Black community and a voice and platform to leverage and draw attention to the disparities that exist. They are also known for putting in place information tools and resources to help bridge that gap to empower communities of all people, she adds. AARP has always been committed to: "what they do for one, they do for all."
The multicultural work has been a long-standing part of AARP's fabric. So, the innovative things, according to Shani, that they have been able to do, most recently, was during the pandemic. "We were able to quickly pivot," Shani says, adding that her team really stood out in 2020 & 2021.
AARP is a national but nationwide organization. In addition to offices across the U.S., it also has offices in Puerto Rico and the Virgin Islands. Shani points out that a lot of their grassroots efforts are done on the ground and with communities. "We have 60,000 plus volunteers that help us achieve this work in the community," she adds.
During the pandemic, they could not have a lot of in-person events because many of the efforts were shut down. AARP, however, was "very innovative," Shani points out. They quickly pivoted to digital activation and began to engage their members with virtual engagements. For example, they partnered with civic organizations, community groups, and "Black Sororities and Fraternities in African American communities, or organizations that could quickly provide virtual music concerts or theater. "We made sure that our members were connected in an isolated time," Shani says. "We also made sure that they were informed. For that, we held townhalls." Every week, thousands of individuals would log in to listen to their tele-townhall, where they would have subject matter experts, physicians, and people in administration providing updates on what was going on with the pandemic.
AARP had also partnered with community groups and medical experts. They were focused on making sure that culturally relevant information was available from physicians and subject matter experts like the National Medical Association. Shani says that because of the misinformation about the pandemic circulating in the community, they had to make sure that members and the community only received trusted information. "One of the things about AARP is that we are a very trusted brand," she adds.
Additionally, AARP is very innovative in pivoting toward the digital whether through its Facebook page, social media pages, and digital newsletters, and tele-townhalls over the phones, where folks can call in and then listen in to live updates, each week, according to Shani.
She also says that a lot of their innovation has been in the digital and technology space. They now have a better understanding of their members and prospective members who are visiting the AARP site every day, and how they can serve them personalized information and what they are looking for in a unique and personalized way.
Digital innovation is something that AARP continues to focus on. Shani says that it will help them build deeper relationships with their members and prospective members and offer them values, such as caregiving, savings and planning, advocacy engagement opportunities, and personal fulfillment…fun. "We call it health, wealth, and self," she adds.
Challenges as an African American Woman Professional
In the professional field, an African American woman faces double challenges a lot of times. "I have definitely faced that from work perspective," Shani says. She also notes that it is a challenging environment in the country at present in terms of racial healing and reckoning post the murder of George Floyd and the environment that everyone is living in.
Shani has been advocating throughout her career, mainly because of the predominantly male-driven or non-diverse environments. She also points out that as a leader, unlike in the past, she now makes sure that her talents are viewed. She also makes sure to advocate for herself and has increased her 'self-promotion' about her work and highlight her direct contribution. "Sometimes, it is a cultural thing to be very humble, but I have learned to do that [brag and highlight her contribution as a leader] a lot more. I need to advocate and share my skills and my leadership, and I must continue to make sure that my voice is heard," Shani says, adding that she is at the table for a reason.
At AARP, it is "really encouraging" to see diversity in our leadership, Shani points out. "We still have work to do – I think every organization has work to do – and I am extremely hopeful and excited and inspired by the leadership that I see at AARP."
A Different Day Every Day
There is no regular day at work for Shani. "Every day is different," she says. Early mornings, she centers her day in prayer and tries to exercise or walk their dog. AARP has a hybrid work model and three days of the week she commutes to her office. She then checks her emails and takes a look at whether there are urgent items that she needs to address. She may make a few phone calls while she is driving to the office.
In the office, she attends status and update meetings. She also takes time to read, process, and draft documents, plan the next execution with their community partners; she also works with her agency partners and external and internal stakeholders. Shani also meets her boss to understand any urgent or high priority items she may have for them.
"I am also blessed to be a part of the ODEI leadership team," Shani points out. "And I have four other counterparts as well, with whom I touch base with on a daily basis."
Every day is different on any given day, there may be budget conversations or forecasting and planning, or presentations to senior leadership – it just varies from day to day. "I like the variety of it and that we're everyday innovators in our work," Shani says.
And, at the end of the day, she and her team are motivated by one thing: "that is knowing that the programs they are working on will impact the lives of others."
What Is Success?
Success, says Shani, can be defined in a number of ways. When it comes to her personal life, she describes success in terms of having more quality family experiences together. As a leader, for her, success means achieving professional goals that are set forth by the organization and meeting and exceeding annual dashboard impact targets. It could also mean the KPIs that the team has achieved but ultimately success is improving the lives of others through delivering on AARP's social mission.
"What you achieve is a success, and how you achieve it is also," Shani says. "I always think of it as 'what' and 'how'. How is just as important in terms of driving your success." She adds that the culture one cultivates among the team and peers, and the camaraderie and collaboration that they have with their internal and external partners and stakeholders drive success.
Message to Aspiring DEI Leaders
"DEI is a challenging field, physically, mentally, and spiritually, but at the end of the day, your efforts can make a huge difference in the lives of others," Shani points out in her message to aspiring DEI leaders.
"So, stay resilient, stay inspired, and celebrate your small wins," she adds. "Not only look for the big wins but also continue to celebrate small wins, the achievements, and the work you are doing, to help advance a more equitable society and inclusive world for others."