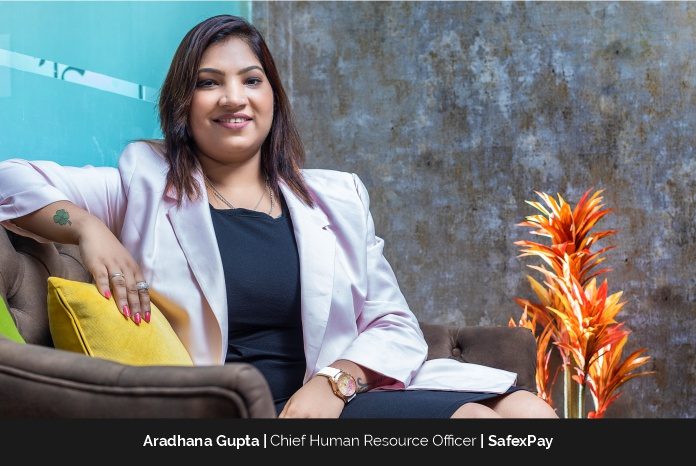 Aradhana Gupta, the Chief Human Resource Officer of SafexPay, is an eager and warm leader who truly enjoys what she does. Everyone who works with her is always made to feel valued, as Aradhana believes that only when employees give their best to the company, the company can grow bigger and achieve success.
Safexpay is like a child to Aradhana, and the employees are like her extended family. She constantly wants to make sure that everyone in the company is on the same page so that they can all reach new heights of achievement together.
From being a Human Resource Manager to becoming a successful entrepreneur
Aradhana has always wanted to be an entrepreneur and to be honest, she just enjoys being challenged. Before joining Safexpay, Aradhana worked as a Human Resource Manager for different firms as well as a freelance recruiter, expanding her knowledge and putting her education to use. Handling diverse individuals aided her in broadening her ability to handle people and understand more about them, which turned out to be useful at Safexpay. As a result, Aradhana aimed to incorporate the advantages of Safexpay while avoiding as many mistakes as possible.
"I realized right away that I needed to do something remarkable and out of the ordinary. This internal desire worked as fuel for me as the head of HR, and all my experience assisted me in interacting with employees," says Aradhana.
She states that her interest in reading has grown greatly over the years, which has helped her at work. Reading literature boosted her understanding of human psychology and using what she had learned in business helped her manage personnel efficiently. Forging a family-like relationship with the staff is the cornerstone of creating a comfortable workplace, and Aradhana has been successful in doing so throughout the years.
Challenges and success go hand in hand.
Safexpay first seemed to the outside world to be a conventional corporation since it takes time to build and expand a business. "We were still in the early phases of our firm at the time, making it tough to recruit qualified individuals. Even once we found the right candidate, keeping them on board posed a new difficulty, even though I used all my resources to the best of my abilities to provide for my team," explains Aradhana.
There was a point when they didn't have investors to support the business, but Aradhana didn't give up hope. After all, she had faith in herself that they would be able to sail through these difficult times, since she had previously failed, which served to build the confidence that she now has.
"Looking back on our journey, I am pleased that, despite several challenges, we were able to climb the success ladder that we had envisioned before starting this company," she proudly states.
SafexPay and its services.
Safexpay is a Leading Fintech Organization that provides a Converged Payments Platform for Independent Businesses Globally. Their offerings include Futuristic and Easy to Integrate Payment Gateway, Payouts, and Neo-banking.
With a Vision of becoming the World's most Renowned Payment Technology Platform, the Mission at Safexpay is to make Payments as Simple, Fast, and Secure as possible. Furthermore, they provide an end-to-end Payment Solution that Caters to all Payment and Banking needs of businesses Worldwide.
Their White Label Solution is Ideal for Business Owners who Seek to Accept and Disburse Payments under their own Logo and Brand. With their Comprehensive Platform, Businesses process Safer and Decentralized Transactions in an Unrivalled Global Network of Payment Solutions.
The strongest pillar of SafexPay
All employees at Safexpay refer to Aradhana as "one of the strongest pillars of Safexpay."
As a member of the management team, Aradhana is now involved in the company's day-to-day operations. When the management team is out of town for other business dealings or meetings, she is the employee contact. They come to her with their concerns, and she strives to fix them so that they may work in peace and harmony, and the workplace maintains a healthy environment. "So, yes, I can proudly say, and the rest of Safexpay believes, that I am one of the strongest pillars of Safexpay," asserts Aradhana.
Responsibilities as a hardworking and motivating leader
Aradhana's day starts with regular meetings with stakeholders to learn more about their needs to do their job efficiently. They also meet with the different teams regularly to better understand them, which is followed by a monthly team review. They have created a working atmosphere in which all employees always feel safe and secure.
Along with HR, Aradhana also manages the admin department, so they've begun to develop a more organized planning system so that they can estimate the requirements better and optimize resources distribution. She has initiated 'Suggestion Box' where any employee can write down their thoughts and towards the end of every week, HR Team brainstorms adopt the proposals so that the workers work in peace and harmony.
Summing up herself in one word, Aradhana says that she is cheerful in the sense that she works hard to maintain the environment at Safexpay lively and joyful for everyone.
A supportive family leads to a healthy work-life balance
"I can say with pride that what drives me is my family. Their delight and pleasure in my work motivate me to work even harder and achieve the success I've always desired," states Aradhana.
In addition to a very supportive family, she has a supportive team who is always willing to help with her day-to-day job. Their joy and fulfillment motivate her to work hard every day for them and her business.
Plans for the future of SafexPay.
"While we are discussing our future plans, I can only say that we are working on it, as you can see that we have now extended into the UAE and are on our way to making a name for ourselves in that market, just as we have on our own," says Aradhana.
With the market constantly changing, SafexPay endeavors to keep the fintech industry up to speed with cutting-edge services and technological innovations by continually creating and evolving.
In terms of my goals, Aradhana wants Safexpay to flourish and grow to the heights they all envisioned when they initially started the company.
Aradhana's advice to aspiring business leaders is to always believe in themselves and their potential to achieve; if you do, you can conquer any challenges in life.
The significance of innovative ideas in the company
"With the ever-changing fintech industry, we must stay on pace with our competition and seek to innovate more to bring about better change and develop beyond our limits," states Aradhana.
At Safexpay, they aim towards excellence and success, and to do so, they are forever evolving. And today, when it comes to Safexpay, they have evolved and strived to aid the industry by providing advanced technology that has helped the industry achieve new heights, one of which is "Pay by Face." As a result of this technical innovation, the fintech industry saw a boom, allowing them to strive for success even harder than before.
Redefining the human resource industry
With each passing day, Aradhana ensures that her team and colleagues are happy, and content, and enjoy their time at Safexpay. To keep the team satisfied, at SafexPay they have a gym facility in the workplace for the company's fitness enthusiasts. They also have a friendly and relaxed area where everyone gets along and has a good time.
After witnessing this sort of atmosphere at Safexpay, many other companies have begun to offer these things to their employees to keep them satisfied. Because of its excellent work culture, Safexpay has been certified as a "Great Place to Work." With this much love and appreciation from the people, Aradhana proudly says that she is blessed to be working with such a prestigious brand.
Vision to influence a change.
The company is growing at a steady pace and there's nothing more exciting than seeing a new company coming on board. "It's truly an honor to be part of such an innovative, industry-leading company that's going places! My vision for Safexpay is as clear as day. I believe that this company was created to change the world, and we've come a long way in achieving that goal," states Aradhana.
While their journey has not been without its challenges, Aradhana says that she wouldn't change a thing: from the entrepreneurial lessons she has learned from being the head of HR to the invaluable relationships they have built with clients as they are all part of the journey which will lead to bigger things in the future. No doubt there are still challenges out there and she believes that together they must continue to overcome them together so that work towards achieving the shared vision of making Safexpay one of the leading fintech companies around the globe must continue.