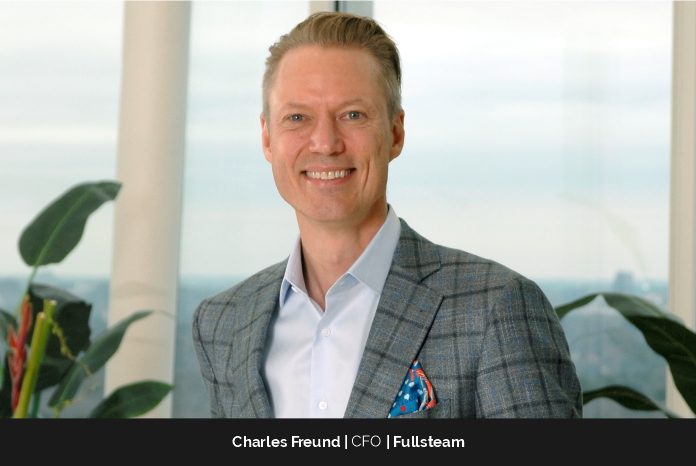 Founded in 2018 and headquartered in Auburn, Alabama, Fullsteam is a holding company that acquires and operates vertical-specific business management software and provides payment processing services across a range of vertical markets. To date, they've acquired over 70 software companies, mostly in the U.S. and Canada, which serve over 50,000 small-to- midsized businesses (SMB) in verticals such as retail, hospitality, recreation, automotive, healthcare, field services and more.
As Fullsteam's CFO, Charles Freund claims to have the good fortune of leading an incredibly talented team of 63 professionals in the following functional areas: Financial Planning & Analysis, Accounting, Revenue Management, Accounts Payable, Treasury, Tax, Financial Integrations & Systems, and Human Resources.
Charles' background and life before Fullsteam
Born and raised in New Jersey, Charles grew up in a suburban middle-class family. His parents were loving and supportive, with a very strong religious mindset. As such, Charles was instilled with a strong sense of humility, respect for elders, and fairly traditional values. While he appreciates the positive elements of such, career aspirations were not the top priority in his youth.
As Charles matured and broadened his views of the world and the many possibilities it presents, he found himself enamored with the idea of international business. The opportunity to travel the world, experience different cultures, and develop relationships across borders held incredible allure, especially given his somewhat sheltered upbringing.
After graduating from Rutgers, the State University of New Jersey, in 1995, Charles started his professional career as a management consultant with Sibson & Company, a boutique Human Resources consulting firm that specialized in designing compensation programs, organizational structures, and performance management systems. Consulting was a great launching point as it imparted strong foundational skills such as research, analytics, situation assessment, problem solving, communication, professional writing, public speaking, project management, change management, etc. It also gave Charles early exposure to lots of different industries, companies and management teams, and that diversity of experiences helped shape his lens of perspective.
Charles then joined FLEETCOR (NYSE: FLT), a global leader in business payments based in Atlanta, Georgia, where he held numerous roles over his 21-year tenure, culminating with an approximate two-year stint as CFO.
Charles was the first FLT employee to relocate overseas, spending two years in the UK acquiring, consolidating, and running FLT operations there. He returned to the US in 2009 to help run the IPO process alongside the CEO and CFO. After overseeing multiple business operations outside of the US and Europe, expanding the company's footprint to Mexico, Brazil, Australia and New Zealand for a few years, Charles was brought back into a strategy role working closely with the CEO on a variety of key initiatives including rate management, product development, sales channel development, IT organization design, etc.
In September 2020, Charles was appointed CFO, with responsibility for finance, accounting, treasury, tax, legal, investor relations, human resources, sales reporting, and more.
"For 2022, FLT reported $3.4 billion in revenue, and the company's shares trade around $210 per share. So, I like to think that I played a small part in creating a global payments juggernaut," states Charles.
The definition of success is personal
Charles defines success as finding a state of contentment with oneself that cannot be fundamentally undermined by external forces. For him, this requires being comfortable with, and true to, his own feelings regardless of what others may think or how they may react.
"By living life in this manner, you reduce internal conflict and exist more peacefully. Of course, this is easier said than done. We are trained early on in life to measure up to other people's expectations, to perform out of duty or obligation, and to feel guilty if we disappoint people," he explains.
Charles strongly believes success comes from shedding these external pressures and impositions and holding oneself accountable for one's own personal standards. By behaving and performing our personal best, whatever that may be on any given day, we can be content with the knowledge that we've given it all we've got.
Don't let fear hold you back
At several times in his career, Charles was inspired by Sir Richard Branson who said "If somebody offers you an amazing opportunity but you are not sure you can do it, say yes – then learn how to do it later!"
This was applicable when Charles first moved abroad and assumed the role of Managing Director in a foreign country, having never formally managed a team before. It applied again when he helped FLT acquire, integrate and operate businesses around the world. And it applied when he took the helm as CFO without a formal accounting/finance background and without a CPA or MBA certification. Taking on these challenges required leaps of faith in himself and, more importantly, in his teams, without whom Charles says he couldn't have succeeded.
Fullsteam and its operations under Charles' successful leadership
Fullsteam integrates its cutting-edge payment processing platform into the various core business management software solutions it provides to over 50,000 small business clients. Vertical specialization allows Fullsteam to compete effectively against generic software solutions, and integration with their payments platform provides a comprehensive offering to their SMB clients with unique industry-specific features, robust reporting and automated reconciliation between recorded sales and received payments.
Fullsteam's software solutions are mission critical to their clients' operations and serve as the source of record for their businesses. Each solution is built-for-purpose for the given vertical, with processes, features and integrations tailored specifically to the given industry.
After Fullsteam acquires a software company, they quickly integrate their proprietary, cutting-edge payments platform into the business management software, creating an embedded payments experience for their clients and their customers. They continue to integrate acquired companies at a rapid pace given their high velocity M&A and expect to finish 2023 with approximately $20 billion in annual payment volume on their platform.
Charles joined Fullsteam after a circa 21-year career at FLEETCOR (NYSE: FLT). While responsible for various functions as CFO, his personal responsibilities are focused on capital raising, cash flow management, and investor and lender relationships. With Charles' experience as a public company CFO, he was brought onboard to help Fullsteam continue its rapid growth trajectory while preparing the company for its logical next phase.
"I inherited a fantastic team at Fullsteam and have recruited a handful of stellar additions as we continue to scale the back office. I have instilled my mantra of "simplify, standardize and automate" within all of my functional areas, and my teams are implementing market-leading tools across the enterprise to create operational efficiencies and support Fullsteam's continued growth," says Charles.
Being nominated for the award of CFO of Year by the Atlanta Business Chronicle in 2022 was a recognition highlight for Charles, especially given his non-traditional path to the CFO role. But the best recognition he states he received, both as a CFO and leader, was the outpouring of well wishes and thanks from his team members at FLEETCOR at the time of his departure.
"It was bittersweet to say goodbye to such a terrific group of people, and they could've handled it quite differently. But their genuine happiness for me was remarkable, and it reaffirmed my belief that culture in an organization can create a valuable and lasting impact," he further states.
The future of Fullsteam
At Fullsteam, they plan to continue to acquire business management software companies and integrate their payments platform. It's an outstanding model which they continue to execute quite well, and they're tracking thousands of acquisition opportunities. In addition, they will seek to create additional revenue streams by offering ancillary services such as capital advances, marketing services, data monetization, insurance, payroll, etc. to their 50,000+ SMB clients.
"By serving as their trusted provider of core business management software and payments, we have the inside track to providing these other solutions," says Charles.
Ensuring a culture of integrity and innovation at work
Fullsteam operates with a Culture of Trust, which is instilled through its core values of:
Listen First
Talk Straight
Demonstrate Respect
Right Wrongs
Show Loyalty
Keep Commitments
Deliver Results
Charles admires Fullsteam's leadership for recognizing that "to err is human," but also expecting team members to take responsibility and "right wrongs."
"In my short tenure with the company, I'm thrilled to have witnessed our culture of trust in action. Fullsteam leadership walks the talk. Believe me, we're not perfect, but we genuinely try our best to live these values and serve as examples for our colleagues," he says.
At Fullsteam they reiterate and reinforce their core values while recruiting, training, and communicating with their 1,400+ team members at recurring townhall meetings. By attracting people who share and believe in these values, they strengthen their culture with every new hire they onboard.
Charles adds, "By creating a culture of trust, which incorporates humility, respect, accountability, personal responsibility and loyalty, we enable really good people to do really great work."
Work hard, play hard
Early in his professional journey, Charles stretched himself too thin across numerous obligations and reached a point of burnout which led to bouts of depression. "Mental health is a serious issue which I've experienced firsthand and with friends and family. So, I understand how important it is to monitor one's mental wellbeing, and take measures to maintain such," he says.
Finding a better work-life balance was critical for Charles and has helped him avoid a recurrence of clinical depression. He also learned that there is no shame when dealing with matters of mental health, that seeking assistance in the first instance is incredibly important, and that help is more readily available than you may realize.
Charles is a passionate golfer, playing approximately 100 rounds per year, but he is otherwise available for work and family affairs. He subscribes to the "work hard, play hard" philosophy, and is happy to work long hours provided his efforts are appreciated and he is treated with respect. Flexibility is also important to him, so those long work hours may be at odd times such that he can spend time with his loving wife, Aimee, and amazing daughter, Colette. Charles is always focused more on the quality of time with family over the quantity of time.
Staying motivated to work hard
Charles' work motivation stems from an innate sense of responsibility to provide for his family. Of course, he personally enjoys the finer things in life that his efforts have afforded him. But the fundamental need to ensure that Aimee and Colette are, and will always remain, financially secure continues to drive him. And as a family, they have set a vision for what their future retirement will look like, and Charles has got more work to do to achieve it.
For his team, Charles tries to ensure that they are clear on their personal priorities, understand how those priorities contribute to Fullsteam's success, are acknowledged for their personal contributions, are plugged into what's happening throughout his organization and around the company, and know that he "has their backs."
"I'm a firm believer in the servant-leader philosophy, and strive to provide thoughtful, empathic leadership to everyone on my team. I've found that creating a safe, supportive environment allows smart, capable people to thrive and contribute while also enjoying the process. Work can be fun in the right setting and with the right leadership!" Charles states.
Big Dreams, Big Achievements
At the age of 24, Charles created a list of things he wanted to accomplish. His list covered the gamut, including income, wealth, travel, homes, family, etc. He has checked off everything on his list except one: to retire by the age of 50. In October 2022, Charles reached that milestone.
Although he's now technically "over the hill," he has taken to heart what people say: "today's 50 is yesteryear's 40."
"In truth, I have plenty of energy, lots to still contribute and am having way too much fun to stop working," he exclaims.
That's also why Charles volunteers as Chair of FinTech Atlanta (FTA), a coalition of companies working to advance Atlanta as the recognized global capital of financial technology. Working closely with other seasoned industry executives, FTA administers various programs and initiatives to drive fintech industry growth, talent expansion, innovation acceleration, and public policy influence in Atlanta and across the state of Georgia. It's been a terrific way for him to leverage his skills for the greater good of the local ecosystem and community.
Charles is always looking to the future, thinking of new things to experience, while continuing to dream big. And while he has accomplished a lot, he believes that there's always more to enjoy in life.