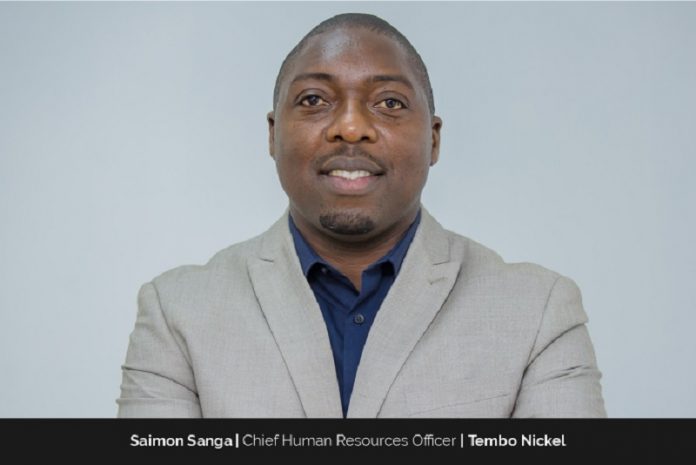 Saimon Sanga, the Chief Human Resources Officer at Tembo Nickel, is a global HR leader who prioritizes people. With a wealth of experience, he oversees all HR functions, spanning from recruitment to retirement. His role involves providing high-level support to multidisciplinary teams and empowering individuals to unlock their full potential, thus aiding the achievement of the organization's mission, vision, and goals.
Saimon stands out as an adaptable and dynamic human resource strategist. His reputation lies in his ability to unlock a business's complete potential by effectively leading in the realms of people, change, and HR management on a global scale, particularly within the mining sector. He possesses a keen knack for making crucial judgments during conflict resolution and handling delicate, intricate, and uncertain situations with tact and discretion.
One of his pivotal contributions includes successfully attaining set objectives and driving motivation among personnel and executive teams. This is achieved through engaging coaching sessions that promote interactive learning and growth. Furthermore, his expertise extends to the implementation of Human Resources Information Systems (HRIS) at both local government and facility levels.
Saimon excels in executing initiatives and producing results, thriving in the face of swiftly changing scenarios, and consistently making well-informed decisions, even within challenging environments. His extensive track record highlights his proficiency as a skilled HR professional across intricate and business-driven organizations. His attention to detail, sound judgment, and strong analytical skills all contribute to his proven success in the field of HR.
"Talent and hard work don't make someone a great employee. You need the right balance between talent, energy, health, integrity, attitude, and commitment to become a great employee."
Passion-Driven Journey into the HR Industry
Saimon shares that his journey into the HR industry was primarily driven by passion. While in school, the decisions about academic pursuits are made based on personal preferences. However, as one matures, the focus shifts from mere desires to pursuing what they genuinely excel in – and that's where passion comes into play. In Saimon's case, his entry into the HR industry was solely motivated by his passion. He highlights that no external factors or influences sparked his interest in HR; it was his strong internal drive that led him to this field.
Perspective on Challenges
Saimon holds the belief that challenges play a crucial role in highlighting our vulnerabilities and areas for growth, enabling us to enhance ourselves. He emphasizes that without encountering challenges, the process of improvement becomes arduous. This perspective is particularly relevant in the mining industry, where a constant drive for improvement is essential.
Unique Approach to Responsible Mining
Tembo Nickel stands as a mining company with a distinctive ethos centered around responsible mining practices and a commitment to advancing the global agenda of clean energy. What truly differentiates the company from other companies is its unique refinery approach, specifically the utilization of hydromet technology. This methodology sets Tembo Nickel apart due to its environmentally conscious and cleaner attributes when contrasted with the more conventional mineral processing techniques prevalent in the industry.
In a landscape where competition is constant, especially for essential skills, Tembo Nickel recognizes the significance of prioritizing its human resources. Placing the people's agenda at the forefront is a strategic decision. By sourcing and retaining the finest talents, Tembo Nickel is positioning ourselves distinctively in the market. This approach is pivotal as it establishes a significant differentiator in an industry where competition is ongoing.
Dedication to Individual Growth
Saimon's passion lies in nurturing individual growth. His focus isn't just about hiring the best talent, but about unlocking the full potential of the team he already has. He firmly believes that when each person operates at their personal best, HR can make a huge impact on business operations. The true value of HR, according to Saimon, becomes clear when the unique potential of each individual is realized.
As an HR professional, Saimon's main contributions revolve around enhancing skills and keeping valuable employees within the organization. He believes that by developing skills, the global workforce can expand, leading to reduced labor costs due to the principles of supply and demand.
Saimon's impact in the HR industry is substantial and includes:
Chairing the Tanzania Chamber of Mine committee in Skills development
Promoting women in mining. Tembo Nickel head office is one of the best in the industry on gender balance with 64% women.
Skills mapping database for the district where Tembo Nickel operates to ensure that we support local employment.
Incorporating Integrity and Fostering Innovation
Saimon emphasizes that integrity stands as a fundamental core value at Tembo Nickel. He firmly believes that talent alone is insufficient without integrity. To uphold this value, Tembo Nickel has implemented a comprehensive training program for its employees. This program is designed to ensure that all operations are aligned with the company's code of business conduct.
Regarding innovation, Saimon and his team are actively cultivating a culture of cohesive teamwork and integration at Tembo Nickel. This culture is fostered through a foundation of mutual respect among employees. This approach facilitates an open exchange of ideas and encourages creativity to flourish at all levels of the organization.
From People-Centric to Business-Integrated HR Leadership
When Saimon initially entered the field of HR, he held the belief that the core focus was on people – ensuring employees' satisfaction to enhance their performance. However, his perspective has since evolved drastically. He now sees HR not solely as a people-centric function, but as a pivotal element of the business. He recognizes the role that employees, as valuable resources, play in driving the profitability of a business.
One of the most memorable acknowledgments in Saimon's career journey was receiving the CEO Excellence award in 2013. This recognition was granted for his pivotal role in reshaping work shifts for employees to align with the legal regulations of Tanzania. This accolade, awarded by his former employer, remains a standout moment for Saimon. It underscores his success as an accomplished HR professional and his ability to navigate complex regulatory landscapes while prioritizing the well-being of employees.
"You have a great chance to become a good leader if you have qualities of a good human being rather than qualities of Leadership."
Balancing Leadership and Life
Achieving a harmonious balance between work and personal life hinges on effective planning and establishing clear priorities. Saimon, as a leader, manages multiple roles including being a father, husband, son, brother, and a friend to many. To navigate these roles, he emphasizes the need to set priorities and meticulously plan to accommodate these various responsibilities.
Maintaining his own motivation is rooted in his identity as a problem solver. Saimon finds immense satisfaction in offering solutions to challenges. On the other hand, he channels his efforts into keeping his team motivated by delegating meaningful responsibilities to them. Additionally, he provides consistent feedback on their performance, fostering an environment of growth and empowerment.
Elevating Tembo Nickel
Saimon's vision for Tembo Nickel entails executing the project in alignment with the established plan. Beyond this, the collective aspiration of the team is to elevate Tembo Nickel to become a premier workplace. This entails focusing on various facets: fair compensation practices, comprehensive training, and development opportunities, recognizing and valuing individual talents, and crucially, unlocking the full potential of every team member.
On a personal level, Saimon's objective as an HR leader is to facilitate the growth of budding HR professionals. He aims to provide them with the necessary guidance and support to ascend the career ladder.
Safeguarding Success
Saimon believes that success is achieved when carefully crafted plans align with the intended outcomes to a degree that brings about a sense of satisfaction. However, he emphasizes that the pursuit of success should not result in unmanageable negative consequences along the way. He holds this perspective due to his conviction that the ultimate objectives of success should encompass both happiness and contentment.
Saimon's advice to aspiring HR professionals and leaders carries a strong message: Human resources stand as the most vital asset within any business. He emphasizes that to ensure financial health, strong client relationships, regulatory compliance, and optimal profitability, the key lies in taking excellent care of your employees. This sentiment underscores the critical role that human capital plays in the overall success and sustainability of an organization.