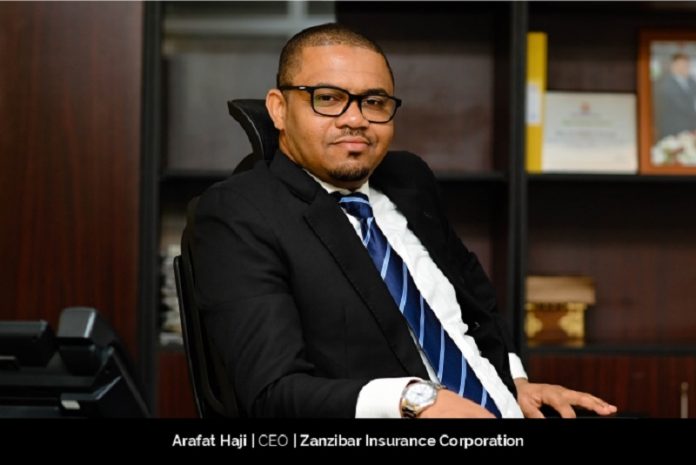 Arafat Haji is the CEO of the Zanzibar Insurance Corporation (ZIC), a Public Entity owned by the Revolutionary Government of Zanzibar.
A seasoned banker with 15 years of banking experience, he has seen the organization grow into a corporate entity that has become a formidable player in the insurance industry, able to hold its own with the best in the industry.
Making the tough choice to juggle work & studies
Haji recalls how, in 2007, when he completed his Certificate in Banking, Barclays (now Absa) was on an expansion strategy and was looking for sales officers. He put in his application and landed the job as a sales officer.
A few months into the role, although he liked and enjoyed sales a lot, he, unfortunately, had to resign and go back to college to begin his advanced Diploma in Banking, as his employer could not accept his transfer request from Zanzibar to Dar Es Salaam, and he was only left with the option of continuing with his studies.
In 2008, during his 1st year of undergrad studies for the Advanced Diploma in Banking, Haji's friend asked him to help send his job application documents through an email. Immediately after sending his friend's application, he contemplated sending his own as well, despite his doubts about whether he could even get it as just a 1st-year student.
But his instincts won, and he sent in his application, and a week later, landed an interview. He immediately called his friend to ask if he had been called as well, but unfortunately, he wasn't. Haji felt bad, but decided to attend the interview, even if he wasn't sure of getting the job due to lack of experience.
At just 22 years old, walking into the interview room with the table packed with senior management personnel, Haji wondered how he would make it out of the room. He answered all their questions and convinced that he wouldn't get through that tough interview, was prepared to continue with his studies.
A few weeks later, a call came in to sign the offer letter, and he now faced the dilemma of how to work while continuing his studies, knowing that his parent's reaction to the news would be an outright NO.
Having made the tough decision to take up the job and study, Haji signed the offer letter, took the job, immediately went to the college administration office, and got their approval to change from a full-time student to a part-time student, starting his career journey in the banking industry.
Being appointed to lead the Zanzibar Insurance Corporation
Zanzibar Insurance Corporation is a Public Entity owned by the Revolutionary Government of Zanzibar. Haji recollects that when H.E President of Zanzibar Dr Hussein Ali Mwinyi took the office in 2020, he came with a vision of transforming public entities, not by privatizing, but by converting them into Corporate Entities by bringing young Corporates into the Government Entities.
At that time, Haji was a seasoned banker with 15 years of banking experience, having worked for both regional and local banks with experience in the Treasury and Global Markets space. During his 15-year banking journey, he worked for Barclays, KCB Bank, Ecobank, NIC Bank, and Exim Bank.
"All those years, I never thought that I was recognised or noticed for what I was doing, and when H.E reached out for me to take over ZIC as CEO, it was mind-blowing, and I immediately took the challenge of serving my country and being part of this transformation journey. The confidence vested in me is the best recognition I have received as a leader," he says.
So, Haji, a former Banker with 15 years of experience in the private sector, was appointed to take leadership of Zanzibar Insurance Corporation (ZIC), with the main and sole aim being to transform Zanzibar Insurance Corporation to have a look and feel of a Corporate Entity, compete equally in the market, enhance brand awareness and visibility, and transform culture within the organisation.
Transforming ZIC into a market leader in the insurance industry
When Haji joined ZIC, public entities were perceived to be conservative, and it was thought that they could not compete with the private sector in Tanzania.
As the CEO of ZIC, Haji was entrusted with the responsibility of ensuring that he delivered on his promise and commitment, growing the brand of ZIC in the market, ensuring that the market share increased, and turning it into the most innovative insurance company in the country, constantly improving to increase their stakeholders' satisfaction.
"Without bragging, prior to joining ZIC, despite being a half a century old organisation, not much was known in the market about ZIC. It was perceived as an entity to serve Zanzibaris and the Government of Zanzibar," he says. "10 months down the line, in Tanzania, when talking of insurance, you must mention ZIC. Players in the industry now recognize ZIC as a serious competitor and a disruptor in the market."
Haji points out that ZIC's brand visibility is now known across the country, their performance has significantly changed, and projects that are now happening in Tanzania are considering insuring with Zanzibar Insurance Corporation. Projects such as the railway project, which previously no one would have thought ZIC would be able to touch, are now insured with ZIC.
Today, Haji's aim is to transform ZIC into a market leader in the insurance industry in Tanzania and the region as well. In June 2022, ZIC will attain its 53rd Year since incorporation, with vast experience in the industry of insurance, and he is reviving the organisation into a new era, establishing it as a brand to reckon with.
Haji mentions how two years ago, the regulator introduced Electronic Stickers for insurance in Tanzania, transforming the industry, with the regulator constantly improving the guidelines to ensure the industry is rapidly developed. They have recently launched Takaful guidelines in the country. These new guidelines will help deepen the penetration of insurance services within Tanzania.
"In Takaful, ZIC is the pioneer of the product in the country, and we look forward to launching our Takaful services in 2022. ZIC is a now a market disruptor and looking forward to increasing our market share," he says.
In terms of technological disruption, ZIC has partnered with Mobile Network Operators to ensure that everyone owning a phone is able to purchase their insurance products at their convenience no matter what location they're in.
The role of a leader is to create more leaders
Having looked at his grown path through the journey of leadership, Haji defines himself as persistent. Through all the banks that he has been with, he has worked in various capacities and roles, from Sales Officer to Operations Officer.
His last assignment in the Banking Industry was Group Treasurer for Exim Bank, overseeing operations of the Group in four countries (Tanzania, Comoro, Djibouti, and Uganda) where, as a leader, he had the duty to ensure they delivered the budgets, as well as mentored and grew new leaders.
"This journey would have not been possible without the help and support of my mentors during my various assignments. I realised the journey had started around 2011 while working for Eco Bank," he says. "During this time, at such a young age, I had just joined the bank from Exim Bank, and my then boss, Erick Mushi, used to let me run the office every time he was on leave or on official travel."
That was when Haji's journey of leadership truly started, up until he rejoined Exim Bank in 2015, and immediately in 2016, he was seconded to Uganda to take over as a Country Treasurer for the Bank, under the mentorship of George Shumbusho, who remained as a mentor to the leadership roles as a Group Treasurer for Exim Bank.
"In 2017, I was promoted to take over the role of Group Treasurer for Exim Bank. This defines my journey, but the better definition I derive here is that as leaders we have a role to play in creating more leaders, for now, and in the future," he says.
Haji recalls that climbing the ladder was not easy. He had to leave one of his previous employers when he realised that both his Boss and his co-worker saw him as a threat to their roles.
"It is difficult working for a boss who thinks that you will take over from him, and peers who think that you're an obstacle for them to move beyond you," he admits. "In some assignments, people would try to demoralize me to impact my productivity. But I knew my capabilities, I understood what my targets were, I remained focused and persistent and stuck to my vision."
Haji's advice to young leaders is to not get distracted, and to focus on their goals, and deliver their agenda. The journey to leadership is not easy and there is no overnight success.
Young aspiring leaders should be ready and flexible to put in extra hours, work hard, learn, and explore who can mentor them in achieving their goals. Along the road, there will be disappointments, so never give up, draw your path, and take on challenges.
Haji defines his success at such a young age as having achieved his goals and his organisational goals, moving across leadership roles in different organisations, being a consistent performer, and delivering his objectives consistently during assignments within and outside Tanzania.
"During these assignments, I managed to mentor others to move up the ladder into leadership roles. That's a major success, as I believe the role of a leader is to create more and new leaders," he states.
Maintaining a separation between work and family life
Haji points out that he has always maintained a policy of not taking whatever is happening within the four walls of the office into his personal life.
"We have one aim and goal, we remain as friends outside office, but we stick to professional lines within the office," he states. "I usually look like a different person outside office, and at times, one may not even recognize me when am out office, as a very normal person living a normal life, and I like to reserve that as family time, to avoid taking work stress and tensions home."
He believes that his team needs to remain motivated throughout the year, and to manage that, they set milestones to be achieved and have regular reviews with various teams within the organisation to make sure they reach their goals. Once they realize a task is not happening as per their plans, they review the situation and devise a mechanism to correct it before it is too late.
The path forward for ZIC
As a seasoned banker having served in the industry for 15 years, Haji recalls that he always dreamed of being a CEO in the banking industry, and his path of working within the Treasury and Global market was always leading into his role of the CEO as the Exit position.
"The dream was to be a CEO, which is my current role, and this has changed and transformed my dimensions, and made me learn new skills, work hard to understand new concepts in insurance, get new professional certifications, and definitely this widens my scope, having had experience in banking, and now in insurance," he says.
Haji points out that, for ZIC, he has set two plans or targets. One is to make ZIC a reference organisation for all government offices.
"I want ZIC to be looked as an example of how things should be done. I want to see all government corporate entities and government departments to be learning from ZIC. This will happen through our ongoing culture transformation exercise," he says.
His second goal is to see ZIC as a market leader in the insurance industry in Tanzania in the next three years, and also steer the expansion of ZIC outside their borders. "My dream is to see ZIC set up operations outside Tanzania, be a brand for everyone, and increase our shareholders' value," he says.