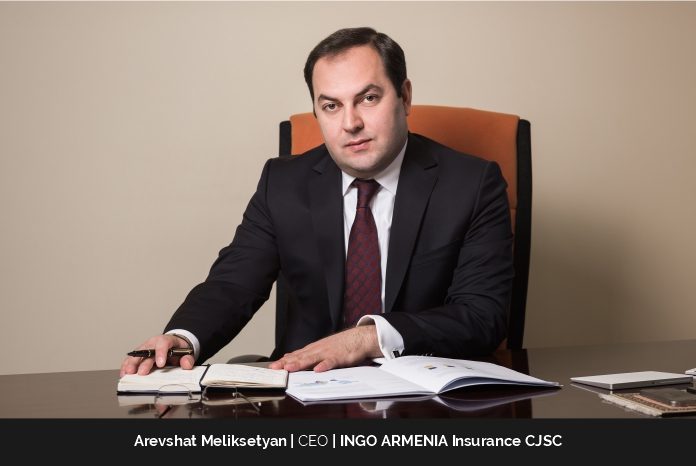 By virtue of the number of premiums it collects, the size of its investment, and, more importantly, the basic social and economic function it performs by assuming personal and commercial risks, the insurance sector is a significant economic contributor. Arevshat Meliksetyan, CEO of INGO Armenia Insurance Company, has a wealth of experience working in the insurance industry and the credentials to back it up. Mr. Melikseyan has an MBA from Cambridge University's Judge Business School in the UK and a Master of Business Administration from the American University of Armenia. Additionally, he is a holder of a UK-based Chartered Insurance Institute Level 3 Certificate in Insurance. Mr. Meliksetyan is a fluent speaker of Russian, English, and Armenian.
Arevshat began his career as a sales manager at INGO Armenia, where he has more than 15 years of expertise. He has served as the First Deputy CEO of INGO Armenia since 2007 and is in charge of the sales and claims handling divisions. Arevshat became INGO Armenia's CEO on October 5, 2016.
Stretching Ties at Every Corner
Arevshat served as the organization's leader during all crucial phases of its growth. It underwent a fantastic adventure throughout this time, earning a unique position in the insurance market and rising to the top of the sector. The business had robust and encouraging growth virtually every year in a succession, solidifying its position as the industry leader in optional kinds of insurance. INGO ARMENIA ICJSC also experienced a digital transition at the same time and is now primarily focused on high-tech solutions. Using an SAP CRM system for better client relationship management data processing is one example.
Beginning of Career
Arevshat is the founder of INGO ARMENIA Insurance CJSC. He began his fascinating career as an insurance professional in 2001, rose to the position of Head of the Property and Cargo Insurance Department from 2002 to 2007, held the position of First Deputy Executive Director from 2007 to 2016, and is currently the Chief Executive Officer of INGO ARMENIA.
There were just five individuals employed by the firm when he started working there while still a student at the Institute of National Economy. He fell in love with this profession while concurrently working for the firm and studying insurance at the institute. He shares, "It absorbed me all; it was very exciting, and soon I realized that I had connected this work with all my life." He was one of the first to join the team of ambitious and talented colleagues, and soon the company began to develop its own corporate culture, inspired by its co-founder, Levon Altunyan, and supported by a desire for professional excellence. Many more talented people would join the team for 21 years to come. Since then, the goal has been to create a high-profile company where one can prosper, learn, and express himself.
Today, INGO ARMENIA has a team of attuned people with an initial desire to succeed, and as an employer, Arevshat mostly values this outstanding ability to grow and make changes.
The Company
Ingo Armenia is one of the largest insurance organizations in Armenia. To assist its clients' audacious ambitions, it offers a comprehensive range of motor, health, property, casualty and other financial services.
In order to boost efficiency, the company embraces technology and automates its procedures while acknowledging the ambiguity of the status quo. Ingo Armenia values responsible practices just as much as providing exceptional customer value, which is essential to its success. With its strong corporate social responsibility efforts, it actively participates in building relationships within the community.
People are the company's greatest asset. It develops managers who operate professionally and methodically at all levels of management, creates strong teams, and bolsters their collective spirit—a spirit of initiative, vigor, support, and creative activity.
Following Transparent Leadership
As Arevshat finds, being the CEO of "INGO ARMENIA" is not only about ensuring efficiency, quality service, and cost-effective management, but rather about empowering people and providing strategic leadership. As a rule, he doesn't like to leave room for confusion or doubt. Hence, if he was to describe himself in one word, it would be explicit.
He asserts, "I state clearly and in detail, to avoid miscommunication and possible confusion." Arevshat likes things to be very precise, measurable, and transparent; he wants to have clarity in any kind of relationship he keeps.
Contributing to a Common Goal Leads to Greater Success
Arevshat believes that performing a task properly is the key to success. He believes that if everyone works hard and tries their best, there will be no limits to how successful they may be. He assesses success based on both his own work and the work of his team. His definition of success is creating a team where members become friends, work toward shared objectives, and spur one another on to achieve more. He continues by saying that by doing this, we not only assist the business in achieving its goals, but we also grow as people and contribute to the success of a larger community.
Focusing on Self Improvement
Arevshat believes in every situation, "you should work on yourself, learn, and strive for more." He adds that you should never stop learning because it gives you courage and stability. The more knowledgeable you are, the more comfortable you feel in life. At that time, he received his bachelor's and master's degrees in the Insurance department from the Armenian State University of Economics. Despite his age and position, Arevshat continued his education and graduated from the American University of Armenia with an MBA degree and from the Cambridge Judge Business School with an Executive MBA degree.
Arevshat views lifelong learning as a basis for success. It was challenging for him to run a business while he studied insurance at the university, but it was also beneficial.
His Ph.D. work served as the foundation for the implementation of the CMTPL system in Armenia. Throughout his life, he has consistently been active in all major initiatives for the growth of the "insurance" profession and insurance culture in Armenia.
Arevshat is now pursuing his second doctorate at Lomonosov Moscow State University while working as a lecturer at Moscow State University. He asserts, "Individual growth and development are crucial factors for changing the environment, starting with yourself, and overflowing to the environment."
A Way to Ideal Leadership
Arevshat isn't concentrating on any sort of balance; instead, he's merely doing his best here and there when the balance develops as appropriate. He believes that when one is clear about what they want from the team and what others are expecting, their mentality for success instantly sharpens.
Arevshat bases his management approach on empowering his group to assume accountability. He makes an effort to give workers a fulfilling work environment and reassurance that issues will be handled in a fair and impartial manner. He contends that clarity inspires a team, and in such a setting, individuals begin to work together to get the greatest outcomes, particularly when shared objectives are clear and well-communicated.
"Cornerstone of individual growth and team achievement is constructive feedback. Honoring successes inspires workers to work harder, at the same time, reviewing failures helps to identify the approach that led to the failure," says Arevshat.
He also believes that constructive criticism helps employees be more productive, enhances their ability to make decisions, improves their job satisfaction, and builds their faith in the management of the company.
Aiming for New Peaks
Arevshat's goals for the business include making all of the people it interacts with happy, including customers, staff members, shareholders, and stakeholders. The team works to improve these people's lives above and beyond what they would have experienced otherwise.
Arevshat has a personal objective of scaling Mount Ararat. Without getting into the historical aspect related to Ararat, it also has a really lovely business comparison. He compares running a business to climbing a mountain; it can be challenging at times, and many people will help you climb or compete with you, but not everyone will make it to the top.
Be Adequate and Concentrate
Arevshat's message to aspiring entrepreneurs is to be adequate and concentrate on the crucial part, leaving the bluff out. He says, "When you do something, you should focus on a core and not be distracted with something that might seem more exciting." He further adds, "If a certain action is not creating a value, then you should not invest your time and resources in it. Stay focused!"