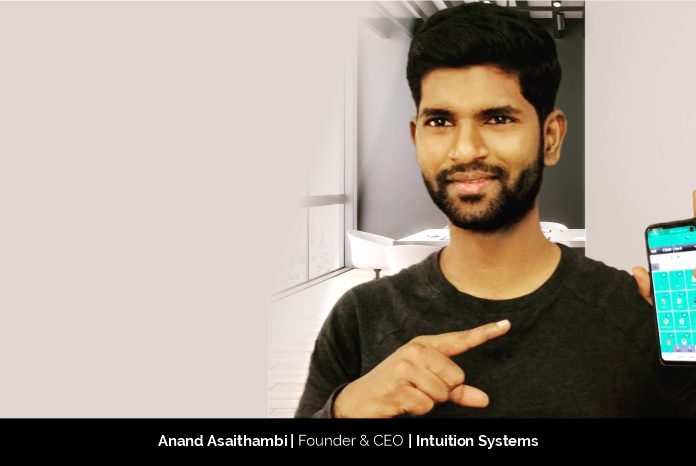 Redefining conventional forms of entrepreneurship with digital inclusivity is one of the most apparent and inevitable transitions in recent times. Across industries, this transformation has been disrupting and leveraging businesses to new levels of success and competitiveness.
Intuition Systems is a name synonymous with this transition within the food and retail sectors. Intuition Systems is a cloud-based point of sale and 'ERP lite' software (SAAS) company that has built an all-in-one billing, payments, business management and business automation platform for restaurants and retail stores.
This is how the company decided to build its award-winning prototype, IVEPOS – a point of sale (POS) and ERP software.
Products and Services
"IVEPOS is a disruptive, hi-tech, cloud-enabled POS and 'ERP lite' platform with more than 100 features that can be seamlessly integrated into a small 5.5″ mobile android POS or larger devices that can transform the POS hardware into a powerful all-in-one device and aggregator," explains Anand Asaithambi, CEO and co-founder of Intuition Systems.
The product can digitally empower merchants, including micro-merchants to build and run a successful business, perform complex operations, boost revenues, communicate with vendors and customers, avail banking functionalities anywhere, anytime at an affordable cost vs expensive management, and ERP software (SAP) available in the market.
"Previously, these methods were not possible in India and were unavailable for smaller merchants. We agreed that this was a market gap that we needed to, and we could fill," Anand elaborated. "Traditionally, the POS industry in India comprised of legacy systems consisting of four major modules to run a restaurant or retail store: a point-of-sale billing computer, a payment module to accept cards or cash, a printer, and a back-office business management software. The industry is now seeing a shift from these Windows-based legacy systems, which are being replaced by mobile and powerful android based all-in-one mPOS systems integrating all the major modules."
The earlier POS systems were expensive, difficult to use, prone to system crashes and have issues with data loss and security. Some of the primarily windows and
Web-App based POS companies include Go Frugal, POSIST etc. There was no all-in-one POS that could do more than billing and payments without a need to buy additional resources including accounting, ERP, CRM, and management resources. The IVEPOS software addresses this unmet need. "Although an emerging high growth industry, there is a huge need for robust software that can power this new android mPOS devices at an affordable cost," he explains.
Intuition was one of the earliest android-based mobile POS software companies that integrated basic POS functionalities with a more comprehensive, easy to use, ERP lite features for business management and automation at a very affordable cost. Some of product's exclusive features include android based advanced ingredient manufacture, multi-store, and multi-device management, Counter wise KOT, merge, split tables and many more.
The Inception and Development
Based in Bengaluru in India, the fin-tech company was founded in 2013 by Anand with Arun Asaithambi, making and selling point of sales (POS) by leveraging artificial intelligence, cloud computing and analytics for the retail, restaurants and healthcare industries.
The idea of Intuition Systems was seeded into the entrepreneur's mind from experience of running a restaurant, Dosai Asai. Seeing no option outside of older legacy systems or manual billing machines, he and his partner Arun had to rely on the use of their own android-based POS device. Seeing a need in the market for a mobile and powerful POS System, the founders soon chalked out a plan in creating what eventually became Intuition Systems.
Skilled in software app development, robotics, design, UI/UX, product management and marketing, Anand, along with his cofounder and team, put together the blueprint for IVEPOS App and successfully oversaw the launch of the three apps in the Google Play store. He is responsible for leading the initial growth of the start-up from ground level up, building the team, as well as identifying vendors, service partners and channel partners. Within a short timeline since the company's inception, Anand and his team were able to bring on board their first thousand customers and has so far sold over 2000 licenses to restaurants, retail, and enterprise customers.
"We manufacture and sell the software directly to our B-2-B customers. We also integrate them as an all-in-one device upon customer request. We are working with leading hardware, payment partners to deliver this all-in-one device. We depend on vendors like Sunmi for hardware device manufacturer, Fiserv, and Mswipe for payment processing. We also recommend the hardware and payment processor to customer and sell just our software," explains Anand.
Scope for Growth
Since the announcement of India's ambitious Digital India programme created by the government with a vision to transform the country into a digitally empowered society and knowledge economy, the mobile POS (mPOS) business has seen a rapid growth rate. Additionally, according to the global Mobile Operating System Market Share, as of November 2021 more than 70% of mobile users are Android users. Both these factors have come into perfect harmony for Intuition Systems, which started as one of the early players in Android mPOS, thus creating a significant market opportunity for its products compared to competitors who focused on Windows-based users.
Anand explains that IVEPOS was specifically targeted for the restaurant industry. "We have one of the most comprehensive solutions for the restaurant industry. This gives us an edge in terms of market access in the F&B sector. As a cloud-based system built for restaurants and retail, IVEPOS offers functionality like mobile POS systems, inventory management, sales analytics, CRM and customer loyalty on an easy-to-use interface. They can use the IVEPOS point of sale system instead of a cash register, and track sales and inventory in real-time, manage employees and stores, engage with customers and increase your revenue." The product can be easily integrated with all-in one android devices and has worked with leading Android-based POS hardware manufacturers such as SUNMI, Star, EPSON, ESSAE, WISEPOS, and A290.
The Road to Success
Intuition Systems is currently working on expanding its reach through growing its workforce, seeking new markets, while consistently and relentlessly working on R&D to build new automation tools. "Software engineers will continue to work on our flagship IVEPOS products, e-commerce, and data analytics modules. We will have exclusive software professionals working on innovative new verticals, R&D, and B-2-B modules. Additionally, we are also planning to expand our sales and operations team for FY 21 and FY 22 to market our product offering to new geographies."
By building licensing and distribution partners, and a robust e-commerce pipeline, the company aims to combat threats involving building a huge retail force. "Our immediate goal is to expand our licensing and distribution partnerships in India and Asia-Pacific, increase our play store downloads and start deploying our e-commerce tools. Our vision is to become the leading all-in-one POS software company in Asia-pacific. We are targeting to sell 2.5 million licenses in the next four years. We will explore expansion to the US and EU markets," Anand informs.
With aggressive plans ahead and a steady vision in place, Intuition Systems is ready to take on the world in a digital, organic and sustainable growth curve, supporting businesses and consumer sectors globally.