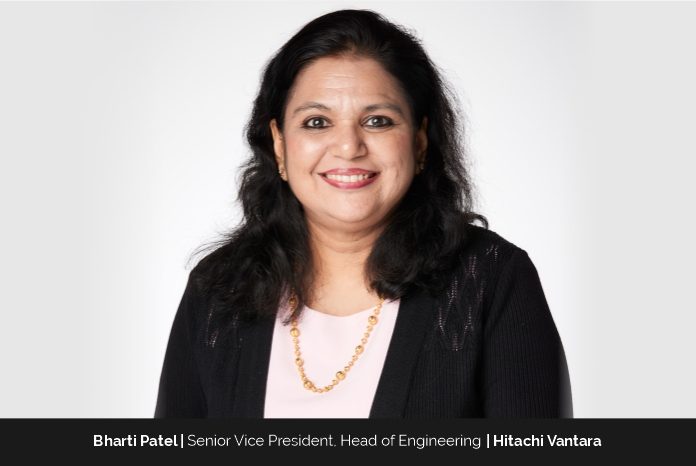 Bharti Patel is the Senior Vice President and Head of Engineering at Hitachi Vantara. She possesses a unique blend of business and technical expertise, backed by over 15 years of experience in executive leadership roles spanning Strategy, Product Management, Design, Engineering, and Customer/Partner Management. Bharti is deeply passionate about driving innovation in products and solutions, recognizing them as pivotal drivers of business success, and she does so with a strong emphasis on speed and agility.
With extensive experience in leading large R&D teams consisting of over 1000 talented professionals across diverse geographical locations, Bharti has cultivated a reputation as a dedicated customer advocate. Her ability to empathetically listen to customers, even in challenging situations, and execute solutions with laser-like precision has consistently turned difficult customers into highly satisfied references.
One of Bharti's standout achievements is her talent for optimizing revenue growth by delivering disruptive, high-quality software products and solutions. She achieves this by fostering high-performing teams driven to redefine the customer experience. Her track record includes successfully bringing new products to market with impressive growth trajectories and transforming legacy processes and products into modern, sustainable revenue generators.
From Java Developer to Visionary Leader
Bharti embarked on her career as a Java developer, where she had the privilege of working on groundbreaking Java specifications. Despite her technical roots, her career path took an unexpected turn into management. However, she didn't view herself solely as a manager but as a leader, especially when it came to empowering technical experts to reach their full potential.
One notable milestone in Bharti's career was her early selection for her company's high-potential executive program, a distinction awarded to less than 0.01% of individuals. This recognition underscored her unwavering commitment and dedication to her work. Moreover, she received incredibly rewarding feedback from customers regarding a mobile-first solution she championed. This solution not only revolutionized their experience but also demonstrated the profound impact of forward-thinking leadership in delivering exceptional results.
Throughout her journey, Bharti firmly believed that leadership extends beyond mere team management. It encompasses the nurturing and development of exceptional individuals who, when collectively empowered, can achieve extraordinary outcomes.
Embracing Challenges and Defining Success
Bharti wholeheartedly agrees that challenges are catalysts for personal growth. She believes that when faced with difficulties, it's essential to view them as opportunities for improvement and innovative thinking. Embracing challenges not only pushes individuals to push their limits but also provides them with a competitive advantage in their careers and endeavors.
For Bharti, success is fundamentally measured by outcomes and their real-world impact. She is results-driven and defines success by the tangible and positive changes she observes in her surroundings. In Bharti's perspective, the true measure of success lies in the impact she makes and the organizational capabilities she develops. These capabilities directly influence her capacity to deliver exceptional customer outcomes. Success, to her, means simplifying customers' lives and enhancing their capabilities, ultimately contributing to their top and bottom-line growth.
Passion for Problem-Solving
Bharti's passion lies in problem-solving, and she views challenges as opportunities for growth. She thrives in complex situations and finds inspiration in the unwavering support and belief in her vision from her direct team and extended team.
Three key factors fueled Bharti's passion at the start of her engineering journey:
Team Confidence: The support and enthusiasm of her team members were a significant source of motivation. Their willingness to collaborate and assist in realizing her vision was invaluable.
Impactful Feedback: Seeing the tangible difference she was making through her work was highly rewarding. Feedback served as a guiding compass, pushing her toward continuous improvement.
Purposeful Focus: Bharti's dedication was laser-focused on engineering, research, and development, with a strong emphasis on developing cutting-edge products. This purposeful focus drove her forward in her career.
Transforming Data into Digital Excellence
Hitachi Vantara is a true data company. A subsidiary of Hitachi Ltd., Hitachi Vantara provides the technology and expertise for over 80% of Fortune 100 companies. By developing intelligent data platforms and hybrid cloud infrastructures, we power resilient digital processes, products, and experiences that turn data-rich businesses into data-driven ones. Visit hitachivantara.com to discover how we help businesses become data-driven through agile digital solutions.
Staying Ahead in a Dynamic Landscape
Bharti believes that in today's fiercely competitive landscape, staying ahead requires a forward-thinking approach and agility to adapt to what lies ahead. Meeting basic requirements is no longer enough, as differentiation and competitiveness have become table stakes.
To truly excel, organizations must envision the future more clearly than their counterparts. Those with the ability to anticipate upcoming trends and shifts are the ones who can swiftly adapt, innovate, and continuously improve their offerings. In this dynamic environment, the companies that embrace this proactive approach will emerge as the winners, consistently outpacing their competition.
Engineering Leadership
As Senior Vice President and Head of Engineering at Hitachi Vantara, Bharti oversees all software development for the company's data and storage products. In this role, she prioritizes three core principles:
Simplicity and User-Friendliness: Bharti believes in making products as straightforward and easy to use as possible to ensure customers have a seamless experience.
Innovation that Drives Exceptional Customer Experiences: She emphasizes thinking outside the box to create outstanding customer experiences, going beyond expectations to deliver value.
Driving Innovation with GenAI: The company is committed to leveraging GenAI to foster innovation and push the boundaries of what's possible.
Bharti's day is intense, starting with interactions in India and ending with those in Japan. She carefully balances her time between working with customers, strategic thinking to guide the product portfolio, and hands-on involvement with the team. Her approach is characterized by setting a bold vision, staying grounded about what's achievable, and proactively addressing issues before they become crises.
In one word, Bharti describes her approach as "innovative."
Approach to Positivity, Recognition, and Learning
Balancing personal and professional life remains a continuous challenge for Bharti, and she admits to only occasionally excelling at it. Nevertheless, she motivates herself and her employees by fostering a positive culture, even during challenging times. Bharti believes that positivity, combined with confidence, can be a powerful motivator.
Appreciating and acknowledging her team's hard work and dedication is a top priority. Recognizing their efforts and successes plays a significant role in maintaining motivation within the team.
Equally crucial in Bharti's approach is how setbacks are handled. She emphasizes that it's perfectly acceptable for things to go wrong from time to time. What truly matters is the ability to learn from these failures without placing blame. This approach creates an environment where the team can move forward positively, armed with the knowledge gained from their experiences.
Leading Innovation and Agility in the Data-Driven Industry
Looking ahead to Hitachi Vantara's future, the company has a clear vision. The team aspires to continue being recognized as the foremost trailblazing, innovative, and agile data-driven company within their industry. The commitment is to remain at the cutting edge of technology, embracing innovation at every turn.
Regarding personal goals as a leader, the primary focus is on the impact they can make in their role. Rather than fixating on specific personal objectives or the next career step, the dedication is to drive meaningful change and deliver the necessary results for the organization. It's about ensuring that the company continues to evolve, staying ahead of the curve to meet the market's ever-changing demands.
Hitachi Vantara's new Virtual Storage Platform One embodies this vision. It represents the next generation of all-in-one data solutions designed for data flexibility and resiliency. With a single data plane spanning structured and unstructured data in block, file, and object storage, it empowers organizations to run applications seamlessly, whether on-premises or in the public cloud. This unified data platform offers clarity and accessibility, eliminating the hassles of data silos and restrictions, and ultimately unleashing the full potential of data.
Advice for Aspiring Engineers
Bharti's message to aspiring engineers is rooted in a few fundamental principles:
Hard Work: There is no substitute for hard work and dedication. To excel in the field of engineering, you must be willing to put in the effort required.
Innovation: Cultivate a mindset of thinking outside the box when it comes to problem-solving. Innovation often arises from unconventional approaches.
Continuous Learning: Engineering is a rapidly evolving field. To succeed, you must commit to continuous learning and skill development to stay on the cutting edge.
Unwavering Determination: Maintain unwavering determination and refuse to accept 'no' as the final answer. This determination can be a powerful driver of innovation and progress in your engineering career.
Bharti adds that remember the importance of hard work, creative problem-solving, lifelong learning, and unwavering determination as you embark on your journey in engineering.