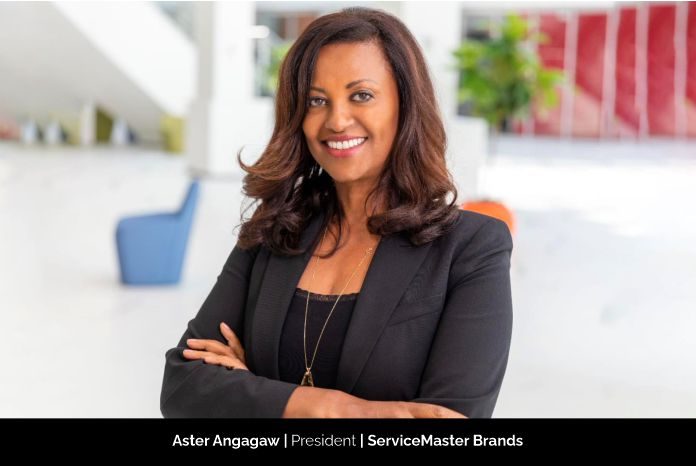 In our fast-paced lives today, we are accustomed to receiving quick and easy service wherever we go. Although the service industry presents quite difficult tasks, it is truly rewarding, especially when you have been an established and renowned company for 90 years. ServiceMaster Brands is one of the leading global service companies that provides industry-essential services to businesses and homes. The company has had a history of incredible leadership, amongst whom, Aster Angagaw exemplifies as the President of ServiceMaster Brands. She brings with her decades of strong leadership experience in highly reputable service companies, most recently at Sodexo, a global integrated food and facilities management company. There she was chief executive officer of the North American Healthcare division, a business with more than 6,000 employees across the U.S. and Canada, and member of the company's Healthcare Global Executive Committee. She is a woman of power, and we are privileged to have the opportunity to share some interesting insights from the expert herself, Aster Angagaw.
What were your dreams and aspirations while growing up?
I was always interested in science and considered going to medical school. I realized that I was drawn to the possibility of becoming a physician because it represented an opportunity to help others. The idea of service — serving others — has been a consistent theme in my life and I am pleased that I am able to bring that passion to business, and particularly to ServiceMaster Brands.
What were the initial challenges and setbacks that ServiceMaster Brands faced?
ServiceMaster Brands was founded 90 years ago. Today, ServiceMaster Brands continue to change and evolve as the needs of customers change and evolve. Change and evolution are both the most exciting and the most challenging things about business today. The world is moving forward at a far greater speed than it did decades ago. A clear understanding of changing customer needs in a changing world is the first step in creating technology-driven integrated solutions that are efficient and convenient for the customer. We are always looking ahead, with service at the forefront and the data to drive growth in all our brands.
Tell us in brief about the services of ServiceMasterBrands.
ServiceMaster Brands comprises two primary businesses: cleaning and restoration. The former includes ServiceMaster Brands Clean and Merry Maids. The latter is made up of ServiceMaster Brands Restore, Furniture Medic and AmeriSpec. Together, these five brands deliver expert disaster restoration, residential and commercial cleaning, patient-centered cleaning in the health care environment, furniture and cabinet repair and restoration, and commercial and residential property inspection both locally and through our national accounts' programs. We deliver these services through company-owned and franchised businesses across the U.S. and in 10 countries.
What is the business growth strategy of ServiceMaster Brands How do you define its growth over the past few years? (Can be explained with statistical data too)
Our strategy is to grow profitably by enhancing current business models, expanding market opportunities through segmentation and solutions, and maximizing synergies and integration between brands. We already offer services in 10 countries outside of the U.S., and globalization represents an excellent opportunity to create growth.
ServiceMaster Brands services are delivered by a network of more than 5,000 franchised and company-owned businesses in a partnership of innovation in technology and data. Our brands last year served more than 50,000 customers a day and reported customer-level revenue of $2.6 billion.
What is your vision for ServiceMaster Brands and what do you believe are the key factors that distinguish you from the lot?
The ServiceMaster Brands mission is to create cleaner, healthier, safer environments for our customers wherever they are – at home, at work or at play.
Thanks to our unique network, we can scale our services to the needs of the particular market and the individual customer. Our franchised brands are owned and managed by neighbors who are serving neighbors. Both smaller businesses and larger ones serve the communities where they live and work to deliver exceptional customer experiences at every opportunity.
ServiceMaster Brands creates a platform for our local businesses to serve customers locally, nationally and globally.
Give us a brief of your life before ServiceMaster Brands.
My career has been based on my passion for serving others. Before ServiceMaster Brands, I served as CEO of the North American Healthcare Division of Sodexo, a global integrated food and facilities management company with more than 6,000 employees across the U.S. and Canada.  During my 18 years with Sodexo (including as global head of sales and business development and group vice president of global transformation), I delivered a successful record of accomplishments in operations, strategy and business development, organizational transformation and customer retention.
Tell us about your roles and responsibilities as the PRESIDENT of ServiceMaster Brands and how does it make you feel?
In addition to being responsible for the development and execution of successful growth strategies, as president of ServiceMaster Brands, my number one priority is working with my leadership and management teams to be an example of and reinforce our commitments: We Serve, We Care and We Deliver. It is my job to make sure all of us — no matter what role we play in ServiceMaster Brands — are focused on making it possible for our franchises and company-owned branches to deliver superior employee and customer experience every time. Visiting and talking with our franchisees and our employees helps to keep me and our management team focused on supporting them as they deliver the services that support the strategy.
What are some of the factors that continue to be a roadblock? How do you overcome it?
We have great opportunities for profitable growth across all our brands. Any company that has been serving customers for nearly a century has no doubt faced its share of challenges. However, our history shows us that challenges can be overcome if we continue to focus on the customer. A deep understanding of our customers' needs will lead to overcoming these challenges. We will continue to build on and enhance our foundational capabilities to achieve excellence in operations and growth as a franchisor, and operator of owned businesses.
What is your message to the other aspiring businesswomen?
Do what is important to you and what you find fulfilling. For example, service to others is important to me and it is where I find the most professional satisfaction. Women lead with intention and with a clear purpose that centers us as women. Be authentic and be yourself. Sometimes we wear a different persona to work, perhaps emulating something other than our real selves. We spend so much of our lives at work, so balance is very important. Along with doing good work and taking care of our families, we need to take better care of ourselves. It's something we all know how to do; it's a matter of making it a priority.
What keeps you and your employees motivated?
I believe it is important for everyone in our business to know where we are going, how we plan to get there, and the role each person plays in moving us forward. It is not so much about the strategy itself as it is about how that strategy has been shared and owned by all of us. Motivation comes from feeling a sense of purpose, our commitment of service to others and being dedicated to our service-focused and customer-centric mission.
What does the future of ServiceMaster Brands look like, globally? How do you plan to widespread the business?
We have a very talented leadership team that is committed to our customer-centered mission and our strategy of building and enhancing our foundational capabilities. As we pursue growth opportunities, we will continue to rely on technology-enabled integration of services, diversity of talent, collaborative innovation, and actionable, data-driven insights. In the months and years to come, we must continually ensure that our strategy is visible to the frontline and that everyone within ServiceMaster Brands feels ownership of our purpose.
A passionate leader and a hardworking person with an awe-inspiring personality, Aster Angagaw is a businesswoman who has become a leading voice in the service industry. She continues to inspire us as she makes plans for her future.
2019 ServiceMaster interns with Aster and Nik Varty,
CEO of ServiceMaster