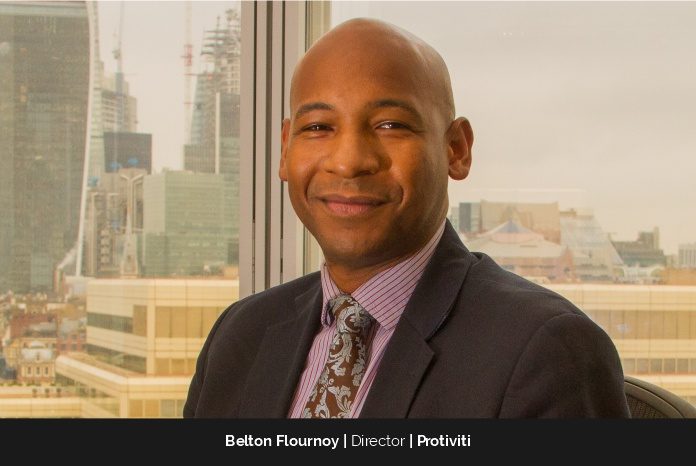 Goal setting is important, it inspires and motivates you. People with goals succeed because they know where they're going. Belton Flournoy, a director with Protiviti – a global consulting firm, knew he wanted Information Technology to be his second major right from his first IT class and he credits his professor at the time, Dr Monika Ayda, for the same. Belton realised that he rarely saw people who looked like him in business and he then told himself that he wanted to be the first openly gay, Black CEO of a Fortune 500 company.
"To be honest, I don't think anyone knows where they 'want to be.' If you asked me 20 years ago, I knew I wanted to be actively driving change, but was unsure of what that looked like," he says. Now, as a director with Protiviti, he states that he truly enjoys helping his clients to solve their complex problems—especially the ones that leverage the newest concepts and technologies.
Self-Belief And Hard Work Will Always Earn You Success
Belton remembers wanting to work at Protiviti after seeing it in BusinessWeek's '50 Best Places to Launch a Career,' combined with the travel opportunities offered by a consulting career. "With Protiviti, I have been able to work in Milwaukee, Seattle, Chicago and now London, as well as having travelled to over 19 countries, including Brazil, Australia, Hong Kong, Singapore and Tokyo. I also found myself at Protiviti," he exclaims.
As an adult, he struggled with his identity, even going back into the closet when he relocated to the U.K. Over the past 10 years, he has been able to find his authentic self, and that is thanks in large part to Protiviti, which has a great culture that exists no matter where in the world you work.
"Success is not important at all—finding a passion that drives you is," states Belton. One quote that has stood out for him his entire life was said by Booker T. Washington: "Success is to be measured not so much by the position that one has reached in life as by the obstacles which he has overcome while trying to succeed." Belton says that he loves this because it helps him to always look at a challenge as the next rung to achieve success, rather than something to drag him down.
A Setback Is Not the End, It Is Success in Progress
Failure has been the single biggest driving force behind Belton's professional journey. "I ended up having to take time away from university due to finances, which was the first time in my life I felt lost. I returned a few years later with a fiery passion to succeed, which led me to get almost all as after my return and receive offers from three top global organisations upon my graduation," he explains. That passion has continued well into his professional career.
Belton agrees setbacks should be viewed as a learning opportunity. He has been doing improv for several years now and he never envisaged the impact it would have on his public speaking ability. "The course taught us to stop focusing on what you cannot control (failures/setbacks) and focus on what you can, which is your ability to do better the next time," he further adds. Even a personal setback, if viewed in the right way, can make a stronger person.
"I've had my fair share of challenges," he says. But only one stands out and relates to him personally. Belton had just completed a project at a global financial services company and was invited to meet with their head of change. Right before he walked into the room his client told him, "Don't let him know you are gay." Belton responded with "I will not, as that has nothing to do with my delivery." He soon realised that his sexuality is just as important as the colour of his skin, or the fact that he is from Texas. "Hiding it does not make me stronger, it eats away at my ability to be my authentic self at work… I recognise the value and importance of developing an inclusive workforce, and of being a leader who makes people feel empowered and able to be themselves in the workplace, which leads to greater productivity," he explains.
Protiviti And Its Services
Protiviti is a global consulting firm that delivers strategic insights to help business leaders confidently face the future. Protiviti provides clients with consulting and managed solutions in finance, technology, operations, data, analytics, governance, risk and internal audit through its network of more than 85 offices in over 25 countries.
Right now, it is facing what it likes to call the 'perform storm' of external and internal drivers that can act as both challenges and opportunities for businesses. These factors include globalisation, digitalisation, evolving regulation, increased cyber-security
requirements and ever-changing business models. Protiviti works by balancing risk with opportunity to provide business solutions that enable its clients to realise the potential inherent in their business.
Protiviti's culture makes it different from its competitors. Their CEO, Joe Tarantino, is a strong leader who empowers everyone in Protiviti to work together to serve clients in exceptional ways. "Our culture is a strong asset and competitive differentiator that shapes our daily activities. We focus on building strong and lasting relationships with our clients and we are proud that so many have become long-time trusted partners," says Belton.
Vision For Protiviti
Protiviti believes in finding innovative ways of providing value to its clients and has trained all its global staff on design thinking concepts. This allows them to work alongside their clients, embedding innovative concepts into their capabilities to deliver lasting change and value. One example is VISION by Protiviti, which is an exciting new global content resource exploring big, transformational topics that will alter business over the next decade and beyond. Through VISION, Protiviti aims to spark new conversations in boardrooms and the C-suite and provide a platform for innovative ideas to surface.
Organisations are also continually looking to improve their business models, improve the experiences of their customers and automate their business processes. To achieve these goals, firms are now looking for partners who think outside the box to provide tailored ways to solve the challenges. Based on their deep expertise, innovative approaches and wide experience across industries and geographies, Protiviti sees itself becoming a trusted partner for many of them.
They are also excited by many of the latest technology developments, including process mining, identity analytics and quantum computing, and plan to help their clients become more effective and efficient through the adoption of these new technologies.
Roles And Responsibilities as A Director with Protiviti
Belton says that in his day job, he is a director with a global management risk consultancy. He focuses on identity & access management and cyber security and leads a team of security experts who provide their clients with strategic technology solutions.
"A typical day starts with a team meeting where we cover any critical issues and discuss the state of our business. We then discuss specific client strategies, ranging from
how to define and implement a structured digital identity programme, to more targeted discussions related to defining segregation of duties framework or automating processes in a user access lifecycle," Belton explains.
Besides his client work, Belton is a very active participant in Protiviti's grassroots-driven employee network groups, including its proPride LGBT+ and proCulture ethnic minority groups. He's also a leader for Technology Community 4 Racial Equality (TC4RE), a group of leading U.K. technology organisations dedicated to building a more diverse and inclusive workplace, of which Protiviti is a founding member. Belton is extremely happy to have helped develop the 'Protiviti culture' during his time in the office.
The pandemic presented Protiviti with numerous challenges, and Belton exclaims that he is pleased to say they've been able to give their people the support and care they needed, including providing additional benefits and work schedule flexibility. Together, their culture of putting their people first and making sure they're empowered to achieve their goals has meant that as a firm they've stayed strong and focused. "Protiviti also supports my diversity, equity and inclusion efforts outside the firm, such as my work with The Inclusion Initiative (TII) at the London School of Economics where I am an Advisory Board Member and with TLC lions where I act as an inclusion advocate, frequently speaking with organisations about the need to maintain focus on ethnic growth at all levels and providing transparency into some of the challenges faced by people of colour," he says.
Work-Life Balance
The work-life balance culture is one of the best things about Protiviti. Belton loves telling people to go to LinkedIn and search their hashtag #livingprotiviti for an independent view into their inclusive and supportive culture.
Protiviti's leaders and managers work to ensure their people know they are valued and respected, and if they do ever feel overwhelmed, Protiviti offers a variety of programs and benefits to help, including flexible working, part-time working, sabbaticals and other mental health services. "We've been listed seven years in a row as one of Fortune's '100 Best Companies to Work For' and there's a variety of reasons why we continue to receive this and many similar accolades, including our work/life balance," he further explains.
A message Belton has for his younger self is: Don't stress yourself out about every failure—instead, focus on what went wrong and realise it will only make you stronger.
And his message for aspiring leaders is "when you start doubting your abilities—stop and let your boss do that. The imposter syndrome will only drag you down. Oh, and we all suffer from it."