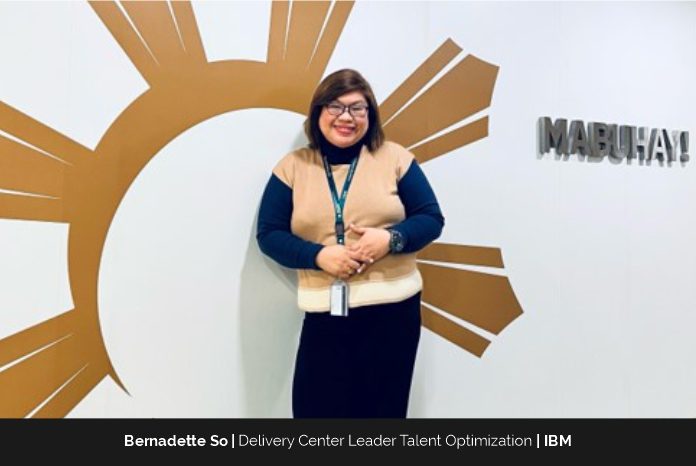 Bernadette So is a highly experienced professional in the BPO and RPO industries, with expertise in constructing and overseeing recruitment operations, creating effective sourcing and hiring strategies, facilitating training and development, implementing performance management, managing key accounts, and delivering volume and industry-specific hiring. In addition, she has conducted process improvement and audit initiatives.
Bernadette has also provided training to RPO recruiters and sourcing assistants for different recruiting environments in various regions, including the United States, United Kingdom, Canada, Germany, and the Asia-Pacific region (including Malaysia, Singapore, China, Indonesia, India, and more). She has also recruited for IT and non-IT positions for a range of multinational corporations.
Journey to Joining IBM
Bernadette pursued accountancy as her major in university and later delved into Audit after receiving her degree. However, she noticed the rapid growth of the business process outsourcing and call center industries in the Philippines, which sparked her interest. Given her background in numbers and transactions, she found it refreshing to engage in something new, dynamic, and stimulating.
Bernadette started her BPO journey by working as a technical support agent for Sony and PeopleSoft before transitioning to customer service for Capital One UK and CIGNA. She began at the entry level and worked her way up, becoming a team leader at just 21 years old. As a team leader, she managed a team of 15 agents and was accountable for meeting global service delivery metrics to ensure client satisfaction.
During her time as a team manager, Bernadette was tasked with conducting operations interviews for potential new hires. This experience ignited her interest in recruiting, and she began volunteering for the task whenever they needed to hire more people. After spending 8 years in management roles within contact centers, she decided to transition to Recruitment Process Outsourcing (RPO), which is a branch of BPO.
Starting again from the ground up, Bernadette began working as a Technical Recruiter, hiring SDLC and Infrastructure positions for a US-based telecommunications company. As a recruiter, she gained a comprehensive understanding of the end-to-end recruitment process, including researching, data mining of CVs, Boolean string discovery, and conducting job interviews with candidates. She also gained extensive knowledge about various markets in different sectors. Bernadette's expertise lies in recruiting for technical and specialized roles, which has led to her success in the field.
After a year of recruiting, Bernadette was promoted to the role of trainer. In this capacity, she trained US recruiters to be effective in their roles and to establish good partnerships with their clients.
After successfully establishing two RPO companies from scratch and growing their headcounts from zero to 60 in the Philippines, Bernadette was invited to join an international recruitment firm with offices in the US, China, and Hong Kong. For five years, she led their RPO Business Unit and traveled around the world to set up RPO teams in various locations across the Asia Pacific region.
Bernadette's team provided clients with highly skilled Sourcers, Recruiters, Recruitment Managers, and Delivery Managers who were ready to take on high-volume recruitment challenges at any time and in any location.
In 2021, Bernadette joined IBM as the Talent Acquisition Optimization Delivery Leader for the Philippines, where she currently leads the largest IBM Delivery Center that offers RPO solutions worldwide.
"Recruiting is all about speed and quality."
Leading IT Consulting Company
Everest Group has ranked IBM as the sole "Leader" in HRO, RPO, and Learning Services. IBM's offerings encompass a wide range of capabilities, including Recruiting Services, Employee Data Management, Payroll and Benefits, Performance Management, Learning and Development, as well as Reporting and Compliance. IBM's talent acquisition consulting services are designed to enhance the hiring experience and achieve more predictable outcomes throughout the hiring process. By leveraging human resources data and market metrics, IBM can assist clients in segmenting audiences and collaboratively creating candidate personas to achieve optimal staffing. IBM's clients can quickly scale resources and prioritize hiring needs, with the help of talent acquisition consultants who specialize in developing the best talent for retention and bridging skill gaps to accelerate business results.
IBM collaborates with organizations to meet their HR needs and drive data-driven insights while fostering a culture of ongoing learning. Its joint efforts can revolutionize talent management and develop a future-ready workforce. Its engagement model focuses on achieving desired outcomes and is facilitated by adaptable delivery models and cutting-edge technologies that enhance the experience for candidates and employees alike. "Leverage your existing investment in HR technologies, whether Oracle, SuccessFactors, Workday or something else, along with IBM Consulting's methods and assets to drive efficiency and fundamental change in how work gets done, using AI, virtual agents, data analytics, or intelligent workflows," says Bernadette.
"Our candidates are always job shopping, and the companies are always going to be reaching out to our candidates, so how do you set yourself apart? Take them out of job shopping by offering value than just a job!"
Hiring Best
As the Talent Acquisition Delivery Center Leader, Bernadette's primary responsibility is to provide leadership to service delivery teams, overseeing the development and implementation of program, project, product, and business strategies. She is responsible for managing contractual cost, schedule, and service or product deliverables, working with IBM and client resources to ensure that services and solutions are delivered in support of the client organization.
Bernadette's daily goal is to support the RPO teams in delivering an excellent hiring experience for clients' employees and candidates. She is passionate about her work and strives to inspire her team to deliver the best possible results for our clients. With her strong leadership skills and commitment to excellence, Bernadette sets a high bar for herself and her team, driving continuous improvement and innovation in the delivery of talent acquisition services.
Getting Update with New Trends
Today's most effective HR operating models are using AI to provide improved employee experience at a reduced cost. As an AI pioneer, in IBM is already integrating AI to optimize its own HR experience and better serve its employees with personalization and efficiency. Bernadette states, "We extend that expertise to our clients within Talent Acquisition.  We have now available technologies that enhance the candidate and employee experience like Oracle, Success Factor and Workday."
Bernadette is passionate about staying up to date on the latest market trends and workforce behavior changes in her Talent Acquisition career. To achieve this, she takes advantage of LinkedIn's annual survey, which gauges talent pool and market fluidity, and ensures she provides ample data and feedback to voice her own observations in the industry. By doing so, she can have a positive impact on HR and Recruitment Trends.
Bernadette views roadblocks as an inevitable part of the journey and embraces them as an opportunity to learn and grow. She firmly believes that persistence is key, and one should never give up on their goals. This is her personal mantra that continues to guide her to this day.
Forming Best Combination Between Work and Life
Bernadette recognizes the importance of having a strong support system outside of work. Her family and friends, particularly her husband Benson and son Benedict, keep her grounded and connected to her inner self. Knowing that she has a loving and supportive circle around her gives her the assurance that she can navigate any challenges in her professional life.
At work, Bernadette motivates her team by leading by example. She shows up when needed and is always available to provide guidance and support. Bernadette understands that sometimes, the best way to motivate others is simply by being there for them and showing that she cares. Her leadership style emphasizes collaboration and mutual respect, which creates a positive work environment where everyone feels valued and empowered to do their best work.
Key to Organizational Success
"Inclusion is imperative for the health of our business and our society."
Bernadette and her team at IBM are committed to driving genuine progress by going beyond mere recognition and promotion of individual differences. They are dedicated to identifying obstacles and creating opportunities for advancement in an equitable manner for all stakeholders, including employees, suppliers, communities, and the global population. They continually refine their actions and behaviors to become more inclusive. In summary, they act as agents of systemic transformation for the betterment of the world.
She asserts, "We foster a culture of conscious inclusion and active allyship, where every IBMer can make a positive impact on society while bringing their authentic selves to work." She further adds, "We are building this through creating a more diverse workforce, cultivating a flexible work environment, enabling an inclusive culture, and advocating for equity, both inside and outside of IBM."
Source: https://www.ibm.com/impact/be-equal/diversity-inclusion-annual/
Aspire to Creating a Supportive and Encouraging Workplace
Bernadette shares a similar aspiration to become a solutions architect or head of a global RPO delivery team. She seeks to work for an organization that recognizes the value of its talent and encourages them to deliver exceptional results to clients while staying true to themselves. Bernadette believes that the recruitment industry has untapped potential, and she wants to be part of a team that is not afraid to break down barriers and push the sector forward using both innovative technology and human expertise.
She envisions a workplace culture that nurtures talent, encourages collaboration, and fosters an environment of continuous learning and improvement. Bernadette is motivated to lead a team of like-minded professionals who share her passion for excellence and delivering top-notch solutions to clients. She believes that by working together and leveraging the latest tools and techniques, they can achieve outstanding outcomes and create a lasting impact on the industry.
"Hire Attitude, Train Skill"
Changing Lives
For Bernadette, working in talent acquisition involves more than simply reviewing resumes, conducting interviews, and selecting candidates for job opportunities. Instead, the recruitment process is a means of improving the lives of individuals by providing them with greater opportunities to secure meaningful employment. Through this work, Bernadette feels that she is changing lives on a daily basis, and this sense of purpose is what makes talent acquisition a crucial aspect of the constantly evolving global workforce landscape. Despite ongoing changes and disruptions, Bernadette believes that talent acquisition will always remain relevant because of its profound impact on people's lives.
Recognition for Being Committed
Bernadette was presented with the "North Star Leadership Award" by IBM's Global BPO Leader Sachin Varma, SVP & COO Kelly Chambliss, and Partner-Philippines Center Loida Inton. The award acknowledged the advancement of talent acquisition in the Philippines by remaining committed to the organization's guiding principle in TAO, which is to provide exceptional service to its clients' candidates and employees.
For Bernadette, success means waking up with a positive outlook and the determination to accomplish her goals, and going to bed at night with a sense of fulfillment because she has done what she set out to do. 
"Your employees are your most underrated, underutilized source of talents for your company.  Give an excellent employee experience and they will recruit for you through internal referrals!"