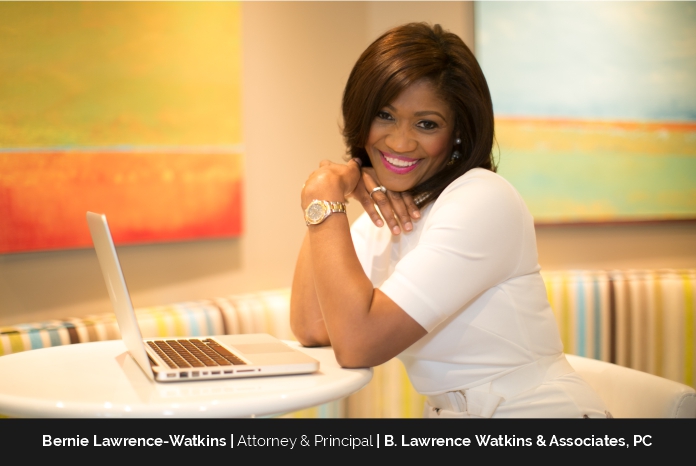 Bernie Lawrence is a seasoned transactional attorney and the principal of B. Lawrence Watkins & Associates, PC, a legal practice specializing in entertainment, copyrights and trademarks, new media and corporate law. Throughout her career, she has been able to carve out a niche for herself by representing multi-platinum selling music producers who have composed hits for notable hip-hop artists such as Lil' Wayne, Drake, Nicki Minaj, Ludacris, 50 Cent, and P. Diddy, as well as R&B and pop artists such as Usher, Justin Bieber, Chris Brown, Beyoncé, and Rihanna, to name a few. Music business executives, music production firms, independent record labels, musicians, managers, songwriters, film and television production companies, screenwriters, video game developers, and apparel designers are among her clientele. Ms. Lawrence is a frequent guest speaker and panelist at entertainment seminars and conferences around the country.
Bernie began her legal career in 1996 as a paralegal at Kilpatrick Townsend and Stockton LLP, formerly known as Kilpatrick Stockton, LLP, and then worked as a contract attorney in the Commercial Real Estate department. She left the major firm setting in 1999 to work for the City of Atlanta as a Legal Specialist in the Office of Contract Compliance, while continuing to practice law part-time on the side. She was a legal liaison to the Law Department in the City, oversaw certification experts for the Equal Business Opportunity and Disadvantaged Business Enterprise program, and established Equal Employment Opportunity and First Source Jobs program processes.
Bernie left the City of Atlanta in late 2002 to run her legal practice full-time and incorporated her company. Ms. Lawrence also worked as a lobbyist for eight years, representing the City of Atlanta as well as Hartsfield Jackson International Airport on federal funding initiatives.
Ms. Lawrence earned her bachelor's degree in business administration from Howard University and her law degree from the University of Baltimore School of Law. She is the proud mother of two sons.
Lawrence Watkins & Associates
Lawrence Watkins & Associates, P.C. is a transactional legal practice that focuses on Entertainment, Intellectual Property, and Business Law. The firm specializes in music, film and television, copyright, trademarks, and business transactions. The company has over twenty years of expertise creating and negotiating complex agreements for entertainment and business brands ranging from recording, music publishing, licensing, employment, corporate transactions, to product endorsement and influencer collaborations.
Bernie is continuously on the lookout for new attorneys that are enthusiastic about the entertainment business. She is also aiming to form strategic alliances in order to open offices in key cities around the country. She further adds that if anyone doesn't believe in the firm's mission, then the firm is not the right match for him or her.
As per Bernie, the firm's mission is to further the professional and personal goals of its clients through the use of education, experience in the entertainment industry, and relationships the team fosters. She shares, "We pride ourselves on maintaining the highest level of integrity in our legal practice."
Motivation behind Joining Sector
Bernie has a love for the arts and is very passionate about helping creative people. She doesn't like seeing people being treated unfairly. When she was a teenager, she thought she would become a performer/entertainer. She recalls, "One of my brothers became an artist while we were in college. He signed a bad deal, and then ended up getting dropped by the label." Bernie saw how it affected him. She then made a commitment to herself to go to law school and become an entertainment lawyer to help people like him get out of bad deals and be an advocate for those who wanted to pursue a career in entertainment to get them the best deals possible.
She asserts, "My belief is that all things are possible. If you can see it, you can achieve it. The step of faith starts with believing in yourself that you can achieve the goals you set out to accomplish. If I never tested my faith, I would not have a testimony to share with others."
Purpose, Life and Success
"God gives us only what we can handle. The challenges we face in life are our testimony of faith and our ability to overcome," says Bernie.  She believes that with challenges comes growth and opportunity. She opines, "We are able to learn things about ourselves and change what we don't like. Without challenges, we are not able to properly identify our strengths and weaknesses. We all have them. We have to be comfortable being uncomfortable. It causes us to think and to be open to the possibilities that anything can happen."
For Bernie, success is "creating a life you've always wanted to live while engaging in a community that is moved, touched, and inspired by your actions, which motivates you to give back." She adds, "When you've been blessed with an opportunity, you should share your blessings with those who are in need of assistance. We should always be looking for ways to help move, touch, and inspire others to fulfill their purpose."
Recognition for Exemplary Work
Bernie represented multiple music producers whose albums went multi-platinum in the early 2000s. Her producer was nominated for a Grammy, and she was invited to the ceremony. Her name began to spread in the music world, particularly among music producers, allowing her to establish a niche practice working with music producers and songwriters.
Bernie has been able to pull some of her clients out of less favorable contracts and negotiate multi-million-dollar deals for others over the years. People are aware of her strong support for client ownership of intellectual property rights. She has succeeded in creating a brand that encourages customers to seek out the firm's services. Bernie states, "Most people in the entertainment industry know me as my motto, 'Bernie Gets You Paid'."
The Attorney/Principal of B. Lawrence Watkins & Associates
Bernie's responsibilities as CEO and Principal Attorney are substantial. Her roles include but are not limited to the following:  managing the employees, contractors, and interns that work for the firm and overseeing their assignments; managing the day-to-day operations of the firm as well as the client-intake process and engaging in business development.
Bernie opines, "Over the years, I was blessed with the opportunity to be honored by many organizations, receive several awards, and appear in several magazines. It's hard to say which has been the best recognition." She feels humbled to be recognized and appreciates the recognition as an industry leader.
As per Bernie, every day varies. She starts her day at 6 am with meditation and early morning exercise. Thereafter she checks emails from the day prior and responds before 9 am. Between 10 am and 1 pm, she reviews assignments prior to them being sent out to opposing counsel. Between 1 pm and 6 pm, she will participate in zoom calls or in-person meetings with clients. She says, "We sometimes meet clients at the office and others at a restaurant or their place of work, which could be the recording studio, movie set, or video shoot." Bernie enjoys yoga, jogging outdoors, and strength training as forms of exercise. The management and staff make an effort to meet on a weekly basis to discuss their duties. Bernie is also very transparent with the team while sharing ideas on how to perform the duties appropriately. "We also go out to lunch periodically as a group, to change the scenery," says Bernie.
Future of B. Lawrence Watkins & Associates
Bernie's goals for B. Lawrence Watkins & Associates include becoming a nationwide brand renowned in all major cities with a strong entertainment presence, hiring additional attorneys interested in practicing in the entertainment field, and establishing a sports branch to represent athletes. In addition, Bernie is actively involved in a few other business initiatives. One is a music distribution and technology platform that will be a game changer in the entertainment business, as we know it. Bernie also intends to write and publish a book this year.
Trust the Process and Learn from Every Experience  
When Bernie first started her practice, she remembers having difficulty getting attorneys to return her calls or respond to her emails. She was a new lawyer on the scene who needed to gain the respect of industry professionals. She states, "I learned early that you are only as strong as your brand. If people don't know you, they won't respect you and will be quick to dismiss you."
Her advice to all emerging female leaders: "Don't get caught up in the end result. Enjoy the ride of all the possibilities you can and will encounter along the way and embrace them. Those experiences may also help to move, touch, and inspire someone through their journey someday."