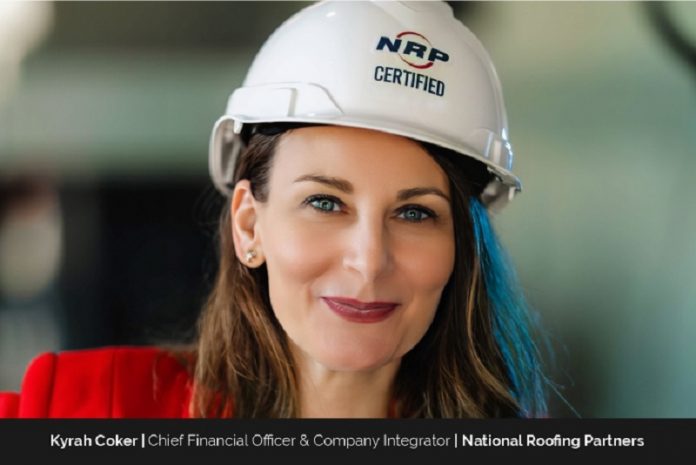 Kyrah Coker is a seasoned executive with 20+ years of strategic planning and management experience directing companies through start-up, survival, turnaround and growth modes. Recognized for demonstrating a natural aptitude for deploying innovative strategies to drive continuous improvement, as well as for delivering high-quality leadership & training to staff members and leading key initiatives, Kyrah has a verifiable history of contributing directly to company success throughout her career.
Growing up, Kyrah wanted to be a corporate attorney. Although she took a slightly different path, Kyrah very much enjoys seeing the parallel between what she wanted to be growing up and what she sees herself as today.
Kyrah has been a part of construction since 2005 and quickly developed a passion for the industry. She loves the building aspect of construction and the everlasting effect it has on businesses and people. The roofing industry further solidified her growing passion, especially with industry specific organizations like National Women in Roofing (NWiR), Roofing Technology Think Tank (RT3) and National Roofing Contractors Association (NRCA).
Kyrah has consistently exceeded financial and performance goals and she is adept at achieving maximum operational output with minimal resource expenditure. Professional focal points include finance management, executive leadership, strategy development, team leadership, staff training & development, regulatory compliance, issue resolution, concept development, relationship management, and risk mitigation.
Delivering superior administration on the latter areas of expertise requires utilization of effective communication skills, negotiation skills, as well as business acumen, continuous improvement, project management and resource management to support efficiency and maximum returns – all qualities and skills possessed by Kyrah Coker.
Kyrah holds a B.A. and M.A. in Interdisciplinary Studies from the University of Texas at Dallas. Prior to transitioning into Construction Accounting, Kyrah spent almost a decade as a manager in a publicly held Telecom company headquartered in Atlanta, GA. Currently, Kyrah is the CFO and Company Integrator for National Roofing Partners.
She is actively involved in the Construction industry, and specifically Roofing. She sits on the board of directors for National Women in Roofing (NWiR), both local and national, Construction Financial Management Association, (CFMA), both local board and national committee, active in Roofing Technology Think Tank (RT3) on task force, National Roofing Contractors Association (NRCA) on the board committees in DEI Committee and Government Relations.
National Roofing Partners and its services
National Roofing Partners is an innovative single source commercial roofing company. They utilize their network of owners and partners representing over 380 service centers throughout the entire United States providing "Unparalleled Service Nationwide."
As the CFO and Company Integrator for National Roofing Partners, she is responsible for leading, managing, and holding people accountable, which are some of the primary functions of an Integrator. As the role suggests, she integrates the essential functions of the business, including Service Operations, Human Resources, Risk Management, IT and strategic relationships. Kyrah is also accountable for the accounting operations of the company, to include the production of periodic financial reports, maintenance of an adequate system of accounting records, and a comprehensive set of controls and budgets designed to mitigate risk, enhance the accuracy of the company's reported financial results, and ensure that reported results comply with Generally Accepted Accounting Principles (GAAP).
For future growth and expansion, National Roofing Partners aims to continue to pursue innovative commercial roofing solutions for their clients and partners, while maintaining Unparalleled Service nationwide. They also want to continue to push professional growth and development for their team, pushing them to reach their potential.
"Not all storms come to disrupt your life, some come to clear your path." – Paulo Coelho
Success is a process of achievement.
There is no doubt that success is unique to each individual. Kyrah certainly believes that success is different for everyone; everybody defines it in their own way, and it can change throughout your career. One must be determined to win I order to be successful.
Generally, being successful can be summed up by one word – 'growth'. It is an upward journey. Personally, each day Kyrah measures success on the basis of how productive she has been in contributing to the growth of the company, the industry and the employees.
Being responsible towards the future generations
"If you want to influence the future, you should concentrate on growing the future," says Kyrah.
This influence can be accomplished through education, mentoring and recruitment. Through her involvement with NWiR, CFMA, and NRCA Kyrah is able to do just that, and that is further supported by National Roofing Partners.
"In order to be irreplaceable, one must be different." – Coco Chanel
Staying motivated to do the best.
"I find that our team mutually motivates each other when we run into situations where we need that extra motivation to complete what is in front of us," Kyrah states proudly.
The greatest asset of any company is its people and Kyrah claims that the company is blessed to have a great team working so well to encourage each other and keep each other going. When one team member is falling behind, someone comes in and picks up the pace to get across the finish line. "No one person drives motivation more than the other. It really is just all about taking turns smoothly," she further states.
Creating a balanced life
Kyrah believes that everyone should get rid of the term 'work-life balance' and just call it 'balance'. She states that our professional and personal lives intermingle so much, especially when you love what you do. Kyrah claims to be extremely fortunate that her personal and professional lives intersect with each other very well and she has truly mastered the art of balance. However, personally, Kyrah wants to continue to travel and experience life.
"It is very important to surround yourself with both personal and professional teams that support your need for overall life balance. Sometimes you have to give more hours in one area of your life to accomplish a goal or be there for those that are counting on you. This shouldn't be measured by the number of hours, but rather, just be driven by results," Kyrah explains.
"It is very important to surround yourself with both personal and professional teams that support your need for overall life balance" – Kyrah Coker
Being an inspiration to aspiring leaders
There are many successful people who are admired by aspiring leaders in business. History shows us a plethora of mentors who have been a major influence, and as such stir up a strong desire to succeed for a purpose much bigger than oneself.
People who regularly feel inspired at home and at work tend to be more engaged, more confident, and more motivated to solve problems and create new things. Kyrah aspires to be such a mentor to men and women looking to pursue a career in business, in whatever capacity she can help them achieve their goals.