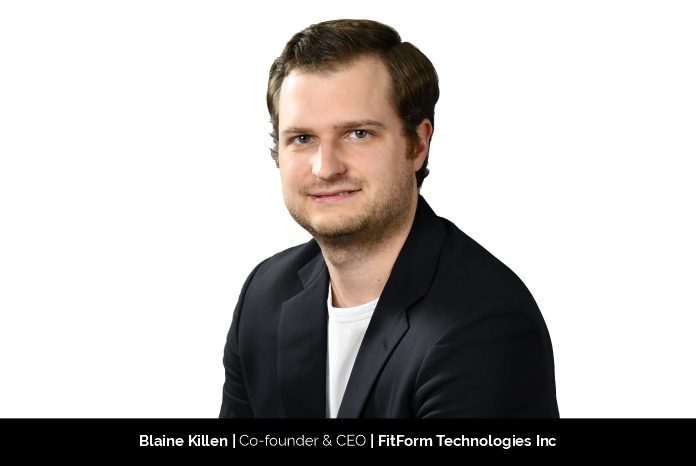 If you've ever watched sports, you've undoubtedly seen a great player on the sidelines due to injury or saw your favorite sports team lose a huge game. In the world of collegiate and professional athletics, 1% may be the difference between winning a championship and going home early. In fact, inadequate training technique causes 11.9 million sports injuries worldwide each year.
Aside from injury, poor form slows an athlete's progress and results in fewer wins on game day. This leaves a big need for a solution that can provide the feedback necessary to prevent poor technique. Blaine Killen, CEO and Co-Founder of FitLift, wishes to bring change to this scenario with solutions that are advanced enough to meet the requirements of the training methods of tomorrow.
FitLift is a mobile application plus motion-tracking wearable that gives real time feedback and post training analysis to trainers, which allows them to be more effective than ever before. This solution involves a portable technology that provides motion data to trainers and real time feedback to athletes during their set, allowing both sides to drive results. The solution also allows trainers to work remotely and enforce accountability with their athletes. Trainers can also maintain a safe distance from the athlete as they are able to perform their job to the same level only using their phone. Trainers now have the ability to remotely confirm that their athletes are performing the routines correctly.
The Foundation Story of FitForm Technologies
The FitForm Technologies Inc team came up with this concept because they wanted to tackle an issue that they both experienced. Both cofounders have spent their whole lives playing sports and have had their fair share of injuries and lack of growth due to improper training. "We have both felt the anguish of not completely fulfilling our ambitions and being only 1% away from obtaining the opportunity to play at the next level," Blaine adds. We thought, "Can we utilize technology to give athletes that 1% edge?" and designed a prototype of a product we wished we had. They both possessed prior entrepreneurial, software, and mechanical experience required to carry out the concept and chose to launch the business.
Advanced Training Offerings
During a set, trainers may monitor crucial parameters like peak velocity, lean, and rep count, which are proven to drive up to 15% better results in the gym. FitLift guarantees that athletes get the most out of each exercise while also lowering the risk of injury—trainers and clients will always know if their execution is right depending on their fitness goals. Trainers may examine their customers' movements after a set to better understand how they might improve.
FitLift monitors exercise pace and gives the data required for a trainer to determine whether to raise the weight or rep count to meet the client's goals. It also provides trainers with real-time feedback on whether their clients are leaning too much in one direction, preventing overtraining on one side, and assisting in the development of ideal form.
Early-Stage Challenges
The most difficult obstacle Blaine and his team have encountered while running a sports tech start-up is building credibility with the company's client sector, according to Blaine. The company's product is aimed at collegiate and professional sports strength training programs, which are tough for start-ups to approach. Despite the fact that the team has few rivals, its lack of a brand foundation and an immature product offering create significant barriers to early client acquisition.
The FitLift team resolved this challenge by using their relationship with Xsens, a premier wearable technology for human motion tracking. Blaine says, "Our innovative solution and proof that we serve a real market need led to Team DSM (Xsens partner), an elite cycling team worldwide, to contact us directly." As a result, the firm is partnered with Team DSM for three years and is utilized for weight training by 58 of their cyclists. FitLift's team turned their attention to accessing the US market after developing its offering and becoming more sales focused and was confronted with the same set of obstacles. To overcome these obstacles, the team went to both the Collegiate and National Strength & Conditioning conferences, where they met with head strength trainers and key decision makers from teams throughout the country.
A Leader who can 'Do' it All
Blaine previously worked at Microsoft for four years as a backend software engineer on the OneDrive/Sharepoint (ODSP) team, where he successfully moved 55 of ODSP's top 200 clients to the company's new WAN infrastructure. These clients are primarily S & P 500 corporations, such as Bentley Motors and American Express. This upgrade resulted in a speed boost of up to 2.5x for cloud file upload and download.
Because of FitLift's size and development, Blaine is accountable for many parts of the business. He establishes the company's overarching vision and goals and oversees the software engineering, business, marketing, and investor relations operations.
Apart from managing the company, Blaine motivates his staff and himself by fostering a culture of cooperation that is devoid of hierarchy. He asserts, "Hierarchy can slow progress and decrease innovative spirits, which we can't afford given that we are at the forefront of innovation." Blaine also empowers workers and partners to own their work and to have total control over execution, which gives the projects a sense of ownership.
Leading a Balanced Life  
As Blaine sees it, running a start-up is a huge responsibility, but he believes that work-life balance is critical for dealing with the difficulties of the journey. He always eats dinner with his family, regardless of the day's work activities, and takes a full day off from the business on weekends. Blaine's typical day begins at 8:00 a.m. with meetings with the company's global partners. He then works on product development with his partner until they break for lunch.
During the second portion of his day, Blaine has another round of meetings with firms or individuals based in the United States, followed by additional development if time allows. He states, "I always end my day with a short workout, followed by dinner where I begin to wind down and get ready for the next day."
A Pile of Success and Achievements  
As CEO of his current firm, FitLift, Blaine has led his team to secure their first significant customer, Team DSM, a world-class cycling club. This was accomplished through the invention of fitness wearable technology and the effective implementation of their MVP.
Previously, Blaine served as CTO of his first startup, MeetingSprout, which was accepted into the Student Sandbox program at the Syracuse Technology Incubator. Notably, the team was the program's first college freshman team to be approved. This incubator is regarded as one of the best in the United States for technology start-ups, having spawned successful firms such as Foursquare, Density, and BrandYourself.
During his tenure at Syracuse, Blaine was a founding member of the university's Association of Computing Machinery branch (ACM). During this time, he was in charge of initial member development and chapter marketing, which led to Chris Yorkey of Texas Instruments speaking on campus about Bluetooth low energy technology when it was still in its early phases.
Different Perspectives on Success
On a personal level, Blaine's definition of success is being able to work on something one loves, changes other people's lives, and covers personal expenses. He says, "Satisfying all three of those qualities in a job is extremely rare, but I have found that having all three leads to the highest level of life happiness."
As a team leader, Blaine's success is measured by how many leaders he created. He opines, "My job is to find great candidates and grow their skillsets, followed by giving them the decision-making power in their area of expertise." He also adds that creating new leaders in his company by growing and empowering people is crucial for any business that wants to be successful in the long run.
FitLift's Future Roadmap
FitLift's mission is to be the leading provider of technical execution feedback across all sports. The company's objective is to help athletes all around the world work out intelligently while reducing injury, allowing them to accomplish their goals faster. Blaine states, "We will leverage our core technology and grow by expanding our offering to golf, tennis, baseball (FitSwing) and yoga, pilates (FitYoga). This will allow us to penetrate different markets using the same core technology specifically branded and targeted to these separate markets with high market caps." The goal is to provide that 1% advantage that allows an ambitious athlete to get drafted on draft day or provides a team with that one more win in a season that they have always desired.
The short-term milestones for FitLift are to continue the momentum from its product launch by securing 2 paying universities as clients in the next 3 months. In 2022, the company's goal is to add Android support to expand its reach and grow to serving 25 university teams. As Blaine is seeing the company's progress, in 2023, the team will aim to establish the company as a dominant player in its initial market and add 2 pro sports teams as clients. He says, "We are starting with the US, but will expand our products and services across the globe when our domestic success allows us to fuel growth in other countries.