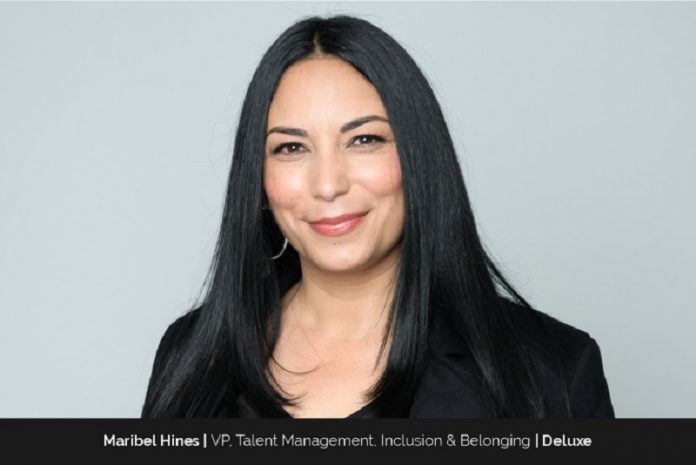 Maribel Hines, VP of Talent Management, Inclusion & Belonging at Deluxe, is a results-oriented, strategic, passionate, committed, and resourceful leader of people.
With over 20 years of progressive experience in human resources across a wide variety of industries, her passion for building talent and enabling organizational success, coupled with her approach to leading through an inclusive lens and consultative problem-solving orientation, have resulted in scaled solutions that strengthen leadership bench strength, promote positive employee experiences, and advance organizational capabilities.
Maribel partners with stakeholders, including individual contributors, managers, senior executives, and People team colleagues to develop, operationalize, and advance global talent management, culture-building, and DEI strategies across the organizations she's entrusted to help transform.
Falling in Love with the World of HR
Growing up in a small, homogenous border town in Texas, Maribel understood the importance of expanding her worldview and enriching her breadth of skills so she could be best positioned to succeed. Having found her "calling" early on, she continued down that path because it was incredibly fulfilling to know that she could help others leverage their strengths, address areas of development, own their next career steps, and position themselves to thrive.
Maribel fell in love with the world of HR during her junior year in college when she took an Organizational Communication course and decided to seek an HR internship. She realized that she could begin a career focused on helping others learn and grow in the workplace and gained experience in talent and organization development roles first.
Her career in DEI began shortly after she was hired in a global talent development capacity at Universal Music Group (UMG) in 2012. Her role initially focused on building talent, leadership, and organizational capabilities. Through relationship-building and understanding of broader needs, it became evident that people longed for more than development support. They desired a connection and a sense of community with people with similar interests, goals, and backgrounds.
Shortly after Maribel started, two female employees asked for guidance and executive sponsorship to begin what would soon become the company's first employee resource group (ERG), known as the Universal Music Women's Network (UMWN). Advising the women and enlisting other passionate women to get involved in chartering the ERG, planning a meaningful slate of experiences and events was incredibly fulfilling for her.
What began with two women evolved into six UMWN chapters across UMG offices, including one international chapter, within two years. "I'm very proud of the communities of women who came together to support, learn from, connect with, and inspire each other!" Maribel declares.
Bringing Content to Millions of Screens All Over the World
Founded in 1915, Deluxe is the leading media services provider for the top content creators, broadcasters, streaming platforms, and distributors globally. With over 4,500 talented employees in 11 different countries, it provides end-to-end services for creation-to-distribution to bring content to millions of screens all over the world.
Maribel joined Deluxe in mid-November 2022 and is responsible for three global focal areas: talent management (establishing and optimizing talent practices that align with business goals and enrich culture); talent development (advancing programs that fuel learning, build skills, boost performance, and support career growth); and inclusion and belonging (enabling employee experiences that reinforce values, foster connection, build community, and promote diversity of culture and thought).
Maribel's team is based in North America, with a matrix-reporting team based out of India. They partner together to refine existing programs and create new, better experiences and resources for all stakeholders (individual contributors, people managers, emerging leaders, and senior leaders) across all Deluxe regions (North America, EMEA, APAC, and India).
The Three Core Pillars of People, Culture & Community
Maribel points out that Deluxe was doing amazing things even before she joined, so she doesn't view her contribution as "redefining" diversity and inclusion. "DEI is embedded into everything we do here at Deluxe. From the different types of content that we service to the audiences we make content accessible to, diversity and inclusion are at the root of who we are, both internally and externally," she maintains.
Deluxe's internal DEI strategy is built on its core values (innovation, collaboration, inclusion) and anchored in three core pillars: People, Culture and Community. Its People pillar focuses on attracting, developing, and retaining a diverse workforce that benefits from access to opportunities, career growth, and leadership. The organization regularly reviews its programs, practices, and policies – and identifies ways to refine or augment what is offered, so its people feel valued, supported, and enabled to thrive.
Deluxe's Community pillar involves establishing it as an inclusive employer, a socially responsible business partner, and a model community citizen. Its Culture pillar focuses on experiences that help nurture and sustain a global, inclusive culture, where collective differences drive innovative solutions to serve our clients and employees.
From an employee lens, and four months into her role, Maribel is driving efforts to emphasize the mindset that culture is co-created. The DEI initiatives coupled with the talent development plans underway will educate and deepen understanding and appreciation for the multi-faceted dimensions of diversity present in Deluxe's global, multi-cultural, and multi-generational workforce.
"I'm a firm believer that every micro-moment, every interaction contributes to shaping our experience of working here, and we each have a responsibility to model behaviours that cultivate a stronger Deluxe," Maribel proclaims.
Sparking Action and Advocacy to Meaningfully Impact Local Communities
Deluxe has a history of exemplifying social responsibility on a global scale. It partners with a range of diverse community, non-profit, and social advocacy organizations that service underrepresented and underprivileged groups. The Deluxe Gives program is one of several ways in which the organization encourages its workforce to get involved (e.g., volunteer, donate, fundraise) to impact its local communities in a meaningful way.
Maribel believes that deepening understanding is a critical early step, and that self-awareness helps us reflect on our mindset and behavior and sparks action and advocacy. Her role involves partnering closely with leaders and employees of Deluxe's amazing employee resource groups, such as Women@Deluxe; Family@Deluxe; Sustainability@Deluxe, Pride@Deluxe, and DiversAbility@Deluxe, to amplify their efforts and align with the organization's DEI core pillars of People, Culture, and Community.
"We're taking an intentional approach to engage, educate, and involve people in the process. As an example, we're launching a fun, 'Inclusion is an Action' series of short vignettes involving video contributions from employees across all Deluxe geographies. People will highlight specific acts of inclusion and how each contributes to co-creating our culture. It's an exciting initiative; we'll spotlight the vignettes in May to coincide with World Day for Cultural Diversity!" she shares.
The Recent Shift to Fostering Inclusion and Belonging
Over the last five years, Maribel has seen a shift to inclusion and belonging becoming part of everyday conversation in the workplace. Organizations are now understanding that diversity on its own is not a sufficient focus. The realization is that to truly drive change, organizations need to take a holistic view of talent practices, policies, and programs that together unleash the power of diversity.
She notes that it's not an easy feat as many embedded cultural norms and practices may need an overhaul. But when organizations shift to an intentional focus on guiding inclusive actions and behaviours, they are enabling people leaders and all employees to cultivate an environment that embodies mutual respect and promotes diversity of thought and culture.
"I have noticed that organizations that 'get it' view inclusion as a series of intentional actions and behaviours that cultivate one's sense of belonging. I'm also seeing greater cognizance to ensure the workforce has access to a range of experiences, such as employee resource groups, volunteering with colleagues supporting causes they are passionate about, being involved in social networking activities, and education opportunities to broaden DEI understanding," Maribel observes.
She notes that these experiences, coupled with inclusive practices modeled by leaders and employees, are shifting the business landscape, causing her to often reflect on how she's modeling behavior and practices that others can emulate. "I ask myself: What lens am I looking through? How am I soliciting others' viewpoints? What can I do to ensure people feel safe, included, heard, supported, respected, and valued for who they are and what they bring to the team?" she clarifies.
Maribel believes that all leaders in positions of responsibility have personal accountability to their teams to exemplify inclusive practices, and it begins with self-awareness and communication. Younger generations entering the workforce should have access to a range of opportunities and experiences that build their communication skills, so they can learn how to effectively advocate for themselves, influence others, and collaborate without compromising their authentic selves.
"My hope is that anyone I have meaningfully interacted with along their career journey feels inspired by the passion I bring to what I do, my commitment to fostering inclusion, and my dedication to enabling experiences that build future leaders," she remarks.
Success is Meaningfully Impacting People and Fostering a Growth Mindset
Maribel defines success as navigating life's journey while meaningfully impacting the people she loves and cares for along the way. It means enriching her experiences – whether through learning, conversation, or observation – and growing in the process.
From a career perspective, she defines success by the impact of her contributions in her role, to her team, and to the organization that she's charged with bettering. "I view these two definitions as interrelated; both are anchored in my belief that fostering a growth mindset helps us grow as individuals, leaders, and caretakers of the communities in which we live, work, and play. This belief has also been a motivating driver to guide my life choices and career path," she maintains.
While Maribel has received several industry and conference awards over the years, the one she considers her best recognition has been others asking to be mentored, coached, and guided by her. "There are many talented early career professionals I have met along my career journey, and I have found mentoring to be personally rewarding and fulfilling. I learn in the process as well, and mentorship has been the best recognition thus far," she states.
Taking a Step Back to Re-Harmonize Her Life
Maribel recalls that early in her career, she had to navigate the challenges of managing the expectations of a demanding role with global travel responsibilities, coupled with raising three young children in her late 20s. "I learned I can't do it all well (at once)! I had not identified strategies to set boundaries and manage the expectations of multiple stakeholders who were dependent on me personally or professionally. I was losing sight of who I was and what I could offer my family and employer," she admits.
After an incredibly stressful week following several days of travel, Maribel forced herself to unplug for half a day to take quiet time away from everyone and re-assess her personal values. She then decided to "slow" her upward career trajectory, turning down an opportunity to move to Japan in a broader role and leaving the organization.
"I soon joined a great organization, but the role I accepted entailed a narrower scope of responsibility. It was a conscious choice at the time to take one small step back, knowing it would be temporary so that I could re-harmonize my life," she reflects.
Creating a More Harmonious Approach to Career Growth
Maribel feels that it was the right move to align her personal values with a career decision that she felt better positioned her to take more meaningful career steps forward. This experience shaped her approach to how she views career growth, how she manages her time, and others' expectations of her, as well as guiding others seeking mentorship and coaching.
"While I don't believe we can truly 'balance' our personal and professional lives, I believe we can take actions to be in a place of harmony. To create a more harmonious state for myself, I accept that my focus and energy may need to shift based on what's happening in a given week," she clarifies.
Maribel achieves this harmonious state by focusing more on work on some days, while on other days she's able to allot more time and energy to spend time with her loved ones. "Harmony is achieved over time, not each day. I set clear goals and priorities, and ensure I'm aligned with my team on focus areas that will create an impact. I schedule blocks of time on my calendar to focus on important work like strategizing, designing, and planning," she explains.
When possible, Maribel attempts to have meetings only in the mornings or in the afternoons so that the rest of her day is allotted to work she needs to do to drive initiatives forward. "It's easier said than done, of course! I remind myself to unplug when I need to. Unplugging gives me space for other thoughts and ideas to emerge. Often, I get the best ideas when I am not even thinking about work. When the idea comes, I look for a post-it or text myself a note so I can develop the idea further when I'm in my quiet focus zone," she elaborates.
Maribel also encourages her team to find harmony in their approach to priority management, inviting them to identify and implement strategies to optimize their time so they can work smarter, not longer. She also initiates discussions about what they find motivating and triggering, and as a leader, does her best to incorporate these insights into how she communicates with and engages them as colleagues.
Enabling People to Be Better Versions of Themselves
Maribel declares that she genuinely enjoys the work that she does. She loves interacting with people who are interested in bettering themselves, so they can show up in more authentic ways – and ultimately, grow and advance their careers. "I'm committed to continuing the important work of enabling people to be better versions of themselves – for themselves, the teams they lead, and the people they care about," she insists.
For aspiring leaders seeking to transition to a career in DEI, Maribel offers a few suggestions: Learn as much as you can about what your company offers and how you can get involved. Gain human resources experience. Join an employee resource group (ERG) or start one up! Take on a leadership role and shape the focus of your ERG.
Navigating cultural differences is no easy feat, and there is a learning curve. However, some nuances become clearer when we learn through experience. Make a solid commitment to advancing DEI work, even if you're not in a role with this official responsibility.
Find an amazing mentor who is brilliant and authentic, who will have your best interests in mind, and be honest with you. Surround yourself with people who will constructively challenge you and push you to grow. Leverage the learning opportunities and be willing to do heart-centered work to serve your clients well. Be patient and commit to the long haul. It will certainly be rewarding!