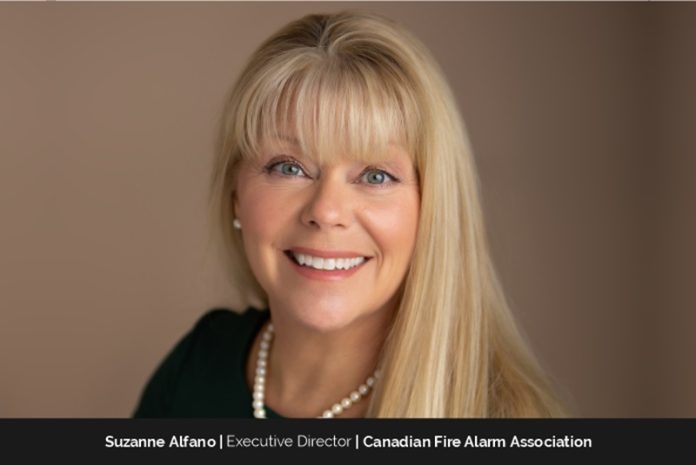 Meet Suzanne Alfano, the esteemed Executive Director of the Canadian Fire Alarm Association (CFAA), honored as one of the "Top 10 Empowering Women Leaders of the Year, 2023." Success is defined in the dictionary as "the accomplishment of an aim or purpose."  Suzanne contends that success results from a harmonious mixture of professional achievements, nurturing interpersonal connections, and realizing one's maximum potential while adeptly navigating the intricate facets of life. Embracing this equilibrium facilitates personal growth, making individuals more experienced, compassionate, and improved versions of themselves. Ms. Alfano ardently maintains that exceptional leaders recognize the imperative of inspiring and fostering the development of others, be they their subordinates, peers, progeny, or society at large.
In her role as the Executive Director of the Canadian Fire Alarm Association, she holds the responsibility of leading the Association's daily activities which includes overseeing the staff and operations, facilitating the development and implementation of the Strategic Plan, creating the annual budget, safeguarding the financial stability of the organization and championing industry viewpoints with various stakeholder groups. Suzanne views her primary responsibility to be advancing the Association's mission and vision to maximize the effectiveness and use of fire alarm systems in the protection of life and property in Canada and to be recognized nationally as the definitive resource for fire alarm related information, education, qualifications, expertise, and industry support with active chapters throughout Canada.
Within this comprehensive feature, we delve into Suzanne's life journey, unveiling the invaluable insights and wisdom she has gathered throughout her illustrious career. This cover story not only offers a captivating narrative of her experiences but also provides aspiring women leaders with a unique chance to extract precious advice from her extensive reservoir of knowledge.
Early Influences and Academic Journey
During her formative years, she harbored a deep fascination for science, technology, engineering, and mathematics (STEM) disciplines. Motivated partly by her father's vocation as an engineer, which he ardently cherished, she became enthralled by the prospect of forging a career in this stimulating field. The influence of her mother, who was among the pioneering women of her time to embrace full-time employment, had nurtured a spirit of self-reliance and determination in her. Commencing her professional journey with a prominent telecommunications corporation immediately after completing her secondary education, Suzanne was captivated by the intricacies of electronics, thus igniting her passion for the subject. This experience led her to embark on a higher education path, culminating in pursuing a college degree in electronics engineering technology. Later in her professional trajectory, she embarked on the enriching pursuit of a Master of Business Administration degree, further underscoring her commitment to continuous growth and development.
Canadian Fire Alarm Association (CFAA) Overview
The Canadian Fire Alarm Association (CFAA) is a non-profit organization founded in 1973 by a group of experts in the fire alarm industry. The CFAA represents over 400 member organizations across Canada and has nine chapters. The association's primary goal is to maximize the effectiveness and use of fire alarm systems to protect life and property in Canada.
The CFAA provides education and training programs to more than 3,500 Registered Fire Alarm Technicians, Trainees, and other industry stakeholders such as building and fire officials, engineering firms, building owners, property managers and insurance companies, etc. Its vision is to be Canada's ultimate source of fire alarm-related information, education, qualifications, and expertise, with active chapters nationwide. Its Fire Alarm Technology Education Program is one-of-its-kind.  Additionally, the CFAA partners with over 18 public and private career colleges across Canada to train in this domain. It is the only national body in Canada that certifies and registers fire alarm technicians.
Navigating Setbacks and Growth Opportunities
"I have learned a lot about setbacks and challenges, both professionally and personally, over the years," Suzanne acknowledges. In her early twenties, she started her career at a prominent Non-Profit Association responsible for developing national codes and standards and evaluating and approving electrical products and other equipment for the Canadian marketplace. Initially, it was an office role with a national testing laboratory. However, she soon transitioned into a new role as an inspector, which demanded extensive travel—up to two weeks per month—involving unannounced factory inspections of electrical equipment manufacturing sites across Canada, US, Mexico, and the Caribbean. At the time, Suzanne, only 25 years old, was the sole female inspector among a team of 40. She recounts, "Looking back, it was challenging to "be on the road" as a young woman travelling to sometimes less than desirable locations. And to be taken seriously by clients as an inspector." While most instances were routine, there were occasional encounters with clients who resisted her corrective actions, making the situations unsettling. She had to develop assertiveness, particularly in regions where women in authoritative positions faced challenges. Her seven years as an inspector profoundly prepared her for higher levels of responsibility in her subsequent career.
She faced another significant challenge in her current role—leading the Association through the COVID-19 pandemic. Most of CFAA's members are fire alarm manufacturing and service companies engaged in fire protection. These organizations were deemed by government to provide an essential service throughout the pandemic, which meant they were obligated by law to continue to provide uninterrupted inspection, testing and maintenance of fire alarms systems. Suzanne also highlights their members and technicians' struggles in the field, especially when conducting fire alarm system testing and building inspections in high-rise residential buildings, seniors' homes, hospitals, and all other facilities requiring monthly and annual fire alarm inspections and the verification of systems in newly constructed buildings. The pandemic brought forth health concerns, such as the potential of infecting occupants, issues related to personal protective equipment (PPE), and securing access to both occupied and unoccupied buildings. CFAA also encountered operational issues with their technician training and testing services. A quick pivot was necessary to create a comprehensive online training and testing solution within a few months, with all staff working remotely. All Association meetings and events were offered online only.
To address these setbacks, they collaborated closely with fire officials and communicated with their members to establish work protocols throughout the pandemic. It was a demanding period, but the CFAA and their industry successfully overcame these hurdles, showcasing the resilience and adaptability that emerge from navigating hurdles. The financial performance of the Association has continually outpaced expectations and budgets in recent years. Much of this success is result of the growth of new online education and training courses and hybrid events that allow for both in-person and online participation.
Journey in Leadership and Advocacy
When asked about her experience so far as a woman in leadership, Suzanne candidly shares, "My journey has certainly been fulfilling as a woman leader, though it has sometimes been a difficult road." Her goal is to inspire and encourage the women who follow in her footsteps to be resilient and ambitious, urging them not to give up in the face of setbacks or obstacles. She emphasizes the importance of seeking workplaces where they are recognized and valued, encouraging them to let their talents shine. Suzanne firmly believes that women have much to offer and that the movement for gender diversity in leadership roles is a journey that is far from completion.
Throughout her extensive career, this seasoned executive has dedicated herself to non-profit Associations with a strong focus on safety, accumulating over 35 years of acumen in the field. Her passion for supporting industry and public safety has only grown stronger with time. Suzanne acknowledges that there is still much work to be done, and she shows no signs of slowing down. She recognizes that her contributions and those of her colleagues and members have profoundly impacted reducing fatalities, injuries, and property damage. Her accomplishments include developing and harmonizing electrical product safety standards for over 25 years, resulting in improved safety and reduced costs for manufacturers. Furthermore, she led a standards team in adopting international solar and wind renewable energy standards, in addition to energy efficiency standards for Canada. Suzanne has been a powerful advocate for various industry positions with government and authorities having jurisdiction (AHJs), consistently yielding positive outcomes that enhance the industry's bottom line without compromising safety.
Beyond her professional endeavors, Suzanne has volunteered her time and expertise to various causes aligned with her values. She has been a dedicated supporter of encouraging young girls to pursue education in STEM fields and has actively participated in building homes for Habitat for Humanity. In addition, she has volunteered on municipal committees, parent councils and condo boards, showcasing her commitment to making a difference both inside and outside the workplace.
Suzanne's Mantra to Team Motivation
Overseeing the Canadian Fire Alarm Association, Suzanne adeptly manages two key teams – the Board of Directors and staff – whose combined dedication steers the Association toward success.
"My members are motivated by being an integral part of our Association that is doing important work to help protect Canadians," she says.
The significance of their contributions to fire protection and life safety is widely recognized by their member companies, who generously allocate their staff's time to support the CFAA's noble mission.
With a small but efficient staff comprising three dedicated women responsible for managing the administrative intricacies of event coordination, technician registration/certification, and the orchestration of numerous board meetings, committees, and chapters across Canada, Suzanne relies highly on the dedication of her volunteer board and members to realize the Association's ambitious objectives. Each team member is committed to their mission, driven by the desire to effectively support their member companies and technicians. Suzanne considers herself fortunate to lead such a motivated and devoted group, driving the collective pursuit of excellence in fire protection and life safety.
Vision for Empowering the Next Generation of Women
Suzanne highlights the pressing need to empower the next generation of women in Canada, where women constitute just 20% of the engineering workforce despite the country's progressive stance on gender equality. She acknowledges that substantial efforts are still required to inspire young women to recognize their potential and confidently pursue traditionally male-dominated career paths.
She firmly believes that girls need mentors and champions to guide and support them on their educational and professional journeys. Suzanne draws inspiration from Hillary Clinton's insightful words, "It takes a village," emphasizing the profound influence that individuals and groups outside the family can have on a child's well-being. CFAA's Executive Director advocates for a society that caters to all children's needs and puts them on a future path to make positive contributions to society.
As a proponent of women's leadership, Suzanne underlines the importance of women leaders sharing their stories and encourages all leaders to provide equal opportunities for women in the workforce. She aspires to be one of these inspirational leaders, striving to positively impact the aspirations of girls and women, encouraging them to dream big and achieve their goals.
Balancing Act: Suzanne Alfano's Harmonious Life Blend
This seasoned professional at the Canadian Fire Alarm Association masterfully maintains a harmonious equilibrium between her personal and professional life, recognizing it as the key to her happiness and well-being. With an unwavering passion for her work at the CFAA, it rarely feels like a job, making every day a rewarding experience. Suzanne carves out dedicated time for her family, cherishes vacations, and prioritizes regular exercise as essential to her daily routine. Her journey has been significantly eased by her daughter's transition to young adulthood, reducing the demanding child-rearing responsibilities that once posed a challenge. Suzanne's past experiences balancing work and family life rigors have made her a more empathetic and understanding leader. She values physical fitness and enjoys a diverse range of activities such as skiing, cycling, kayaking, paddleboarding, tennis, yoga, and even pickleball, which she's recently taken up. Playing pickleball three to four times a week keeps her physically fit and contributes to her overall happiness and mental acuity. To further maintain this balance, she sometimes engages in work during evenings or weekends, yet she deftly offsets it by weaving exercise into her workweek, either before or after her official duties or even during lunch breaks. This holistic approach keeps her motivated, fulfilled, and equipped to lead with compassion and enthusiasm.
The Future Roadmap of the Canadian Fire Alarm Association
Looking ahead, Suzanne envisions a promising future for the Canadian Fire Alarm Association despite acknowledging the limitations of their relatively small size. With a clear understanding of their constraints, she puts emphasis on the importance of prioritization, focusing on the most critical initiatives that align with their overarching vision. This goal entails positioning the Association as the foremost provider of education and training on fire alarm systems across Canada. Concurrently, she underscores the value of sharing their expertise and insights to contribute to advancing global fire and life safety endeavors wherever possible. This experienced Executive Director is committed to steering the Association toward a future where their contributions transcend borders, impacting fire protection and life safety nationally and internationally.
Ambitions and Advice for Aspiring Women Leaders
In the coming years, Suzanne has set her sights on two key objectives. Firstly, she intends to pursue a Certified Association Executive (CAE) credential, further solidifying her professional expertise. Alongside, she is dedicated to steering the continued expansion of the Canadian Fire Alarm Association. As an accomplished leader, her message to aspiring women in leadership roles is to hold confidence in their capabilities and the unique value they bring to the forefront. Her advice is simple yet powerful: be ambitious in their pursuits, strive to overcome obstacles and embrace the path to success.
She concludes: "Say "yes" to new projects that push you out of your comfort zone. Be a lifelong learner and find the support of valued mentors along the way, both women and men."