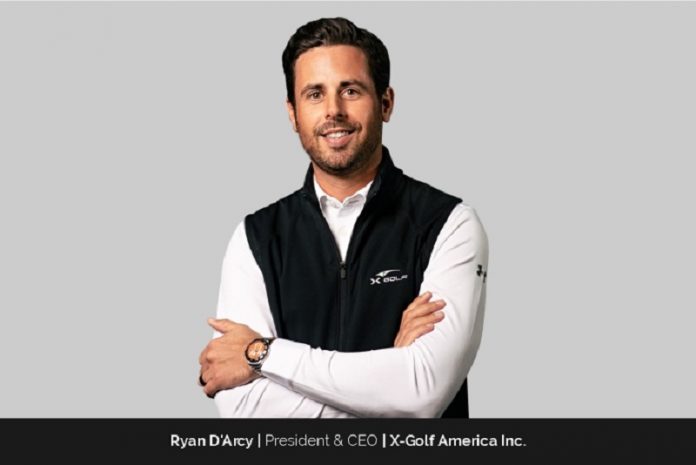 The first time Ryan D'Arcy was introduced to X-Golf's advanced virtual golf simulator, he was hooked.
As the President & CEO, X-Golf America Inc., Ryan went on to help the firm launch and grow the franchise of the most advanced virtual golf simulator technology in the world, in indoor centers across North America.
Building experience in sales and marketing
Having earned a Bachelor of Science in Marketing with Sales Leadership concentration from DePaul University in Chicago, Ryan acquired skills in Business Strategy, Franchise Operations, Sales Leadership, Marketing, Management, and Product Development.
One of Ryan's professors at DePaul University introduced him to a local lawyer and successful entrepreneur, who was launching a new venture fund and business development company.
Ryan took on a position running office operations and helping with the day-to-day. While doing this, he also launched a small neighbourhood restaurant in the Lincoln Park area that put a fresh gourmet spin on the local hot dog space.
"We were featured on many news outlets, including the Food Network, and as a silent partner still to this day, I am proud to say the business continues to be in operation nearly 14 years later," he notes.
Helping launch X-Golf America's lucrative franchise scheme
When Ryan joined X-Golf, the company was owned by a South Korean manufacturer that produced high-tech virtual golf simulators that track important performance indicators and carry out over 6,000  measurements each second.
The foundation for X-Golf America was laid with the initial golf simulator technology coming to the U.S. from Korea in 2010. Ryan joined the company a few years later and was intrigued by the marketplace and the opportunity to make golf more accessible to the masses.
Starting with the company as a sales account manager, their strategy back then was to supply the equipment to as many outlets as possible: private residences, corporate offices, bars and restaurants, golf courses, indoor golf facilities, etc.
However, they noticed the void between selling the equipment and supporting their customer's underlying business model, and thus the X-Golf Franchise Corporation was born as a start-to-finish model from equipment to operations.
In 2016, Ryan helped launch X-Golf America's lucrative franchise scheme, accelerating the business' expansion. As the CEO of X-Golf, his responsibilities are to continue to lead the growth of the company, without losing sight of the day-to-day challenges that arise.
Building the X-Golf brand into an industry leader
Ryan explains that the foundation for the X-Golf brand in North America was laid by working hard to build a process that worked, listening to what the market was telling them, and adapting a business plan around it.
Once they were able to clearly point to the areas and experiences that shaped their success, it allowed them to achieve a smooth transition into industry leadership.
Since Ryan was named CEO, the growth of X-Golf America has been quite substantial. In the past three years, their annual gross revenues were up 5x and their franchise venues have grown from eight in operation, to 58 (with an additional 36 in various stages of active development).
Ryan notes that, by early 2023, the company's peak season will feature more than 5,000 rounds of golf played each day across their X-Golf venues. They have just launched an integrated network of challenges, including standardized national tournaments, and will soon launch skill-based games, including Par 3 Closest-to-the-Pin, 10-Hole Challenges, and more.
These experiences will range from individual scratch to handicapped team events, updated on a weekly basis. X-Golf America will also launch a tiered loyalty system by the end of the year, which will include unique features and guest rewards.
Building and mentoring a strong team supporting a great product
Being a hands-on type of person, adapting to the role of CEO was challenging for Ryan, but building a process and mentoring the team to execute in the field, was terrific and tremendously rewarding for him.
He thrives on challenges, as it keeps things fresh and exciting, and believes that whenever you venture into a new area of business or development within the company, it is never easy, but always rewarding, to work through the decision-making process.
Ryan also remarks that trusting and allowing their employees to make decisions is important to him as a leader and that listening to employees and making sure they are supported is very important to him.
The company holds everyone accountable but creates ownership within all areas of the business, where there is motivation to create and go beyond a good day's work.
"I am fortunate to have a great team in place and trust them to make the right decisions while balancing when to get me involved. At the end of the day, having a strong team supporting a great product that focuses on the customer experience is a great recipe for success in the long term," he observes.
Delivering a consistent, immersive, engaging indoor golfing experience
In addition to X-Golf America's core, the market-leading simulator technology, their main shifts were the innovative franchise model and cultivation of the X-Golf brand across North America that really propelled their business into becoming the leading brand in the virtual golf industry.
From sales to training, to technical support, working through every aspect of the business helped Ryan understand the challenges that their franchisees face day-to-day and sparked ideas for future software developments and network opportunities.
"Consistency in the golf space has always been something I have been interested in. Today you can find a wide range of different experiences in how outdoor golf course operations are handled from course playability to food and beverage. As customer expectations continue to change, our goal is to streamline these processes to provide experiences and advancements golfers want," he says.
Ryan points out that golf popularity is at an extreme high at the moment, and while that is great for golf, it also presents some challenges. As more newcomers are attracted to this space, the pace of play is going to be a flash point for years to come.
With indoor golf, each bay is independent, so not only do guests feel more comfortable going as fast or slow as they would like, but they are also free to play a range of different formats, like scrambles, best ball, and par 3 contests, and more.
"This being said, we love golf and want to see traditional golf courses continue to thrive while establishing indoor golf as a complementary parallel, offering unique experiences that cannot be attained outside," states Ryan.
One of his main priorities is to continue to build upon their connected environment, and to focus on software that will continue to deliver a consistent, immersive, and highly engaging golfing experience, that engages X-Golf America's customers well into the future, as this is critical to their business.
Ryan points out that they stopped selling equipment outside of their franchise system in order to focus on dominating the indoor golf market and to ensure their brand promise to their customers and franchisees.
"Our competitors on the manufacturing and software side of the simulator business supply equipment in the marketplace. My philosophy is, as long as we continue to obsess over the customers, we will have success," he states.
Solidifying X-Golf as 'the home of indoor golf'
Each of the X-Golf venues has the same software and hardware throughout. The company gets involved with the site selection, layout, and design for each of the locations, to make sure they deliver a consistent, pro-quality, golfing experience to their customers.
For Ryan, success as a leader is the ability to inspire their network while continuing to fulfill their goals for the business. As a franchisor, equipment supplier, and technology company, he knows that there are many variables when it comes to succeeding as an industry leader, and respecting all these areas is important to him.
"I look at our franchisees as true partners in delivering truly engaging experiences to our golfers, and I am laser-focused on ensuring their success, while also focusing on realizing our internal operations," states Ryan.
He notes that the challenges through COVID taught him to question outsourcing, manufacturing, and delivery methods to help foresee delays that will have adverse effects on their ability to continue development.
"I am content with current achievements for sure. However, we have high aspirations for X-Golf America. Our goal is to carve our own path through a timeless industry, placing our own mark in this space," he states.
Ryan points out that, overall, X-Golf America will continue to invest in their technology platforms and people, to ensure continued innovation, with the goal of engaging with the audience to further solidify their brand as 'the home of indoor golf.'
"The goal is to be the best business partner for our franchisees, and engage with our customers, to further solidify ourselves as THE Indoor Golf brand throughout North America," he declares.
Believe in yourself and trust the process
Ryan lives in Southern California, where he plays 2's beach volleyball multiple days a week in the mornings, before heading to the office. He finds this a great way to get the day started and make everything a better vibe. "But the balance is always a challenge, especially with two young kids under 4, and a wife who is a partner in a large accounting firm," he notes.
His advice to aspiring leaders is: Believe in yourself and trust the process, but it really depends on your aspirations. For myself, I have taken risks in my career, trusting that no matter what happened, I would be able to rebound. Find your passion, work hard, and things will fall into place.
"Find your passion, work hard, and things will fall into place."