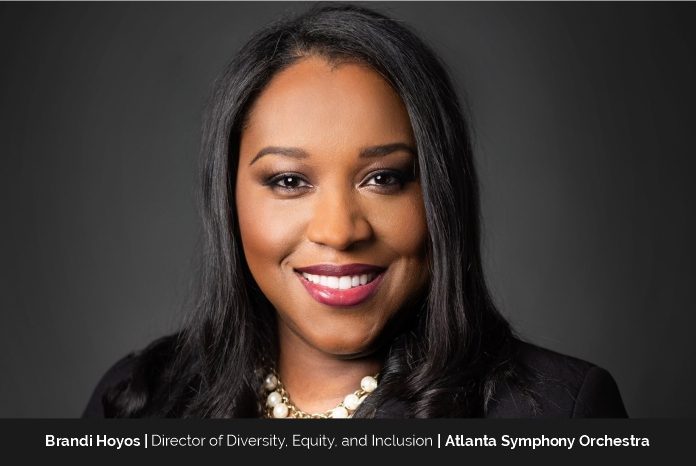 Brandi Hoyos is a visionary leader and game-changer, currently serving as the Director of Diversity, Equity, and Inclusion at the Atlanta Symphony Orchestra. With over 15 years of exceptional achievements, she inspires and empowers organizations to develop sustainable solutions that drive executive commitments to culture, engagement, and diversity. Brandi's previous experience in academia for 16 years equipped her with extensive knowledge and expertise in DEI work. Recognizing the need for bold and innovative leadership in the wake of the events of 2020, she seized the opportunity to fill a void at the ASO. Her goal is to continue the organization's leadership in DEI and foster a more inclusive environment for all stakeholders, overcoming challenges such as misconceptions surrounding critical race theory in media and politics. Brandi consistently sets high standards and surpasses expectations, making her an accomplished and formidable leader.
Below are highlights of the interview:  
Every leader has a unique definition of success. Tell us about your thoughts about success and why do you feel that.
Success is a journey, not a destination. It is the continuous process of growing, sharing, enjoying and learning from our experiences. It is about setting goals and striving to reach them. It is about taking risks and learning from our mistakes. We all have different definitions of success, but it all boils down to one thing – achieving our personal goals and living a life that we are proud of.
Leading a company to success is not an easy road to take. What inspired you to take the step of faith in D&I leadership?
Taking the leap of faith in diversity, equity, and inclusion was not an easy decision for me. But it was a necessary one. I saw the lack of representation in my community, and I felt a call to act. I wanted to be part of unifying our communities by leading with empathy and understanding and creating an environment where everyone could feel included and respected regardless of their background or identity.
What were the roadblocks that taught you valuable lessons in your professional journey?
Everyone experiences roadblocks in their professional journey. It's these roadblocks that can teach us valuable lessons and help us grow as individuals. For me, I encountered a few roadblocks that shaped my professional journey, such as feeling like the diversity work in various industries was undervalued, burnout from taking on too many initiatives, performative allyship, and organizational thinking that this work could be sustainable as a department of one person. These challenges forced me to take a step back and reflect on my situation and its scalability and sustainability in the long term. I had to learn how to better manage my time and energy while also advocating for myself in order to get the support I needed. Through this self-reflection process, I was able to gain valuable insight into what it takes to make the work more sustainable.
Tell us in brief about Atlanta Symphony Orchestra. How does the company stay abreast with the growing competition in the industry?
Orchestras are hyperlocal, so our competition isn't necessarily with other arts organizations. When we think about competition, we think about how people choose to spend their precious time. After a hard day at work, will they choose to stay home and watch a streaming service, or will they support their local nonprofit orchestra and see a live performance? We believe that there is nothing like the power of live music, and our challenge is convincing people to try something that you just have to experience to feel.
Tell us about your contribution in redefining the industry. How do the innovative ideas of D&I enhance the growth and vision of Atlanta Symphony Orchestra?
I think a lot about time and the commitment it takes to effect change. The ASO has long been a leader, but we are still talking about a span of decades. Our Talent Development Program, for example, is 30 years into ensuring that black and brown musicians have equitable access to music schools and conservatories. These musicians are now finding their way into American orchestras. Vision takes persistence over time.
How do you ensure a culture of integrity in your team or company?
As a leader, I strive to create an environment where my team and company can thrive. To do this, I focus on building a culture of integrity that is based on trust, honesty, clarity in expectations and vision, and transparency. I believe that by creating a culture of integrity where everyone is recognized for their strengths and contributions towards our mission-aligned goals, we can ensure that our team is working together in the right direction. This helps us build trust amongst ourselves while also ensuring that our actions are aligned with our values. By encouraging open communication and providing clear expectations of what needs to be done and how it should be done, I am able to ensure that my team and organization have the necessary guidance they need to succeed while also staying true to the core values of our organization.
Tell us about your life before Atlanta Symphony Orchestra. What marked the beginning of your career?
Before I came to the Atlanta Symphony Orchestra, I led DEI work in academia in both the private and public sectors for the past sixteen years. Given the misconceptions and miscommunications around critical race theory in the media and politics, it has been incredibly difficult to educate stakeholders on what is and is not DEI work. When I was given the opportunity and trust to lead at the ASO, it filled a bold and innovative void that I did not realize was there, especially after 2020.
What has been the best recognition that you received as a leader?
As a leader, the best recognition I have received is not about rewards or accolades. It is about empowering my team to reach their goals, helping them grow and develop their cultural competency skills, and changing mindsets that can lead to better collaboration and performance. Knowing that my team feels valued and appreciated for their contributions makes me feel proud of the work we have done together. It has been an incredible journey in which I have seen tremendous growth in both myself and my team members. The best validation for me is knowing that we are all working together towards a common goal.
How do you maintain a balance in your personal and professional life? How do you keep your employees and yourself, motivated to deliver the best services?
In today's complex world, it is essential to maintain a balance between personal and professional lives. This balance is necessary for the growth of the organization and for the well-being of both employees and employers. To achieve this, it is important to foster collaboration amongst employees, have fun activities during both work hours and after work, provide lunch and learns for development based on employee aspirations, give grace when things don't go as planned, and check in with employees regularly. All of these strategies will help create an environment where everyone can be productive while also maintaining a healthy work-life balance.
Tell us about your personal goals as a woman in leadership. What is your message to aspiring women in leadership?
Women in leadership roles are often faced with unique challenges. From the gender pay gap to the lack of representation in senior positions, it can be difficult to break through these barriers. Mentorship is one of the most important pieces of advice for aspiring women in leadership positions. Having a mentor who understands your goals and challenges can help you navigate difficult situations and reach your full potential. Additionally, utilizing professional development opportunities such as conferences, workshops, or seminars can give you valuable insight into how to succeed in your field. It is also important to remember to pay it forward by helping other women achieve their career goals as well. Being bold and flexible when it comes to taking risks or making changes is also key to success. Lastly, don't forget to prioritize mental health; take time for yourself so that you can stay focused on reaching your goals without getting overwhelmed or burned out.