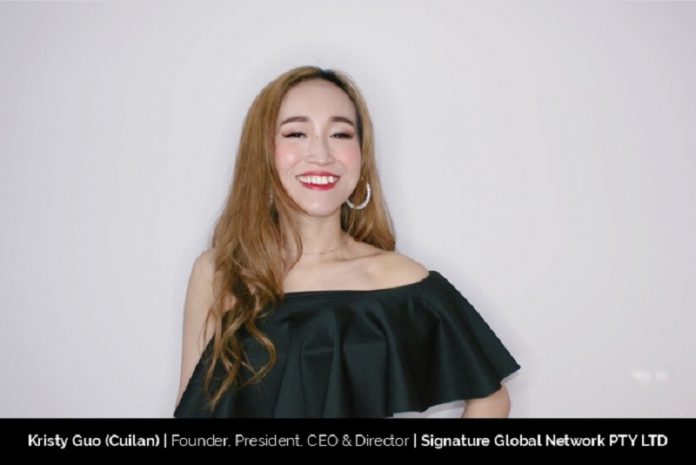 "I dream, I believe, and then I can" is a motto that Kristy Guo (Cuilan) lives by.
About nine years ago, she had a dream to run her global network. She believed in it and made it come true by founding Signature Global Network PTY LTD in December of 2021.
An independent network, Signature Global Network (SGN) focuses on the principles of quality, trust, relationship-building, and mutual synergies. As its President, CEO, and Director¸ Kristy is striving to make the company the logistics "superheroes" HQ. She is ensuring that it becomes the "First One" that customers or logistics companies think of and turn to get help. In a short time, Kristy and her company have received tremendous recognition, including getting nominated for the 2022 AU Mumpreneur Awards and being a finalist for Leadership, Making A Difference in business and Humanity, Influencer, and Multi-cultural Business Excellence.
If one could choose a word to describe Kristy, it would be "believer." She says, "As long as I believe, I am determined."
Why Establish SGN?
In the book "Change Makers" Volume 6, Kristy encourages everyone to chase their dreams fearlessly. When she was writing her story for the book, she realized that she needed to be a living example and show others the power of: "they dream, they believe, and then they can."
Kristy's 19-plus years of experience have also taught her that "nothing is impossible to a willing heart." And she points out that self-control and determination helped her achieve a lot of things when she was working for others. It is certain that wherever Kristy goes, she makes a difference.
"I always believe that we can make a difference no matter how big or small our roles may look," she says. In fact, no role is too small." Also, she is not the one to give up after a setback. After each failure, Kristy got up and tried again. She tries again but not before figuring out why she wants to do it.
Prior to doing anything, Kristy follows the ritual of finding out "why" to strengthen her faith in what she believes. "The 'why' I started Signature Global Network is because I have so much passion for people, networking, and multicultural activities," she says.
Additionally, because of her past insights, experiences, and knowledge, Kristy could connect very well with all types and kinds of people – despite different cultures, ages, and personalities. "Sometimes I really wanted to talk to everyone in my network, but everyone was busy, so it was not convenient to randomly talk to everyone," Kristy says. "All these built my strong will to start my own company."
"Ordinary" is how Kristy describes her days before she founded SGN. She almost had a fixed routine. She went to work, solved problems for her team, got her work done, and then she came back home to be a housewife. Life was comfortable, and she found joy in making a difference. The stage, however, was too small for Kristy, as she always had a hunger for learning and growing. For her, starting her own business has been the best decision.
"It's very challenging but super rewarding," Kristy says. "I learn every day from dealing with the hard things, and every problem sharpens me." 
No Pain, No Gain
Kristy sees challenges as the best things in the world. She believes in the adage, "no pain, no gain." It is like building up muscles while doing a workout, and without feeling pain, one does not grow.
"The biggest challenge to everyone is 'fear'," Kristy says. "We fear failure, fear of lacking; fear of losing our place; fear of feeling insignificant, and so forth." And, like most inspirational leaders, she, too, believes that it is possible to overcome challenges, and they make one stronger.
She points out that if life is smooth and sweet, one will not have the opportunity to grow or achieve anything. So, for her, every challenge is an opportunity, and she asks others to not be afraid of taking risks. "Be extraordinary leaders who are courageous to make decisions," Kristy says. Do not be the ordinary group."
"All my achievements come from facing and dealing with challenges. It's like a test; if you passed it, it would become a great testimonial," Kristy adds. "But if you avoid it, you will lose the opportunity."
For example, when Kristy still lived in Hong Kong (HK), she felt like she needed to be in Australia. But she had no idea 'how'. She wondered, "How am I going to make it?" In HK, she had a great job, considered a dream job by many people. She had a huge team to manage, was given complete authority, and international travel was free for her. Kristy points out that even her boss listened to her advice all the time. "It was a very fulfilling job," she adds. So, for her, the challenge was how to give up everything she had and seek something that had yet to exist.
"Except for 'faith' and 'goal', I got nothing left," Kristy says. "But long story short, I found a job, and one AU company sponsored me." Kristy started again in a minor role. It was a big challenge in life for her, but she has no regrets. She is glad that she faced her challenge and embraced it. The result turned out to be thrilling for her
It was the same about starting SGN in 2021. As it was still the pandemic period, the fear of the unknown, uncertainties, and doubts were everywhere. Some people even thought that Kristy's decision to start something new by giving up her previous high position and good pay was not a smart one. Playing safe meant not changing anything. "It's challenging to start a business from nothing to something. But I am so glad that I did," Kristy says.
"If it is not challenging enough, everybody else can do it easily. It is the challenge that makes the business more valuable," she adds. "Moreover, consistency and strong determination drive us to the final outcome."  
Independent Network Delivers Win-Win Outcomes
SGN's independent network has global coverage. It aims to bring knowledgeable people and logistics companies together to help save clients' supply chains, change purely commercial relationships into ones that are people-caring, and deliver win-win outcomes. Kristy understands how much difference a single person can potentially make; therefore, everyone in their network makes a huge difference to the world and makes it a better place. And everything is related to business and networking.
The global networking industry has always been important as a community that strengthens the logistics industry. However, when Kristy started conversations with logistics business owners, she found that many of them were disappointed with their previous experiences. They were not satisfied with the outcome and efforts.
"Nobody is perfect, and no network is perfect, but I know the network could do more and do better," Kristy says. "Our mission is not just lifting people and making the world a better place, but also bringing back the trust and hope of global networking."
SGN already has more than 80 member offices in the network, and every month, new members join. Kristy points out that some companies that are no longer joining any other networks decided to be part of them.
At SGN, people and their voices are valued. The company does not want to build purely commercial relationships that are focused on money; instead, it is focused on developing true friendships by exchanging values.
Kristy notes that the logistics industry had a massive change in the last few years. It had the best time in history for income, but it also had the most dramatic drop in demand in the shortest time. It was the first time the government tried to press down the freight in the last decades. "However, the most significant part overlooked is the pressure on people's shoulders," Kristy says.
Logistics people are people too. "Imagine you are the logistics business owners or the employees," Kristy points out. "How many seasons do you have to experience in such a short time?" There was a significant loss in staff time as the job was too stressful but not very much appreciated by people or society. SGN has produced podcasts, videos, and meaningful events to lift people.
SGN's core values are Quality, Trust, Relationships Built, and Mutual synergies. This industry is like the whole world; people are losing trust in each other because of losing quality, notes Kristy.
The clients' previous unpleasant experiences with other networks have severely affected trust. Kristy says they are showing through actions that they love and care and thus bringing back all the quality and trust again. In a short time, SGN has gained more audiences and supporters than ever, which is an "excellent start" to fulfilling its mission.
And Kristy expects that the Relationships Built and Mutual synergies will equip them to transform minors into something bigger, combine their strengths to achieve better results, and avoid resource wasting.
"An ocean starts from one drop of water. Gathering wise and like-minded people will make us a deep ocean that brings non-stop water to benefit people," Kristy adds. "In the last few months, we have got many members benefiting practically from problem-solving and business growth from our network, which is a great sign."
Currently, Kristy is looking for like-minded business owners to join SGN.  
Living a Joyful, Remarkable Life
Kristy is a successful entrepreneur. She, however, does not describe success in terms of money or fame. "It is to live a joyful and remarkable life," she says. Remarkable life – Excellence, however, does not mean that one needs to own everything. In Kristy's dictionary, it also does not mean that one is better than anybody else. She explains that it means one is peaceful and calm and is always cheerful and kind. "In other words: be the best version of yourself although nobody is looking, and never compare yourself with others because comparison kills joy," she adds.
Kristy's definition of success has evolved over the years. When she was younger, she believed that being successful meant earning more money and becoming more famous. She says that as she matured, she "realized that you do not have to be famous or wealthy to be happy, and sometimes, you can be more miserable being a billionaire or superstar than being a person without a big name." 
Kristy now also believes that to be successful it is also important to be selfless and make a difference in other people's lives, along with doing one's best and enjoying everyday life. "A self-centered life will never bring enough satisfaction; only loving and helping others can bring true fulfillment and reflect a successful and meaningful life," she says.
List of Achievements
More than 19 years ago, when Kristy had just started her career, she had to do one operation job alone from the beginning to the end. She had to accomplish the without any prior training She not just survived but thrived.
Kristy says that she made mistakes, but whatever she did, she did as "we" and not "I". She recalls that she did everything by considering their owners and the team, and she resolved problems not just for herself but for the people around her – both colleagues and partners.
"Soon, I was promoted to manager when I was only 18, and my career leadership journey started," Kristy says. "Before that, I was always the leader at school and the Uni."
In that company, they started from 5 small offices, with about 20 to 50 people. Because of Kristy's significant contribution and talents, the company owners asked her to start a new department. In the next 5-to-10 years, the business she helped to achieve was huge. Kristy enabled the company to gain thousands of new partners with billions of revenues.
The department was named by her, and starting from only her working in it, it grew into a 20-plus-staff department. The company is now 2000+ people and is a listed company. "I achieved many awards for myself and the company during my stay," says Kristy.
About 8-plus years ago, Kristy was sponsored by an AU top-ranking freight forwarder to work in Australia. She was one of the few that were sponsored by the company. She worked "very hard" and "made a positive influence" on the business and people.
There are countless people who Kristy has influenced. She considers that the most rewarding part of her professional life, which is why she never takes anything for granted. "If it's not the people I met who gave me opportunities or I ever encouraged or encouraged me, my journey won't be so well," she says. "That's also why I love to see people succeed. I want to be the one who can help others."
"I saw so many people who met me or came across their life or work journey with me who had chosen a better path and had a great life," Kristy adds. "That is my biggest joy!"
Handling Multiple Responsibilities
Kristy is a thorough planner. For her, making plans for the company is super important, and she plans well for all events, meetings, and tasks they need to do before deadlines. Kristy ensures that the PICS finishes the tasks on time.
As an "actioner," Kristy likes to do everything. She underscores that anything related to the company is her business. When she is in the role of communicator, her responsibilities include communicating with their staff and partner as well as potential new clients. Kristy also acts as an encourager at SGN. She always encourages whoever works for her or with her and them feel great. "I have a gift of seeing everyone's good," Kristy says. "That helps to motivate them too."
As President, CEO, and Director, Kristy is in charge of everything. The company has many outsourcing staff, and because of this, she spends lots of time mentoring and communicating with staff and serving existing customers, such as coaching and hosting. She spends lots of time in marketing and sales too. "We are busy ensuring our first conference in Feb 2023 is going well too," Kristy informs.
Kristy says that she will provide all the tips on how to maintain a work-life balance in her next book. For now, in short, she says that to balance her work and life, she "needs high self-control and determination." As Kristy's daily routine shows that owning a balanced life is not easy, so it needs high self-discipline too.
"If you lose balance in any area, it will affect your other areas," she says. "So, balance is essential."
Plans for the Future
SGN's plans for the future are aligned with its mission and vision. Along with being the logistics "superheroes" HQ, it wants to save logistics people's day. One of its important business plans is to help more and more logistics companies thrive and bring the most significant mutual synergies to every member of its network.
"There are many exciting things to announce, too, but we want to remain a low profile and announce it when it is ready," says Kristy.
Influencing Change as a Woman Leader
As a woman leader, Kristy has multiple roles like many other women – she is both an entrepreneur and a housewife. She points out that history planted seeds and shaped views about how women should behave or what women should do or should not. "Nevertheless, rather than eating the fruits the ancestors planted, I would suggest all females (males too) plant their good seeds and start soil for each other and the future," she adds.
Kristy has always believed that men and women have the same rights – the same as human rights. "It is more important to focus on each different gifts and talents instead of focusing on genders," she says. "Every human has an equal right to use their own gifts." 
For women, it is essential to know what they are good at and train what they want to be good at and who they want to be like, according to Kristy. Like everyone else, she has also faced many setbacks, doubts, and judgments from society, but she has never allowed negative noises to offend her. "It is because people see me as different than what I see about myself," she says. "Nobody knows your stories, and they do not need to know. What they are saying reflects who they are."
"So, what I wish to influence a change in the generations as a woman in the lead is that: do not limit yourself because of others' comments. Advice is essential, but you should lead your own life. Be humble, get rid of your pride, then nothing could offend you or stop you from being who you are and what you want to become." 
Kristy believes that the key to women's empowerment is to 'kill the comparison and pride,' show more understanding and support one another. Do not look down upon anyone or underestimate any role.
Kristy is always working and being a housewife at the same time. She, however, has never tried to be a full-time housewife. Although the full-time housewife role she does not really like, Kristy "deeply respects" each role as none of them is easy.
"Rather than comparing or feeling better than someone else, we should think about how to lift each other," Kristy says. "It is the same for men and women."
Message to Aspiring Women in Lead
"To all females, you do not need to be limited or restricted," Kristy says in her message to aspiring women in lead. "The world is so big, and so is your future! Be courageous to chase your dream and use your talents to change the world!"