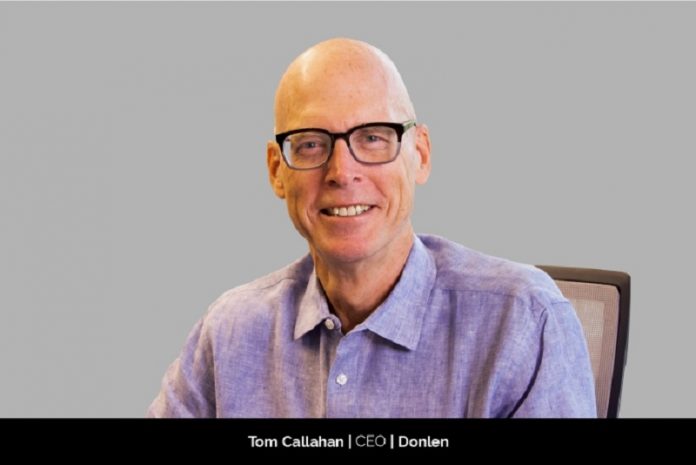 Being an expert leader in the automotive, finance, fleet management, and mobility space, Tom Callahan, CEO of Donlen, is introducing the next modern era in the fleet management industry. With a strong grip in strategic planning, change management, negotiation, business planning, operations management, and coaching, he is taking the company in the right direction by harnessing the power of these skills.
Staying true to the words of Steve Jobs, "Your time is limited, so don't waste it living someone else's life," Tom aims to make a real difference and change the existing landscape of the industry.
Dawn of legacy
Tom grew up in Milwaukee and was fortunate enough to attend Marquette University High School, an inner city school filled with kids of varied backgrounds, broadening his perspective. Tom states, "The Jesuits taught that we were very blessed and fortunate to have been chosen to attend their school and our God-given gifts made it incumbent upon us to make a difference. Our moral responsibility is to go out into the world and give back to our communities and make our work matter."
They did a great job at indoctrination, and this mindset, ever since, is ingrained into his conscience!
He adds, "It is a blessing and a curse and is at the forefront of everything I do." When he came across the opportunity to lead Donlen, Tom seized on it as an opportunity to create a legacy rather than simply leading the company.
Learning on his way up the ladder
In 1980, after graduating with his MBA from the University of Wisconsin, Tom took his first job. He was working for Ford Motor Company, calling on dealerships in North Dakota while the country was in the middle of a recession. His first visit left a lasting impression. He states, "As I arrived, the dealer was literally taking down his sign because he had gone bankrupt. Watching this dealer face a life-altering challenge was a challenge in and of itself.  One thing that I learned about the people who own and run dealerships is that they are often pillars of their communities – people with big influences and oversized responsibilities. They are smart and savvy when facing challenges, often investing their life savings and mortgaging their homes to continue their businesses."
Believing in the famous quote by Nelson Mandela, "The greatest glory in living lies not in never failing, but in rising every time we fall," Tom always tunneled through the issues in his life and moved ahead.
Tom had a variety of global experiences living and working abroad in Japan, Australia, and the United Kingdom, where he overcame various challenges and learned numerous valuable lessons. Since each country had its own unique culture, listening, empathy, tenacity, and courage were and are still the keys to immerse oneself in the culture. He states, "Over the years, people have told me they perceive me to be resilient, which makes me feel good given how many times I had to overcome adversity living abroad. Adversity makes you stronger, and too much success can make you complacent."
Introducing the next era in the fleet management industry 
Donlen develops innovative fleet management technology solutions and offers a proactive, hands-on approach to customer service for four core areas of fleet management, namely, acquisitions, on-road management, analysis, and remarketing, all of which focus on cost savings and efficiency. By leveraging the best-in-class proprietary tools and their ability to break down complex data into customized and actionable insights, their in-house team drives the customer transition to sustainable vehicles and more efficient operations.
Tom and his team are very excited about their new ownership. Apollo Global Management has already made an initial investment of $1B into Donlen from a stable and permanent capital base, and there will be hundreds of millions more to support Donlen's growth. Thanks to Apollo Global Management's commitment to invest, Donlen is already growing their teams by hiring dozens of new employees from inside and outside the industry. Additional investments in telematics, as well as Donlen's technology stack, are already in play. Donlen is now in a formidable position with a capital advantage and a well-funded strategic plan."
The company has demonstrated its commitment to investing in the 'Next Era of Fleet' and mobility by pre-ordering 1,000 Transporters, an autonomous electric delivery vehicle from Udelv. The Transporters will be equipped with Mobileye's self-driving system technology. They will be branded with Mobileye Drive and ready for operations starting in 2023, enabling sweeping delivery cost reductions, making the roads safer, and lowering carbon emissions across America.
An outside the box approach towards success
While completing his schooling, the Jesuits taught Tom a poignant concept that he often references: there is a thin line between people who are successful and those who are not. Tom adds, "When I see the homeless or someone who is demonstrably downtrodden, it is important to remember that only a couple of things going awry could have put me in their place. You cannot put yourself on a pedestal."
While Tom spends a lot of time speaking to and understanding his leaders and his leadership team, he spends an equal amount of time talking to the people at Donlen who are the closest to the customers. He believes that they are the ones who know what is really going on, and they are more often than not the ones that come up with the best ideas. He adds, "If you really want to know what is going on, talk to the people who are closest to the work."
Tom is a believer in the service-profit chain business model evolved by a group of researchers from Harvard University. The service-profit chain recognizes the relationship between profitability, customer loyalty, employee satisfaction, and productivity. Tom adds, "According to the model, if you take care of your employees and customers, revenue and profits will follow. The more engaged your employees are, the better they service your customers. The happier your customers are, the more loyal they are and the more they will buy. The value exists in the satisfaction of your customer base and that in turn is dependent on your employees. So, always take care of your employees, give them the tools, processes, and investments they need to feel valued, and the profits will follow."
Tom believes in his employees and knows that they push themselves to deliver excellence. He mentions, "In July, we received "Chicago's Best and Brightest Places to Work For" for the twelfth time in almost as many years. And, this month we received the "Best and Brightest Places to Work For in the Nation" award." This honor is awarded to companies that demonstrate an exceptional commitment to their employees based on communication, work-life balance, diversity, and retention. It is always nice to receive external validation."
Emerging as an established leader in the fleet management industry
Tom's passion for bringing significant transformation in the fleet management industry is reflected in his vast experience in this field. Having served in the automotive and fleet industry throughout his career, he is well-versed with the ins and outs of the industry. He has led teams for top companies like Ford Motor Company and GE Capital before he had the opportunity to lead Donlen.
Thanks to his impressive track record over the years, Tom receives recognition for his contributions to the industry. Right now, he is serving as the Chair of the Technology and Safety Committee for the American Automotive Leasing Association. This position allows him to impact the policy regarding autonomous vehicles and electrification.
To date, Tom is proud and honored to be nominated by his peers into the Fleet Hall of Fame. He earned it for his exemplary performance and experience in the fleet industry. Since it is the ultimate award, he feels humbled and blessed to achieve it.
As he leads Donlen in the 'next era in fleet', he has a plan: "We have a three-year roadmap, and we pride ourselves at looking at the key trends as well as customer challenges to develop strategic plans to address those things. We are investing heavily in our award winning FleetWeb platform for fleet managers and drivers developed with robust data architecture, governance and accuracy accessible in real time. And, we've just introduced a major technology upgrade to our customer base featuring a new highly configurable dashboard design with reporting and visualization. Our technology capabilities include robust API's for better integration with key third party suppliers and additional functionality to manage rentals, recalls, downtime and pooled fleets. Many of our ideas for these enhancements come from our own employees as "power users" of FleetWeb – at Donlen we use the same platform as our customers ."
His goal is for Donlen to become a true global player in the fleet and mobility marketplace, leading the industry in technology advancements using telematics capabilities to redefine mobility and connectivity. Now that Donlen is a stand-alone entity having the support of a well-funded parent company, it is the right time.
Leading to set an example
As the CEO of Donlen, Tom is responsible for setting the strategic focus and executing the initiatives that support that focus. In his job, every day has its own set of challenges and tasks. However, one common element of almost every day is working with customers whether it is in a review, participating in a visit or taking a phone or Zoom call.
Other activities can vary.  He adds, "I have conversations with new startups; most recently, I spoke to a company in Israel about mobility possibilities. I also spend a good part of my day interfacing with our new parent company, Apollo Global Management, and our newly appointed Board of Directors."
He is proud to talk to different employees and also conducts one-on-one meetings with his leadership team and their direct reports. Tom is recognized for his open-door policy—anyone in the company can talk to him when he is free. This has empowered employees to be transparent about their ideas with him directly.
Family and Me time are important
Tom understands the importance of sharing a close bond with his immediate family and prioritizes them at all times. He loves spending time together at their cabin in Wisconsin enjoying the lake and the outdoor views. Moreover, he is very fond of staying in touch with all his long-distance friends and family members. Fitness and maintaining peak health are crucial for him, and he follows an exercise regime on a regular basis. He also spends time traveling and reading books from a variety of genres like history, culture, sports and business, as well as biographies.
He states, "Carving out this time to concentrate on things outside the realm of fleet and business makes me return to my proverbial desk 'fresher' and more prepared for the challenges that lie ahead."
Aiming for a Planned Strategic Growth
Donlen is now a stand-alone entity and  a key platform for Apollo Global Management, strategically poised to deliver on the "next era in fleet."  As an enabling visionary leader, Tom aims to transform Donlen into a truly global fleet management provider of fleet and mobility solutions. He has already started taking necessary action in this direction.
Sharing his inspiring words of wisdom for all aspiring business minds, Tom states, "Always think about what you are doing in terms of the impact it will have in the longer term. Play the long game, always be curious, take measured risks, fail fast but learn to get back right up again and fight further until you win. Always strive to be a difference-maker."