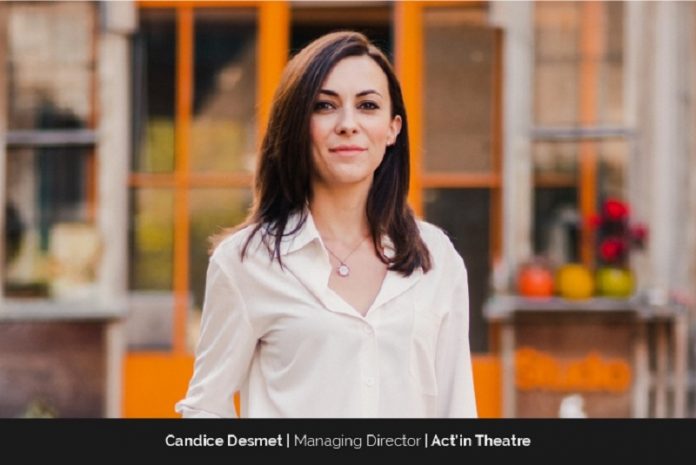 Failures do not dim the enthusiasm of the terrifically talented and visionary Candice Desmet. The 33-year-old Managing Director of Act'in Theatre firmly and actress believes that success is a result of failure, and without failure, there is no success; therefore, she took the risk of building something from scratch in an unfamiliar place. Her unflinching determination has paid off. Act'in Theatre, located in the "vibrant" heart of London, is a great success story.
Some people stick to the well-trodden path and do not take the plunge into something new or unknown because of the fear of committing mistakes or failing. Candice has no such fear. Blessed with a creative and pioneering spirit, she believes that success comes by doing, by making mistakes, by failing, and by learning. And, because of that, the French actress of Flemish origin is currently redefining live theater and contemporary theater in London.
"Success is going from failure to failure without losing enthusiasm," says Candice.  "Failure teaches you to find the issue and the solution to solve it."
Birth of Act'in Theatre  
Unlike those who are a stickler for tradition, Candice does not see theater and drama as only a classical arena. She is also not among those who think that only artists should be allowed to explore drama. "In my vision, theatre and drama are not only classical and not only for artists," Candice says. "Drama is open for everyone."
Drama is not a fixed discipline. It evolves with those who practice it. Candice points out that drama techniques can be used in everyday life – such as to manage stress and breathing – with a real well-being dimension. "Drama is a school of the self," she adds. "Mastery of the voice, the body, emotions … drama is entirely turned towards people and not only in its pure artistic dimension."
When Candice joined the bilingual theater in London, she was disappointed with the drama training classes offered in the capital of England. She could not find one that suited her.  This led to the birth of Act'in Theatre in 2015. Candice points out that very often, when someone does not find what suits them, it is because something is missing. "For yourself first of all, and certainly for other people as well." Candice established Act'in Theatre to fill that gap.
As she was pleased with the outcome, and rich from her acting career that she still pursue, she immersed herself in the new adventure of entrepreneurship and acting education. She, however, did not experience overnight success. It was not easy to make Act'in Theatre a success story.
It was not easy primarily because it was all very new for Candice. Also, she was establishing the company in a city that she hardly knew. "But my desire to pass on my knowledge helped me to get through it all," Candice recalls. "I started small and my company evolves organically, according to the demand and my means, at a price of an everyday hard work."
Bilingual Theater Company
Act'in Theatre is a bilingual theater company. Its courses are open for everyone – whatever the experience. In a short time, it has gained itself the reputation for being a provider of quality. It is also known for its friendly and no judgmental atmosphere.
Candice stresses that Act'in Theatre is for people who want to practice an artistic activity. The small group aims to offer space for total freedom, where creativity and expression are the main keywords. It also respects the students' rhythm, encouraging them to discover themselves and surpass themselves with the help of exercises and techniques, which are specifically tailored for them.
Currently, Act'in Theatre offers six weekly drama classes in French, two in English, and three improvisation classes for adults in both languages. It also conducts three two weekly classes for children from 8 to 15 years old every Saturday, in French. Indeed, the French-speaking community is large in London, especially with families. So, opening classes for children was the right move to do.
Life before Act'in Theatre.
Candice began her acting classes while she was still a student of biology in France. In 2011, she joined Guenaël Morin's troupe and started her theatrical career in Nantes, West France. Soon after that, she revisited the great classics of Sophocles. She got good success with that and later, she performed it on the stage of the Théâtre de la Bastille in Paris.
In 2012, Candice took a leap of faith and moved to London, and soon, she landed her first role in a feature film, titled NABORU. She also joined an improvisation troupe, and as part of it, she did shows in London, France, and Morocco and theatre companies.
"Realizing that something was missing in the theatre bilingual scene in London, I opened Act'in Theatre in 2015 and invested a lot of my time and energy to overcome the difficulties of setting up and running a business in a country that is not my own," says Candice.
Two Types of People Confront You
Candice is not one to duck tough challenges. She likes to deal with them effectively, and according to her, when someone faces a challenge, or is dealing with something complicated, they very often are confronted with two types of people – those who pull them down and those who pull them up.
"Those who pull you down, force you to rethink your way of thinking, of managing the company, and therefore of making it grow," Candice says. "And those that pull you up, help you to consolidate the basics."
She also says that the challenge is to find a balance between those two types of people: those who validate the company's values and those who test its flaws. The key is to be responsive and make the best choices. Obstacles are important to make a company evolve, Candice says, adding, "but beware of greater obstacles that bring the risk of destruction. The element of chance is therefore not negligible."
"Mistakes are allowed and weaknesses are allowed, but you must constantly find the necessary and effective solutions to deal with them," says she.
Competence Over Gender
Candice does not expect special treatment because she is a woman leader. She points out that any woman can be a leader but so can any man. "Responsibility and success in a job should not be determined by gender but by competence," adds Candice. "Gender equalization is crucial."
Woman in charge of a company is a good thing, but then one must think beyond that. Candice wants women to define themselves by their positions and not by their gender. For example, "I am a director" as opposed to "I am a woman director."
The new generation is very much involved in the emancipation of women and that's good, Candice notes, adding that there is still a lot to do, it is only the beginning. For her, the objective should be that everyone is able to talk about jobs and what they represent before saying that it is occupied by a woman or a man. Candice adds: "There is still a long way to go but we believe in it!"
Professional Achievements 
As an actress, Candice is proud of the cinematographic projects in which she participates, and the acting that she develops with the other members of the cast on projects under construction. And, as Managing Director of Act'in Theatre, Candice feels her greatest achievement is making the drama discipline accessible to people who were not in love with it at first or who felt they were not gifted enough to take part in it.
"When students tell me that they earlier saw drama as inaccessible, and then I see them evolve over the course of the sessions, and it impacts their professional and personal lives in the right way – seeing that happen is a real achievement," says Candice.  "Theatre is not only on stage in front of an audience, it is distilled every day and therefore influences daily life."
Every day Is Different
Candice does not have a typical work day. Every day is different! It is because as Managing Director of Act'in Theatre, her responsibilities are large and extremely varied. She does almost everything, from accounting, and general management to communication. In addition to that, Candice also handles drama and improvisation classes with different groups of students, the direction of the shows, their general organization, and everything related to that.
From 9 a.m. to 6 p.m., she deals with the organizational matters of Act'in Theatre, which means working from the office on various tasks, dealing with appointments, and attending meetings. She is in class with her students from 6.45 p.m. "I also do coaching, which is important for an actress and teacher to keep up with the best, just like training is for a sportsman," says Candice. And as she runs workshops during the weekend, Saturdays and Sundays are busy days too.
She adds that for an entrepreneur, there is no typical day that is repeated from week to week. "You have to be extremely flexible." As her work schedule is hectic, Candice feels that maintaining a work-life balance can be delicate. She is careful to dedicate time to her personal life, but it is never the entire day – "just a few hours every now and then." "
"However, my status as an entrepreneur gives me flexibility, which is an advantage," Candice says. "The disadvantage could be that the work never stops and that it is a lot. But the positive side is that I can organize myself as I see fit and can therefore combine my professional and personal life."
Future Plans 
Candice notes that the theatre has evolved a lot in recent years and has opened up to a plurality of artists; for example, singers are now making their debut on the stage. She considers it a "good thing" as it can bring richness to the discipline. Drama has also evolved in its composition, Candice adds. There is now humorous drama, burlesque, … different styles that are accessible to a wide audience.
She sums up Act'in Theatre's future plans in one word. It is "development." The plan is to be able to work from their own premises in London and Lille in France. Candice also aims to open up the theatre beyond the English borders and make Act'in Theatre known beyond the U.K.
Artistically, she is involved in various productions in London including a western series project in which she is the lead actress, The Land of The Free by Youssef Sefiani. She will also be on stage in France in 2023 in a new creation.
Personally, Candice wants to surround herself with creative people, as she believes that a good leader is one who knows how to delegate. The company's development depends on the development of its staff, and this task force must be supported. "The leader cannot be everywhere and do everything, at the risk of doing everything wrong," Candice says. "You have to trust your team."
Message to Aspiring Women Leaders 
"Listen to yourself," Candice tells aspiring women leaders.  "Don't project yourself through people. Let yourself be guided by you. You are your best ally."
Candice does not want women leaders to close themselves off or put up some barriers for themselves. "What can make you deviate from your path is a failure, but it is a necessary obstacle to moving forward," she says. "In no case should the judgment of others make you deviate from your aspiration and what you want to become?"
"Ask yourself this question: 'who do I want to be?"
For more information please visit: www.candicedesmet.com