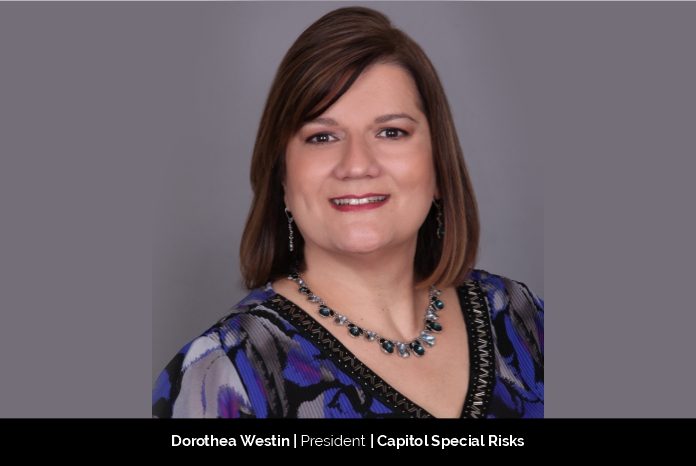 Insurance is not the answer to all issues so it takes a comprehensive plan. Capitol Special Risks (CSRisks) provides the important service of navigating the insurance market to produce coverage that meets the needs of clients at an affordable rate. As the President of CSRisks, Dorothea Westin aims at pushing the markets to offer more coverage options and better premiums.
Quality coverages and realistic premiums
CSRisks started in 1991 during a hard market for Professional and Management Liability. The company's goal then was to work with insurers to bring unique coverages or solutions to the market. Their original corporate motto "We have the markets to meet your needs" has been honed to "Providing key solutions to insurance needs" over the years. They talk to clients and learn about their goals, needs and discover their concerns. Then they take those needs to the market and develop insurance solutions that provide the ability to support the client's business and protect them from known and unknown risks. They have worked with insurers to improve policy language and broaden coverage to keep up with the emerging challenges and needs of clients.
From Insurance Brokerage to Specialty Lines
Dorothea's father started the business in 1991. She joined in 1992. After her father's demise in 1998, she and Lynn Levinson took over the company that only had 6 employees and $6.5 million on the books for premium. They were dissuaded from running the company and were offered 10 cents on the dollar to sell. The duo turned that offer down. They now have over 20 employees and just broke $40 million in premium.
They joined the Specialty Program Group in 2017 to support a broader scope of clients. Specialty Program Group is constantly acquiring new firms and merging them into established businesses like CSRisks. This provides a symbiotic environment to grow together with new acquisitions.
Keystroke Underwriters
CSRisks is a Professional, Management and Cyber Wholesale Insurance Brokerages firm with a Professional Liability underwriting division called Keystroke Underwriters which they started in 2017. With a Lloyds Broker, they solicited markets to support their underwriting model and within 6 months it was up and running, a feat that usually takes a year or two. They hope to bring on new underwriting programs with the New Director of Underwriting, Robert Ferretti.
They provide policy verification, review and competitive insurance analysis, continuing education to their agents, and often participate in client or insured calls to explain the state of the market, coverage concepts and risk management options. They negotiate with insurers to provide best-in-class coverages and reasonable premiums.
Growing and Staying true to core values
At CSRisks, they know what they believe in and are service-oriented. To make sure that the entire team has the same drive, all potential candidates are interviewed 3-5 times. Selecting the right people contributes to a strong team. The entire team cross-trains and shares knowledge about markets and coverages regularly. They have round tables to review tough risks and the solutions to their coverage needs. The team is required to continue learning. Specifically, they must become licensed, if not already at hiring, and then begin working on industry designations. There is a special designation RPLU – Registered Professional Liability Underwriter from the PLUS Society
(Professional Liability Underwriting Society). Everyone at CSRisks, from new hires to seasoned professionals, is encouraged to pass the designation levels offered by this group.
Since CSRisks does not provide standard coverage for Auto, BOPs and property, it is hard to secure proper and complete training for niche coverages. The RPLU modules are the best tools to teach their team members about coverage and Professional, Management and Cyber liability.
To stay current, the team undergoes training and meets with markets and insureds. Many of their employees have been with them for over 10 and even 20 years. New people are hired as they grow but there are very few staff turnovers.
They provide coverage placements for a little corner of the spectrum. As niche players, they only work with markets that write what they provide. Instead of thousands of underwriters, they have hundreds of underwriters and they speak to them regularly. The biggest success to their insurer relationships is that they tell the truth and make sure that both parties (the insurer and the insured) know what they are getting. So when they tell an underwriter something they can rely on, it leads to better terms for their clients.
They do not believe in external competition. They believe that in doing their best and going to the right markets and presenting the risk properly. To do that, they have a dedicated team that learns the coverages, the markets to provide them and uses those resources to solve the clients' insurance problems. They consider losing a risk as a learning opportunity to do better the next time.
For CSRisks, writing policies that respond to claims that might not have been covered if they had not worked to enhance coverage is validation. Their team is proud when an insured stays in business because the coverage they bought delivered.
Building a Business
Until 2018, CSRisks was a female-owned company and that brought a unique set of challenges, but they proved to be successful regardless of those obstacles. Dorothea firmly believes that challenges and roadblocks can stop you only if you dwell on them. The entire CSRisks team likes to think of challenges – social, economic or personal – as tools to make them stronger. They know that they will prevail in the end; it is just a matter of time and perspective if they keep trying.
Dorothea has much to look back on with a sense of honor and pride. As a leader, her proudest moments are when CSRisks survived. She acknowledges that leadership is not about charging into battle but about not dropping the little things that make your team successful like cultivating a team that trains, choosing the right people and listening to the people you trust including employees, clients, markets, vendors or other insurance professionals.
Being a Girl Scout, Dorothea knows that being prepared is half the battle; a lesson she learned when she was eight and reminds herself of to date. However, she discerns that being prepared does not mean waiting till the opportunity passes, you still have to be willing to trust your plan and seize the moment.
Dorothea feels strongly that CSRisks has succeeded where others may have stumbled because their team is dedicated, knowledgeable, and efficient.
Dorothea's duties include overseeing Underwriting and Brokerage while keeping the group on a budget. She compares that to parenting – no one does it the same. The favorite part of her job is telling her team "you beat your goals" or "you made your goals" each month. She likens insurance to putting puzzle pieces together and she loves a good puzzle.
For Dorothea, success is knowing that she has made a difference. She finds genuine satisfaction and joy in making sure their agents and insureds understand the coverages they secure to protect them, as well as, pointing out where they have to step up and protect themselves.