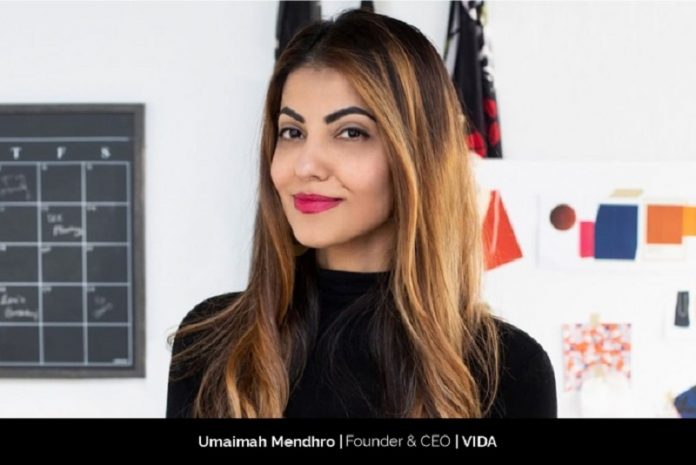 Growing up in exile in the Middle East, Umaimah Mendhro lacked access to formal education but knew from a very young age that she wanted to build a company that makes a meaningful impact in the world. Umaimah moved to the United States to earn her BSc from Cornell University in Human Development and, later, an MBA from Harvard University where she was a Baker Scholar.
Prior to founding VIDA, Umaimah worked as a Director at West, where she led product strategy for some of the most promising pre-IPO tech startups. Previously, Umaimah was Director of Product in Microsoft's Startup Business Group. Umaimah has spoken at two TEDx events, authored several Forbes.com Op-Ed columns, Harvard Business School case studies, and the opening chapter for the hardcover, Passion & Purpose. Umaimah holds 13 Patent Awards and VIDA has been widely recognized, most recently included in Fast Company's prestigious list of World Changing Ideas of 2021.
Laying the Foundation for VIDA
VIDA was developed in 2014 when Umaimah set her mind to challenging fashion industry norms and creating a new model of commerce by connecting customers to creatives through an on-demand manufacturing supply chain. During Umaimah's adolescence, she dreamed of  becoming a fashion designer and worked closely with small tailor shops to design her own line of products. Later, during her travels abroad, she was mesmerized by the abundance of beauty, talent and range of products that the world offered and also the immense buying power of wealthy countries like the United States. Umaimah wanted to bridge this gap between supply and demand and leverage her experience in technology and passion for art and design.
Today, VIDA is a global platform that brings together over 150,000 creatives and makers from around the world. The company has launched over 2.5M unique products and produced exclusive collaborations with partners including the Museum of Modern Art, deYoung Museum, StitchFix, Steve Madden, Cher and Iris Apfel. In partnership with its manufacturers, VIDA provides various educational and empowerment programs for factory workers including a literacy program in Pakistan, a women's empowerment and human rights workshop in Turkey and financial planning and management programs in India.
Pivoting to Save Lives
At the height of the pandemic and amid a global shortage of PPE, VIDA leveraged its unique position to launch protective face masks with highly protective filters in advance of and anticipating the unprecedented need. By repurposing their expertise in building an on-demand, global supply chain with disruptive turnaround speed, they launched masks within 5-days of making the decision to do so, directing all of their energy to provide life-saving PPE at a time when billion-dollar retailers could not guarantee delivery of basic essentials.
As more disposable masks became available to the general public, Umaimah became concerned about the environmental impact of disposable masks. It is estimated that as many as 129 billion disposable masks are thrown away every month. Prior to launching their offering of highly protective disposable masks, Umaimah led her company to develop a recycling program for disposable masks. VIDA is still the only company to offer a recycling program and their disposable masks have become a top selling category.
This shift into PPE, spearheaded by a lean team of 25, ultimately led to VIDA being recognized as the #1 Bestselling Mask of 2020 by NBC.com, one of Fast Company's World Changing Ideas of 2021 and featured by top publications like Health, Prevention, Vogue, People, Real Simple, Business Insider and many more.
Democratizing Access Beyond Commerce
As the world returns to a sense of normalcy and VIDA plans its future, Umaimah will stay focused on democratizing access but plans to shift more of her team's focus to health and education. VIDA will continue to offer thoughtfully designed, highly effective and sustainable products, prioritizing those that serve a true health need for consumers worldwide. Umaimah will continue to partner with organizations, both on the local and international level, to bring awareness to important causes. VIDA is also actively incubating a project in the education realm that aims to unlock access to top-tier education for the world's highest potential talent. Umaimah's mission is based around the core belief that democratization of access will lead to a revolution that provides opportunities for all.