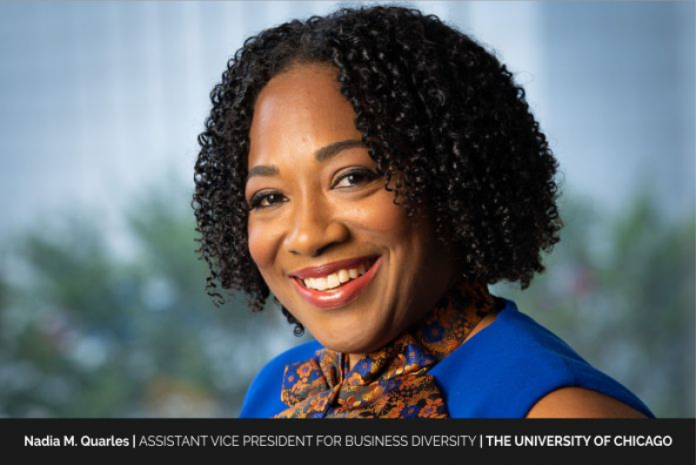 As the Assistant Vice President of Business Diversity at The University of Chicago, Nadia Quarles is widely regarded as a visionary D&I strategist. She champions equitable and inclusive opportunities for minority and women-owned businesses, providing University-wide leadership and direction around strategies to promote diverse and inclusive business relationships within goods/services and professional services contracting opportunities.
She has transformed the University of Chicago's approach towards engaging various business enterprises, and her work to diversify the University's professional services contracts is replicated around the country. Her thought leadership has earned her a reputation as a globally recognized leader and sought-after speaker with over 20 years of professional experience. She frequently consults educational institutions, endowments, foundations, and corporations on effective strategies to execute inclusive business practices within organizations. In addition, she provides leadership and direction throughout the University to promote consistency of business diversity processes, procedures, and practices.
In her new role, Quarles is responsible for increasing relationships with minority and women-owned businesses that can support the ongoing needs of the institution. She collaborates with local and national business leaders, executives, and organizations to ensure that the University has access to the most creative and innovative services and diverse talent in the marketplace. She advises University leadership on effectively partnering with civic and business leaders, alums, and elected officials to promote the University's role as a leader in business diversity and inclusion efforts.
"Success means experiencing a sense of fulfillment."
University officials have commended Quarles for her accomplishments in promoting inclusion and increasing opportunities. They have stated that her work to expand the University's utilization of minority and women-owned professional services firms has been critical in engaging firms ranging from investment managers to financial services, communications, IT, HR, and legal services. Her role as Assistant Vice President for Business Diversity is evidence of the University's focus on advancing inclusion and opportunity as fundamental institutional values. Her work has contributed substantially to the University's growth, development, and sustainability in this crucial area of leadership.
Before joining the University in 2006, Quarles worked in the Office of Business Diversity for Chicago Public Schools and the City of Chicago Department of Procurement Services. She has a Juris Doctor degree from Mitchell Hamline School of Law and has gained legal experience from the Cook County State Attorney's Office and Illinois Judicial Inquiry Board. She also earned a Bachelor of Science in Political Science and Public Policy from Northeastern University.
Advancing Diversity and Inclusion
Quarles is focused on creating opportunities for minority-owned firms within wealth-creation industries.  These professional services industries, such as money management, financial, and legal services, represent higher wage and growth sectors within the economy. The professional services industries are the most challenging industries for minority firms to penetrate, given that they don't have the longstanding history of relationships that majority-owned firms have.
Civic contributions: A diverse range of roles, responsibilities, and recognition
Quarles has a wide range of civic involvement in various organizations. She currently serves on the Obama Foundation Inclusion Council, which aims to inspire, empower, and connect the next generation of public, private, and nonprofit leaders. Additionally, she serves on PAWS Chicago's Development Board, which works towards providing care and adoption services for homeless animals. Furthermore, she is a member of the City of Chicago Casino Advisory Council, which advises the city on issues related to casino development.
Quarles is also a member of Delta Sigma Theta Sorority, Inc., a nonprofit organization that promotes academic excellence and provides public service in the community. She was formerly a YWCA Metropolitan Chicago Board member, which focuses on eliminating racism, empowering women, and promoting peace, justice, freedom, and dignity. In addition, she served on Mayor Lori Lightfoot's Business, Neighborhood, and Economic Development Transition Committee, which aimed to develop policies that would benefit businesses and neighborhoods in Chicago.
Quarles has received several recognitions for her work. In 2022, she was recognized by Crain's Chicago Business as one of its Notable Black Executives in HR and DEI, and in 2021, as a Crain's Notable Black Leader and Executive. Nadia is also a 2021 Chicago United Business Leader of Color. In 2019, she received the Chicago Defender Women of Excellence Award, which honors outstanding women who have made significant contributions in their respective fields. She was also featured in Who's Who in Black Chicago and was named to Diversity MBA Magazine's top 100 Under 50 Diverse Executives & Emerging Leaders.
Finding Fulfillment and Definition of Success
According to Nadia Quarles, success means experiencing a sense of fulfillment in her personal and professional life. She finds great satisfaction in creating opportunities for minority-owned businesses that they would not have obtained without her leadership. In addition, having a solid support group of girlfriends who provide advice and inspiration keeps her motivated.
Beyond her career, Quarles is passionate about animal welfare and contributes her time and expertise to the PAWS Chicago Development Board. She also aspires to further her philanthropic endeavors, achieve more in her professional career, and seek new opportunities to learn, develop, and make a difference.
From Civil Rights to Criminal Law
Quarles' journey to becoming an attorney is marked by perseverance and determination. As a child, she aspired to be a Civil Rights attorney. However, in Law School, she gained an interest in Criminal Law and ultimately became a Cook County State's Attorney.
Her work as a prosecutor allowed her to serve the community and help ensure that justice was served. It was a challenging job that required outstanding commitment and dedication, but Quarles was up to the task.
Quarles' journey inspires others considering a career in law or any other field. It shows that one can achieve their goals with hard work, determination, and focus and positively impact the world.
Finding Autonomy in the Academic Environment
Throughout her life, Quarles was passionate about teaching and education. As a child, she aspired to become a kindergarten teacher. While she didn't pursue that exact path, she taught as an adjunct professor at Northwestern Illinois University and Roosevelt University.
The academic environment at the University of Chicago has provided her with the autonomy to create and develop the University's current Business Diversity Program, which has been recognized as a national model. This experience has further cemented her passion for working in the educational industry. She finds fulfillment in creating opportunities between minority and women-owned businesses and the University of Chicago.
Overcoming Gender Bias as a Female Leader
As a Black woman leader, Quarles has faced challenges that have helped her grow and be resilient. One challenge she has faced was being overlooked or over-talked during meetings where she was the only Black person and woman in the room. Quarles believes that if she is invited to be at the meeting, it is because she has something of substance to contribute. Her strategy was to wait until there was a break in the discussion to revisit the topic with the point she wanted to make. Over time, Quarles gained the respect of her colleagues, and the exact opposite started happening – people began seeking her advice. By facing challenges like this head-on, Quarles was able to grow as a female leader in her industry.
How the University of Chicago Prioritizes Business Diversity Practice?
Founded in 1890, the University of Chicago is a private research university on Chicago's South Side. It boasts 97 Nobel Laureates and is renowned as one of the top research universities globally. With seven professional schools for graduate study and 53 majors and 47 minors in the undergraduate College, students can choose from a wide range of academic disciplines.
What sets the University of Chicago apart is its commitment to Business Diversity, which starts from the top of the institution. This commitment is evident in the support shown by the University President, Paul Alivisatos, and trustees such as John Rogers, Jr., Co-CEO of Ariel Investments. In addition, the University of Chicago stands out in its approach to engaging minority and women-owned businesses for opportunities, recognizing the benefits of locally and nationally diverse business talent.
The University of Chicago's commitment to diversity extends beyond business to its academic community. It has several diversity initiatives, including the Diversity and Inclusion Initiative, which focuses on increasing the representation of historically underrepresented groups among the faculty and staff. Additionally, the University has programs and resources aimed at providing support and resources for underrepresented students to ensure their success in their academic and professional pursuits.
The University has a unique approach to engaging minority and women-owned businesses for opportunities. It differs from other universities because it has a Business Diversity Program instead of a Supplier Diversity Program. The program intentionally engages with minority and women-owned firms within various professional areas, including legal, financial services, money management, communications, information technology, human resources, and architecture/engineering.
Such an approach goes beyond the low-margin supply-chain/procurement-driven opportunities like catering, printing, and facilities-related services. By doing so, the University creates contract opportunities that allow these businesses to scale and create multi-generational wealth.
Establishing a Professional Service Symposium
As part of her accomplishments, Quarles had also established a Professional Service Symposium fifteen years ago, where she invited a few specialized professional services firms to meet with the University and the Medical Center's senior leaders and vice presidents. Thanks to this Symposium, the University increased its spending with more than 100 MWBEs (Minority or Women-owned Business Enterprises) from $7M to $200M.
Quarles is proud to note that the endowment invests funds with 26 minority and women-owned asset management firms. She believes such a unique approach differs from other universities, making the University of Chicago unique in engaging diverse businesses.
Navigating Roadblocks to Maintain a Commitment to Inclusion and Diversity
Navigating unconscious biases and negative stereotypes towards minority-owned businesses has sometimes been a hurdle for Quarles at the University of Chicago. Quarles emphasizes that her work creating professional services contract opportunities requires close collaboration with the University leaders who play a vital role in the decision-making process. She sometimes faced roadblocks when new departmental leadership joined the institution without the same level of commitment to business diversity or prior experience working with Business Diversity/Supplier Diversity professionals.
Quarles has found that the most effective way to address this issue is by providing exposure to qualified minority-owned businesses. Therefore, her annual Professional Services Symposium is designed to provide a platform for building relationships with minority-owned firms nationwide. Through one-on-one business meetings, participants get to know each other professionally and personally.
Overall, she believes setbacks can be opportunities for growth and learning. Quarles and the University of Chicago continued to grow through these challenges due to their unwavering commitment to diversity and inclusion. The institution's long-standing dedication to these values allowed Quarles to have constructive conversations with new University leaders and keep the momentum going. Ultimately, their commitment to business diversity and inclusion helped them overcome roadblocks and continue to thrive.
Impact of Business Diversity Programs on Higher Education
Quarles has significantly contributed to the industry by creating a pioneering Business Diversity program at the University of Chicago. This program is the first of its kind in higher education and has paved the way for similar business diversity initiatives in the education industry. As more educational institutions move towards creating business diversity programs that offer professional services contract opportunities, business diversity, and inclusion is becoming more of a focus at procurement and education industry conferences.
Many peer institutions seek guidance from the University of Chicago's program as they develop their initiatives. In Quarles' view, these developments demonstrate a shift towards greater diversity and inclusivity in the industry, which is encouraging. Over the years, Quarles has witnessed the evolution of the education industry and the increased emphasis on diversity and inclusion, particularly in procurement. Her program's success has proven that investing in business diversity programs aligns with an institution's values and has significant economic benefits for all parties involved.
Life Before the University and Career Highlights
Before joining the University of Chicago, Quarles held similar positions at the Chicago Public Schools and the City of Chicago. She has worked at the University for the past 17 years, during which time she has accomplished a great deal. One of her most notable achievements is diversifying the University's endowment managers.
Over the last 15 years, Quarles has organized an annual Professional Symposium for the endowment team to evaluate and allocate funds to qualified minority money managers, resulting in 26 minority and women-owned asset managers currently investing in the endowment funds. Another of her accomplishments is the longevity of the business diversity program and the Professional Services Symposium, which she created with the help of many over the past 16 years.
As the Assistant Vice President of Business Diversity at The University of Chicago, Quarles' capabilities have been integral in implementing procedures to increase the University's contractual relationships with qualified minority and women-owned businesses. Her primary responsibilities include developing strategies promoting diversity and inclusion within the professional and goods and services industries.
Her duties also involve advocating for the University's business diversity initiatives and creating programs that support the growth and development of qualified minority and women-owned businesses. In addition, she works closely with various departments across the University to ensure that business diversity is integrated into the University's overall mission and strategic plan.
Finding Motivation and Staying Productive
Quarles leads a small but efficient team of two, maintaining a great working relationship. They derive inspiration from their work, making it easier to stay motivated. Regarding her daily routine, Quarles starts her day by praying and reciting motivational affirmations to stay positive. Then, she goes into the office thrice a week because she believes she is more productive.
Quarles prefers the separation between workspace and home life. Apart from work, Quarles enjoys spending time with her friends, traveling, and knitting, which she finds relaxing. She also has a cat, which helps her stay centered.
Championing Diversity and Inclusion at the University of Chicago
Quarles found joy in advocating for minority businesses and has been working to create opportunities for MWBEs for over two decades. Her vision for the University of Chicago is to maintain its position as a business diversity and inclusion leader. She hopes their impact will expand beyond local and national efforts to create opportunities for minority and women-owned businesses internationally. She is committed to opening doors and creating opportunities for MWBEs and greatly respects entrepreneurs. In the next few years, Quarles will develop an education program focusing on Business Diversity. This program will be an effort to advance further her vision of expanding opportunities for minority and women-owned businesses.
Advice to Aspiring Black Women Leaders
Quarles believes it is essential for aspiring black women leaders to realize they have the potential to exceed their dreams and expectations. Quarles also emphasizes the importance of self-care as a crucial aspect of leadership, urging women to prioritize their mental and physical health alongside their professional pursuits, creating space for balance. Her message is that black women leaders must pursue their aspirations with determination and perseverance while caring for themselves.
In conclusion, Nadia Quarles is an accomplished attorney and business diversity leader who has dedicated her career to creating opportunities for minority and women-owned businesses. Her life experience working in government and corporate sectors has prepared her to excel in her current role as Assistant Vice President of Business Diversity at the University of Chicago. Quarles' dedication to promoting diversity and inclusion in the business world is evident through her work developing educational programs and advocating for minority-owned businesses.
As a black woman leader, Quarles inspires global leaders, and her message of pursuing one's dreams while prioritizing mental and physical health is a valuable reminder to all of us.