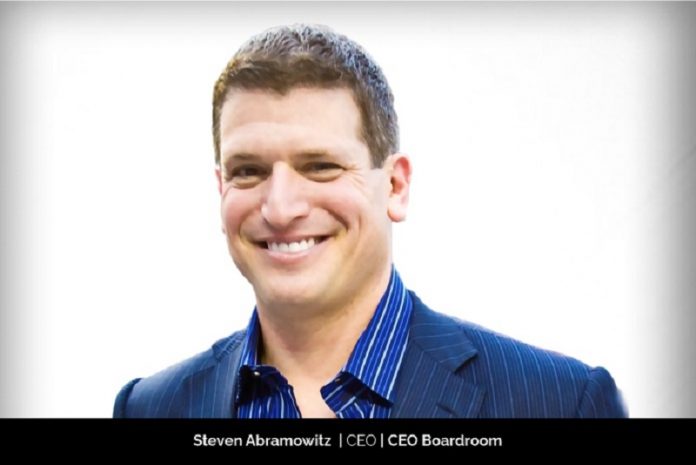 CEO Boardroom™ provides a safe place for CEOs to relax, unwind and open up in an inspired, positive, encouraging and collaborative environments. This has been their consistent deliverable and brand since inception. The CEO Steven Abramowitz has a natural proclivity to connect and align leaders as partners. These meaningful relationships and connections then help the CEOs further their vision, obtain new opportunities, earn referrals, gain fresh insights and much more. All this, while enjoying a relaxing time in first-class environments.
A CEO Haven
Washington did not have a safe haven just for CEOs and Founders to connect, align and grow together within the backdrop of first-class venues such as leading restaurants and luxury boxes. This concept was unheard of in the business world. Steven advised CEOs and Entrepreneurs for 22 years and finally decided to become one to create this safe haven – a place to have some downtime while you still accomplish your business goals.
CEO Boardroom™ is Washington, D.C.'s leading organization that connects and aligns leading CEOs. They aim to heighten a CEO's vision and performance for themselves, their organization and their communities. They achieve this through exclusive, CEO-only, events and venues that provide selective and purposeful insider access to and with each other. The CEOs are also exposed to world-class mentors and key advisors. CEO Boardroom™ offers a range of private programs, events, consulting services and training tailored for Chief Executives and their organizations by core industry alignment. Their purpose is to bring CEOs together to build new and valuable C-Suite relationships and to deepen existing ones.
From Dinner Club to Boardroom
The first Boardroom event was held in Bethesda, MD in early 1994. It was attended by Steven's closest business allies who as noted in their respective fields as respected leading senior executives regionally and nationally. They became the first members of the by invitation only 'Boardroom Dinner Club'. The purpose of this event was to provide a place for trusted friends in the business community to gather, connect and relax in an intimate and exclusive setting.
With a proud history of 27 years, Steven continues to connect and host hundreds of the region's most noteworthy leaders in peer-to-peer settings. The environment is designed to foster valuable and productive businesses and personal alliances. Members gather in the city's most exclusive and private venues. As they enjoy great company, they simultaneously forge and enjoy meaningful connections. These events also provide ˜first look" access to the latest technology and unique trends.
In 2005, Steven saw a need to connect top business, civic, charitable leaders and the organizations that support them. He sensed the void to provide a place for top leaders to cultivate, communicate and align their own individual and organizational goals with their peers, to create an integrated and aligned network amongst the region's leaders. While providing this forum in the familiar and sought-after Boardroom Dinner Club tradition, CEO Boardroom was born.
The Right Connections
In 2017, CEO Boardroom™ showed unprecedented growth. They more than doubled their membership base, more than doubled their annualized revenue and grew over 200%. The growth supports the point that there was a need in the Washington, D.C. area for an organization that would connect CEOs and leaders. In fact, CEOs, especially in the middle market, do value the opportunity to join a private, exclusive network to be more successful. They agree that the market options until then had not met their requirements.
Within CEO Boardroom™, Steven takes a strategic approach to connecting CEOs. He makes sure to get the right people in a room who can truly make meaningful connections. He brings those CEOs together who can learn from fellow CEOs how to successfully grow their business. He introduces vetted and vital CEO candidates to explore partnering opportunities among the members. These are the 'vertical' focussed membership groups through which CEO Boardroom™ has been able to bring CEOs together from relevant verticals that act as aligned and motivated 'natural' referrals for one another. It offers teaming opportunities as well. By expanding and developing these new 'vertical' focused membership groups, Steven has achieved great milestones and has raised the CEO Boardroom™ to new heights.
Connecting CEOs
Now in the 27th year of VIP commercial events, Steven and his team provide intimate gatherings of CEOs in first-class locations such as award-winning restaurants plus chefs with custom menus and handpicked wines and scotch. Their first event in 1994 resulted in over 1000 CEOs attending events over the next ten years.
CEO Boardroom's GovCon Exchange™ program was launched on 1st March 2017. It is a dynamic and enormously successful first pilot program to use the 'vertical' focussed membership group approach. It is designed specifically to facilitate meetings, referrals and collaboration between leaders of the middle market and the government contracting community. GovCon Exchange was conceived from the unmet need for high-level, industry leader vetted and secure connections between peer GovCon firms and veteran mentorship from peer leaders who have already built, grown and sold their firms. As they approach or graduate from small company status, successful GovCon CEOs need a fluid, managed and easy-to-leverage solution to support organizational growth and form new business connections to prepare, grow and sell their top-performing companies. GovCon Exchange provides the solution in the form of special events that capture rare opportunities for unique access with the most sought-after CEO leaders, venues and experiences available. Each event offers an intimate forum for unmatched peer-connecting, decision-maker access, mentorship from peer GovCon leaders, best practices, growth strategy with appointed first-class venues and dining. The signature of the program? The most memorable experiences!
GovCon Exchange, now in its fourth year, is a three-pillar ecosystem that works interdependently and fluidly. The first pillar is GovCon CEO members who join for teaming opportunities to win more contracts, mentorship, and problem-solving. The second pillar is their partners which others classify as sponsors but their partners attend every event, sit in their rooms and actively participate—providing content, problem-solving, wisdom and expertise each time. The third pillar is their board of advisors who represent current and former CXO's of major government contracting
firms, some multiple times, and fast-growing companies. They attend each event and moderate the discussions, interview the CEO mentor guests, solve problems, teach and provide content. All three pillars are self-perpetuating and highly interactive inside and outside their events.
CEO Boardroom™ offers the nations-only problem-solving forums strictly for GovCon CEOs. They have over 3000 GovCon CEOs in their database and a state-of-the-art marketing technology system to communicate with them nationally. They regularly have new guest CEOs attend their events through this system and the generous referrals of their base.
Permeating Positivity
Government contracting is a very cutthroat competitive industry with competitors contesting contract wins and vying for each other's employees. It is very difficult to find trusted partners to team with and win new contracts. It an atmosphere of negativity leading to adversarial relationships and stressful competition. The CEO Boardroom™ endeavors to prune the negativity by providing a safe environment that eliminates negative competitors because of their positive, inspirational and collaborative design.
A Toast To Success
Steven measures success by the satisfaction, inspiration, camaraderie, appreciation, trust and respect of his members, partners and board members. He is most proud to see these virtues permeate throughout the entire organization. He is enthused by the enthusiasm each person brings.
At their last event, they had an all-time high attendance with a record number of CEOs and guests. The room was electric! This was a profoundly proud moment for Steven as a CEO and founder of CEO Boardroom™.
He was recently named as one of the ten best CEOs in America by a magazine. To his contentment, during the next dinner event, the whole room applauded and toasted his success. He was humbled by this recognition. Laurels and accolades make you proud and are a measure of success for many, but a gesture of appreciation by your team members and partners has to top the list.
An Inspiring Leader and Relationship Builder
Steven spent 22 years in financial services and started Washington, D.C.'s first corporate banking group. He was the first to bring Wall Street to D.C.'s corporate market.
He has also appeared in numerous panels, as a syndicated national columnist for The American City Journal appearing locally in 43 cities throughout the US on building lasting relationships through connecting and managing business relationships. He also has been quoted in regional press, including The Washington Business Journal, Washington Sentinel, Washington Techway, Smart CEO, and has been featured on Comcast cable regionally.
He has served on the Board of Advisors for The Dingman Center of Entrepreneurship, the D.C. Board of Directors of The Institute of Management Accountants, and the President's Inner Circle of the University of Maryland.
He has also contributed to the not-for-profit world. Steven has served as an Ambassador for the National Foundation for Teaching Entrepreneurship, an organization that helps young people from low-income communities build skills and unlock their entrepreneurial creativity Also, he is a co-founder of Champion's Quest International, an organization that supports young leaders to discover and cultivate their champion voice. He teaches "The art of connecting and aligning at the top" to organizations regionally.
Steven hosts corporate gatherings around the U.S. including events organized by Ernst & Young, the Northern Virginia High Tech and Maryland Councils, MD Bio Alliance, BMW, CBS, the NFLCA, Washington Nationals, Young Presidents Organization and Entrepreneur Organization.
He has spent more than 30 years delivering meaningful results to high-level decision-makers in a broad range of industries. His experiences and track record provided the perfect blend to work with and build strong relationships with CEOs, CFOs and Executive Board Members. His role is to foster these relationships for their mutual benefit and the benefit of organizations and clients.
His team is motivated to connect the GovCon CEOs of America with a presence in every GovCon market in the USA.
Apart from organizing events and gatherings, he also writes, speaks, connects, enrolls and engages leaders throughout the region about the power of building and deepening relationships with the intentional vision that drives every one of us as leaders and contributors.
Steven has a wonderful work-life balance and shares a great relationship with his family, friends and colleagues. His relationships help him to stay focused. He makes it a point to reserve some me time for travel and regular exercise. The downtime helps him to stay motivated. He also takes measures to stay in good health. He has a very loving family and they live in the suburbs of Washington, D.C.
Hitting The Sweet Spot
Steven took six years of trial and error to perfect their business model. During the first 90 days of the Covid lockdown, he feared that they would not survive since they are 100% live events. They opened up for events in July of last year to meet the demand. This was way before Covid vaccines were in the picture. During a five-month campaign, he identified and targeted 1000 government contracting CEOs regionally and invited them to attend one of their intimate events. They garnered a 35% response rate!
This verified that there is a demand for such events. Their main events had 16 guests in January 2021 and this number escalated to a record 43 in June. They are adding events and plan to triple their membership in the next two quarters.
Change And Evolve
Steven confesses that he is constantly changing and evolving. He is dedicated to growing the company. He relies on both boards of advisors corporately and a personal board to soundboard ideas and challenges.
In the future, CEO Boardroom™ plans to expand nationally in at least ten cities and bring both GovCon and VIP events to each city. They are set to build the nation's first national network of GovCon CEOs.
To aspiring business leaders, his message is "Live your dreams and don't give up!" He quotes Napolean Hill who said, "Success often appears TWO steps after failure!"