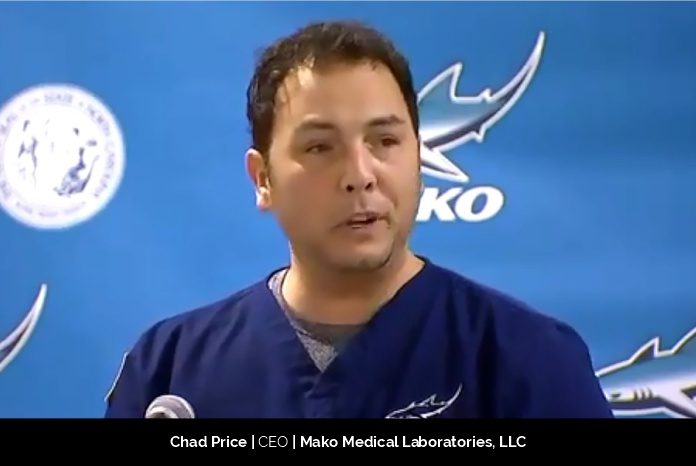 The healthcare industry is one of the most difficult and tough industries to transform, owing to the large number of legacy systems, coupled with the highly sensitive, personalized information. However, it's not difficult for cloud computing. Over the last few years, cloud computing has been changing the way doctors, nurses, clinics, and hospitals deliver quality, cost-effective services to their patients. This transformation is being led by two forces: the economic importance to improve the quality of patient care and to cut costs. The cloud has the ability and capacity to revolutionize the healthcare sector by making it more efficient through a decentralized approach and improving the patient experience. Knowing what future hold for cloud computing for healthcare would and having gone through a personal experience of spending countless hours in medical offices, awaiting test results for his special-needs sister, Chad Price finally had enough. Without having any lab or medical experience under his belt, he went on to venture on his own. The result was MAKO Medical Laboratories LLC, with his friend, Josh Arant.
A path to become one of the most desired laboratories.
Chad's goal with starting Mako Medical was to start a company that would create a unique competitor in an industry that lacked options while using its resources to make an impact in the communities. "Our entire team is focused on volunteering, helping with local nonprofits, giving back, donating, hiring military veterans, and supporting many charities. It why we do it not what we do that makes Mako so special," Chad asserts. Since the foundation of the company back in 2014, Mako Medical Laboratories has rapidly become one of the most desired laboratories in the United States. Winning over 12 major awards—it has become a diagnostic partner for businesses, physicians, urgent care facilities, and many hospitals around the United States. Additionally, Mako Medical Laboratories has recruited the top Ph.Ds., chemists, and scientists to provide industry-leading innovation. Mako Medical Laboratories has developed many custom and proprietary tests and uses robotics/automation to improve precision and accuracy.
Passion for making an impact and helping others.
Like any start-up, Mako Medical had its own share of struggles. Lack of funding, lack of resources, lack of assets, massive competition, logistic issues, operational issues, and many unique challenges found in healthcare. But the driving pierce behind the team's determination and focus was their passion for making an impact and helping others. The team stayed focused on the why and not what, which allowed Mako Medical to tackle many setbacks early on. Since then, Mako Medical experienced rapid growth and has won many awards in this category. It is the only company ever to win the Fast 50 #1 three years in a row. It is also placed 284 on Inc. Magazine's Inc. 500 list and has experienced record-setting growth in last few years.
Creating a world class patient experience
Mako has heavily invested in state-of-the-art instrumentation and technology. Chad says they utilize industry leading next generation sequencers and next level RT-PCR systems for targeted discovery of genetic markers. Just to give a number, the team at Mako Medical Laboratories can process over 3100 different clinical laboratory tests. The firm's custom reporting, in-house logistics team, and focus on every detail has created a world class patient experience. Healthcare industry is dominated by two large mutual-billion-dollar giants which makes it challenging because Mako Medical's competitors are well funded and have a national footprint, says Chad. Mako Medical competes by focusing on service. "Every detail is important, and we know it impacts the patient experience. Mako Medical also innovates new processes and technology. This has given our team a competitive advantage," Chad adds.
Today, Mako Medical Laboratories is passionate about making an impact in people's lives both locally and around the world.  The firm spends thousands of hours volunteering with local nonprofits. Additionally, Mako has donated millions in FREE medical services to those that don't have access. Currently, the company supports over 472 local nonprofits and charities (military service dogs, homes for the blind, disabled, special needs children, horses for those that are paralyzed, veterans, cancer research, etc.). Mako proudly employs only military veterans for many positions, and Mako over 80 Christian missionaries around the world.
Finding the best talent & getting them on-board
Chad's vision for Mako Medical is to be the most desired place to work in America. "We know if we can achieve this— all of our other goals will be met. We also want to continue to disrupt healthcare. The industry is ready for new competition," he further adds. Talking about entrepreneurship, Chad says, "I have always been an entrepreneur. I have started several businesses in the past. When you are young you focus on more basic services like washing cars or landscaping. Over the years it progressed to more complex opportunities in construction and healthcare." Chad's main role is recruiting while the teams run the company. They make the day-to-day decisions. His focus is on finding the absolute best talent and getting them to join Mako. He also focuses on the strategic direction the company is headed in.
Continuing to disrupt the healthcare sector.
Chad believes work and its responsibilities blend into personal responsibilities. For him, it's blended life. He enjoys what he does and considers himself blessed to be given these opportunities from the Lord. He wants to make a positive impact with everything he does. "Watching all the good work Mako Medical has done by supporting local nonprofits, charities, and hiring military veterans. Our team stays motivated because as a group we focus on the why not the what. At Mako Medical— we are all passionate helping others. This is what motivates us every day," Chad says. The core of Mako Medical is innovation and technology. He believes this will allow Mako to disrupt the pharmacy space like it disrupted the lab industry. His goal is to be one of the top healthcare companies in the next 5 years. With every passing day, Mako Medical continues to expand into new markets with the addition of new services. As the world finds itself the test of survival, the role of companies like Mako Medical becomes vital.