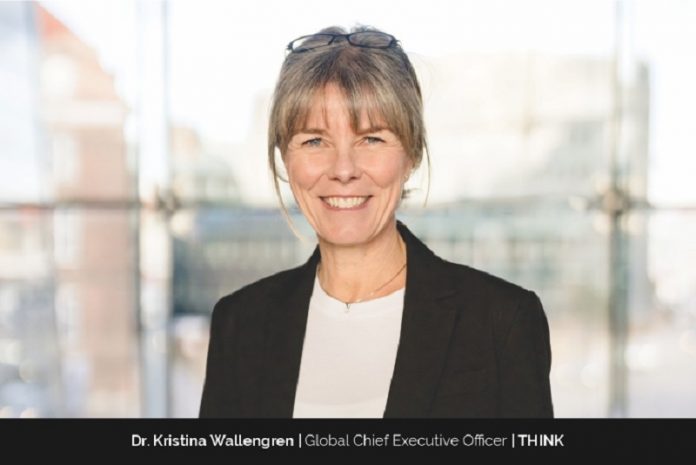 Scientist, Public Health Expert, Businesswoman, Adventurer – these are just a few of the terms that describe Dr. Kristina Wallengren, Global Chief Executive Officer and Founder of THINK, a not-for-profit organization that aims to make a difference in vulnerable people's lives locally and globally through Research, Capacity Building, and Health Systems Strengthening.
From Global Nomad to Visionary Leader: Charting a Course for Impactd
Born in Stockholm, Kristina's family moved to Argentina when she was just a year old, followed by seven years spent living in Mexico, Spain, and Saudi Arabia, because of her father's work as a civil engineer. These diverse environments, cultures, and experiences shaped her dreams and aspirations, making her fluent in English, Spanish, and Swedish. They also exposed her to the vast inequalities that exist in our world.
Returning to the opportunities afforded by Sweden's social democratic system, Kristina had access to free education and strong social welfare during her formative years, helping her make choices based on her interests rather than chasing financial security. Witnessing the disparities she had encountered during her international upbringing, and being influenced by a mother who was a midwife, she felt compelled to dedicate her life to helping others.
"My intolerance of inequity and the suffering it causes drives my pursuit of a better life for all."
Kristina's fascination for science began as a teenager in the 80s, when she came across a magazine that spoke about DNA-hybrid technology as an innovative possibility to cure genetic diseases as early as in foetuses. This prospect fascinated her and it seemed like an exciting way to make a difference.
Inspired, she took a Bachelor of Science in Microbiology at Umeå University in northern Sweden, and a Ph.D. in Molecular and Cellular Biology at the Swedish Nobel-prize awarding Karolinska Institute in Stockholm, developing viral vectors for gene therapy, just as she had set out to do! The technology she worked on is now used in RNA vaccines for COVID.
After completing her Ph.D., Kristina took a gap year and sailed across the Pacific Ocean covering 15,000 nautical miles in a period of 1.5 years. She started by hitchhiking on boats from Panama to New Zealand, in the company of cruisers and people sailing around the world, and ended up getting a job in New Zealand to sail an 80-foot yacht to Alaska.
Embarking on a remarkable odyssey, she explored remote islands and immersed herself in a tapestry of cultures, encountering numerous adventures along the way, ranging from hunting for hidden caves following Thor Heyerdahl's books, scuba diving in pristine (but shark-infested) waters, to discovering old ruins and temples, calving glaciers and having black bears watching them from the shore. This incredible journey not only offered her a chance for introspection but also reinforced the importance of collaboration and problem-solving, as the crew members' lives depended on each other in the close quarters of a sailing boat.
Kristina had set out to rescue unborn babies from cruel, inherited diseases, but after 10 years of lab work, she felt like she was saving the world one dust particle at a time, at the rate they were landing on her hard-earned scientific publications in some ancient academic library. So she took a short course, in International Health at Karolinska Institutet, with Professor Hans Rosling, one of the 100 most influential people in the world in 2009, and the author of 'Factfulness'. He pointed her towards a Master of Public Health at the Harvard School of Public Health.
During her travels, Kristina was exposed to public health initiatives in the places she visited, such as contraceptive distribution in French Polynesia and freshwater management on the Tuamutos. This fuelled her passion for global health, and she eagerly anticipated her upcoming studies.
"I am driven by a genuine desire to make a difference."
Discovering a Passion For TB Research and Intervention
Following a Master of Public Health at Harvard, Kristina stayed on at Harvard for a postdoctoral fellowship as a Research Associate in the Department of Epidemiology, delving deeper into Tuberculosis, the world's top infectious disease killer which disproportionally affects vulnerable people. Kristina's own grandmother survived in Sweden in the 1940s, thanks to the first drugs developed for TB.
Kristina's passion for TB and wanting to make a difference led her to South Africa, where she investigated the relationship between genetic risk factors and TB at a rural hospital in Pietermaritzburg. This work positioned her in the KwaZulu-Natal province of the extensively drug-resistant Tuberculosis (XDR-TB) outbreak that hit the global news in 2006.
She soon became the Technical Advisor for the World Health Organization (WHO), conducting a situational analysis that brought XDR-TB into the global spotlight for the first time but, more importantly, uncovered the enormous burden of drug-resistant TB and the unmatched need for treatment. This led South Africa and the WHO to revise the standard of care, and international guidelines to recommend decentralized patient-centered care to increase access and availability to treatment.
As an epidemiologist, Kristina has had the privilege of conducting TB and HIV assessments in numerous countries, including Tanzania, Bhutan, East Timor, Thailand, and Lesotho, each of which enriched her understanding of public health challenges and the strategies needed to overcome them. She has also contributed on various global platforms to end TB, including as a member of the Technical Review Panel of the Global Fund to Fight AIDS, Tuberculosis, and Malaria.
Earning Recognition as a Researcher and Businesswoman
While Kristina has been acknowledged multiple times as a researcher and businesswoman (numerous publications, conference invitations, and the KZN TOP Business Award), the best recognition that she feels she's received as a leader is seeing people around her grow and blossom in their profession. Being able to get out of the way, lead from behind, and take the front when there is danger (to quote Nelson Mandela) is her best accolade and tribute to having done her part well.
Kristina also feels very honored by the dedication that her professor in International Health at Harvard, Dr. Paul Farmer, made to her when she presented her work at a conference in Beijing in 2013, with him in the audience. Afterwards, he gave her a copy of his book 'Haiti, After The Earthquake' with the dedication: "For Tina, with deep admiration for your remarkable work in KZN (KwaZulu-Natal Province of South Africa) – which will, and surely has, saved lives."
Overcoming Obstacles to Find Solutions for TB
Kristina had the opportunity to work at the intersection of basic science and clinical research in South Africa, a country burdened with one of the highest rates of TB and HIV in the world. The opportunity to combine the best minds and resources to address pressing global health issues where they were most prevalent was met with obstacles and red tape and threatened to impede their progress.
Rather than concede to these limitations, Kristina founded THINK, an NGO dedicated to unlocking the full potential of cutting-edge research in finding solutions for TB and its devastating consequences in the regions that needed it most. By bridging the gap between academia, policy, and action, she was convinced they could make a tangible impact in the fight against TB, improving the lives of countless individuals.
"This experience taught me the importance of staying committed to your 'why', embracing challenges, and adapting to overcome roadblocks. Founding THINK is testimony to the difference one individual's determination and vision can make. It's also evidence that we can create so much more by working together," Kristina asserts.
"I am impatient and will not rest until I have made a difference."
The Journey to Becoming a Non-Profit Entrepreneur
Kristina founded THINK as a non-profit company (NPC), also registered as Public Benefit Organisation (PCO) in South Africa (2013) and in Denmark (2022). Its founding purpose was: "To make a difference in the lives of those affected by TB and HIV; Research is the way we know how." Today, the organization has broadened its scope and purpose: "To improve the health and well-being of vulnerable people locally and globally."
As a scientist who "segued into leadership," Kristina remarks that her 'super-power' in founding THINK was her combination of expertise and naiveté. On one hand, she was a recognized expert in Research and Public Health, and on the other, a complete novice in Business and Entrepreneurship. "Had I known then about the struggles and sacrifices ahead, I would have never started THINK in a million years. Yet, looking back, I would have never, ever, done it differently," she maintains.
In the early days of entrepreneurial life, asking for help and outsourcing HR and financial management to experts helped Kristina focus her time and energy on the two things that she does best; 1) Applying her technical expertise to make a meaningful impact in the lives of people affected by tuberculosis and HIV, and 2) Using her skills to inspire support and engagement among stakeholders and collaborators. Even today, as the Global CEO, this is what characterizes her time.
With no start-up funds, they got a contract to conduct a clinical trial on new drugs to treat TB, rented a doctor's office at a hospital in Durban, and hired five people to run the trial, including Dr. Suzanne Staples (now THINK's Group Chief Science Officer), a whirlwind research coordinator (who now runs her own NGO 'Celebrate Life'), a nurse, a data officer, and an outreach officer. "Our early days were characterized by keeping our heads to the ground, doing the hard work, and letting the output speak for itself," Kristina recalls.
Since then, THINK has set up five dedicated clinical research clinics, created over 500 employment opportunities, and improved health care for 500,000 people in South Africa. By the time the non-profit celebrated its 10th anniversary, it had an international office in Denmark and was converting over 10 million USD of foreign investment annually into effective prevention, care, and treatment in Africa. THINK's holistic view of health and well-being has led them to also tackle Mental Health, Nutrition, and Climate Change as they envision healthy people on a healthy planet – namely Planetary Health.
"I believe in the power of each individual to create a ripple of change."
THINK: Where Research Meets Impact
Breaking the mold in the fight against tuberculosis (TB), THINK has made groundbreaking advancements in drug development and treatment protocols. In massive international collaboration efforts, THINK has been instrumental in bridging a 50-year gap in TB drug discovery, paving the way for more effective and less burdensome therapies.
Clinical trials conducted by THINK have helped develop three new drugs for TB and shortened the treatment duration for drug-resistant TB. As a result, the World Health Organization (WHO) has been compelled to update international treatment guidelines to reflect these remarkable achievements.
Before this, the treatment landscape for drug-resistant TB was grim. Patients faced a two-year course of antiquated drugs developed in the 1950s, requiring daily injections for six months, with potentially severe side effects like permanent deafness or psychosis.
Now, in collaboration with Médecins Sans Frontières (MSF), THINK has demonstrated the success of an all-oral, six-month treatment regimen with minimal side effects. But their influence doesn't stop there; THINK has also developed practical implementation guidelines, funded by TB REACH, to help countries adopt these new treatment protocols at the national level.
Moreover, THINK's extensive research portfolio extends beyond drug development to encompass biomarkers, diagnostics, prevention, social science, and health economics. Through their tireless commitment to both research and action, THINK is truly embodying their motto: "Where Research Meets Impact."
Strengthening Health Care Systems in Africa
Kristina explains that the healthcare cascade is like an onion, where each layer represents individuals lost at each step of the cascade. The outermost includes all the people who have TB, the second represents those who realize they need care (not everyone does), the third represents those who got the right test, the fourth is those who got the test results, the fifth those who started treatment… and so on, until you have a final core in the center of the onion representing the small segment of people with TB who were cured.
To address these gaps, THINK has developed innovative technological solutions. "It's like a database of things that were not done," explains Kristina. The Comprehensive Active TB Tracker (CATT) is a software system designed to systematically tackle shortcomings in healthcare delivery. Unlike traditional databases that rely on retrospective analysis, CATT serves as a real-time tool for healthcare providers to intervene when the window of opportunity is still open. This technology, developed in South Africa, has use cases even outside the continent and in other long-term or chronic treatment cases.
In South Africa, THINK supports the Department of Health at national, provincial, and district levels by implementing multi-dimensional TB and HIV programs. They deliver direct services, technical assistance, and capacity building. THINK's mobile clinics extend the reach of artificial intelligence to remote rural communities to power digital chest X-ray to screen for TB. THINK also provides COVID vaccination, HIV prevention and community outreach.
By harnessing the power of cutting-edge technologies, THINK is transforming public health in Africa. AI-driven diagnosis, Digital Health and GhatGPT solutions not only enable early detection and treatment but also empower patient-centered care and optimize resource allocation in strained healthcare systems. THINK's innovative approach is building resilient healthcare systems that deliver quality care and stand prepared for the challenges of pandemics and climate change. Addressing climate change is especially pertinent given the devastating floods that have disrupted access to healthcare facilities in several districts where THINK is active.
As THINK expands its activities across the African continent, its commitment to addressing wide healthcare needs remains steadfast. A diverse range of funding sources supports THINK's vital work, including USAID, Global Fund to Fight AIDS, Tuberculosis and Malaria, Médecins Sans Frontières (MSF), TB Alliance, Janssen, EDCTP, and Bill & Melinda Gates Foundation. With this support, THINK continues to make strides in revolutionizing healthcare practices and improving public health for vulnerable populations locally and globally.
Trailblazing Innovation and Metaverse Initiatives
While research and international development is on this innovative CEO's agenda, she has spotted the untapped potential of the Metaverse as a platform for doing good, recognizing its transformative capabilities beyond social media and gaming. THINK's pioneering of the Metaverse demonstrates its proactive, forward-thinking approach to expand its impact and improving health and well–being.
The Metaverse, an immersive digital environment, presents an ideal environment for building awareness, educating and providing information in an engaging and captivating manner. Through THINK avatars, the organization connects with younger generations, early adopters, and future users of social media platforms.
The first steps into the metaverse were realized through a collaboration with Virutall (https://virtuall.pro/) – a company on a mission to democratize the 3D internet, an initiative that will benefit non-commercial actors such as THINK. The aim is to establish an omnipresence in the Metaverse through THINK avatars and wearable NFTs across multiple immersive social media platforms.
THINK avatar merchandise and online events drive crypto philanthropy to support THINK's work globally. The organization's first set of wearable NFTs, a hoodie and wings, debuted at a fashion show in Decentraland, with all proceeds supporting their mission. This innovative initiative attracted additional donors from the fashion industry, including Hero by Ahlgreen, who co-developed a set of virtual wings visible through a unique filter, activated by the Hero logo as a QR code. As an on-request-only producer, Hero by Ahlgreen shares THINK's values of making the world a better place, reinforcing the message "You too can be a THINK Hero."
The purpose of THINK's Metaverse venture is to connect with users on their preferred virtual platforms, making use of the anonymity and security of safe spaces, allowing users to explore sensitive topics related to mental health, relationships, and sexual health, and connecting with healthcare services provided online or in real life.
This groundbreaking approach has generated significant interest and collaboration, allowing THINK to more effectively reach and support individuals in need with essential care and assistance. By capturing the attention of potential collaborators in the tech, investment, and health industries, THINK's innovative Metaverse initiative is sure to leave a lasting impression.
"I believe innovation is the only way to escalate impact and improve health for all."
Envisioning a Brighter Future
As the Global CEO of THINK, Kristina is future-focused, seeking new avenues for growth and impact. Despite significant strides in combating TB, their work is far from over. Her primary focus is to ensure that the non-profit remains at the forefront of innovation, constantly evolving and adapting to better serve those in need.
With a strong foothold in Europe and Africa, Kristina's ambitious plans for the future align with THINK's mission statement: "To improve Planetary Health and quality of life locally and globally." Its three main focus points are:
Strengthening North-South Partnerships: To harness the unique advantages and prospects provided by collaborative relationships between the Global North and Global South. By bridging the divide and nurturing mutual knowledge generation and exchange, we can unlock innovation and opportunities that make a significant difference to the people we serve. In fact, middle and high-income countries across the world have lessons to learn from innovations and experiences generated from the African continent.
Harnessing Advanced Technology: Drawing from cutting-edge advancements in AI, digital health, and data analytics, we plan to support resource-limited healthcare systems by leveraging these technologies, and alleviate the strain on overburdened and disadvantaged healthcare settings.
Expanding Our Focus: While our roots lie in combating TB — a disease intrinsically linked to poverty — the COVID pandemic highlighted the interconnected nature of our world. In response, we're extending our efforts to build resilient healthcare systems capable of withstanding climate crises and future pandemics, and broadening our scope to address pressing matters like mental health and well-being, nutrition and food security.
Through these strategies, THINK aims to create a lasting impact on the lives of disadvantaged populations and help shape a more equitable future for all.
"Innovate to escalate impact."
A Creative and Caring Leader Pursuing Her Dreams with Passion and Enthusiasm
Since Kristina established THINK in South Africa in 2013, it has expanded and now has an international office in Copenhagen, Denmark, from where it is leveraging its track record and experience in South Africa and beyond. As Global CEO, her primary responsibility is to provide strategic leadership and technical support for THINK's initiatives and build a diverse group of partners with a common mission to make a difference.
THINK measures success by the difference they make; they care that their work is of quality (not just 'done'); that a person is cured (not just treated), and that they make an impact (not just 'having been there'). Kristina views success as making a difference in another person's life. "This has been a personal quest throughout my whole life. Why? Because I cannot think of something that would count as more important," she insists.
With THINK's expanded vision and approach to health, they now also tackle Nutrition and Food Security, Mental Health and Well-being, and building resilient systems in the face of Climate Change. Kristina is therefore eager to foster collaboration with a diverse range of partners to drive innovation and leverage its capabilities to improve lives. Her most important mission is to actively seek partnerships with researchers and tech developers, academic and industry representatives, global development partners and fellow NGOs, with the shared goal of Planetary Health.
THINK collaborates with partners across the world to create innovative technology and tools that hold equal relevance for a tech-savvy Gen Z individual in Kansas and a Gogo (African grandmother) residing in the rural areas of KwaZulu-Natal. "By building a strong network of partners, exchanging experiences, and leveraging resources, THINK can make a significant impact on global health," Kristina maintains, sharing an African proverb, "If you want to go fast, go alone. If you want to go far, go together."
Kristina describes herself as "energetic," a word that encapsulates her unwavering dedication, determination, and commitment to creating a better world, even in the face of adversity. Often described as an "inspirational leader," she's someone who cares deeply and pursues her dreams with passion and enthusiasm. In addition to fostering collaborations, she brings technical expertise to the table, ensuring that her work drives the development and improvement of healthcare while remaining of the highest quality and aligned with best practices.
One of Kristina's most cherished responsibilities as Global CEO is to mentor and support emerging leaders within the organization. By nurturing their growth and strengthening organizational structures, she believes they can address the expanding needs of their community continuing to make a lasting impact on global health.
"Every life we touch at THINK matters. Our passion for improving health outcomes and promoting well-being, especially in underserved communities, is a testament to our unwavering commitment to creating meaningful change."
Mentoring & Nurturing the Next Generation of Change-Makers
Kristina doesn't subscribe to the concept of 'balance' between personal and professional life, as it inherently means that choices made in favor of one will be at the expense of the other. Instead, she chooses to bring all of herself to all areas of life. This means showing up authentically in every moment, and living her values fully in all spheres of life, self, family, community, and work so there's no energy 'cost' to moving between her circles.
"The energy I draw from work feeds positively into my family life, which in turn energizes me when I delve into work, where I don't pretend that work is all that matters. This creates a win-win situation and allows me to feel fulfilled and content," she remarks.
Kristina blends neuroscience and psychology to channel negative stress through exercise, self-care, and meditation and leverages positive stress to perform and get excited about future opportunities. She also gives herself the best baseline she can through proper sleep, nutrition, and recreation.
"I'm intrinsically motivated because I'm applying my capacity to my cause, and I know what I do makes a difference. I try to share this with others, by helping them find the space that's right for them, where they can flourish in the center of the Venn diagram, where they're utilizing their skills and talent, working toward a cause they care for, and are appreciated for their efforts. Hopefully, they find this space at THINK, and when that happens, we create magic together," says Kristina.
Looking back, she feels humbled and proud to see how their achievements have surpassed her wildest imagination, and feels that it's important to acknowledge how THINK's remarkable progress required the collective effort of dedicated people and the support of the global community.
"My role has been to unite skilled and passionate people around a mission to make a difference. This has resulted in amazing achievements in combating a devastating disease such as Tuberculosis and is a testament to our unwavering commitment to make a difference and improve lives," she declares.
In addition to these ongoing efforts, Kristina is passionate about nurturing the next generation of impact-drivers and is committed to mentoring and sharing her experiences and insights to empower others to make a difference in their chosen fields. As a keynote speaker, she aims to inspire people to be brave, do things differently, point to opportunities for innovation and collaboration to solve pressing global issues.
"I strive to be a lifelong learner, seeking opportunities to grow both professionally and as an individual. By challenging myself, I hope to become an even more effective leader and be able to generate an even more lasting impact," she proclaims.
Face Challenges with Resilience & Embrace Collaboration
"Following your passion and staying brave throughout your journey – while daring to do things differently – is so important. Your unwavering commitment inspires people, and your compassion ignites them.", says, Kristina.
"Adapting and forging a collective force breaks barriers and transforms lives. Together, we can create a legacy of meaningful, positive change."
"It is exhilarating to be breaking new frontiers as we put technology and AI to use for the greater good."