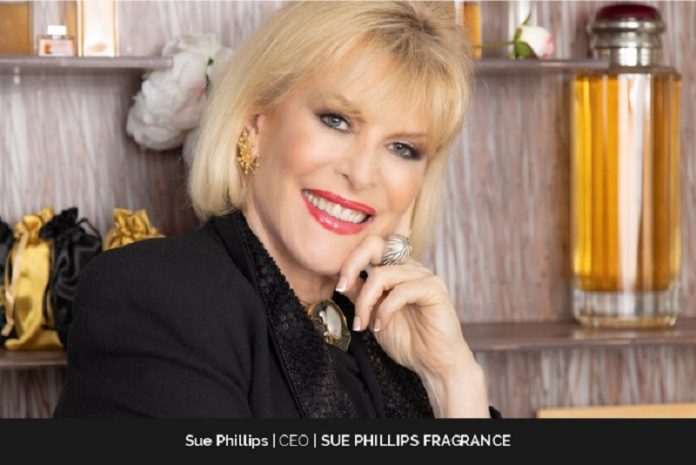 Sue Phillips, Founder and CEO, Scenterprises Inc., is an internationally renowned fragrance authority who believes that everyone's life can be beautifully enhanced through a personalized scent. She has been at the forefront of innovation, providing her clientele with high-quality goods and experiences, thanks to her passion, ability, and ingenuity.
Sue has created world class perfumes for major iconic brands – Tiffany, Burberry, Avon; as well as A-List celebrities – Jamie Foxx, Katie Holmes, Zendaya, Susan Sarandon, Marcia Gay Harden, Laurence Fishburne, Lisa Vanderpump; and Fortune 500 companies – AOL, BULGARI®, Google, Merril Lynch, MetLife, Pinterest, Wells Fargo, and Zurich Financial, for their corporate events.
Sue was chosen for her marketing skills by the global luxury cosmetic firms, Elizabeth Arden and Lancôme. Tiffany & Co. then employed Sue as VP Marketing Fragrance, where she oversaw the development, creation, and international launch of the popular TIFFANY perfume for their 150th Anniversary.
Sue started her business, Scenterprises Inc., and created and released fragrances for several well-known companies, including Society by Burberry, Burberry for Men, Diane von Furstenberg, and many others.
A love affair with acting
Born in Johannesburg, South Africa, Sue came from an artistic and musical family. At 10 years old, she was invited to audition for a Broadway-ty          pe theatre production of a British farce, produced by a very well-known theatrical producer.
Thus began her love affair with acting, and she went on to study Speech & Drama and became a professional actress and singer. Sue had always longed to go to London to study at the Royal Academy of Dramatic Art (RADA) but went to New York on a vacation and fell in love with the energy and spirit of the USA.
So, she immigrated there seven months later, and worked on becoming a permanent resident. Sue met several people – immigration attorneys, directors and producers – ultimately got her Green Card and was on her way to becoming a citizen.
Then, a headhunter told her that, with her background, accent, and presentation skills, she would be ideal for a position in the cosmetics Industry, and she landed a position at Elizabeth Arden as National Training Director.
Building a fabulous career in the cosmetics industry
Sue observes that travelling around America, setting up Training Schools to inspire, motivate, and present the Fine Fragrance products that Elizabeth Arden distributed, was the ideal experience to understand the regional differences that make up the USA.
"I was able to use my acting and presentation skills to generate interest in the perfume brands I was promoting, and I created a beautiful ambience with music, compelling visuals of the perfumes and ads, and inspired the Beauty Advisors, who couldn't wait to get back to the counters and promote and sell the perfumes they had just learned about," she recalls.
After two years in Training, Sue was promoted to the Color Cosmetics Department, and worked on 'color stories' with products for lips, eyes, nails, cheeks. "It was so much fun – what girl wouldn't love to sample 'girly' products?" she says.
Sue was promoted to Fragrance Marketing and knew that was where she wanted to be. After six years at Arden, she was recruited to become Marketing Director for Fragrance and Men's Grooming at Lancôme, where she remained for four years.
Landing a global leadership position at Tiffany & Co.
Then, as Sue recalls, the most wonderful call came in from a headhunter who recruited her to become the Executive Vice President of Tiffany & Co. "I believe that developing and launching the first TIFFANY perfume globally definitely marked the 'beginning' of my career," she says.
As the Global Executive VP of Tiffany & Co., Sue was able to change the direction of the perfume submissions they had been working on for two years, by going to Paris to collaborate with Jacques Polge, chief perfumer of Chanel, with whom they entered into a joint venture for manufacturing and distribution.
Sue recalls that it was an extraordinary experience being able to develop the first iconic TIFFANY perfume, and to go on a private tour of Coco Chanel's beautiful apartment 'atelier particulier' and walk in her footsteps.
"The fact that we won the Fragrance Foundation Award for the best perfume in limited distribution was indeed wonderful recognition," she notes.
"Make me a fragrance that smells like a love" – C H R I S T I A N  D I O R
Spreading her wings as a Scentrepreneur™
Sue observes that, interestingly enough, all the initiatives she has undertaken happened serendipitously and not strategically.
When she left Tiffany & Co. as Vice President, Fragrance, to have her baby daughter, Sue decided to work from home to take care of her daughter and established her global fragrance consulting company, Scenterprises Inc.
Sue defines herself as a Scentrepreneur® – and has even trademarked the term! Her first consulting project was to create and develop a fragrance brand for Burberrys, called "Society by Burberrys," which launched successfully at Bloomingdales, around the USA, and in London.
Next, she was retained by Trish McEvoy to develop and launch her first fragrance brand; after which she was hired by Avon to develop and launch "Beauty Begins at Home," a line of home fragrance and candle products. Sue then worked with Avon as a Project Leader for five years, helping them increase their bottom line by 10 per cent, which translated into millions of dollars.
"I felt that my entrepreneurial spirit and background was ideal for these initiatives and created a home fragrance brand for Diane Von Furstenberg, which was catalog/magazine, which featured about 350 products that I sourced, tested, and featured in the brochure," says Sue.
Although it was not easy to suddenly transition to a consulting role after being in Corporate, Sue really loved the aspect of working with different iconic companies to develop innovative branding strategies, products, and distribution plans for companies like Burberry, Avon, Lancaster, Trish McEvoy, and Oilily.
"It really fueled my 'entrepreneurial' spirit! I was also invited to become an Adjunct Professor of Fragrance at FIT (Fashion Institute of Technology), and a few years later to become an Adjunct Professor at LIM College. In addition, I was retained to become an Expert Witness in several legal distribution, trademark, and copyright infringements," Sue recalls.
She notes that the fact that she has had her own business for 33 years and has been able to sustain it – and continues to work on innovative strategic initiatives, products, and brands – has fueled her passion, and makes her a real Scentrepreneur™!
Through her company, Scenterprises Inc., Sue offers a range of innovative, fun, Scentertaining™ memorable events and 'experiences' in person, or via Zoom, with beautiful high-quality perfumes. She 'customizes' events for clients, such as:
Creating your OWN custom perfume for you, for a couple, for groups.
Celebrating a friend's birthday with a Gift Certificate to create their own perfume.
Gift Certificates for Custom Perfume 'experiences', e.g., Birthday, Anniversary, Sweet 16, etc.
Client Appreciation Events – for groups of 10 to 300 or more.
Employee Recognition Programs – to generate loyalty and gratitude from employees.
Team building & Corporate Events – that are ideal to develop team bonding and corporate branding.
Innovative Scent Dinners – curated by Sue, with you and your chef.
Holiday, Weddings, Bridal occasions – creating signature scents for the Bridal party.
Motivational and Keynote Speaking engagements.
Helping people recover their sense of smell from COVID Anosmia with her Scent Healing Kit.
"Perfume follows you; it chases you and lingers behind you. It's a reference mark. Perfume makes silence talk."- S O N I A  R Y K I E L
Helping patients with COVID Anosmia regain their sense of smell
Sue feels driven to create and develop winning fragrance brands for herself and her clients; and it was a huge blow when her lovely fragrance boutique, The Scentarium in Tribeca, closed during the pandemic, and her business basically shut down.
However, Sue bounced back to write a book, 'The Power of Perfume', and was contacted by NBC TV to inquire if she could help a COVID Anosmia patient who had not been able to smell for 15 months.
"Miraculously I was able to help her regain her sense of smell, and since then, I have helped over 130 Anosmia sufferers. My personal goals are to continue helping people with Anosmia; open my new perfume boutique, SUE PHILLIPS FRAGRANCE, which is on the Upper East Side; develop a collection of Sue Phillips perfumes to be distributed globally; as well as establish my Sue Phillips Foundation and develop fragrances to make a difference for humanity; to raise funds for Alzheimer's, Wildlife in Africa, and anti-Human Trafficking," she states.
Sue believes that the definition of Success is different for everyone; for her it relates to succeeding in a desired field and getting a favorable outcome; whether it means becoming a leader in your field, attaining vast sums of wealth, feeling a sense of satisfaction by loving what you do, and helping people due to the work you do.
"I never planned to be in the Fragrance Industry but developed a passion for it – creating perfume brands for iconic companies: Tiffany, Burberry, Avon, Lancôme and others. It has truly been an amazing journey, and I feel grateful to have also achieved a certain amount of success by helping people with Anosmia regain their sense of smell," she says.
Dealing with unwanted attention as a businesswoman
Sue recalls that, many years ago, when she first began travelling around the country, as National Training Director for Elizabeth Arden, it was quite challenging to be away from home about 90 per cent of the time – both from a standpoint of physical fatigue, and as an attractive woman in business.
The mere fact of checking into a hotel late at night, after travelling several hours, often caused unwanted attention and phone calls, especially when the hotel clerk would check her in, saying quite loudly, "Welcome, Miss Phillips, you'll be in Room 101."
The lesson Sue learned, whenever she checked into a hotel, thereafter, was to firmly instruct the concierge and desk clerk NOT to mention her name or room number when checking her in, as she did not want to deal with late night knocks on the door, or unsolicited phone calls.
"I do hope and believe that, with more and more women in business, instances like the one described here are few and far between. This never happens to men in business, so training guidelines should be implemented to deter these incidents," Sue recommends.
Another lesson she shares is that, if you find yourself in an uncomfortable situation, whether it is personal or in business, it is important that you speak up.
Just hoping and wishing that things will change never works out. Sue believes that effective, polite, yet firm communication is important in every relationship – whether it be personal or professional.
She observes that, if you're passionate about what you do, you'll overcome the obstacles that occur, because there are ALWAYS difficulties in business. But by being passionate, and loving what you do, the difficulties will be minimized.
"Perfume puts the finishing touch to elegance-a detail that subtly underscores the look, an invisible extra that completes a man and woman's personality. Without it, there is something missing."- G I A N N I  V E R S A C E
Expanding one's horizons leads to innovation in thinking
Sue has always believed that women are nimble, creative, and capable of taking on many different roles.
Her inspiration comes from her mother who was her role model, and the epitome of an accomplished woman – a singer, musician, amazing artist (www.2marvelous4words.com), wonderful wife, mother, a gifted homemaker, and hostess who entertained beautifully.
"There was NOTHING she couldn't do! So, I have always encouraged everyone on my team to go beyond their 'job description', and to be open to new experiences," says Sue, pointing out that New York has world class museums, art galleries, theatres, concerts, boutiques, parks, and restaurants to take advantage of.
"I urge everyone to immerse themselves in the culture, and to avail themselves of plenty of free, open-to-the-public art exhibitions, fashion shows, concerts, street fairs. It expands one's horizons and leads to innovation in thinking, and a shift in one's day-to-day-thinking," she observes.
Sue believes that one has always got to be open to new ideas, strategies and trends; and notes that the general thought process is, "But we've always done it this way, so it's been a proven success." However, following this path will certainly limit your creativity and success.
"I've always been open to new ideas, trends and initiatives. For instance, I'm now working on NFT's in the Metaverse. How will that work with fragrances? I believe it's important to take actual product and integrate it with NFT's to make it current, and at the same time limited, so that we create a demand," she notes.
As a Scentrepreneur® and a woman-owned business, Sue is responsible for the ongoing success of her business and her message to aspiring business leaders is to: Follow your heart, do the best you can, and realize that if mistakes occur, identify what happened, recalibrate, and start over.
"Making a mistake once is ok. But repeating the mistake is NOT! Take responsibility for your actions! Be passionate about what you do, pay attention to details, communicate effectively and often, and NEVER GIVE UP!" Sue advises.
Contact Information:
www.suephillips.com
info@suephillips.com
Instagram – @scentfullysue
Facebook – @SuePhillipsFragrance