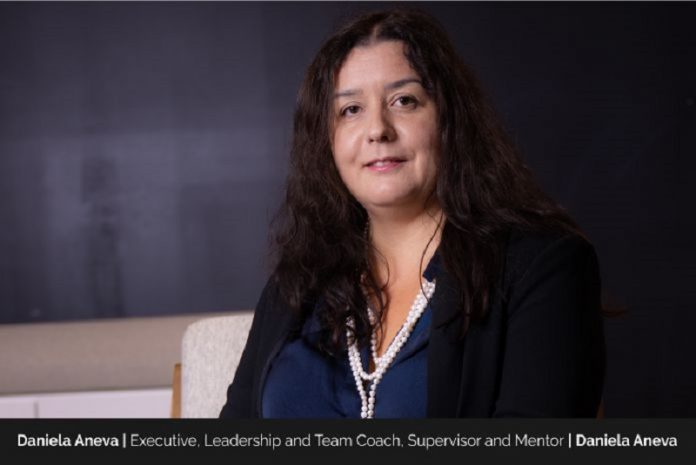 Correctly said, "Rome wasn't built in a day!" One does not merely stumble onto success. Every day, they must put forth the effort to achieve it. It is about Daniela Aneva's journey to being one of the Most Admired Women Leaders in Business, 2023, from her perspective as an Executive, Leadership, and Team Coach, Supervisor, and Mentor at Daniela Aneva. The business-savvy lady believes true leadership is about seeing the best in others and encouraging them to bring out their full potential by believing in them, being there for them, and helping them develop their skills. In her opinion, executives at the C-suite level require those qualities more than ever to effectively encourage, motivate, and guide others to carry out the company's goal.
The key for any thriving business
It is a unique role for Daniela Aneva to hold she is in charge of a team of employees worldwide. There's no question that it's a challenge, but the payoff is substantial. According to her, organizational priorities are continually evolving in light of the post-COVID recovery, economic conflict, and recession that have hit the global economy. There is no alternative for leaders to pause and take time to ponder and strategize as another treat waits behind the corner, adds Daniela. Coaching involves laying a solid foundation for resilience in businesses and their strategic leaders, which is essential given the ever-changing nature of the business world. She has the unique potential to create this foundation for enduring and influential team operations across all organizational levels as one of the few Team coaches accredited by the international coach federation and a Team coach supervisor. Daniela argues that for a team to grow more cohesive and productive, they must have time and room to talk to one another, figure out how to deal with change, and reflect on what they've learned.
Daniela Aneva Company and its services
In 2010, Daniela Aneva began as a coaching and consulting firm known as Develop U. Over time, it shifted focus from human resources and organizational consulting to management consulting and executive coaching. The transition was not a joyride, but it was praiseworthy.
Daniela explains how they implemented their newfound knowledge to grow the business. She summarizes, "The lessons we learned over time is that no matter whether we offer business services, we always peel the layers and find a need for behavior change or change of core beliefs. So, we shifted from training to a much deeper focus on team coaching and individual coaching."
As a result of the ongoing demand from multiple directions (including owners, shareholders, consumers, compliance regulations, branding and general market, peer and reporting pressure), executive and leadership teams often benefit from team coaching to improve their efficiency and alignment. When handling these dynamics, the Daniela Aneva staff keeps an eye on how they may become more welcoming and openly respond to the world's many different needs and opportunities.
The years of experience indicated a latent demand to share the team's wealth of knowledge and expertise by starting a platform dedicated to mentoring other coaches. Now that Daniela Aneva has done the supervision accreditation process with EMCC, it provides its clients with the invaluable chance to reflect on their practice and experiences during sessions, helping them grow as professionals and people. That's vital for team coaches and trainers, who often have to collaborate despite occasional disagreements or misalignment. Daniela Aneva's role is to provide a safe space to reflect on and address these issues so that they can give their clients the best possible service.
Professional Roadblocks
Pushing ahead through challenges shapes us. A quote that reads, "you cannot talk butterfly language to caterpillar people," inspired Daniela Aneva to run her business efficiently. She understood the need for evolution from the core level to reach the heights of success. The explanation comes from Daniela, who says, "To start speaking butterfly language, you must grow and evolve from a caterpillar. The same is true with kids – they learn to walk after falling, and we all will agree that our experience with COVID made our society stronger and the businesses more sustainable."
She held jobs as diverse as VP, COO, management consulting, and coaching while never compromising her principles. She recounts the people she coaches that their success or failure is a product of the system they operate in and that they should learn to investigate and maneuver within that system. Everyone needs to grasp the company's ethos, the dynamics at play, how those dynamics affect the individual and their teams, the client's or vendor's involvement in those dynamics and who the key influencers are. When people fail to take a systemic view and instead only consider their small corner of the world, they are often taken aback when events unfold in ways they had not anticipated.
Contribution to the redefinition of the industry of business coaching
Daniela Aneva is a person who takes a multifaceted approach to her profession since she is convinced that progress requires constant innovation. She reflects on an old interview she gave for one of the ICF chapters that said, "As I am one of those who always challenges the status quo, I wear my watch on my right hand. What can we do better? How does a coaching model apply in different organizational cultures, systems, and economic contexts?" In the field of human sciences, there is no universal solution. For a strategy to be successful, it must be tailored to the unique demands of a given company or individual. Depending on the needs of her clients, she employs CBT in her practice. Daniela uses techniques such as design thinking and gamification in addition to rapid transformational therapy, for which she won a prestigious Steve Award in 2018. Daniela Aneva's product stands out because of the innovative way she mixes her many credentials in career counseling, organizational development, operations, strategy and change management.
Initial years of career
Having begun her career in human resources, Daniela Aneva is proud of her former colleagues and employees, who are now prominent figures in fields as diverse as operations, retail, F&B, hospitality, healthcare, and software development. She revealed that she had also developed internal coaching programs for two of the world's top multinational corporations. Coaching clients included those at Google, Amazon, IBM, Capital One, Lurie Children's Hospital, the Air Force, Disney, Mars, Hilton, T-Mobile, Bank of New York Mellon, Workday, Deloitte, Dell, Accenture, and Stanford, among many others. From the start, however, she had a strong desire to see other people succeed. She aimed to make the world a better place for talented individuals through her work and prioritized accepting everyone. She has helped more than three thousand leaders in her career and now feels ready to go on to the next phase of her life, where she will teach other coaches how to realize their dreams.
Challenges as a woman entrepreneur.
Men dominate the corporate world. Daniela Aneva, a member of Chief and a top executive at the company, admits that it has been challenging for women to climb the corporate ladder. She confesses that she had a difficult time with the procedure but that it aided her greatly in comprehending her clientele. Many of her executives and leaders need help striking a balance between their personal lives and their professional ones. She understands the pangs of guilt associated with feeling when a woman has to sacrifice her family time because of her professional commitments. Daniela recalls how she missed her daughter's first tooth erupting while in Europe and Russia.
As an expert, Daniela Aneva knows how important it is to be there for women who not only deal with the pressures of interpersonal dynamics and gender prejudices connected to their incentives and levels in the workplace but also with the stresses of their own internal conflicts. So, she does everything in her power to remain by their side at all times.
The best recognition as a leader
In 2020, Daniela was recognized by Elite Business Awards as a top North American business community leader. Moreover, this year, she was invited as a trainer for the International Coach Federation Chapter in New Jersey's Mentoring program and the ex-president of the ICF, Damian Goldvarg's Team Coaching training.
Daniela Aneva considers that the success of her team, her clients, and the industry is the greatest testament to her leadership abilities. She recounts the various expressions of gratitude she has received for her devoted service. On Thanksgiving, a client sent her a message thanking her for being there for her during the tough times. A business leader who had been having problems with scheduling and prioritization for years wrote to her as well. She credits Daniela with saving her life and believing in her ability to overcome her self-limiting beliefs.
Daniela Aneva expresses her deep gratitude to everyone who has had a role in shaping her into the person she is today.
What's in store on the professional front
Regarding her business, Daniela Aneva is a visionary in planning for the future. She plans to grow Daniela Aneva and the company in the future to meet the demands of a dynamic market and help people who have been through or are going through layoffs. At the same time, she wants to focus on those who stay and support the organizations to manage the cultural shock and challenges such procedures cause.
Now the question is: What drives such endeavors? Well, it is quite an interesting nugget of knowledge that she shares here. In 2007, Daniel was a member of a team that restructured the army; the team provided career guidance to thousands of soldiers, addressed their anxieties, and helped them regain hope and find their purpose in life. There, she learned that individuals who managed to keep their employment were the ones who had the most significant influence on themselves. She adds how many of them suffered from imposter syndrome, a feeling of inadequacy that led to guilt and a loss of enthusiasm that ultimately hindered their work. Those are some primary areas Daniela Aneva and her firm wish to focus on in the future. Team coaching and Coaching Supervision will still be a significant emphasis for them as they aim to be able to help companies and teams through the turbulence of the financial slump they will go through.
The other significant change will be introducing a fully customizable approach in 2023, elevating the company to the "best in breed" position among vendors. It comprises a comprehensive analysis of the teams' and individuals' needs and mapping of the best method for each at an affordable cost.
She concludes that Daniela Aneva is starting several new alliances, so the upcoming year promises to be eventful.
Daniela Aneva, in a word!
'Fair.'
Daniela Aneva, when asked to elaborate on the term, says that it is fundamental to who she is and that she strives relentlessly to establish justice and harmony in all her endeavors. She is who she is because she always does the right thing, always gives her all, and always strives for balance within herself and the world. People who know her well recognize her emotionality and spontaneity, but also her love of planning and emphasis on predictability. Moreover, Daniela believes it is essential for the long-term success of enterprises and personal relationships.
The key to striking a balance between work and home
Maintaining a healthy work-life balance means striking a happy medium between work and personal responsibilities. To be successful in any endeavor, one must first understand their place. Keeping your job and personal lives balanced will help you feel less overwhelmed and refreshed to continue enjoying fulfilling relationships and a satisfying existence. Despite the importance of striking a good work-life balance, it can be challenging, especially if one is taking on greater responsibility in the workplace. Daniela reflects on her life to explain how she finds a middle ground between the two. In 2011, she worked 14-hour days because she had taken on too much. She managed two offices staffed by management consultants and participated in numerous business development meetings while also sitting on the board of one of the International Coaching Federation's local chapters. Ultimately, everything in her life, from her health to her relationships, had hit rock bottom. Due to her severe anxiety and eating disorder, she ended up in the hospital. The setback forced her to step back and start over from scratch. Nevertheless, she took note of her mistake and adjusted her priorities accordingly.
These days, she makes sure to take care of herself both mentally and physically. The children and her family are her top priority. She gets that one's status and outlook on life are intertwined with this concept. The adage, "Perfection is like the horizon; it doesn't exist," has become her guiding principle ever since. As a result, she was able to realize her full potential.
Personal/Professional Goals
Daniela Aneva notes that after she delivered last year, her body is still recovering from the changes it underwent. Her personal goal this year is to focus on improving her overall health. She needs to put considerable effort into the fitness and healthy eating categories.
On a professional level, she is providing her customers with a terrific program called Lifebook. 12 areas of one's life are audited in this method. From there, the client decides what to modify and how to make those adjustments. She uses this program in conjunction with Mindvalley, and it has had phenomenal effects on her clients as it provides a realistic framework for determining the best next steps.