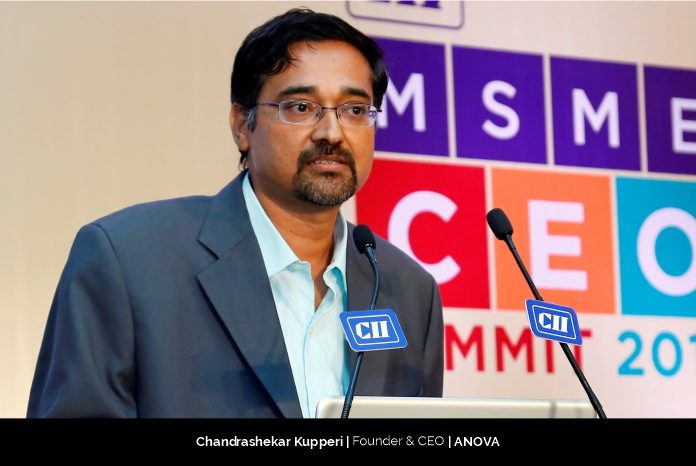 Chandrashekar Kupperi recognized his passion at a very early age. He comprehended the importance of statistics and numbers and decided to leverage his interest. This led him to embark on his entrepreneurial journey and ANOVA Corporate Services was born effectively in 2013. Under his resourceful guidance, ANOVA is a fast-growing corporate service company that specializes in Mergers and Acquisition (M&A) activities such as Transaction Advisory, Buy-side or Sell-side Opportunities, Due Diligence, Valuation, Financial Modelling, Fundraising, Re-financing and Re-structuring. Despite the challenges, Chandrashekar faced in the initial days, he was persistent to make a change and was successful in establishing himself as an influential personality with profound industrial experience and intellect. In this exclusive article Chandrashekar has shared a few success mantras that will help every entrepreneur to follow their passion with persistence.
What were your dreams and aspirations while growing up? What led to the foundation of ANOVA Corporate Services Private Limited?
As I was getting into my secondary school education, I got fascinated with mathematics and the numbers world! So, I chose 'accounting and finance' for my higher education to improve my ability to analyze and interpret data. Then with Chartered Accountancy and multiple finance related credentials, my fascination increased towards slicing and dicing of data!
This led me to seek interest in Investment Banking, as data analysis and insightful information is the core activity of Investment Banking. The employment and the industry experience provided opportunities to deal with varied businesses, and particularly intermix with the top management, which helps one to learn a lot quickly, besides developing a strong professional network.
As we know, the last decade has seen a surge in the number of start-ups, with Tech start-ups leading the way. Several innovative ideas have emanated, numerous business entities have come into existence, few of which were acquired by big players, and innumerable technologies continue to take shape in the form of business ventures.
With the burgeoning start-ups, there has also been a need for consulting companies that can bring fluency to processes by guiding them and the other small and medium enterprises with strategic outlook, financial discipline, ability to raise funds towards growth, and related aspects.
These led me to venture out in this segment, leading to the birth of ANOVA…
What were the initial challenges and setbacks that you faced?
To me, getting the Clients to accept that 'things could be different, and that different can be better' has been the toughest challenge!
ANOVA's larger strength has been in 'structuring' the requirement for the client. But then this calls for a different approach, and it has not been easy to persuade and convince the client(s) to adopt. To manage this, we spend significant time and effort with the Founders and the Senior Management, working closely without impacting their independence and focus on day-to-day operations. We simulate the end-result, mostly by citing appropriate illustrations, and are audacious enough to agree significant part of our fees based on successful outcome. This has resulted in enlargement of trust in ANOVA, as well as building a strong association.
Tell us in brief about the services of ANOVA.
ANOVA is an Investment Banking & Advisory business that provides value-added services to Corporates (including MSMEs and Starts-ups), both in India and Internationally. ANOVA offers Mergers and Acquisitions (M&A) Advisory and Fundraise services, besides Business Valuation, Financial and Commercial Due Diligence Services and Financial Modelling.
ANOVA also offers Strategic CFO services on selective basis, to empower Entrepreneurs and Business Owners with financial / commercial acumen and provide support in strategic areas.
What is the merger and acquisition and tell us the scope of it?
M&A helps businesses to ensure adequate capital and strategic initiatives for growth and better penetration into the market. With comprehensive expertise in various M&A activities, ANOVA works closely with customers, learning their business needs, and future objectives, in addition to liaising with advisors on the buyer/seller side to ensure smooth closure and transition. ANOVA acts as a single and cohesive platform to offer corporate strategy, corporate finance, business valuation, and deal structuring.
One of the inevitable parts of M&A is accepting or paying the right price for a business as it can affect the forthcoming profit outcomes. ANOVA helps the clients determine the right price to pay/accept for the business through its 'Business Valuation' services.
Additionally, to maximizing value creation for clients and providing strategic support on pre-transition and post-transition matters, ANOVA also provides:
Due Diligence (DD) & Vendor Due Diligence (VDD) services
The DD process helps buyers and investors to maximize value, minimize disruption and avoiding late surprises through disposal process.
DD Preparedness for Clients
The service helps sellers be prepared for M&A / Fundraise for the business.
How do you define the growth of the company over the past few years?
As I started, I chalked out a journey which would secure our growth, but in a consistent and phased manner.
The last seven years has exactly been along these lines…we have been growing in a consistent manner, and with increasing learning curve, we have been able to iterate and pivot better in terms of how we are able to offer our services and meet the requirements pragmatically.
Being Sector-Agnostic, ANOVA has completed assignments across various sectors including: Manufacturing, FMCG, Luxury Brands, Healthcare, Hospitality and Technology-led / Tech-Enabled businesses.
Select Recent Transactions advised by ANOVA include:
Divestment of Novascotia Boutique Homes to OYO Rooms, India's largest Hospitality company
Divestment of majority stake in Helicord Transmissions, India, to Megadyne Group, an Italian manufacturing major
Recent successful fundraise assignments include Fin-tech start-up Hotfoot Technology Solutions, early-stage Diagnostic company Acculi Labs (Lyfas), Business Intelligence start-up Veratech Intelligence
Besides the above, we have carried out numerous Business Valuation assignments, both in India and Internationally, including for the portfolio of a Private Equity. We have also carried out Financial and Commercial Due-Diligences and are continuing to work with Start-ups across sectors.
How does ANOVA Corporate deal with competition?
ANOVA predominantly works with mid-size Corporates and early stage companies. We believe that the consistency in growth for these businesses truly occurs only when we can successfully address and increase their confidence to handle changes, via periodical mentoring and being strict in not compromising on financial discipline.
Given this perspective, ANOVA helps its clients make distinctive, lasting and substantial improvements in their performance and supports them to achieve:
Assessment of the business position and prospects.
Providing the right valuation opinion and expectation that bridges the gap between aspirations and practicality.
Finding the right fit between investor, investee and creating a philosophy-value synergy by the right match.
Structuring the deal to ensure the right execution and transition during the said change.
ANOVA spends quality time with the client to co-design and conduct a process for (1) building an agreement about what steps are necessary, and (2) establishing the momentum to ensure these steps are acted upon.
We work with the clients not only towards helping them act, but also giving them enough support and momentum to achieve their objectives.
Along with acting right and responding according to the changing market dynamics, it is the achievement-oriented and customer-centric strategy that helps ANOVA maintain its consulting services at upmost standard.
What is your vision for the company?
ANOVA's vision and strive is to become a leading Investment Banker, and a brand well-known globally by 2025.
ANOVA is constantly striving to reach beyond the horizons and in that pursuance, it aims to get involved in larger transactions and move towards creating many more cross-border transactions. It also plans to extend its corporate advisory services segment to support larger corporates including MNCs and help them mature in business process optimization and efficiency in financial information management and utilization by mentoring them and helping them build a system.
ANOVA has also been working towards its vision of employing and training incumbents, especially from non-ivy league institutions, to generate and contribute towards employment in the Corporate Finance/Investment Banking segment.
Give us a brief of your life before ANOVA
I have almost two decades of experience in various multinationals with diversified sector experience – FMCG, Life Insurance, Audit & Assurance and Oil & Gas sectors. My last stint was as Group Finance Director with Lornamead Group, a UK-based multinational in the FMCG space which owns well-known personal care brands (such as Yardley of London, Finesse, etc.). My prior stints include various finance and related positions with MNCs such as ExxonMobil, KPMG and Henkel India.
With a rich experience in the FMCG/Consumer space, I have led / been part of over 11 Acquisitions and 6 Divestments, besides re-structuring and re-financing transactions in North America, Europe and India.
Tell us about your roles and responsibilities as the Presiding Head of ANOVA Corporate and how does it make you feel?
To me, this role is a gift and a great responsibility. I feel accountable to the team members and my clients including the potential customers.
The roles and responsibilities are vast so let me focus on the ones that are most critical.
The key aspect of my role with the clients is to discuss a pragmatic solution with them, and to hear them out to ensure that the advice befits the situation. I call it a responsibility, as the solution should not purport to be merely a temporary solution. It needs to bring about a permanent and progressive change over a time period. Now that's the responsibility I carry…
To my team, I have a huge responsibility, as apart from ensuring continuous learning, I need to create the deservingness within the organization to succeed and not just desire to succeed! More importantly, the focus is to create aspiration to grow as an organization and cherish the team cohesiveness.
What are your greatest achievements?
I have had two decades of work experience in multinational organizations and travelled reasonably well.  Therefore, I would like to submit that I consider my entrepreneurial journey itself as one of my achievement, as I chose not to confine myself to the comfort zone of a corner office!
Reason being, in organizations one usually accomplishes, which means getting things done collectively. But as an Entrepreneur, especially in an advisory role, the focus is on 'achievement', which is to get things done 'right' as the client is completely dependent on the advice! So, I better be right!
The following recognitions does help in gaining confidence that the direction of the journey has been right and rewarding:
'Outstanding Entrepreneur Award' at the 5th National Entrepreneurs' Day Award (NFED), 2018
'First Award under SME Services category' at 13th National Awards for Excellence in Cost Management, 2015
The Secret Weapon Award by Barclays for outstanding contribution during the Divestment of Lornamead Group to Li Fung (2012)
Awarded by National Conference on Sustainable Development Goals (MSSW) for outstanding contribution in the field of Corporate Services.
Rashtriya Udyog Ratna Award for "National Economic Growth through Individual Contribution" by the National Organization for Commerce and Industry (2012)
I have also become an active Angel Investor (investments made in start-ups across segments including HealthTech, FMCG, ConsumerTech, Media, LogiTech and FinTech) and serve as non-executive director in mid-size companies, both in India and abroad. Besides this, I have also invested through institutional angel funds including 1Crowd, LetsVenture and IvyCap to be able to screen and support the deserving Start-ups.
How do you manage to balance your personal and professional life? Describe yourself in one word and tell us what inspires you?
The reality is that I have been able to toss myself better between personal and professional life only in the past two years! The first five years have been in laying ANOVA's foundation. Since the last two years, I have been able to prioritize my timings and have realized big time that clock management on personal and professional life never helps, but what truly helps is 'being fully present in those personal or professional moments' that helps one balance life effectively!
I would describe myself as 'persistent' and I get self-inspired in those moments and rise-up decisively after every situation which has not gone my way…I believe bouncing back positively and strongly to every unfavorable situation is the spirit of an aspirational and growth-focused Entrepreneur.
What keeps you and your employees motivated?
The driving force for us is the below mentioned three-pronged approach, and we call these as our 'standards', which we have collectively embraced as a team. They are:
Be Different: How does our support to a client lead to a positive impact?
Be Committed: How does our approach delight customers, ensures continuous improvement and result in customer connectedness?
Be Strong: How well is the ability of the explanation offered responsive enough to changing circumstances and result in actionable solutions?
These standards have been the pillars of our motivation.
What does the future of ANOVA Corporate look like, globally? How do you plan to widespread the company services?
Five years down the line, ANOVA would be actively engaged on corporate advisory matters with larger corporates across the globe. We will be largely helping them mature in business process optimization and efficiency in financial information management. As said earlier, ANOVA's vision and strive is to become a leading Investment Banker, and a brand well-known globally by 2025.
To top this all, we believe the day of managing our 'own' fund is not far away!
The team of ANOVA aspires to be a global brand and impact a change with innovative approaches, which are both rewarding and inspiring. Being different, committed and strong is their motivation and under the excellent guidance of their leader, Chandrashekar Kupperi, ANOVA will certainly achieve their goals leaving trails of success stories for the world to learn.