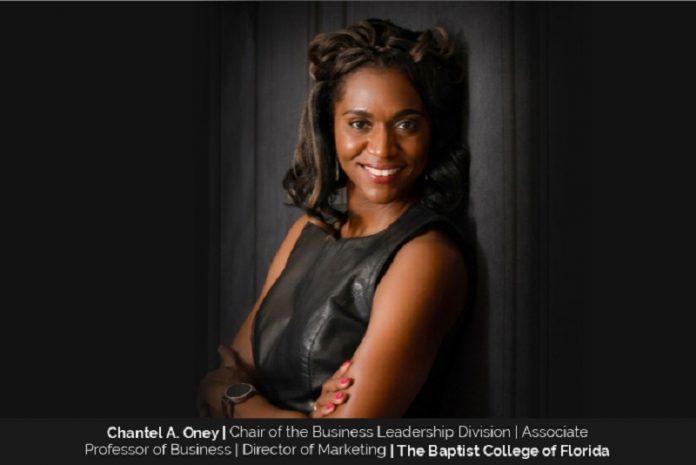 Chantel A. Oney, Chair of the Business Leadership Division, Associate Professor of Business and Director of Marketing at The Baptist College of Florida (BCF) comes from a military background. When she was three months from graduating high school, she had an epiphany that she was not ready to go to college.
So, she joined the United States Air Force (USAF), which she considers one of the best decisions in her life. As a result, she met some amazing people, traveled a bit, and was a part of the honor guard. She also received multiple military awards, and the military paid for most of her education.
Making An Impact on Christian Business Leaders
Growing up, Chantel had strong dreams of becoming a criminal defense attorney in New York City, as she always enjoyed the workings of the law. In her junior year of high school, she was fortunate to attend the National Young Leaders Conference (NYLC) in Washington D.C., where along with a few hundred high school students from across the country, she learned more about the lawmaking process. This week-long conference only fueled her desire for becoming an attorney.
"I always thought that I would end up in Washington D.C. contributing to this world, but the Lord has me right where He wants me." By His grace, He allows me to operate in a context where I am making an impact with the next generation of Christian business leaders to make His name known," she states.
Becoming a part of the BCF family was originally not a part of Chantel's plans. Her husband was called into the ministry in 2001, and he desired to further his education and desperately wanted to receive seminary training. He took classes with BCF primarily online, but due to work, he was only taking one or two classes at a time. By late 2009, he believed that it was time for their family to move so that he might pursue his degree full-time.
"I was quite hesitant, which is probably an understatement, but in July 2010, we moved from Panama City, Florida, with two small children to Graceville, Florida. As a result, I enrolled in classes and completed my undergraduate degree from BCF in Business Leadership. With that, I would say that my greatest accomplishment was completing my dissertation with four children," Chantel recalls.
A Premier Christian Educational Institution Providing Bible-Based Training For 80 Years
BCF is currently in its 80th year which speaks not only to the institution's longevity but also its character and integrity. When BCF was founded in 1943, its purpose was to provide Bible-based training to men and women, and for 80 years, it has not wavered from its original intent.
"In my opinion, this has solidified the institution's stance in higher education. For any entity to be successful, its vision statement must show a sense of purpose and meaning in how that organization will contribute to a larger context. A vision statement helps people to not only see how they can be a part of that organization but also stimulates them to act," Chantel maintains.
For BCF and its new presidential leadership, she sees a strong sense of synergy and liveliness that has reinvigorated the faculty, staff, students, alumni, donors, and Florida Baptists. On November 14, 2023, the college will receive university status and become the Baptist University of Florida.
BCF offers 19 degrees, is accredited by the Southern Association of Colleges and Schools Commission on Colleges (SACSCOC) and is licensed by the Commission for Independent Education (CIE), Florida Department of Education.
The degrees range from associate, bachelor's, to master's. While the institution's primary focus is still on training men and women who are called into Christian ministry and service, the college also offers degrees taught from a Christian worldview in Business, Education, and Psychology.
As Chair of the Business Leadership Division, the students that sit under Chantel's teaching are her priority as they expect her to come to class prepared and be eager to teach them. She is responsible for the supervision of all professors within the division, curriculum development and assessment, program quality, and review of the Business Leadership degree.
As related to the Director of Marketing, Chantel's role is to oversee the marketing strategies and implementation and marketing staff of BCF. This includes but is not limited to, social media, advertisements, communications, websites, graphic design, press releases, publications, special events, rebranding campaigns, etc.
"The role of marketing is extensive and changes rapidly. As I tell those within the department, our work is visible and valuable, and we do not get a redo. We must be intentional in how we present the college to our stakeholders and the marketplace," Chantel observes.
From the expansion of BCF's current main campus to a second main campus on the peninsula by the 2027-2028 academic year and new sites in Miami and Clearwater, the possibilities for the soon-to-be Baptist University of Florida are endless, and Chantel is thankful to be a part of the work.
The institution has plans not only to expand its locations but also its degree offerings by adding a Master of Business Administration (MBA), a Master of Divinity (M.Div.), and a Master of Education in Curriculum and Instruction (M.Ed.).
BCF will partner with private Christian schools to train and educate the next generation of Christian pastors, worship leaders, missionaries, authors, business leaders, counselors, and teachers. "When looking towards the future, the Baptist University of Florida will be the premier Christian institution of higher education in the state of Florida," Chantel proclaims.
Overcoming the Challenges of Completing Her Education
Among the many challenges that Chantel faced, she did not have to confront any external challenges being a black woman in higher education. As she received her undergraduate degree in Business Leadership from BCF, she serves at the very institution where she is a graduate. As a result, she felt very comfortable and familiar with coming into the space of higher education and working there.
"If anything, I had to confront those internal challenges and personal pressures such as: Am I good enough? Can I do this? Do I know enough about the subject area? How can I solidify myself in this space? Those were my challenges," Chantel recalls. She remembers that completing her dissertation was a challenge, and there were many tearful days and nights when she never thought that she would complete her research. She had two children when beginning her dissertation, and two more while writing it.
"I do not recommend that for anyone, and this was on top of chairing a division," Chantel observes. "Other than my faith, I had an innate drive that I wanted to finish. I wanted my children to see what was possible. I did not want to quit just because it was difficult. In addition to my faith, and a passion to finish what I started, I do believe that mentorship was extremely valuable during that time. I had some great people pouring into me, encouraging me, and challenging me personally, academically, and professionally. To be honest, this is what I do with my students now."
Shaping Christian Business Leaders into Well-Rounded Adults
Chantel believes that the definition of success is subjective, as people attribute a multitude of personal factors to their success, such as their upbringing, socioeconomic background, values, and beliefs.
"My view of success is multifaceted. First, and most important, is that I believe my success is rooted in my faith. I am unapologetically a follower of Jesus Christ. With that, I believe that nothing happens to me whether good or what some may consider not so good, without God's direction. He is the reason for where I am today," she insists.
While Chantel did face unpleasant situations that shaped who she is today, she is grateful even for those unwelcomed trials because the difficult moments in life caused her to dig deep and lean into her faith even more. She also has a very strong internal locus of control and believes that, to a certain degree, her actions and efforts are a contributing factor to what happens in her life.
"Yes, I am a Christian, but I am also required to work," she declares. "While there are some opportunities that are happenstance, for the most part, I must be a diligent worker. One of my life Bible verses that relate to being a diligent worker, and that I underscore to my students, is Colossians 3:23-24: Whatever you do, do it from the heart, as something done for the Lord and not for people, knowing that you will receive the reward of an inheritance from the Lord. You serve the Lord Christ."
When looking at these verses in their original context, Chantel notes that the writer is encouraging the people to demonstrate Christ in all things. For the follower of Jesus Christ, this means exemplifying Him in all relationships in the home with one's spouse, with one's children as well as in relationships outside the home with one's employers. "This verse does not negate my employer, but rather stresses that my work for my employer will flow naturally out of my relationship with the Lord," she explains.
Finally, being in higher education and working with undergraduate students from various backgrounds, Chantel derives her definition of success from seeing her students graduate and develop into well-rounded young adults.
"The needs of students are different; therefore, as a professor and academic advisor, my work extends beyond the classroom," she elaborates. "I have to remain cognizant and observant of them. I believe that grades are only one of the strongest indicators of challenges in a student's life. For example, if a student's grades suddenly decline or the student has chronic absences or stops participating in student activities, I have a responsibility to find out what is going on with him or her."
For Chantel, the development of students spiritually, personally, and academically are markers of success. Typically, graduation day is bittersweet for her because she gets to see the students in the lineup and hear their names being called. At the moment her student walks across the stage, she experiences a flashback of when the student first arrived on campus, and how the student has grown into a young adult. "It is that moment that brings both tears to my eyes and a sense of gratitude that the Lord has allowed me to be a part of His work in shaping Christian business leaders for His glory," she reflects.
A Strong Sense of Passion for Faith, Family & Work
Describing herself as passionate, Chantel notes that, while many things get her excited, three things, in particular, evoke a strong sense of passion in her: her faith, family, and the place where she serves (BCF) to train young men and women in Christ-centered business principles.
Based primarily in Fayetteville, Georgia, most of Chantel's work is completed remotely, although she travels to campus about three times per month. Married to a wonderful, God-fearing man, she is also a mom of four precious and amazing boys aged 16, 14, six, and four, who keep them both busy.
Her day typically begins at 4:00 am, and she tries to get an hour of morning quiet time with her Bible, journal, different color pens, and if engaged in a topical study, some kind of preformatted book. By 6:00 am, she is getting ready for the day, making breakfast, and preparing the kids for school.
By 9:00 am, she is in her home office working and usually breaks for lunch and afternoon pickups around 2:00 pm, but typically, her workday does not end until 7:00 pm.
Recognizing the student-related challenges that can occur with her being remote, Chantel meets frequently with her students via Zoom or Microsoft Teams to lessen the disconnect and keep them motivated. Mondays and Wednesdays are reserved for marketing and administrative duties, meetings, and grading, while Tuesdays and Thursdays are teaching days. Her first class begins at 9:00 am, and the last one ends at 2:20 pm, so her days are student-focused and classroom-centered.
"Overall, I think managing my schedule has worked well, but I try to stay flexible. As far as work-life balance, the Lord's hand is always evident," Chantel remarks. "I am also a proponent of daily exercise. With that, I try to strength train about 45 minutes each day after my quiet time. To keep me motivated and my mind sharp, my quiet time and exercise are extremely important to me. These two intentional activities set the tone for my day."
Find Great Mentors & Ask Questions
Commenting on her personal goals for the next few years, Chantel says, "I love the Lord's Word. Before my family's move to Georgia, I was fortunate to be a part of a dynamic group of ladies in my local church. I was a regular Bible teacher in that class, so I have a strong desire and passion to lead women in God's Word. I would love to teach again. In addition to teaching women's studies, I hope to continue in more academic research and conference presentations."
As she and her husband are always asked about their boys, Chantel hopes to co-author a book with her husband on raising their four boys. The book would center around their life, how they parent, the lessons they have learned, the things that they would do differently, and the things that have worked well for them.
"I think my journey is still evolving. I have been teaching in higher education for nine years, so I am still learning. I think I learn something just about every single day. I do not have all the answers in my field or for the institution where I serve. I believe that to grow, it is important to remain teachable, be flexible, and have a mentor that will help guide you both personally and professionally, and for me, spiritually. I value intergenerational learning from those that have been navigating academia for the last several decades to those individuals that I supervise and lead each day, especially my students. We should always place ourselves in a position to grow and develop," she maintains.
Chantel's message to those that aspire to be in the field of education is to find some great mentors and ask questions. "I highly recommend being willing to accept job assignments that you might not find comfortable but will help you learn and grow. I believe there is always something that can be learned regardless of the task," she advises.