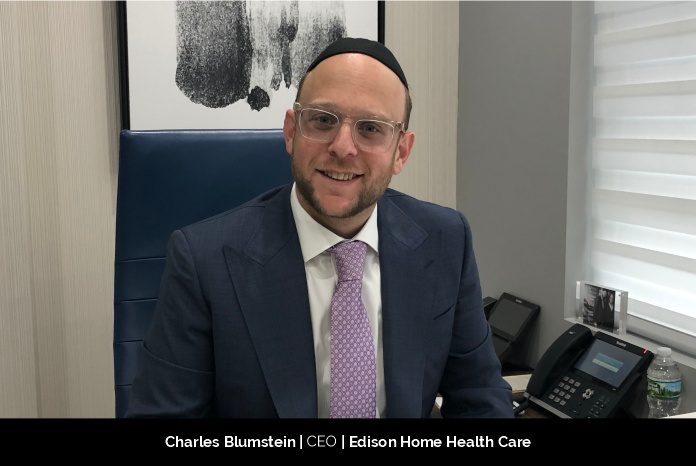 The Pandemic has brought to light some of the brightest spots in the world's healthcare system, as well as some of the most pressing needs. A lack of congruence between current demands and accessible health models is at the root of many of these issues. One of the struggles with healthcare is that expenditures are expended in hospitals, even if at-home models can be more efficient and cost-effective. Furthermore, most providers rely on fee-for-service contracts rather than preventative care plans.
Emerging health-care trends will hasten initiatives to provide post-acute care in the home. The patient and family experience will be improved, and home health care services will be used at the right intensity, thanks to electronic information sharing among providers and other technology. Transitional care models, which include post-hospitalization home health care visits, will also become more prevalent for many more patients than are now eligible.
Charles A. Blumstein, CEO of Edison Home Health Care, is driving the firm with the aim of restoring a focus on care for our patients, care givers and employees. His objective is to make Edison Home Health Care the most dependable and trustworthy home health care provider in the greater NYC area. Charles looks forward to continuing making a difference to the frail and elderly population by making home care more accessible more compliant and most of all MORE CARE.  He asserts, "I would love to continue being a big source of employment and see our employees continue to flourish and advance their careers within the Edison companies."
First Steps towards Improving Home Care
Charles' career began with being a co-founder of Edison Home Care. He had been researching and learning everything he could about the world and what it required before to then. His life experiences taught him the value of high-quality home care, and he knew he wanted to work in that field. He opines, "I feel like every day that my team goes out and does their amazing work and our patients and their families come back to me overjoyed about the care they received, that's the best affirmation I could ever get that I'm doing my job well—leading my team toward better care for every patient."  
According to Charles, when businesses develop, they might lose their personal touch accidentally. The team at Edison set out to alter the way healthcare businesses grew by establishing a foundation of empathy, compassion, and devotion, as well as the most cutting-edge technologies in outstanding home care service. According to Charles, team members at Edison begin by understanding these standards, which we continually reinforce through everything we do.
Edison Home Health Care
In the state of New York, Edison Home Health Care delivers individualised, in-home healthcare services to elders and handicapped people. It delivers services across NY state and PA with a few more states opening last quarter in 2022. Its highly trained and committed staff of professionals and paraprofessionals provide medical, nursing, therapeutic, and social support services that are customised to the specific requirements of each patient. Home health aides, nurses, personal care assistance, and homemaking assistance are among the services available. Essentially, the firm provides assistance to geriatric and handicapped patients with various levels of need.
The company's legacy of offering outstanding, personalised service to customers and their families or carers is something the staff is proud of. The company's skilled representatives consistently answer to clients' issues quickly and courteously. Indeed, trained nurses are available to give guidance and instruction to aids 24 hours a day, 365 days a year.
Home health aides and other members of the team are thoroughly screened and chosen for their ability, knowledge, devotion, compassion, attitude, and professionalism. Most elderly individuals value the ability to remain in their own homes.
A Passionate Leader
As CEO, Charles is responsible for all main Edison activities, with a focus on commercial and partnership growth, strategic and long-term planning, and management of relationships with the community, government, service providers, and hospitals. He is also in charge of human resources, customer service, and programme development. He contributes to the establishment of quality assurance and organisational performance through his everyday job. He states, "Home care is my passion; I couldn't be prouder to do what I do."
It's critical to stay on top of the newest developments in home care. According to Charles, Edison's in-house research and development staff works extremely hard to keep Edison up to date. All teams meet on a regular basis to ensure that everyone is on the same page. They also communicate via newsletters and emails.
Difficulties Faced During the Pandemic
The COVID-19 epidemic is one of the most recent challenges Charles has faced. With all of us working from home at first, it was difficult to staff every case. But the crew went above and above to make it happen, and then worked through the clock to safely return to the office when the time came. Charles says he couldn't be more proud of them, and it simply goes to show that if a team works together, no task is too big for them to overcome.
Living an Organized Life
While running a health care business is a 24-hour responsibility Charles works very hard to spend quality time with his family. He says, "thank GOD for putting me in the position I am in and for an incredible wife Shifra who supports and encourages his work amongst other communal projects and business." 
Here at Edison, Charles observes a large family. Birthdays, anniversaries, and other events are celebrated by the squad. He asserts, "We also have regular events to help keep everyone motivated to work together to deliver the best care possible."
Success; Helping Others to Get Better
Charles has witnessed the impact that proper healthcare can make in a person's life over the course of his many years in the profession. As a result, his definition of success is assisting his staff in making as many good changes as possible while also assisting them in being The Caring Choice in Home CareTM for their community.
Charles has always loved assisting others, so he believes it came naturally to him. So, when the chance to lead Edison arose, he decided he wanted to take it. He opines, "If there was any chance, I could make more of a difference in the lives of others, I wanted to do it, especially those in greatest need, like our seniors and disabled individuals."