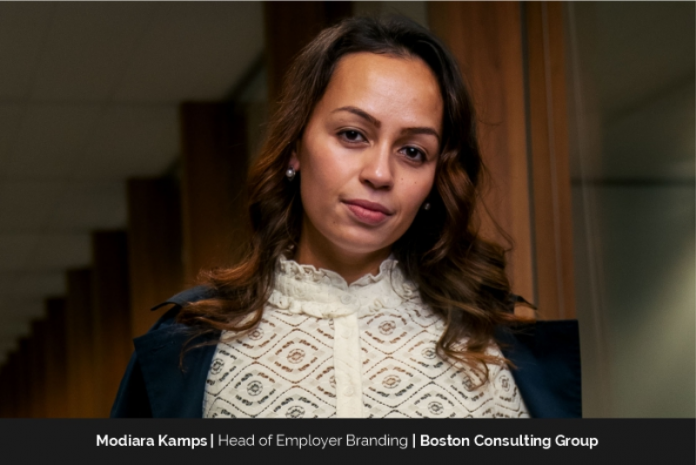 With a positive and innovative approach to people, problems, and life in general, Modiara Kamps, Head of Employer Branding EMESA at the Boston Consulting Group (BCG) is a professional with a thorough understanding of business processes and leadership.
Unleashing her inner creator to create experiences for employer branding.
Modiara describes her core as an inner creator, which is something that she discovered at the age of 25. Throughout her life she always knew she wanted to work with people, only she didn't realize she needed to embrace her core.
With everyone in her family being a creator of some kind, from creating paintings to building and designing houses, and being a tattoo artist, Modiara realized that she wanted to create experiences – journeys that candidates could go on to find a job they loved, which translated into employer branding.
What started with adjustments in the recruitment process turned into leading employer branding projects for some of the biggest multinational companies on earth. This was something that she realized she could only do by connecting with her core and staying close to herself throughout.
"I spent the majority of my career in the recruitment and/or marketing industry. Like most people in the talent acquisition industry, I didn't grow up thinking I wanted to be a recruiter one day. I rolled into it starting with the goal of helping individuals find a job that they liked," she recalls.
After some time, Modiara decided to specialize in a part of the candidate journey. Talent marketing was one of the first elements that caught her eye. Before joining Boston Consulting Group, Modiara developed recruitment marketing and employer brand strategies for Amazon.com in EMEA. She found it to be a very interesting company where she learned a lot about working at scale.
Leading employer brand projects to attract the best consulting talent
Boston Consulting Group, Inc. is an American global management consulting firm founded in 1963 and headquartered in Boston, US. They are a market leader and one of the so-called Big Three.
BCG partners with leaders in business and society to tackle their most important challenges and capture their greatest opportunities. Their consultants advise clients on the strategic direction of their organizations and are valued as trusted advisors to their clients, delivering original and impactful ideas, and directly contributing to BCG's thought leadership and the firm's growth.
Modiara notes that the BCG'ers bring deep experience and expertise from all fields of study and expertise to clients depending on their needs. The operations under her leadership are focused on leading strategic employer brand projects to support regional and local talent acquisition teams in attracting the best potential consulting talent in their local markets, and positioning BCG as an employer of choice.
Success is about doing something that's connected to your core
Modiara believes that success is a very personal experience that is hard to define, and that's why there are an endless number of definitions of success.
"For me, it's about doing something that is connected to your core and all your capabilities. My advice is to look in the mirror, find this core, and embrace it with all its imperfections. You don't have to share this with the world. Use it as your compass and trust in yourself. In time, you will develop an intuition that will guide you on your journey to whatever success means to you," she advises.
Throughout her professional journey she has learned that every roadblock comes with a message to teach you something. "If you experience a roadblock, it's time to reconsider your strategy and adjust your path forward. I believe it's important to listen to these messages and ask yourself the right follow-up questions. Why is this happening now, and what is my lesson?" she suggests.
Modiara also maintains that she's very proud of the fact she has never let herself be limited by self-imposed boundaries to what she can achieve, or where she can go in life.
Supporting Ukrainian relief efforts with BCG's Ukrainian Virtual Hub
In terms of her professional achievements, Modiara admits that it's hard to pinpoint one thing, but she is very content that "behind the scenes" she and the people that she worked with have helped hundreds of thousands of people find the job that they were looking for or needed at that time, and that they were able to have a microscopic impact on that individual's walk of life.
"Besides this, I find that I like working on projects that support others. One example was winning two European Employer Brand Management Awards for Best Localization Programme and Best Onboarding Programme this year," Modiara declares.
She notes that a very proud moment for her as a leader was being recognized for the campaign created around BCG's Ukrainian Virtual Hub for Ukrainians who have recently been displaced or those already living abroad. The virtual hub streamlines the job application process and onboarding for Ukrainians who consider employment at BCG.
After joining BCG, people can become part of the internal network that offers support for local language lessons, allowing them to dedicate a portion of their working time to support Ukrainian relief efforts, plus affiliation events (in-person and online) for all members of the virtual hub. "I'm happy that we didn't only receive recognition from our peers, but also contributed to a project that supports others," Modiara observes.
Being there for people is key to getting them to follow a vision
Modiara believes that the definition of work/life balance changes throughout life, that it's important to invest in moments that allow you to rest, do something you love with the people you love, and enjoy the environment that you're in. After becoming a mother, she promised herself that she would invest in the beautiful moments that parenthood has to offer, but also save time for herself and her significant other.
"My family, also before I started my own family, has always been one of my biggest motivators in life. At this point in my career, I couldn't do what I do without the support of my partner, who is always there for me, and elevates me wherever I go," Modiara states.
She is convinced that this type of support translates well into a strategy to keep her team and key partners motivated. Supporting others by connecting with their greatest needs, and being there when they need you, is the key to getting people to follow a vision, her vision.
Taking employer branding to the next level
As Head of Employer Branding at BCG, Modiara is responsible for Europe, Africa, the Middle East, and South America. In her daily work, she leads strategic employer brand projects to support regional and local talent acquisition teams. She advises managing director partners (MDPs) on branding, optimization, and efficiency.
Together with all employer brand specialists based across 50 offices, Modiara aims to share BCG's story through a variety of channel strategies and employer brand practices. They monitor the employer brand effectiveness with an in-house developed employer brand score and review different metrics by measuring their marketing effectiveness.
As part of the strategic employer brand projects, her team creates content to support talent acquisition teams with their labor market challenges on the ground or focuses on talent acquisition KPIs set by the business.
As an individual, Modiara hopes to bring employer branding to the next level within the talent acquisition and marketing industry. She notes that it would be great to see employer branding develop into a division of a business that is more recognized for its specialty and knowledge helping talent and employers find the right match between each other.
Modiara states that employer brand professionals deserve a seat at the executive table, considering the contribution that employer branding delivers to the business by attracting high-quality profiles they didn't engage with before, and retaining talent after they joined.
"Within employer branding, we are not there yet. Historically, you'll see that human resources and recruitment have gone through the same journey and do own that seat at the table today. Employer branding should be there as well. Successful TA leaders work closely with their EB peers. By combining their specialisms, they create synergies that allow them to outperform their competitors," Modiara explains.
Beyond is where we begin
Modiara shares that throughout her career, she learned that it takes change management to facilitate growth. In 2022, BCG launched their new recruitment marketing campaign called 'Beyond is where we begin'. The goal behind this campaign is to show talent who they truly are, and who they can be.
Modiara notes that while the needs from talent will continue to change, the spirit of BCG hasn't. On the inside, the firm continues to solve real-world challenges with world-class solutions. However, on the outside, market research data showed that perceptions of their business weren't aligned, just yet.
Modiara points out that BCG's consultants don't just 'consult' or 'think' or 'plan'. They are tech-savvy, innovation-driven doers who deliver impact in a healthy workplace, and are introducing new ways of working to create smarter ways to work and better ways to live.
She notes that there's a lot more to Beyond than meets the eye. It's not just a tagline, but the result of extensive research that sheds light on their points for improvement and their prospective talent's expectations.
"BCG's purpose is to unlock the potential of those who advance the world, and the Beyond campaign is a manifestation of our culture and how we unlock the potential within BCG so that people can be proud and feel connected to something bigger where the whole is so much more than the sum of its parts," states Modiara. "Since we're living in an increasingly digital space, yet by keeping a close eye on the region's needs, I realized that there was a desire for connecting with one another."
BCG practiced what they preached, and to show their own talent acquisition teams who they can be, they brought different members based across 50 offices together. Including all their employer branding specialists to become part of a true employer brand community, which also led to the first employer branding in-person workshop.
"Bringing everyone together and watching them sharing ideas and finding common ground is also one of the experiences I very much enjoy creating," Modiara declares.
She points out that the recruitment industry is quickly moving from hiring for jobs to hiring for skills. Technology, especially artificial intelligence, is playing a rapidly increasing role in how companies communicate their employer brand, the challenges they are trying to solve, the skills that are needed for that in the short term, and the career paths they are offering in the long term.