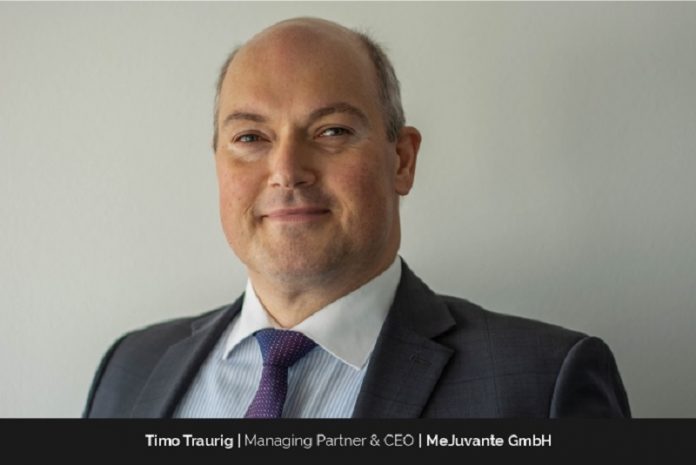 Timo Traurig, CEO of MeJuvante Holding has always appreciated the philosophies of Kant and Goethe, which form the basis of his key motivation and beliefs.
MeJuvante is a management consulting firm incorporated in Germany, with locations in Europe, such as Frankfurt Region, and Bangalore.  MeJuvante's primary function is to offer management consulting, auditing and advisory, as well as specialization in IT coding and testing, serving its EU clients since years, and bridging the gap of EU demand of resources connecting to India.
Before incorporating MeJuvante, Timo was educated in economics and business studies in Germany and UK, and started working in banking, experiencing the change side of banks, and taking part in a Swiss management consultancy in 2002.
In management consulting, while working as a project manager, business analyst, and auditor on various projects in the financial and banking sectors since 2005, he has performed his work both domestically and internationally.
In addition to being the founder and managing director of MeJuvante GmbH Holding, he also founded MeJuvante Consulting GmbH & Co. KG and MeJuvante Private Limited in India.
Building a business in strategic & organisational consulting
Timo reveals that he has always been an entrepreneurial thinker since he was really young, and during his early career, he had some exposure working in the stock exchange and finance sector. However, he realized that he was more inclined towards strategic and organizational consulting, as it suited his mindset better.
Having acquired the right experience and qualifications, Timo incorporated MeJuvante GmbH to offer consulting services, such as management consulting, audit, advisory, and regulatory consulting.
Since he incorporated and funded the company without any third-party funding, it has used neither loans nor equity for financing, ensuring that they are not dependent on funding stakeholders, who tend to influence a company's strategy towards short-term benefits.
Timo worked on MeJuvante's vision, culture, processes, and global team, with well-defined strategic management and a clear target in mind. By clearly structuring the team, unleashing the strengths of all team members, and effectively delegating tasks, MeJuvante has been able to help its partners and clients grow and succeed.
Providing practical advice that works
MeJuvante helps its clients optimize their processes with a distinctive approach, dedication, encouragement and expert guidance. The firm works with banks, insurance firms, and other businesses in all industries globally.
Over time, the firm started offering managed outsourcing services beyond advisory, consulting, and IT. Additionally, MeJuvante offers solutions for managing and controlling risks, and provides regulatory advice to banks and financial service providers in areas where regulatory risk and sensitive data play a significant role.
"I am proud to provide management consulting services from strategy development, over business analysis until implementation, including coding and testing. All services out of one hand – practical advice that works is MeJuvante's Mission.
Motivated by passion, MeJuvante believes in fair treatment and sustainable value generation for the benefit of the environment, as well as its service providers, employees, and clients. Diversity is a key solution driver at MeJuvante, and their consulting team consists of individuals with diverse professional and cultural backgrounds, as well as unique skills and capabilities.
The MeJuvante Academy is a learning platform that facilitates training on global project management standards; offers skills and methodologies to help its consultants learn how to work agile, according to Scrum; and acquire certificates such as SAFe, or as required for the workforce.
MeJuvante's consultants use the Academy to continuously improve their skills, earn certifications, and access specific trainings, such as Anti-Money Laundry Officer (AML-O), IREB, and Information Security trainings, under the MeJuvante umbrella.
A philosophy based in positivity & optimism
Timo grew MeJuvante by building a good rapport in the industry with top management professionals and being recognized as one of the leading management consultants who follows a traditional, quality and tailor-made approach to provide the best solutions for any project.
This approach helped him create recognition as a leader with a great team. Being a risk-taking entrepreneur, Timo enjoys exceeding his own set goals once they are accomplished; and he believes that facing challenges, while always maintaining compliance is very important, as it makes us stronger and more resilient.
One example is the care he took to overcome the challenges created by the COVID pandemic, by adjusting the company strategy, tapping the market with quality consultants, sustaining projects, and channelizing the market.
"Having a vision is one thing but adapting to the ever-changing markets has helped me achieved my success. We cannot direct the wind, but we can adjust the sails," observes Timo.
His employees are often known to say that "Timo achieves what he says." His philosophy reflects Goethe's "Thun", or Tun, which says that success depends on three German letters – TUN or DO.
Timo notes that the action of DO-ing is the result of words and thoughts, in the following sequence:
First, there is thought
Second, there is word
Third, and finally, action => TUN > DO
He observes that it is easy to understand a person's mindset based on their actions and words. The wrong mindset results in negative action or word, based in negative thoughts, which are very toxic to any situation or person.
Timo believes in always being positive and replacing negative thoughts little-by-little with optimistic views. As he notes, a positive person anticipates health, happiness, motivation, and success, always sees the glass half-full, and focuses on what is there, and how it can be filled.
Living by the Golden Rule
Timo quotes Kant and his categorical Golden Rule that, "People should treat others the way they would want to be treated"; once again based in positive, true thoughts. His advice is to be honest, helpful, and dialectically true to yourself and others around you, and be fair in treating others.
Timo notes that we must always recognize the fact that each individual has his or her own purpose and reasons to live; we should not use them only for our own agenda and happiness; rather we should uplift them and also recognize them as ends in themselves.
"I measure success based on my personal, professional, and teamwork. I see my success in driving my team's success, and constantly motivating and facilitating my team to achieve both, their individual goals and team goals," says Timo.
As someone who is rejuvenated by new, complex challenges, learning something new or useful always keeps him motivated, and is one way in which he measures success. Timo's motto for success is based on three deeds: 1. Initial quick identification; 2. Precise analysis; and 3. Consequent implementation of ideas.
"I maintain a steady level of productivity since decades and take both my success and failure in stride. I keep learning and applying my experiences to future situations by making a difference to other people's lives," states Timo.
He does not just jump on the latest bandwagon either but follows his own advice to "stop talking and start doing," with initiatives that include investing in third world countries, such as Africa, Asia, and local projects in India.
Timo walks his talk, and since the 1990s, has maintained a forest in Germany, to offset emissions with reforestation programs. MeJuvante also supports Environmental Nature Fund Programs.
"Founding MeJuvante and reaching the position I am at today has been an adventurous journey, and one of the most exciting and satisfying times of my life. I have achieved a lot, and as this is a continuous process, I am still working towards achieving my dreams and happiness, and taking MJ to another milestone," declares Timo.
Playing on a global level with a great team
After establishing MeJuvante Holding in Germany, Timo envisioned expanding the brand on a global level, by establishing MeJuvante Private Limited in India.
Since 2005, his personal competencies have been transformed into the three legal entities of MJ; including MJ Consulting and MJ Advisory operating from Germany; while MJ India caters to software development, consulting, and advisory.
Timo observes that, with work also comes a juggle between his personal and professional life. On the personal front, he enjoys having challenging hobbies that keep him and his mind apart from the daily hustle and bustle of the workplace.
"I explore hidden places and meet interesting locals. I also ensure quality family time whenever needed, and keep a balance between my family, friends, and work. I keep myself motivated by change, and am always working towards set goals, and learning new things," says Timo.
He is always available to his employees, whenever they need support from management, and places his trust in their talent. Having a clear objective provides him with a sense of clarity on his goals, whether in the short term or long term.
"I have set and accomplished a variety of goals, at both the personal or professional level, and am now working towards their achievement. At no point of time do I let short term pitfalls distract me from following my long-term objectives," notes Timo.
Since 2005, MeJuvante has grown substantially, despite ups and downs, such as COVID-19, with help of its team, and is also playing on a global level with a great team in India.
Timo's message to aspiring entrepreneurs is to:
Have a purpose!
Always overcome and tackle obstacles!
Never give up – even after 20 failures, get up!
Be passionate, brave, and maintain integrity!
Help other individuals – within and outside your company!
Keep challenging yourself every day and after completing each goal!