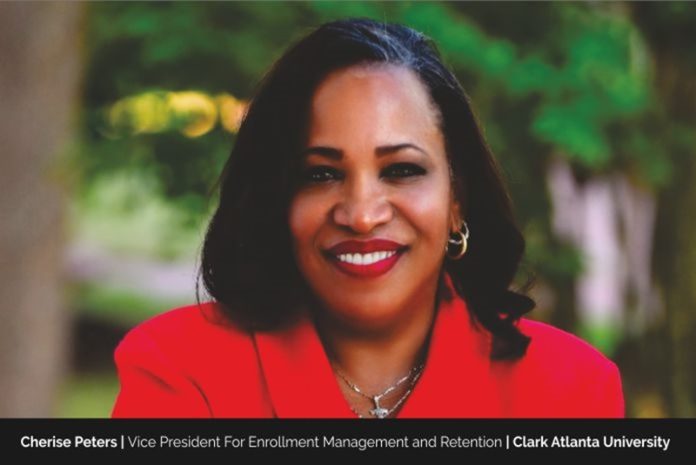 As Vice President for Enrollment Management and Retention, and CEO and Principal Consultant, Peters Principle, LLC, at Clark Atlanta University, Cherise Peters holds a unique perspective on success, firmly believing it to be a deeply individual concept with diverse interpretations.
To her, success is defined by one's unwavering commitment and dedication to their endeavors. It entails fulfilling one's promises, honoring God, supporting family, contributing to the community, and collaborating effectively with colleagues. She underscores that the true meaning of success can only be determined by the individual in question and those who rely on them.
An Inspirational Journey Building the Roots of Conviction, Pioneering Spirit, and Passion for Higher Education
Cherise's conviction in this perspective is deeply rooted in her upbringing and the values instilled by her family. Her parents, who were hardworking and driven professionals, raised her in a bustling household where expectations were high, and love and discipline were abundant.
Cherise's parents always emphasized that their children could achieve anything they set their minds to. Growing up in the 1950s and 1960s, a period marked by societal struggles and the fight for equal educational opportunities, her parents became pioneers by purchasing a home in an exclusive, predominantly white neighborhood, resisting the 'busing' programs aimed at integrating minority children into suburban schools.
This bold move thrust Cherise and her siblings into the role of being the first black students to integrate multiple levels of education in an all-white upstate New York school district. Cherise recalls that this integration was not without its challenges, and she and her siblings had to work tirelessly to prove their abilities to fit in and compete with their new peers.
This early experience ignited her aspiration to be 'the first' in various aspects of her life, such as becoming the first black cheerleader at her school, the first black member of the debate club, and the first black Girl Scout brownie in the neighborhood. Her mother's constant encouragement, with phrases like "If not now, when? If not you, who?" still resonates with Cherise, even after her mother's passing. These words pushed her to recognize the importance of fighting for equal education and life opportunities, set ambitious goals, and understand that being Black and female would necessitate operating in a state of excellence at all times.
Cherise's passion for the higher education industry was ignited over four decades ago when she served as a work-study student in a small private college in Fort Lauderdale, Florida. During her time as a student there, she played significant roles in offices closely aligned with Enrollment Management, including financial aid, admissions, the registrar's office, advisement, and the dean's office.
She even had the privilege of working in the President's office. Her early experiences exposed her to the profound impact one could have on individual lives by serving in these student support offices. After graduating in 1980, Cherise pursued a career in higher education and has dedicated over 43 years to this field.
Cherise reflects on her life before her tenure at Clark Atlanta University, offering insights into her personal achievements and a delightful fun fact. Notably, she moved to Atlanta, Georgia in 1981, embarking on her journey as a graduate student at Atlanta University—a significant step that preceded the merger with Clark College in 1988. Little did she know that 39 years later, her life's path would circle back to Clark Atlanta University, where she would take on the pioneering role as the inaugural Vice President of Enrollment and Retention.
Clark Atlanta University: Building A Legacy of Excellence and Growth
Clark Atlanta University, the result of a merger between Atlanta University and Clark College, occupies a significant place in the history of African-American education. Atlanta University, founded in 1865 by the American Missionary Association, holds the distinction of being the first institution in the nation to grant graduate degrees to African Americans.
Meanwhile, Clark College, established in 1869, was the nation's pioneering four-year liberal arts college catering primarily to African-American students. Today, Clark Atlanta University stands as the largest institution within the Atlanta University Center Consortium, which includes Morehouse College, Spelman College, and Morehouse School of Medicine.
Additionally, it is among the 37-member institutions affiliated with UNCF (United Negro College Fund). In the fall of 2019, Dr. George T. French, Jr. assumed the role of the university's 5th president, overseeing a period of financial stability, as affirmed by Moody's, a prominent rating agency. The university's endowment has reached a historic high, nearly $100 million, furthering its financial strength.
Under President French's leadership, Clark Atlanta University has achieved record-breaking enrollment figures, serving over 4,100 students as of Fall 2023. Notably, the university's commitment to growth and excellence extends to its enrollment initiatives. In February 2020, Cherie joined President French's executive cabinet as a dedicated chief enrollment officer.
"I'm proud to say, as the chief enrollment officer at CAU, that not only has enrollment stabilized (despite the challenges of COVID, rising costs, and other internal/external factors), but CAU continues to experience sustainable growth in both our undergraduate and graduate student populations," she states.
Since 2019, the university has experienced consistent growth in both undergraduate and graduate student populations, with an overall increase of 5.48 percent in total enrollment. The undergraduate population grew by over five percent, while graduate enrollment saw a remarkable increase of over six percent. In the 2023 admissions cycle, Clark Atlanta University received an impressive 30,000 applications and welcomed a historic freshman class of over 1,100 students, boasting an all-time high average incoming GPA of 3.5.
These achievements underscore the institution's dedication to providing quality education and fostering student success. Cherie believes that the institution's enduring strength and legacy will persist, continuing to impact lives for generations to come. The list of degrees and programs offered can be accessed at the link here:  https://www.cau.edu/apply-admissions/degrees-programs.html
A Trailblazing Career in Higher Education Leadership
Cherise's career boasts a rich history of leadership positions, including Dean of Graduate Recruitment and Admissions at Clark Atlanta University, Vice President for Enrollment Management at Jacksonville State University in Jacksonville, Alabama, Vice President for Enrollment Management at Miles College in Fairfield, Alabama, Associate Provost and Vice President for Enrollment Management at Alabama State University, Associate Vice President for Enrollment Services and University Registrar at Georgia State University, Director of Finance and Administration for the Art Institute of Washington, Executive Director of the Advanced Career Training Institutes in Atlanta and Riverdale, and Dean of Students and Interim Dean for Finance and Administration for DeVry University in Atlanta, Georgia.
In each of these capacities, she has made a direct and positive impact on the institutions, particularly in terms of enrollment, retention, student experience, and graduation rates. Cherise's remarkable contributions have earned her prestigious awards and recognition, including the State of Georgia Chancellor's Bronze Award for Outstanding Customer Leadership and accolades from the State of Georgia Governor's Office of Customer Service for her role in developing and implementing the OneStopShop Services Center. This innovative and centralized hub for key enrollment services, including admissions, registrar, advisement, records, and registration, was so effective that it was adopted by all University System of Georgia (USG) institutions.
Cherise's academic background is equally impressive. She holds a Ph.D. in Research, Measurements, and Statistics from Georgia State University, a Certificate in Management Leadership in Education from Harvard University, a Master's in Human Resources Management from Keller Graduate School, and a Bachelor's in Business Administration from Fort Lauderdale University. Additionally, she is a Fellow of the esteemed Clark Atlanta University Executive Leadership Institute, a program designed to develop professionals for leadership roles, including presidencies, in higher education.
Cherise is a distinguished senior-level education administrator with an extensive career spanning over four decades in the field of Higher Education. Her expertise encompasses a wide range of areas, including Student Affairs, Enrollment Management, Undergraduate and Graduate Recruitment and Admissions, Academic Affairs, Residential Life, Student Information Systems Management (utilizing platforms such as Banner, PeopleSoft, and Jenzibar), Financial Services, Marketing, Institutional Operations, and Student Judicial and Governmental Affairs.
Cherise is a well-recognized expert in higher education and enrollment services, having delivered consultations and presentations at the national and international levels, with a particular focus on regions such as West and South Africa. Her work revolves around improving enrollment services and customer services within post-secondary institutions, offering practical solutions in critical areas such as marketing, recruiting, admissions, assessment, strategic planning, and community relations.
She has played a pivotal role in assisting numerous institutions in conceptualizing and implementing long-range enrollment strategic plans that enhance the overall student experience from orientation through graduation while integrating institutional best practices that boost retention, progression, and graduation rates (RPG).
Playing Dual Roles in Education Leadership and Motivating Teams
Cherise currently holds the position of Vice President for Enrollment Management and Retention at Clark Atlanta University. Simultaneously, she serves as the Chief Executive Officer and Principal Consultant for Peters Principle, L.L.C., a consulting firm that allows her to share her wealth of knowledge and experience with higher education institutions seeking to enact transformative changes that directly impact organizational growth and student achievement.
In her current role, Cherise holds a portfolio of crucial responsibilities. Reporting directly to the President, her role encompasses the oversight and implementation of policies and procedures affecting the student body in the domains of Enrollment Management and Student Retention. As the institution's chief enrollment officer, she is entrusted with facilitating the development and execution of the University's strategic enrollment management plan.
Her duties also include the promotion of institution-wide initiatives related to recruitment, retention, and student completion, requiring collaboration with various stakeholders, such as faculty, staff, administration, student organizations, and community groups, to ensure equitable access to resources for all students.
Cherise provides leadership in the following key areas of service: Undergraduate and Graduate Admissions and Recruitment, Financial Aid and Financial Literacy, Scholarships, New Student and Family Programs, the One Stop Shop, and The Google Academy of Scholars.
To maintain her team's motivation at Clark Atlanta University, Cherise has adopted a comprehensive approach. She acknowledges her good fortune in working with a team of talented, dynamic, and hardworking individuals. Building a strong team, in her view, begins with selecting individuals whose skill sets align with their roles and responsibilities. Ensuring they have access to the necessary resources to support desired outcomes is essential.
Cherise provides unwavering support, guidance, and training to empower her team members in fulfilling their roles. She sets clear objectives, leads by example, and recognizes and rewards exceptional performance. In alignment with the collaborative nature of higher education environments, Cherise emphasizes the significance of building consensus among team members and colleagues.
This, she believes, fosters transparency and drives positive change and growth. For decades Cherise has shared a guiding quote with her teams and partners, "Continuous improvement is better than postponed perfection." Through this quote, she encourages her team to always strive for excellence, both for themselves and their community, echoing the lessons instilled by her parents about the path to success.
"Continuous improvement is better than postponed perfection."
Committed to Empowering Women On Their "Journey to the Top"
Cherise acknowledges the paramount importance of making a lasting impact on the upcoming generation of women, a cause close to her heart. Throughout her extensive career, she often found herself in the distinctive position of being the sole female senior administrator in her institutions.
"(Empowering women) is so, so important. For most of my career, I was the only female senior administrator in my institution. Once I got to the 'C suite' level (Vice President/Associate Provost) I found that more often than not, not only was I the first female, but also the first black person," Cherise recalls, This pattern continued until she assumed the role of Associate Provost/Vice President at a Historically Black College and University (HBCU), a turning point in her journey.
"I was told at one of the prior institutions that I served as a 'twofer' when it came to meeting their affirmative action requirements (counted as black and female). Many times over the years I could see the connection and preparation in my journey…from being the 'first black girl' in middle and high school …to being the 'first' in so many of my roles in higher education," Cherise reflects.
Her mother's words, "If not now, when? If not you, who?" resonated with her throughout her journey. The profound impact of being the sole black female in senior leadership positions fueled Cherise's commitment to empowering the next generation of women leaders. She takes immense pride in her role as a co-founder of the Leadership Academy for Women Staff at Georgia State University during her tenure as a Vice President.
Observing the lack of representation of black women at her level and the absence of a pipeline for future leadership roles, she, with the support of the provost, established a nine-month training academy designed to identify and cultivate women staff for progression into leadership positions within the institution.
Over five years of co-leading the academy, 100 women staff (with 25 individuals selected annually) achieved significant career advancements, assuming roles as directors, Associate Vice Presidents (AVPs), and Vice Presidents at Georgia State University and other academic institutions. In recognition of her dedication to education and her role in developing women in higher education, Cherise received the Profiles of Prominence in Excellence Award from the National Association of Women of Achievement.
In her continued pursuit to uplift women's leadership in education, Cherise's doctoral research is focused on black women's leadership in the academic sphere. Her dissertation titled "Journey To The Top: An Interpretative Phenomenological Analysis Of The Life Experiences Of Black Women Who Have Ascended To The Presidency Of An HBCU" delves intimately into the life experiences of black women as they ascend to and serve in the role of presidents at Historically Black Colleges and Universities (HBCUs).
She hopes that her research will contribute to the scholarship and ongoing dialogue surrounding women's leadership in higher education, shedding light on the obstacles and challenges faced. Ultimately, she aspires for her work to serve as a valuable starting point, offering insights and guidance to women embarking on their own "Journey to the Top."
A Well-Balanced Journey of Personal and Family Life
While Cherise takes pride in her professional accomplishments, she holds her family as the most profound achievement in her life. She has shared 39 years of marriage with her best friend, Bernard, who has cultivated a successful photography career. She is equally elated to be the mother of two accomplished and content adults, Howard, aged 31 and recently married, and Kayla, aged 35 and recently engaged. As a loving parent, Cherise enthusiastically anticipates the arrival of grandchildren in the future.
In her quest for balance between her personal and professional life, Cherise follows a disciplined routine. Her workweek begins with early mornings, typically waking up between 5:00 and 5:30 a.m. On most days, she embarks on a three-mile walk or run, engaging in physical activity that kickstarts her day. Following this, Cherise prepares a quick breakfast and coffee for herself and her husband before both set out for their daily commitments, usually departing around 7:30 to 8 a.m.
Her workday officially commences at 9 a.m. and is brimming with engagements, including meetings with staff, colleagues across the campus, students, and members of the executive cabinet. The dynamic environment of a university campus ensures that each day brings new experiences, opportunities to learn, and diverse interactions.
Typically, Cherise returns home around 7 p.m. unless there is a campus event that requires her presence. She and her husband share dinner around 8 p.m. and by 10 p.m. they retire for the night. Her weekends provide the ideal backdrop for spending quality time with family and friends, indulging in good food, delving into a captivating book, and allowing time for rest.
Cherise and her husband prioritize date nights, enjoying activities like dinner, movies, dancing, golf, or art gallery visits at least once a month. Additionally, they strive to explore both domestic and international destinations, traveling two to three times a year.
Cherise's passion for her work in higher education fuels her sense of balance, as she genuinely loves what she does. A few years ago, she contemplated retirement at the age of 65, but her enjoyment in impacting lives through higher education has opened new avenues of consideration.
Her future may involve pursuing a presidency role or returning to full-time consulting, although she remains open to the direction that God guides her toward. Cherise holds faith that these steps will align with her path, acknowledging the serendipitous return to Clark Atlanta University after four decades as a testament to the precision of divine guidance.
Conclusion
Cherise Peters embodies the essence of individual success and resilience. Her remarkable journey from being a trailblazer in education to her inspiring career in higher education leadership is a testament to her unwavering commitment and dedication.
Cherise's achievements at Clark Atlanta University and beyond have left an indelible mark on student success and empowerment. Her passion, academic achievements, and dedication to women's leadership are truly commendable.
Cherise's well-balanced approach to life, where family and professional fulfillment coexist harmoniously, is an inspiring model for all. Her message to aspiring female leaders in education is clear: "Keep moving forward; we need you." Cherise Peters' legacy will continue to influence and inspire generations to come.