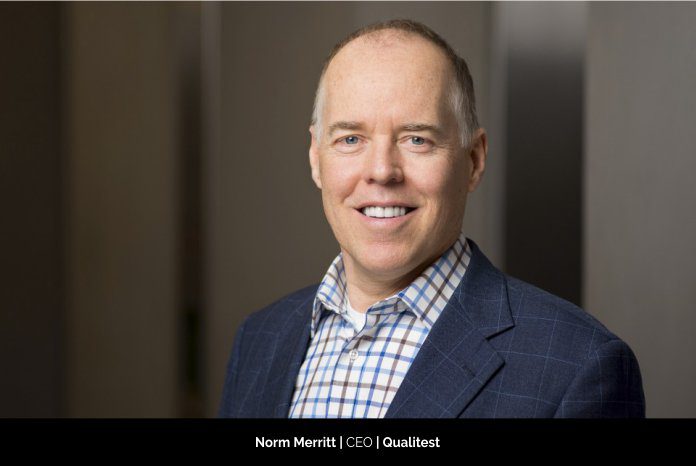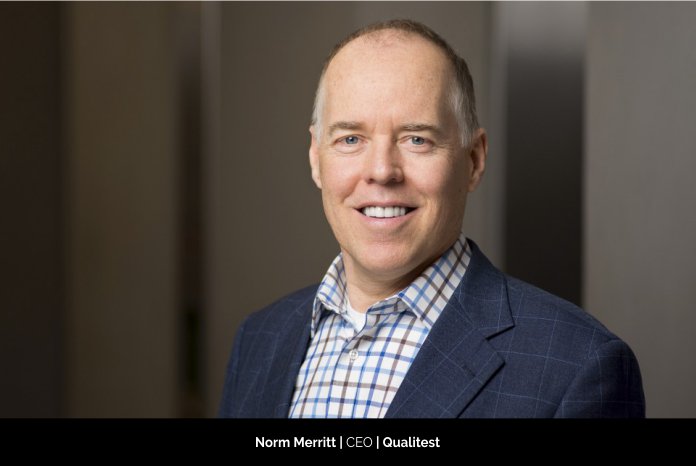 The lack of quality testing has resulted into huge losses for businesses, due to defects in their system. There have been many financial losses recorded by banks, financial institutions, and many other major businesses that occurred due to negligence or overlooking the effects of bugs that exist in an application or software. The preventive measure that can help in eliminating these losses is the implementation of a quality assurance system.
There are many companies today who offer exceptional quality assurance however, the need of the hour is continuous improvement and upgradation, which is why Qualitest is among the leading companies. Qualitest's exponential techniques of developing new ways of improving their services helps you in consistently maintaining high performance levels, enhance your cyber security, and efficiently transition to WFH when your systems are operating under extreme demand. Under the profound leadership of their CEO, Norm Merritt, Qualitest is growing and leading the industry with a new creative approach to transform the process of quality assurance. In this article, Norm emphasizes on the challenges, services, and achievements of Qualitest who have come a long way in their journey of success. He has also shared a few inspiring insights and his viewpoint that enunciate his knowledge and experience as an expert of the industry.
The Scope and Challenges in Quality Testing
The speed in which companies can release new versions of software is rapidly increasing and it is becoming a strategic imperative for companies to remain competitive. Velocity is the new currency. It used to be about what the scope would be or how much it would cost. While those are still important, the real currency now is "how quickly can I get this software out?"
Software is everywhere and affects every single industry. For example, Tesla has a car now that has 100 million lines of code, or you walk into a McDonald's and you see that technology has taken over the whole aspect of their value chain. Within the kiosk, there's software and hardware and payment methods that need to be integrated, and kitchen systems that need to be integrated. Software is eating the world, and as Marc Andreessen said, with the high level of code and code that gets layered on top of itself, it becomes increasingly difficult for human beings to know what should be tested before launching a software.
In this growing industry, one of the biggest challenges that Qualitest faces is to determine where they need focus their time and efforts. Quality assurance and testing is growing at a faster rate than the market. As software gets more and more complex, it becomes more and more important for companies to assure that software works properly. "The challenge for us is in this vast market where we're a pure play tester, is that pretty much anywhere we put our time and effort, we can bring value, but where do we want to really focus our time?", says, Norm.
The Services of Qualitest
Qualitest's goal is to help their clients become automated. They provide manual functional testing if required, but they always help their clients evolve away from that, and evolve to being more automated, more focused, and more strategic in their testing. With their recent acquisition of an AI company, Qualitest can apply artificial intelligence to their solutions as well. They look at both structured data like test results as well as unstructured data like agile stories, and they can actually determine where they should be spending the resource in time, to have a high level of confidence that the software will work properly, while at the same time minimizing the amount of cost or the amount of effort that one has to put into that.
Unlike some of their competitors, what Qualitest does is, they take a really strong assessment of what a client's situation is, what the tech stack looks like at the company, what their evolutionary plans are, whether they're trying to move from waterfall to agile, and they as a result get a really precise understanding of what their current situation is. Qualitest can take their plethora of tools in people and expertise and apply it very precisely to the client's situation. Therefore, Qualitest meets their clients wherever they are on their quality assurance journey. "Many companies recognize that they can't do this on their own and they need to hire a specialist. That's what we are. We're specialists in testing. But we're and we're also able to be very flexible and really focused with our clients.", Norm adds.
Roles and Responsibilities of the CEO
Norm was brought into the world of quality assurance to help the private equity firm that owned Qualitest, sell the company. Within a very short time he fell in love with the business. Not only the with people but the industry as well. That is when Norm decided to stay with the company, and now they are working to build it into a billion-dollar business.
As the CEO of Qualitest, Norm's role is to establish the vision and establish a framework that helps people know what their part is in that vision. It is his responsibility to create an environment where people feel they are rewarded and recognized for the contributions that they make towards that vision. Another big part of Norm's role is to ensure that the company has the resources to achieve the vision. And that includes interacting with investors and making sure they have a strong balance sheet and the company can fund the things that they want to make happen.
"It does not matter what the industry the company is in, if the CEO can make the employees feel rewarded, you'll have a winning combination. I believe in people, and I believe that you must know that to be a good leader. People need to know that I respect them, that I value their input and feedback, and that I'm going to be fair minded and not serendipitous in my approach to leading.", a responsible CEO asserts.
The Roadmap to the Future
Qualitest's greatest achievement is that over the 20-year history of the company they have always consistently delivered for their clients. They have a very strong reputation with their clients. Qualitest's clients have been with them for a very long time. Over 60% of their revenue comes from large companies with 10,000 employees or more. So, Qualitest is playing in the big leagues.
"There's room for a billion-dollar pure play testing company in the space, and that's our goal. We're growing both organically, as well as finding opportunities to acquire companies that can be bolted into our approach and be a part of the growth story.", Norm, shares his plan for the future of Qualitest.
Software testing is a big market, that is growing rapidly. Because of the increasing complexity, it is a great place for people to make a career. Testing is increasingly complex and requires a real sophisticated approach to engineering. Qualitest has identified the importance of this vast industry and has acquired a significant position in the market under the guidance of a resourceful leadership. Their remarkable approach of developing inventive ways of improving quality, promotes a more educated workforce that will change the dimensions of software testing.