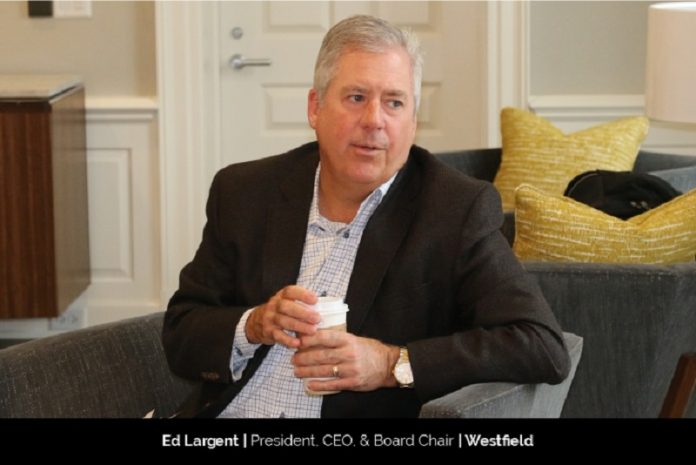 Westfield was founded in 1848 by a group of community leaders after a bad experience with out-of- town insurance salesmen. Realizing they cared about their community more than anyone, these community leaders started their own insurance company to protect the people and things that mattered most to them. Even today, Ed Largent, President, CEO and Board Chair of Westfield, is motivated and inspired by the company's caring and community-minded origin as he steers the organization on its core mission.
For some people, success is money, and for others, recognition and power. For Ed, success is how the culture of the organization reflects its mission, which is to ensure the peace of mind and financial stability of the company's customers. He points to strong leadership across the organization being key to achieving Westfield's mission.
He stressed the point by adding, "A former boss and mentor often reminded me that 'leaders cast long shadows.'  I've seen the reality of this many times in my career.  Leaders help define an organization's culture through their actions and behaviors.  That's why I believe it's important to consistently demonstrate the positive leadership behavior we desire for our culture.  When combined with clear direction and commitment, it positions our organization for success."
Joining Westfield
Ed earned a degree in Computer Science from Bowling Green State University in 1986 and stepped into the corporate world with Westfield the same year. He held a variety of roles across IT, where he honed his skills and gained valuable experience. Over the years, these roles broadened his perspective and allowed him to gather deep insights into the industry. He also learned that being a leader is about strategy, execution, and inspiration.
Getting stronger by overcoming obstacles
Ed believes facing obstacles while progressing forward has great impact on one's ability to adopt a growth mindset. In his professional career, like all leaders, Ed has encountered challenges and has learned from them. Early on, one in particular helped shape his personal leadership style.
He states, "I avoided difficult conversations about performance, which ultimately made things worse for the team, the organization, and me.  I learned how valuable it is as a leader to create an environment where everyone on the team solicits and provides candid feedback about performance on a regular basis."
Sharing feedback and leaning into tough conversations is something Ed promotes with his leadership team and across the broader organization.  According to Ed, the belief that "feedback is a gift" contributes to Westfield's strong culture.
Westfield: Providing financial stability to customers
For more than 80 years, Westfield has been rated "A" (Excellent) or higher for financial strength by A.M. Best, a rating agency that focuses on the insurance industry.
Westfield offers personal insurance products for individuals and families in 10 states, business and farm/commercial agriculture insurance products in 21 states, and surety services in all 50 states.  The company reaches their customers and distributes their insurance products primarily through a network of more than one thousand independent insurance agencies.
Ed states, "In addition to our property and casualty businesses, 1848 Ventures and Westfield Bank round out our portfolio.  1848 Ventures is our innovation arm focused on helping small business owners with solutions that help solve their biggest challenges.  Westfield Bank is one of the leading financial institutions in Northeast Ohio, providing comprehensive personal, business, and agency banking products and services."
Taking Westfield to the next level
There is a famous adage that states, "Numbers don't lie." In 2011, Westfield's balance sheet reflected $4.6B in assets, $1.6B of equity and revenues of $1.7B.  At the end of 2020, nearly a decade later, the balance sheet reflected $8.3B of assets, $3.2B of equity, and revenues of $2.1B.
Ed says the company's disciplined, steady growth and consistent position in the market stem from strategy and investment. The company has defined competitive business strategies within each business segment and is followed up with rigorous execution.  Westfield has a proven track record executing large-scale transformations across its operations, which are directly aligned to achieving business strategies, driving customer growth, and strengthening the company's overall financial position.
Westfield recently made a significant investment transforming the physical workspace at the Home Office and all of its Service Offices.  The spaces are ergonomically and beautifully designed to support various ways of working; from team collaboration to "heads down" focused work and spaces that promote innovation and creativity. The company also heavily invested in its small business segment to ensure increased customer focus and enhanced speed and agility.  While still transforming small business, now three years in, the company is seeing the investment, not to mention hard work, pay off.
Both investments underscore a strong commitment to the company's legacy and, as Ed states, transformations are necessary to take the organization to the next level in an ever-changing world.
And when it comes to the Westfield team, Ed adds, "For as long as I can recall, we've always had a corporate goal focused on the people who work at Westfield.  We believe our people are our most valuable asset, and that drives us to continually develop our team.  We also believe a  diverse workforce and inclusive culture leads to better business results, so we are more resolved and more committed than ever to act with purpose and leverage the breadth of our resources to improve the lives of others, within Westfield and across the communities we serve."
The Westfield Insurance Foundation and its Community Investment strategy focuses on family stability, disaster recovery, and safety, which aligns with the core mission of the company.
Ed expresses, "I'm proud of our unwavering commitment to the communities where our customers, agents, and employees live and work. In 2020, we contributed more than $3M in giving dollars across our focus areas.  And there's a direct correlation between our giving strategy and our diversity and inclusion efforts with a prioritization on addressing burdens suffered because of systemic racism."
Staying ahead of the curve in the massive industry
The Westfield team takes pride in the company's culture, which they will tell you drives business performance.  The team is also guided by the company's core values of knowledge, trust, integrity, respect, and stewardship.  Together, the culture and core values anchor the team to the company's mission.
Ed states, "We have a clearly articulated, and demonstrated, set of beliefs, practices and behaviors that shape our culture.  Together, they guide the way that we connect with each other, talk to one another, and grow and explore together, which ultimately helps us achieve our business goals."
Innovation is also key to progress. Ed believes to innovate, it is necessary to take risks, and with risks, it's expected that that there will be unexpected outcomes along the way.  But, he adds, "When you look at mistakes as opportunities to learn and grow, it's hard to label them as mistakes.  The team is getting comfortable taking calculated risks and failing forward."  Ed says leaders provide continual coaching, guidance, and direction, which also plays a significant role in pushing boundaries and taking the company to the next level.
Westfield: Caring for its customers
The company's corporate structure as a mutual entity positions Westfield to put customers first.  There are three prime benefits for the customers who trust Westfield to protect their assets. First, the company's claims service is among the best in the industry, and the Net Promoter Scores consistently confirms that story. Westfield was ranked #1 in customer satisfaction among auto insurers in the North Central Region, according to the J.D. Power 2019 U.S. Auto Insurance Study.
Second, the company's independent agency partners. Westfield agents play an integral role in delivering a superior customer experience, helping to contribute to consistently high customer retention rates across the company's business segments.
Third, Westfield is continually improving the customer experience with investments in people and technology. Ed adds, "Whether it's the simplicity of paying a bill, accessing information about their policy, or making changes to their policy, we are focused on continuously enhancing the customer experience. Our goal is for our customers to see and feel how we're investing in them and that they feel cared for by our claims team when something unexpected happens."
Customer expectations and behaviors are being shaped by experiences with companies like Amazon Prime. Customers today want on-demand services and choices about how they receive those services. They also want assurance and transparency.
Ed adds, "I think carriers, agents, and new Insuretech entrants are focused on meeting evolving customer expectations with new product and service offerings.  Technology, data, and advanced analytics are the key enablers for efficient and tailored experiences for customers.  The investment in these areas across the industry is massive."
Responsibilities as the President, CEO and Board Chair of Westfield
Ed knows that being at the highest level comes with multifarious responsibilities. His main focus is to ensure that the company is well positioned to achieve its mission of ensuring the peace of mind and financial stability of its customers.  In addition, he guides the strategic direction of the company through a clearly articulated vision and promotes direction, alignment, and commitment across leaders to achieve that vision.  The ultimate accountability for the organization's financial performance lies within Ed's role, and he simultaneously leads the designed corporate strategy to ensure the company remains competitive in the marketplace.
He adds, "I believe driving a strong culture starts at the top and I take that responsibility very personally.  I am honored and humbled to lead this company.  Ensuring the legacy of Westfield is something I think about every day. It's a driving force behind everything I do."
Looking ahead
With stewardship a core value, the entire workforce at Westfield focuses on the long-term success of the organization. Further, Ed shares that the company is incredibly well positioned to meet the needs of its customers, in part, through strong financials and employee engagement.
And since the global pandemic, Ed has been resolved to focus on the future, sharing, "I've been saying over the past year that Westfield will emerge stronger from the global pandemic, and we're proving that out. We made significant investments in the workplace, creating an environment that stimulates innovation, enhances collaboration, and brings to life our rich history in modern ways. We've made technology investments that allow us to serve our customers better and bring products to market faster."
Emerging stronger is a recurring theme for a company which experienced a great deal over the past 173 years.  Ed says reflecting on the company's history helps guide its future, "Our commitment to the customer defines the Westfield brand, it always has and always will.  It's a privilege to serve our customers, and that's something we never take for granted."