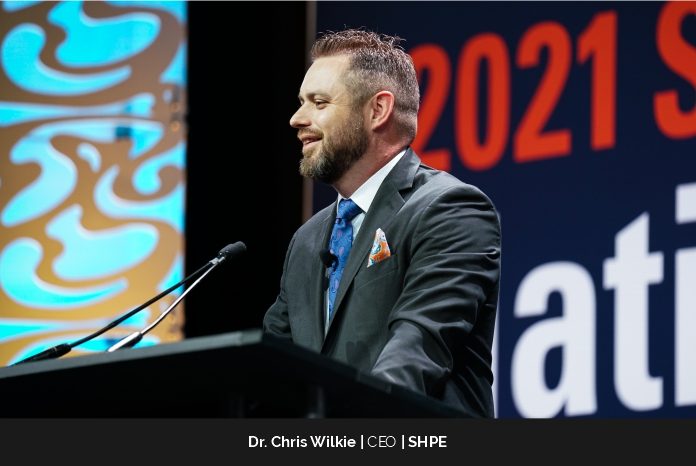 "The most effective and enduring leaders are able to achieve personal and professional success when they set and execute a roadmap defined by their own authenticity AND that of their team," says Dr. Chris Wilkie. He is the CEO of SHPE, the nation's largest nonprofit dedicated to bridging the gap between Hispanics and STEM.
SHPE serves as an authoritative voice in determining the future of engineering and technology for our country. With 13,000 members and growing, SHPE provides students and early professionals with the skills and information they need to become tomorrow's STEM leaders. Dr. Wilkie asserts, "Our programs are brilliantly diverse and expertly developed. Whether you're a student or a professional member, we have educational opportunities, networking events, and career coaching mentorships that are life and career advancing."
Stepping to Lead
"My professional network initially brought me to SHPE," says Dr. Wilkie. Throughout his 20+ year career in the nonprofit sector, he had the privilege of meeting many incredible leaders and change-makers. SHPE's previous CEO was one of them. He recalls, "Newly appointed in her role, she was looking for someone with extensive operational experience in this sector, and reached out to me about filling the COO position. I was both humbled and thrilled to be considered."
Then, as Dr. Wilkie learned more about SHPE, he became more enamored with its objective. When the CEO post became available, it was his dream job, not just because his skill set fit what was needed, but also because he fully aligned with the organization's values and the outcomes it aspires to.
Challenges make you Adaptable
Dr. Wilkie believes his current leadership philosophy was developed in response to the roadblocks he faced because of certain management styles. He asserts, "I absolutely agree that challenges make you stronger and smarter."
Dr. Wilkie worked with CEOs that used a top-down leadership style throughout his career. And he was repeatedly witness to, and occasionally a victim of, the type of workforce and morale it created. That is to say, he saw and experienced burnout, resentment, and a misplaced emphasis on the job over everything else.
Dr. Wilkie responded by vowing to always lead with empathy and sincerity, and to see his coworkers as the whole and complex people people they are. "The funny thing is, this take on leadership serves me (and my staff) very well in the new post-COVID normal," says Dr. Wilkie. "Top-down management of old is no longer going to fly with today's workforce. I'm grateful I learned and embraced this lesson before it was too late, and implemented it long before we were forced to adapt."
Bringing Equity to Hispanics
Dr. Wilkie and his colleagues at SHPE, work to bridge the gap between Hispanics and STEM. In 2019, Hispanics made up 18% of the US workforce, but only about 8% of engineering jobs. The industry is making steady but slow progress toward having an engineering workforce with representation that matches that of the entire workforce.
According to Dr. Wilkie, diversity in STEM has real-world benefits for businesses: 35% of extremely diverse organizations outperform their peers in terms of earnings, and 33% of companies with ethnically diverse leadership teams outperform their peers in terms of profitability. SHPE envisions a future in which Hispanics are fairly represented in STEM fields, and their creativity, ideas, and life experiences are acknowledged at the highest levels of management. SHPE is ensuring this future becomes a reality sooner rather than later.
Initiatives that Define SHPE
Innovation at SHPE allows the team to design services, experiences, resources, and programs to truly support its members' success. Dr. Wilkie mentions, "With an organization like SHPE, it's critical that our innovation is driven by our community and their needs, and that we consider the intersectional ties of their life experiences."
At SHPE, the team is careful not to treat Hispanics as though they are one block with one set of characteristics. One size doesn't fit all. The team says, "The pulse we have on the Hispanic community is our greatest competitive advantage, because it allows us to look outside the conventional solutions and meet our members where they uniquely are in the STEM industry."
Core Values of SHPE
Familia -The team takes responsibility for its collective strength and passion by developing communities, building a diverse and inclusive membership, and challenging each other to be their best.
Service – The team acts on a foundation of service. Dr. Wilkie affirms, "We commit to delivering the highest levels of quality, integrity, and ethical behavior. We act with empathy, patience, and understanding."
Education – SHPE values formal education and professional development. The team at SHPE is dedicated to continuous improvement and renewal and learns from successes, setbacks, and each other.
Resilience – Dr. Wilkie assures, "We embrace our diverse cultures and communities, which enables us to adapt, thrive, and persist with optimism."
Success Stories, not Stats
Despite COVID, SHPE has maintained its record-breaking membership numbers, held well-attended virtual and in-person events, and expanded business collaborations to their highest level ever. SHPE is now stronger than it has ever been on all fronts. But, rather than concrete data or formal honors, Dr. Wilkie's proudest successes are more anecdotal. They're emails of gratitude from members who are the first in their family to graduate from college, or ecstatic Instagram posts tagging SHPE in announcing a STEM job offer, or scholarship winners who write some of the most compelling essays he's ever read. He insists, "My day is filled with notable achievements, and I feel so lucky and grateful for that."
The Role of CEO
"Honestly, having been in the CEO role for nearly 6 months, there doesn't seem to be a typical day or routine yet set," says Dr. Wilkie. However, he believes that as a result of the pandemic, the world has witnessed a shift in c-suite leadership, and he is no exception. Dr. Wilkie, like other CEOs, has a slew of virtual meetings scheduled throughout the day, both with internal and external stakeholders. His most impactful encounters, however, are the spontaneous, informal relationships he maintains with his board members, community stakeholders, and internal staff on a regular basis. And these are not the same as the water cooler discussions he and his staff had before 2020. He says, "These involve texts, evening phone calls, MS Teams, and even social media posts and comments. In an increasingly 2-dimensional workspace, building an authentic rapport with my staff has become a true priority of mine." He further adds, "As I mentioned above, Familia is our first and most cherished value here at SHPE. I make sure I am walking the walk by nurturing these relationships every day."
Keeping the Balance with the Schedule
While Dr. Wilkie believes that top-down leadership is rarely effective, he does feel that the CEO sets the tone for the whole organization when it comes to a balanced work/life ecosystem. As a result, he not only preaches balance, but also actively and publicly lives it. Dr. Wilkie schedules his personal time, such as lunch breaks, gym time, and his children's activities, in his calendar. He has never maxed out his annual paid time off accruals. He says, "I talk about my family often and I encourage my staff to do all this as well."
Dr. Wilkie models the behavior he wants his staff to have at work. He mentions, "Today's workplace has to be deliberate in maintaining a safe, fun, and enjoyable environment. Especially in my line of work, the job is so much more than just a job."
Dr. Wilkie aims to be the type of person that listens to and understands what his team members are going through in order to provide genuine support in both their personal and professional lives.
Developing SHPE to Achieve Greater Good
Dr. Wilkie is committed to achieving a representative and diverse national STEM workforce as quickly as possible. SHPE is now in a unique position to become an authoritative voice in determining the country's future in science, technology, engineering and mathematics. He states, "With the help of our National Board of Directors, we just approved a strategic plan to guide us for the next 5 years." Dr. Wilkie is committed to achieving the goals and objectives laid out in it. He also adds, "We'll be concentrating on 3 key areas: staying true to our mission, growing reach, and establishing renown and respect on a national level."
Dr. Wilkie believes that in the next 3 years, the company will grow its membership to 25,000+ and its budget to $20 million, which is 2 times what it is now.
A Note for Aspiring Business Minds
Diversity, equality, and inclusion (DEI) are all the rage these days, and for good reason. Inclusive leaders improve team performance and decision-making quality by 70% by increasing employees' feelings of justice, value, and motivation. According to Dr. Wilkie, an atmosphere that supports and fosters diversity boosts creativity by 20% and reduces risk by 30%.
Dr. Wilkie knows that firms that are inventive and smart are more likely to successfully tackle the difficulties that the community and country are facing right now. He goes on to say that if businesses want to be relevant and competitive, they must prioritize recruiting, employing, retaining, and empowering minorities, such as Hispanics. "Hiring but, most importantly, sustaining a diversified workforce is just smart business these days," Dr. Wilkie emphasizes.