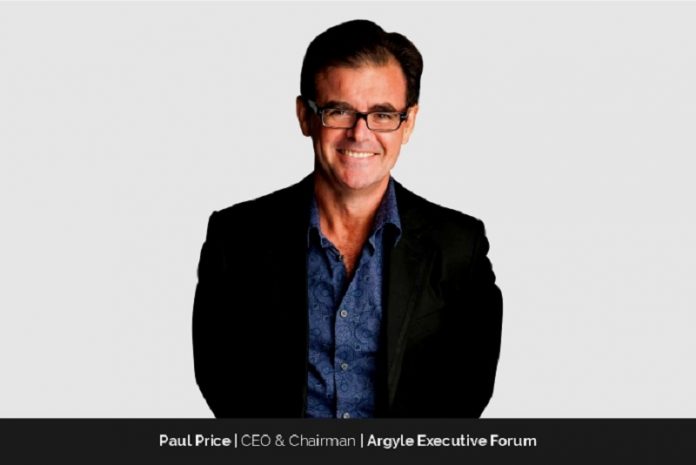 Celebrating the exceptional journey of inspiration, CIO Views has honored Paul Price, CEO & Chairman of Argyle Executive Forum in this special edition titled, "The Most Inspiring Business Leaders to Watch in 2022". Paul has global C-level experience in building, buying & integrating digitally enabled services companies delivering advanced business solutions. Paul's journey is an illustrious demonstration of hard work and success, inspiring the generation to take the plunge and follow their dreams.
After steering various advertising, direct and digital marketing agencies toward growth for more than two decades, his desire to lead his own company began to crystallize. And, in 2020, Paul took the entrepreneurial plunge by buying Argyle Executive Forum. Now, as CEO and Chairman of his own business, Argyle Executive Forum, his focus is on making it the best digital event experience provider in its industry with strategic global growth ambitions.
About Argyle Executive Forum:
Argyle Executive Forum provides opportunities to senior-level executives in Fortune 1000 organizations to develop relationships, share insights, and identify solutions as they oversee transformation in their organizations. Their goal is purely the success of their members. Argyle currently serves a curated membership community of over one million business leaders in finance, CX, data sciences, technology, human capital, supply chain, and cyber-security.
About CIO Views:
CIO Views is a platform that provides interesting insights on business, technology, and innovation along with informative reads from inspiring personages that focusses on their success stories. CIO Views has gauged the importance of the thirst for knowledge and has established a platform providing varied views and perspectives, with content that is relevant, insightful, and credible in an engaging manner. CIO Views has set out with a view to revolutionize the magazine landscape across the globe.